THIS ARTICLE IS NOT SPONSORED, AND THE PRODUCTS BEING FEATURED WERE PURCHASED FOR FULL PRICE BY ME.
White sneakers are a wardrobe essential for men. Their unmatched versatility is why I have listed them as the number one men's capsule wardrobe piece, and this article is meant to showcase their versatility further.  
When it comes to white sneakers, there are countless options available. My current recommendation for the best budget pair of white sneakers still goes to the New Republic Kurt sneakers (read my review of them here). However, if you're the type of person who has been bitten by the "style bug" and are willing to drop a little extra cash on a pair of high-quality leather sneakers for a reasonable asking price, look no further than the Oliver Cabell Low 1 sneaker.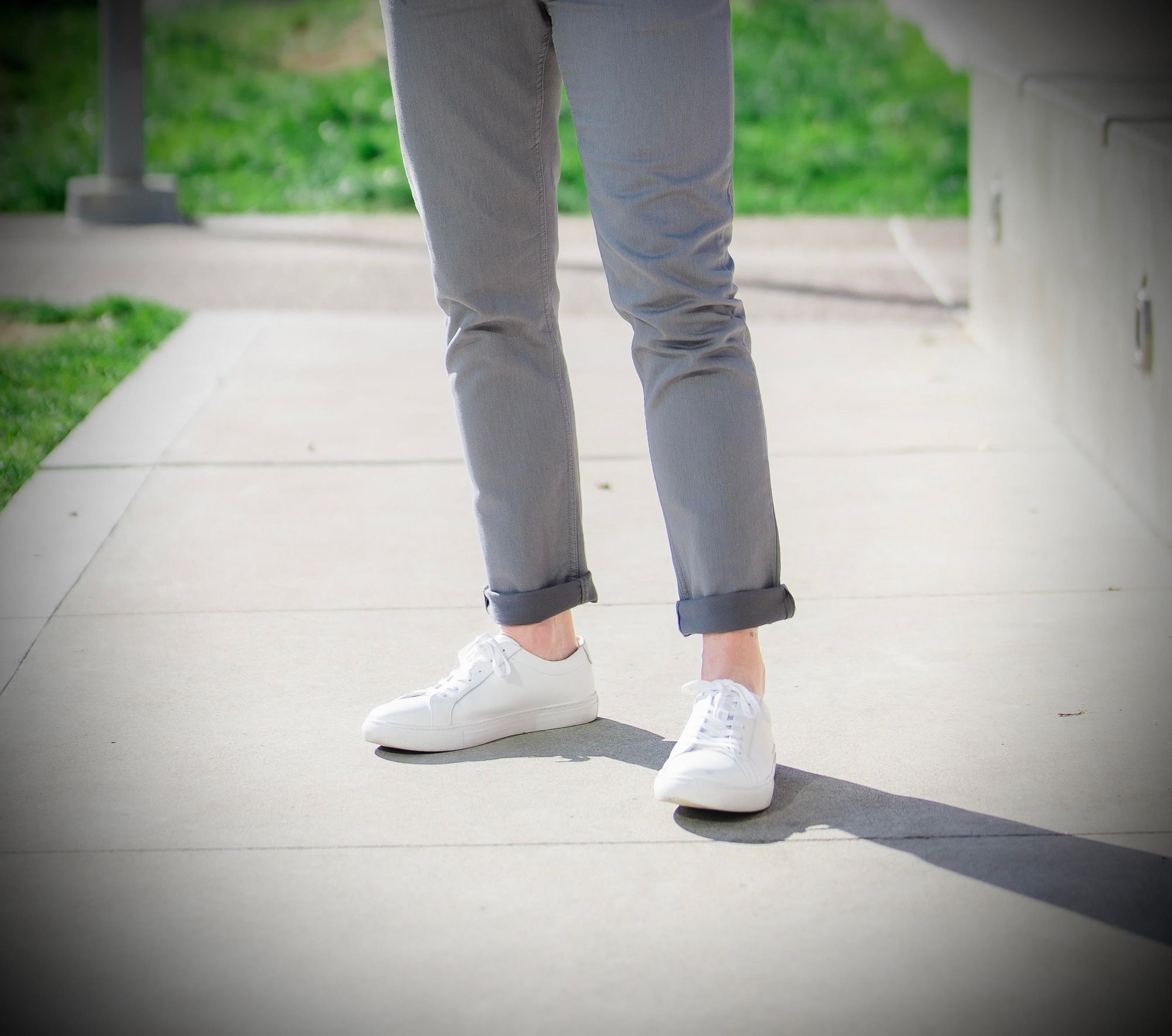 Both of these sneakers will be showcased in the following outfit ideas, and at the end of the article, I will leave some additional videos as resources to help better inform your purchase if you choose to go with one or the other.  
OUTFIT #1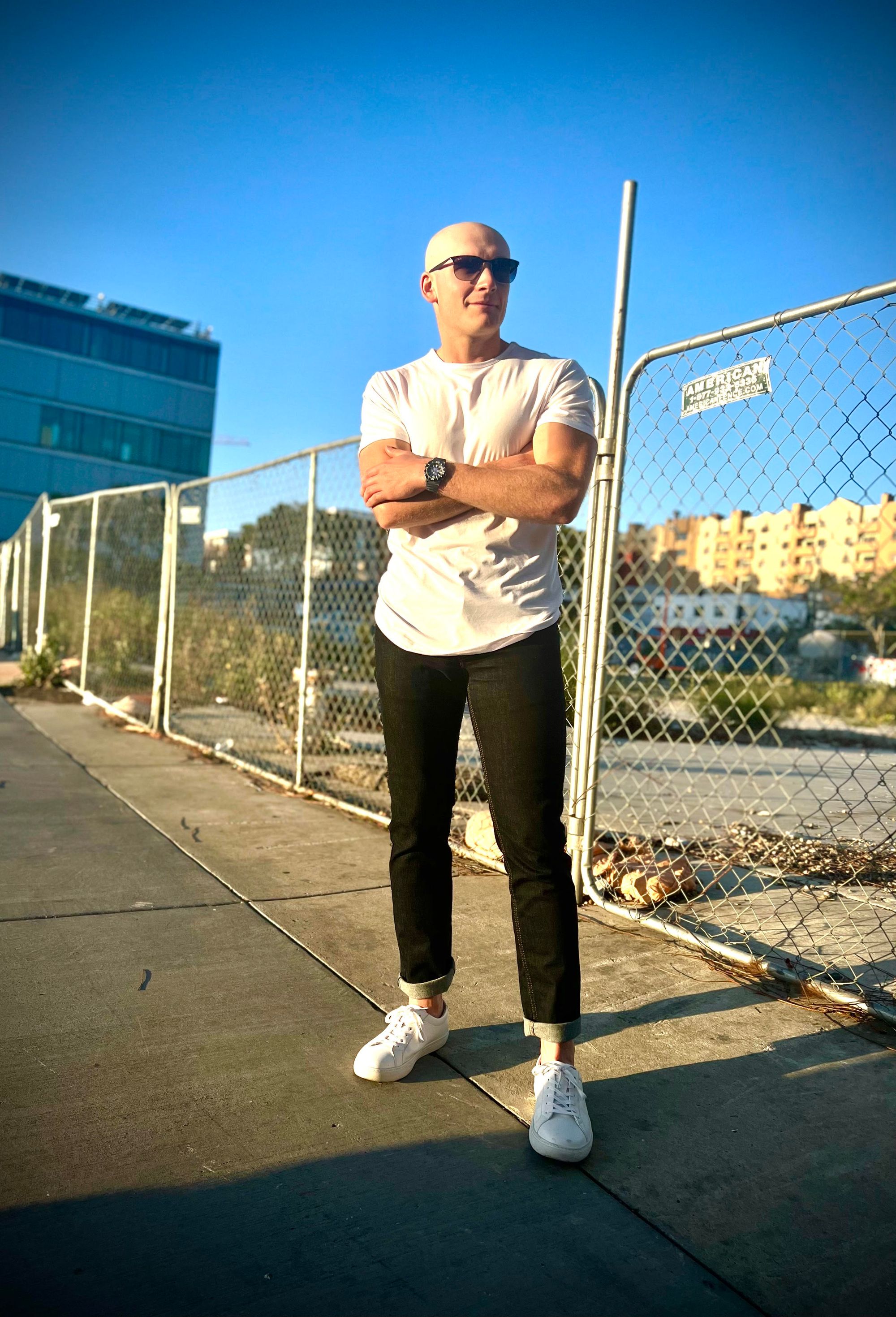 Starting with the basics, so long as your clothes fit you well, you can't go wrong with the timeless plain white crewneck t-shirt and some dark denim jeans. Throw on some slick shades and a dapper timepiece, and you're ready to go!
OUTFIT #2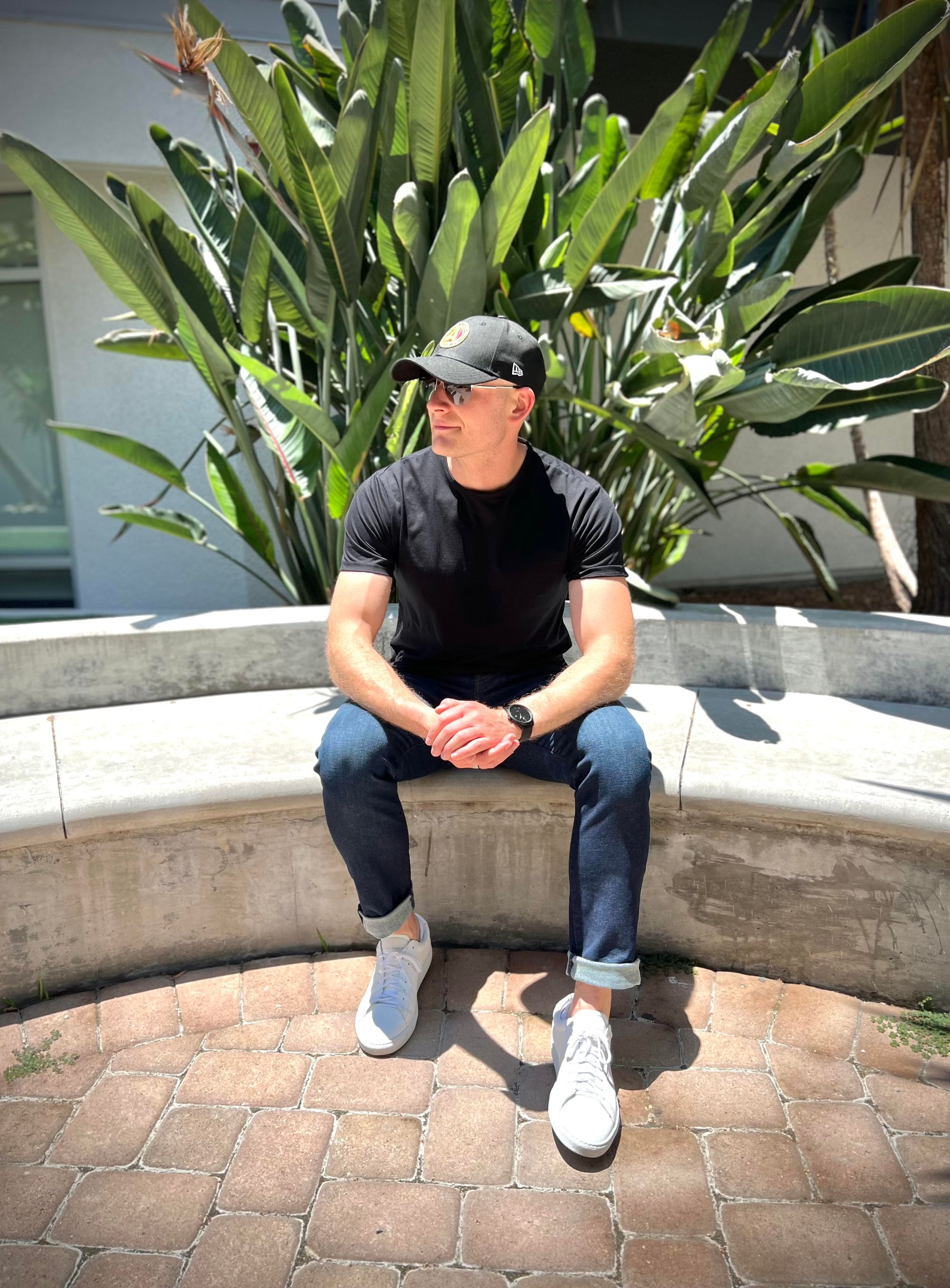 Of course, simply swapping out the white t-shirt for a plain black crew neck minimizes contrast and can have a more slimming effect. This look is equally as timeless (albeit basic) as its predecessor.
OUTFIT #3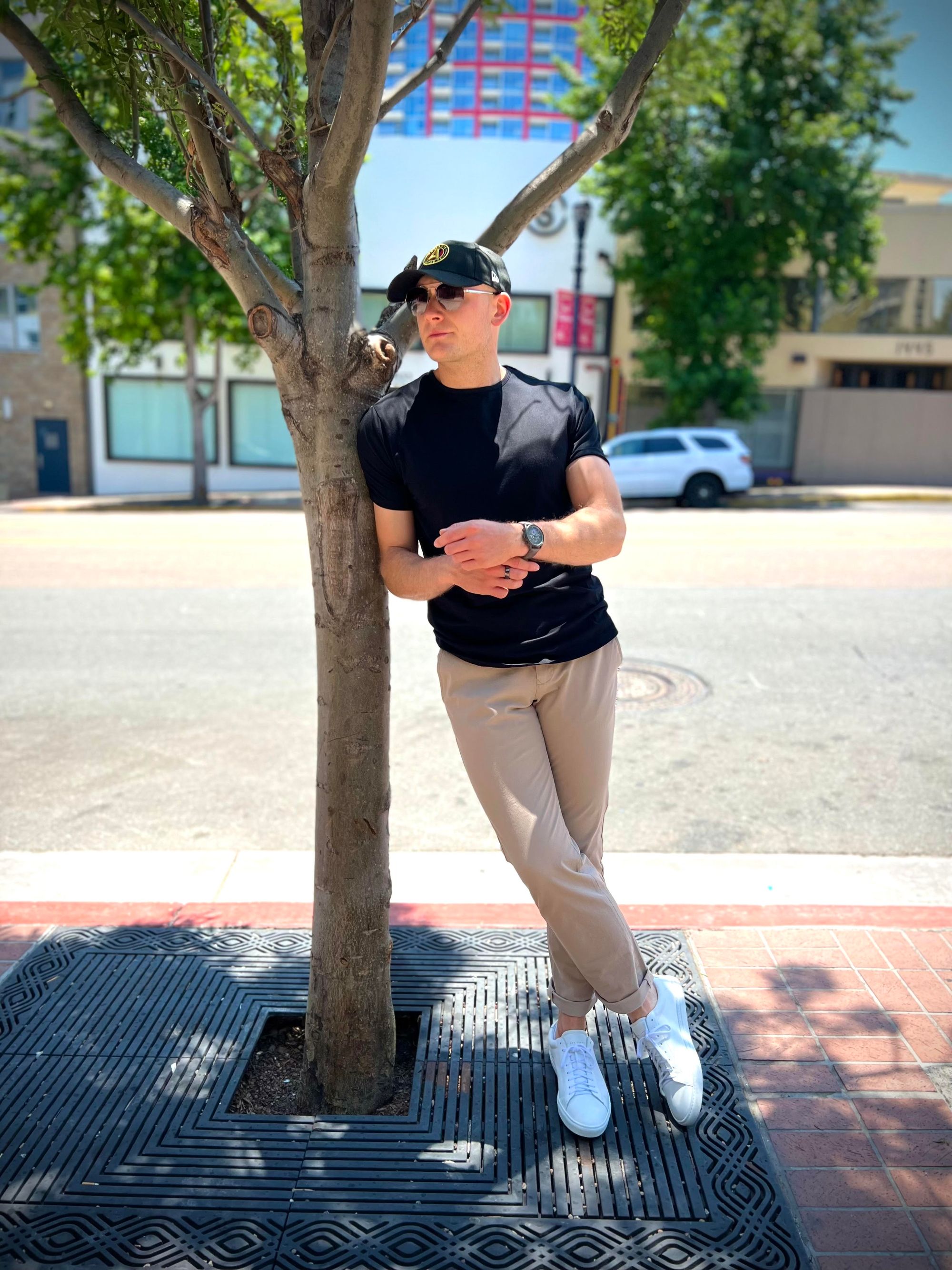 Adding back a little more contrast, this look is a testament to just how casual and stylish a pair of khaki chinos is. I think khaki chinos (or chinos in general) are much more versatile than jeans, but regardless of your preference, this looks killer with a pair of white sneakers.
OUTFIT #4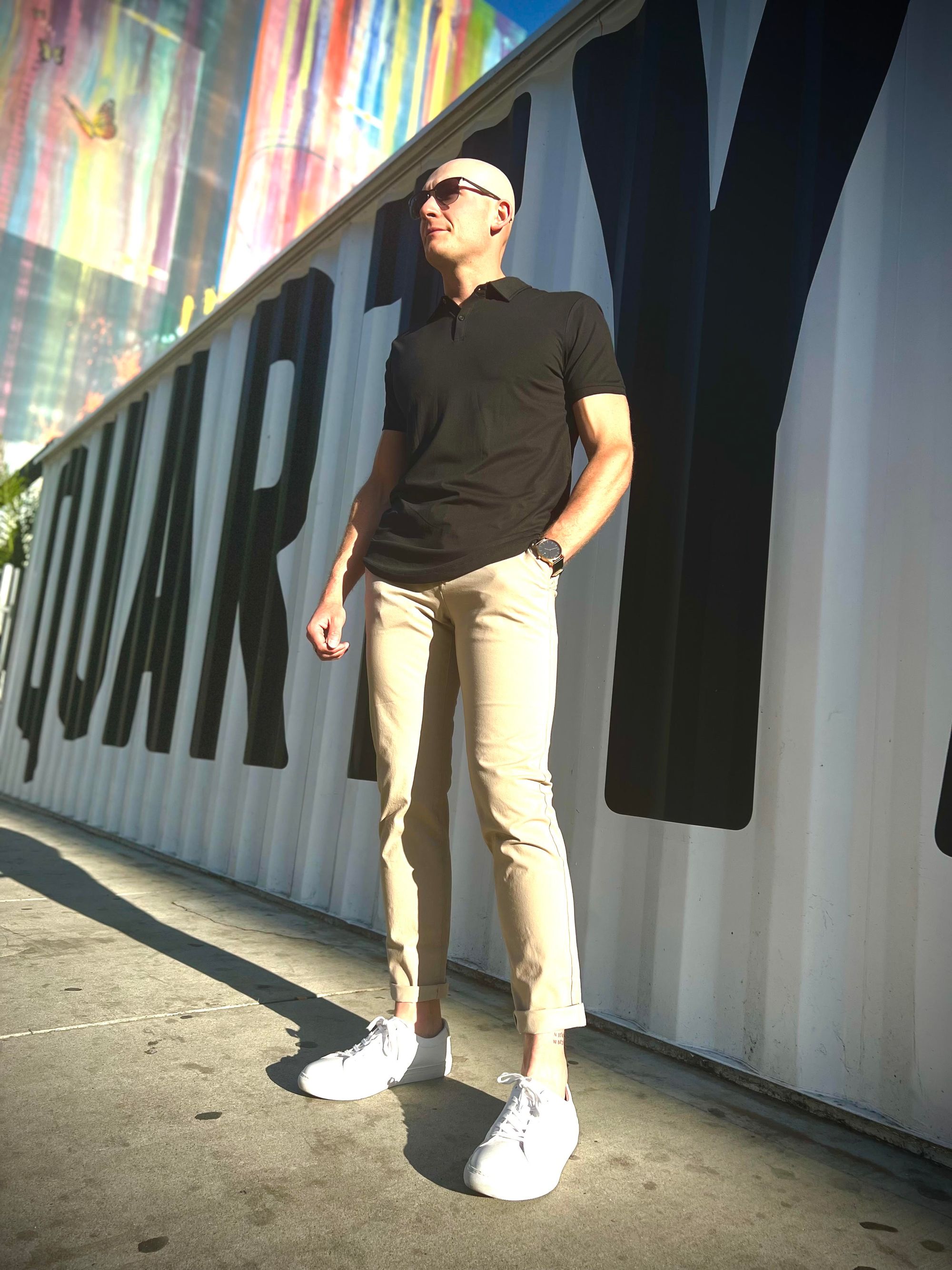 Every man needs a trusty polo shirt in either black or navy blue. We have gone from casual to a more elevated casual here. Perfect for dates, church, or running errands. Classic, timeless, and straightforward.
OUTFIT#5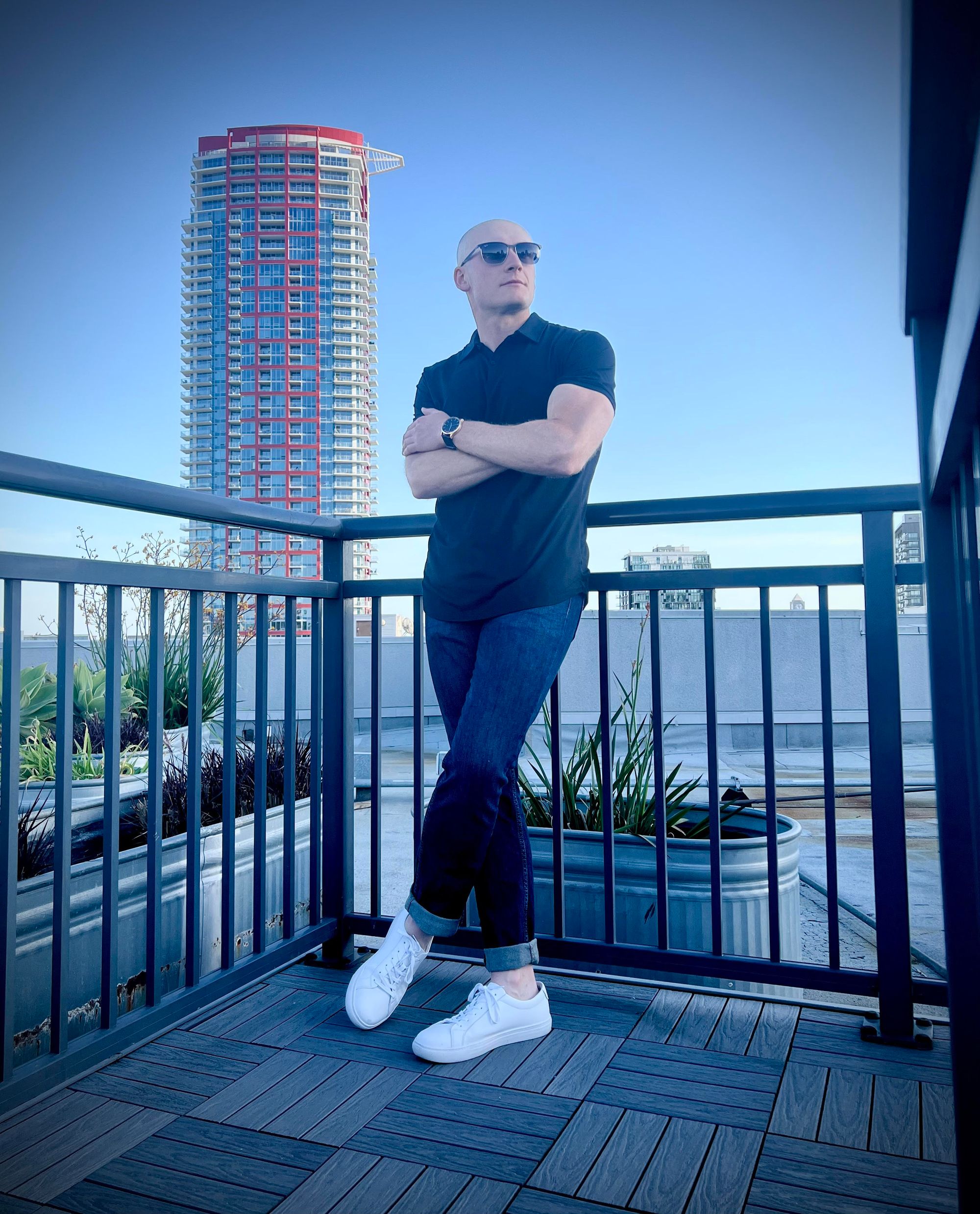 Swap those khaki chinos for dark denim jeans, and you're back to that sleek silhouette I showed in outfit #2.
OUTFIT #6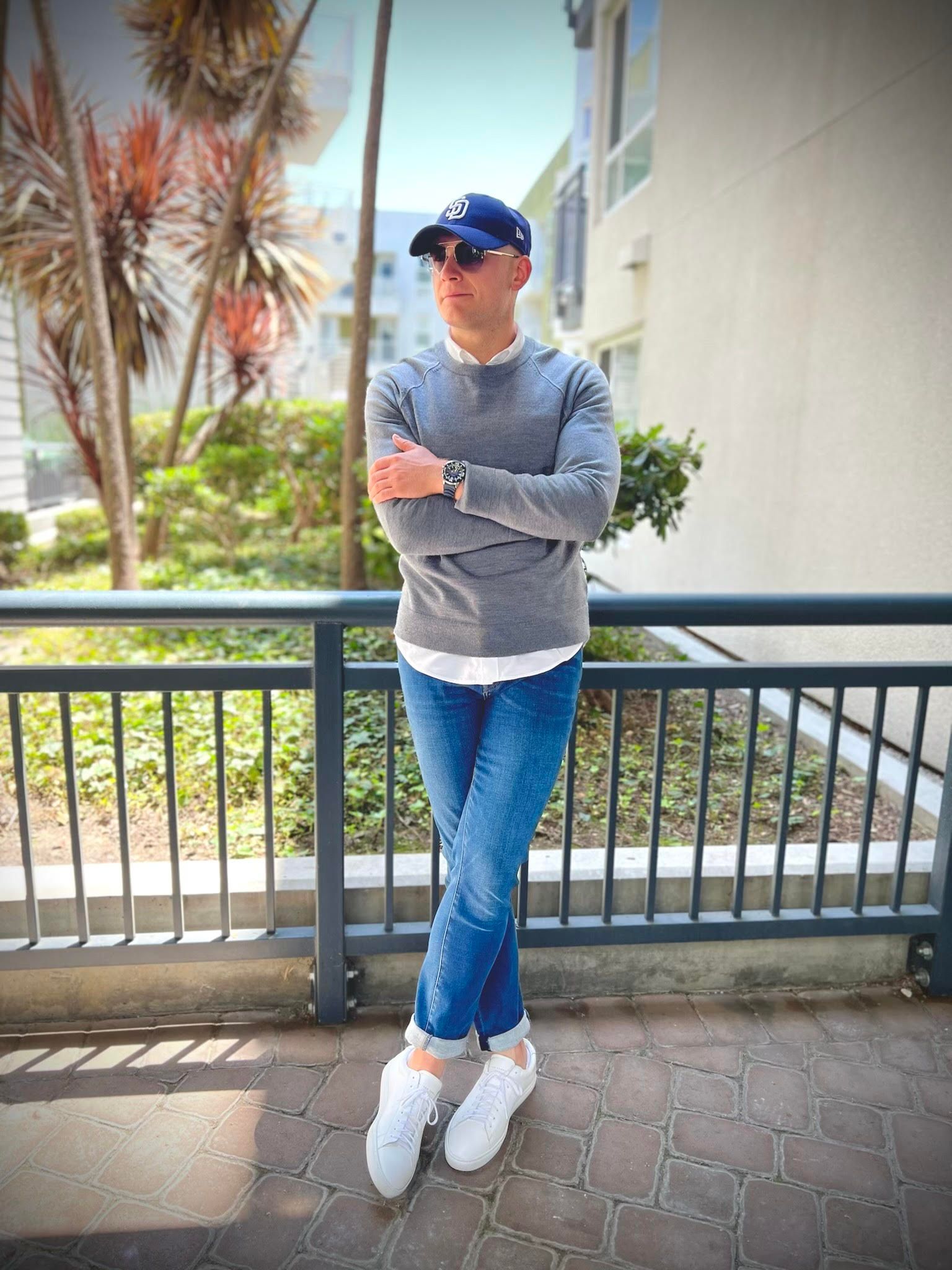 Time to elevate our basics a bit more. Lighter-washed jeans and an Oxford Cloth Button-Down shirt (OCBD) layered with the essential gray crewneck sweater. Leave the OCBD untucked, cuff the jeans at the ankle, and throw on a ballcap with some shades to lean into that casual look and feel.
OUTFIT #7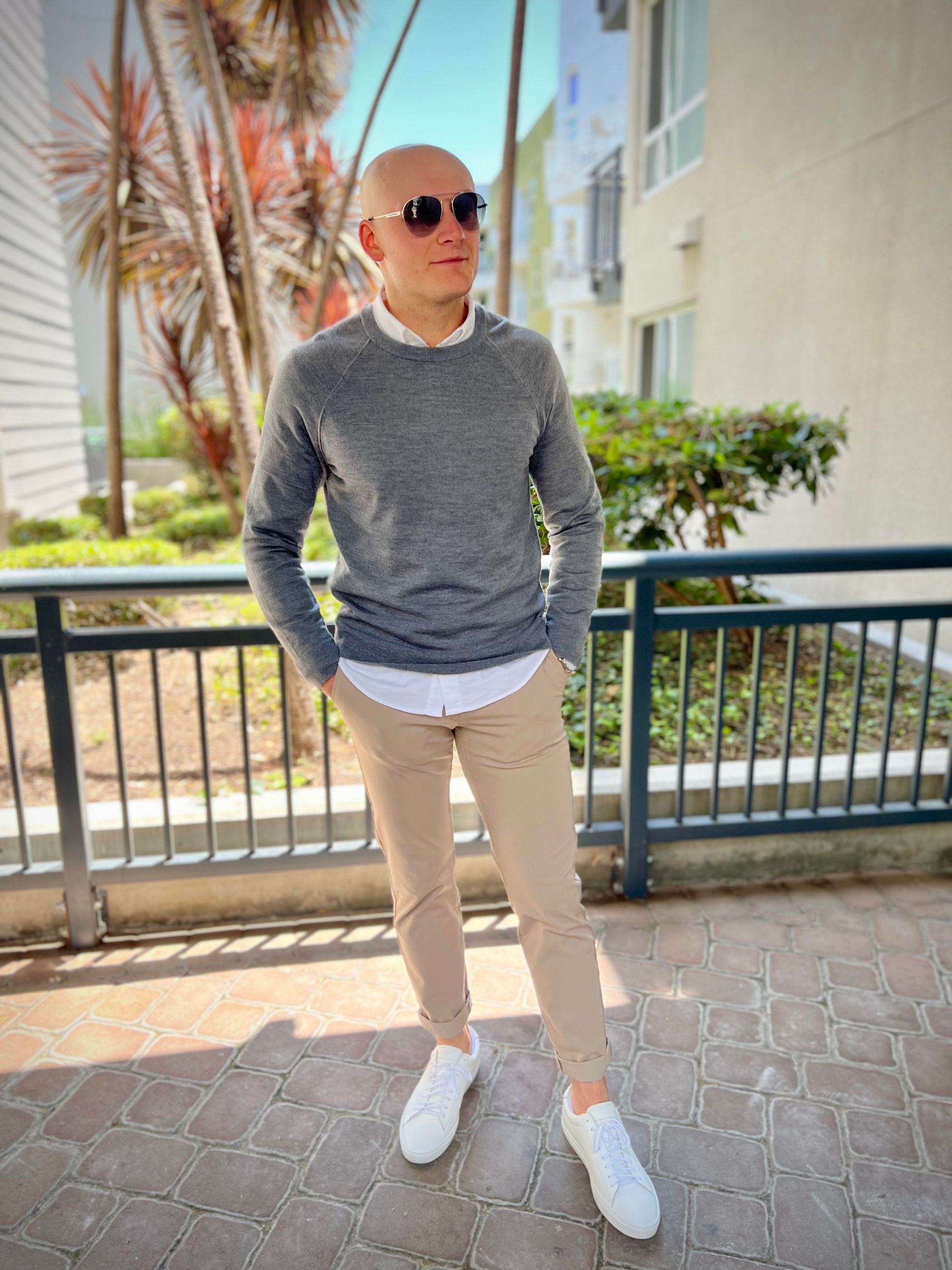 Ditch the ballcap and swap the jeans for khaki chinos. We are trying to be a bit more dressy here, but leave the OCBD untucked and cuff the chinos while you're at it, just so you can retain a casual vibe.
OUTFIT #8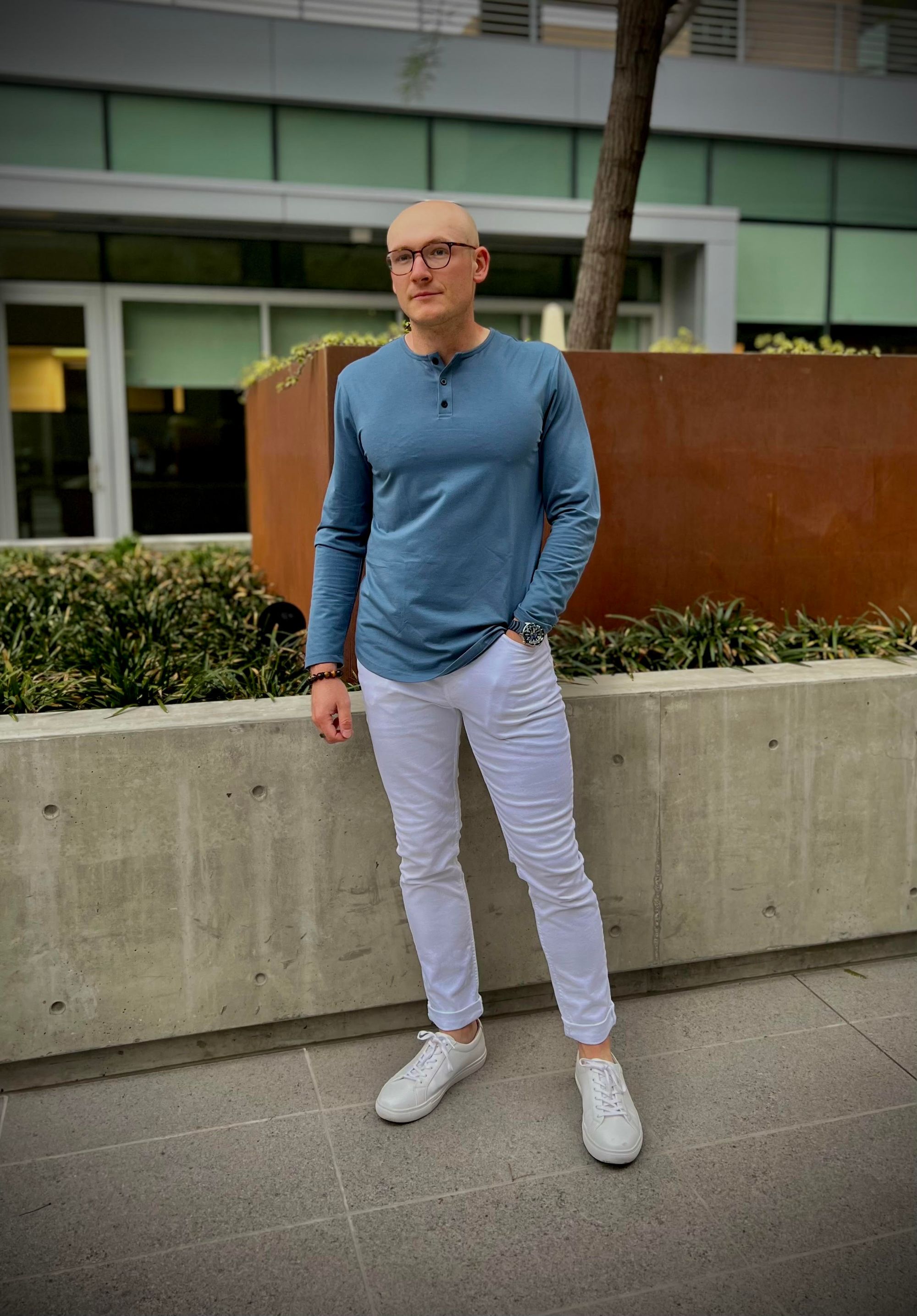 Time to kick off the training wheels. Blue and white go excellent together, especially during the spring and summer. Don't be afraid to wear white, but remember that depending on your level of contrast and body type, this type look could very well backfire. To read more about contrast types and colors for men, read my separate article here.
OUTFIT #9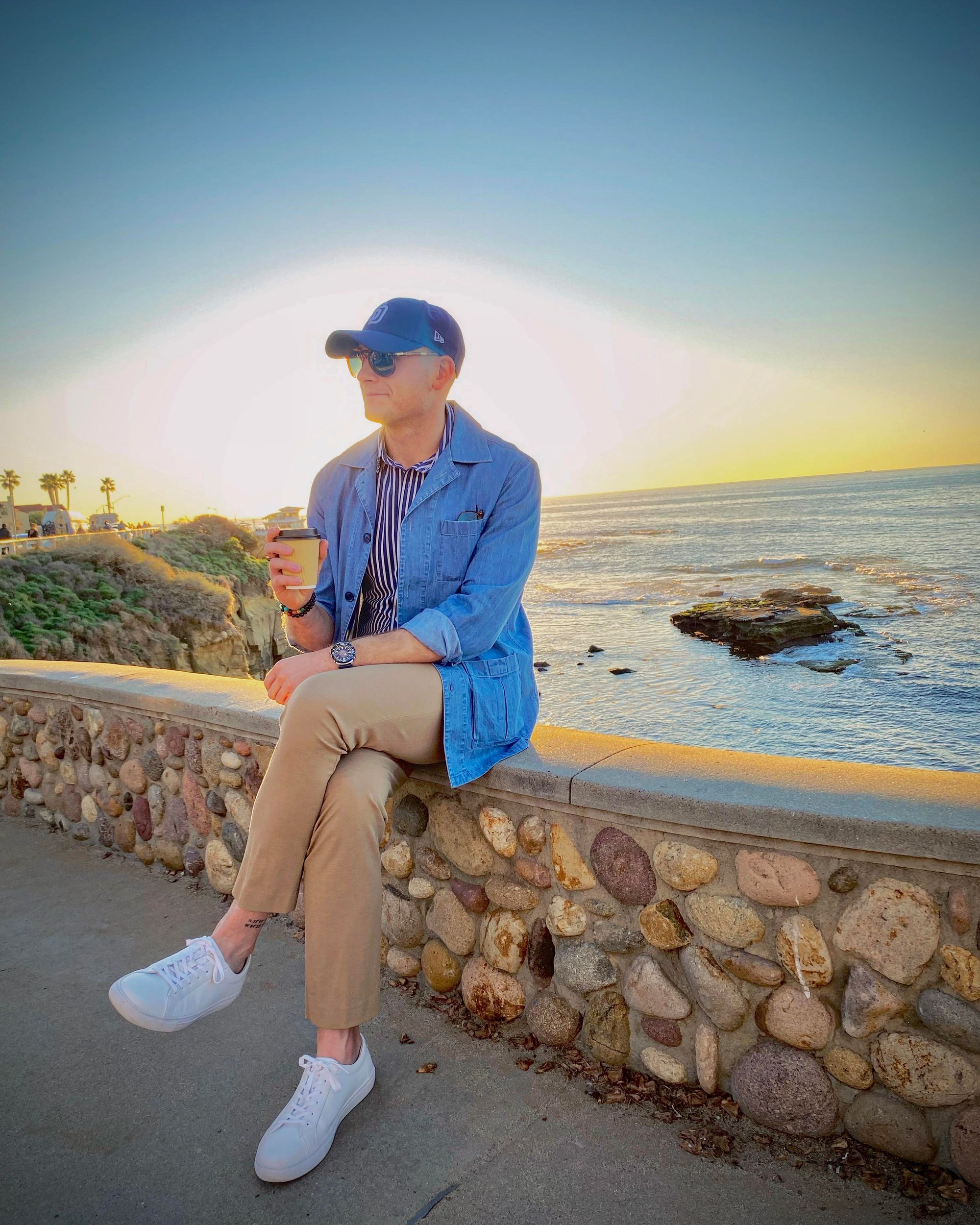 This is an excellent look for springtime. The recent emergence of the chore jacket or"shacket" (shirt-jacket) has become increasingly prevalent. I recommend one in a denim material such as this one because it adds a rugged and lived-in aesthetic. It's also really comfortable; from a functional standpoint, you have many more pockets at your disposal. Give a roll or two on the sleeves around the forearm to elevate the casual nature (women also tend to like this a lot).
OUTFIT #10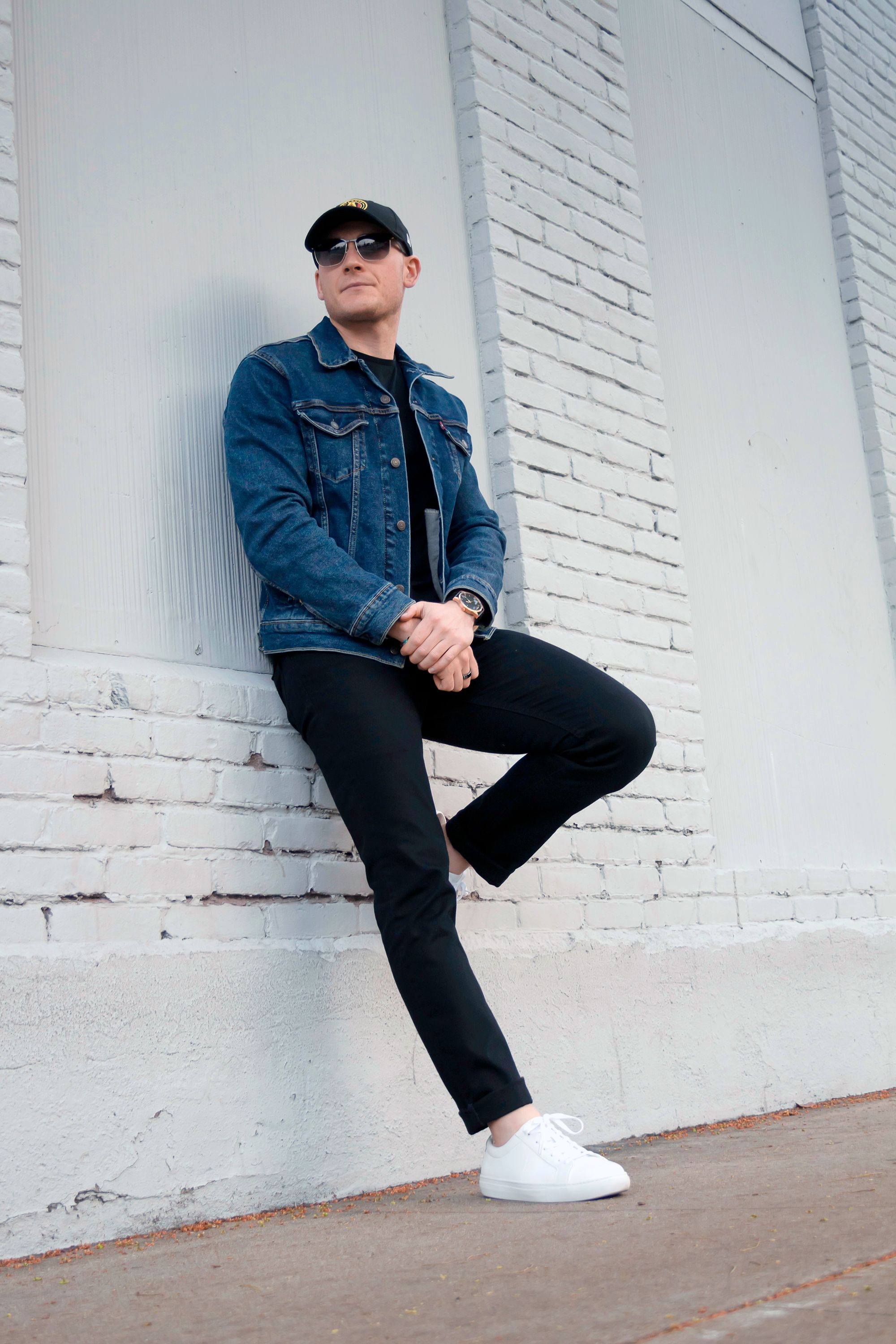 Every man needs at least one solid denim trucker jacket in his closet. An equally versatile and timeless piece, it only makes sense to try and find ways to pair it with some white sneakers. Here is one of my personal favorites that I wear pretty often. Denim on denim can work fine so long as the shades are noticeably different.
OUTFIT #11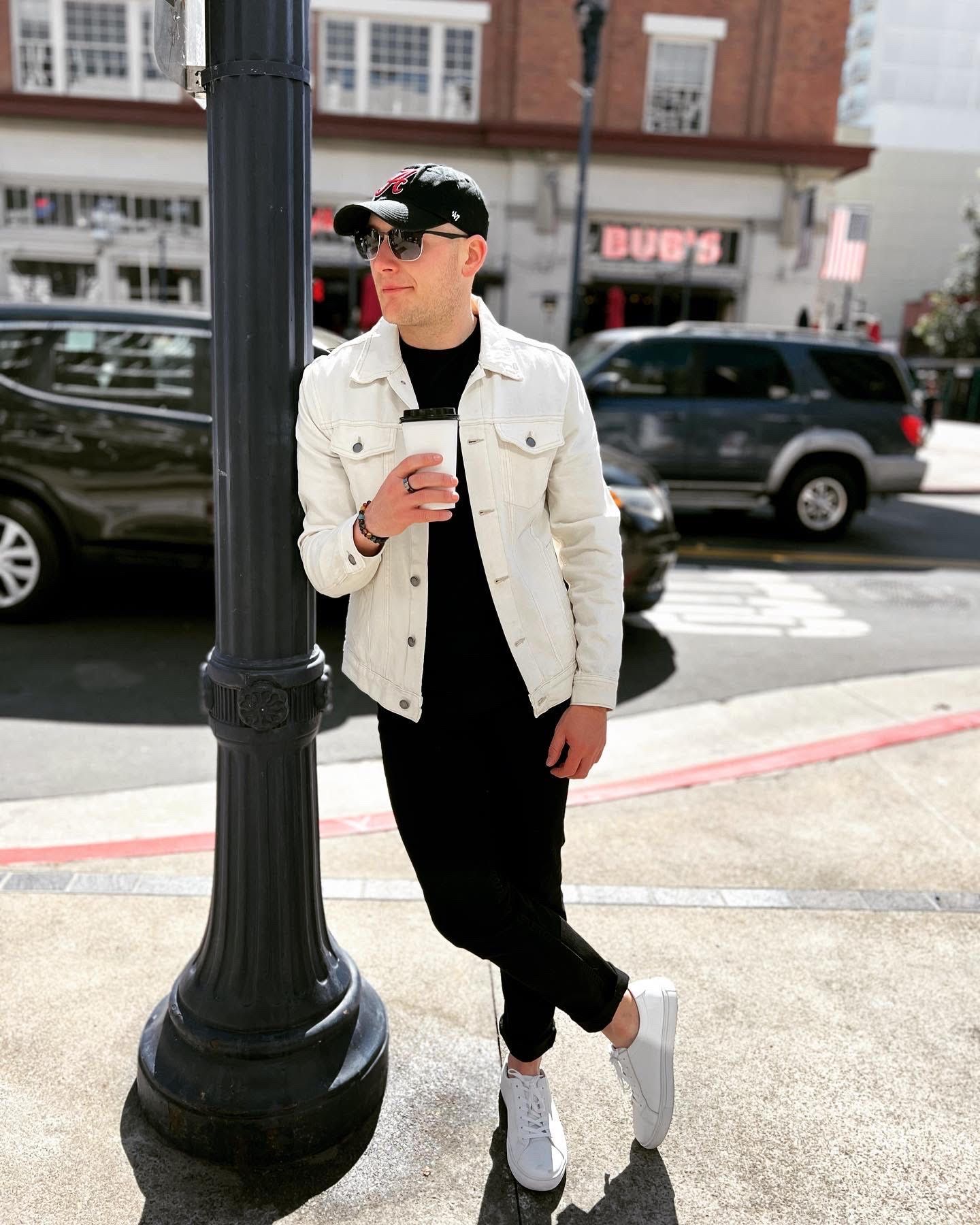 The difference between this look and the previous one is the different colored denim jacket. It's incredible what a single garment change can do to an outfit. This look is much bolder but equally as cool as its predecessor.
OUTFIT #12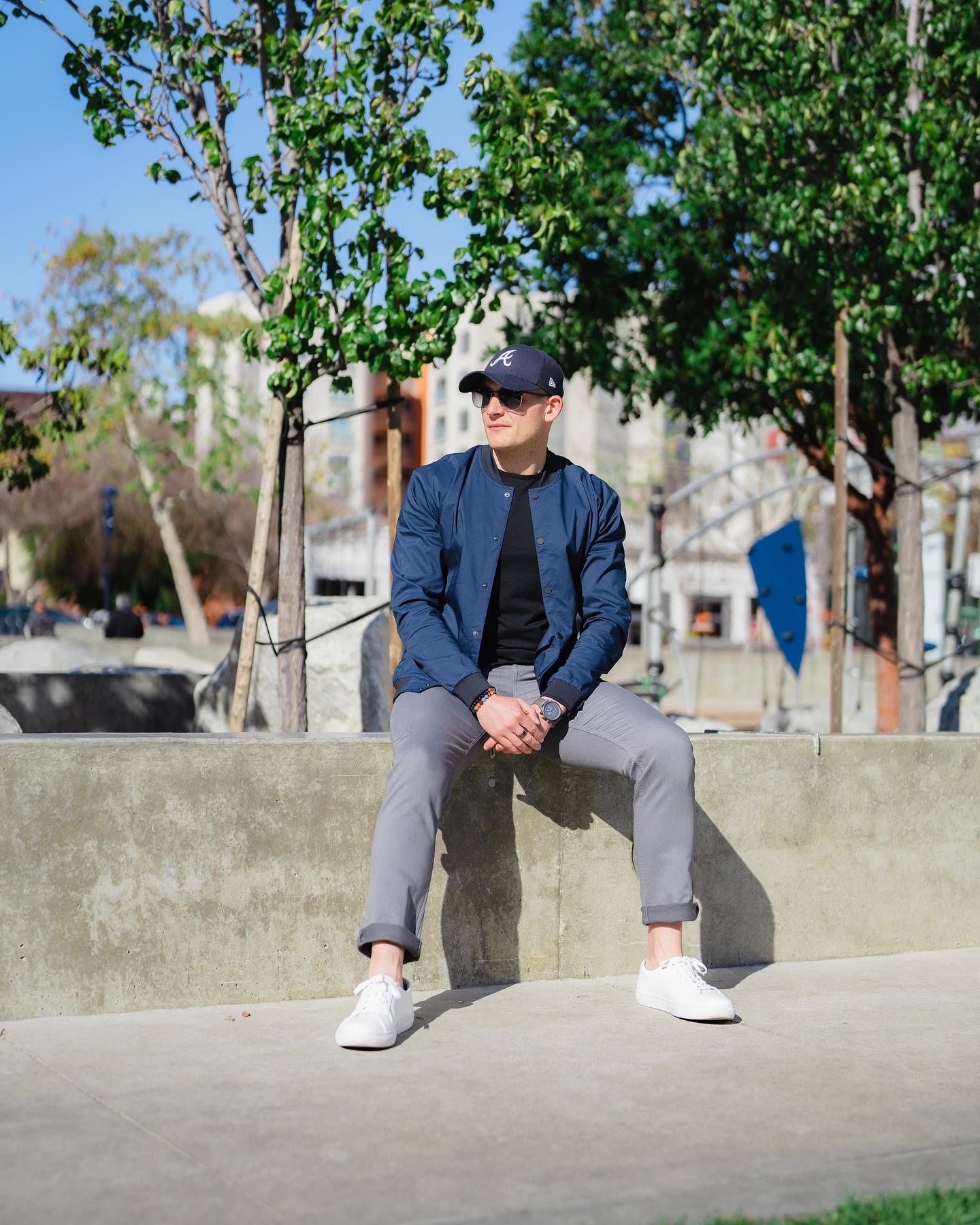 Bomber jackets are great lightweight alternatives to denim truckers and shackets. While I don't think they are necessarily more versatile, their use during the Spring and Fall months is one from which you can get a lot of mileage. Paired with a t-shirt and some neutral-colored chinos, you've got something your white sneakers can work well with.
OUTFIT #13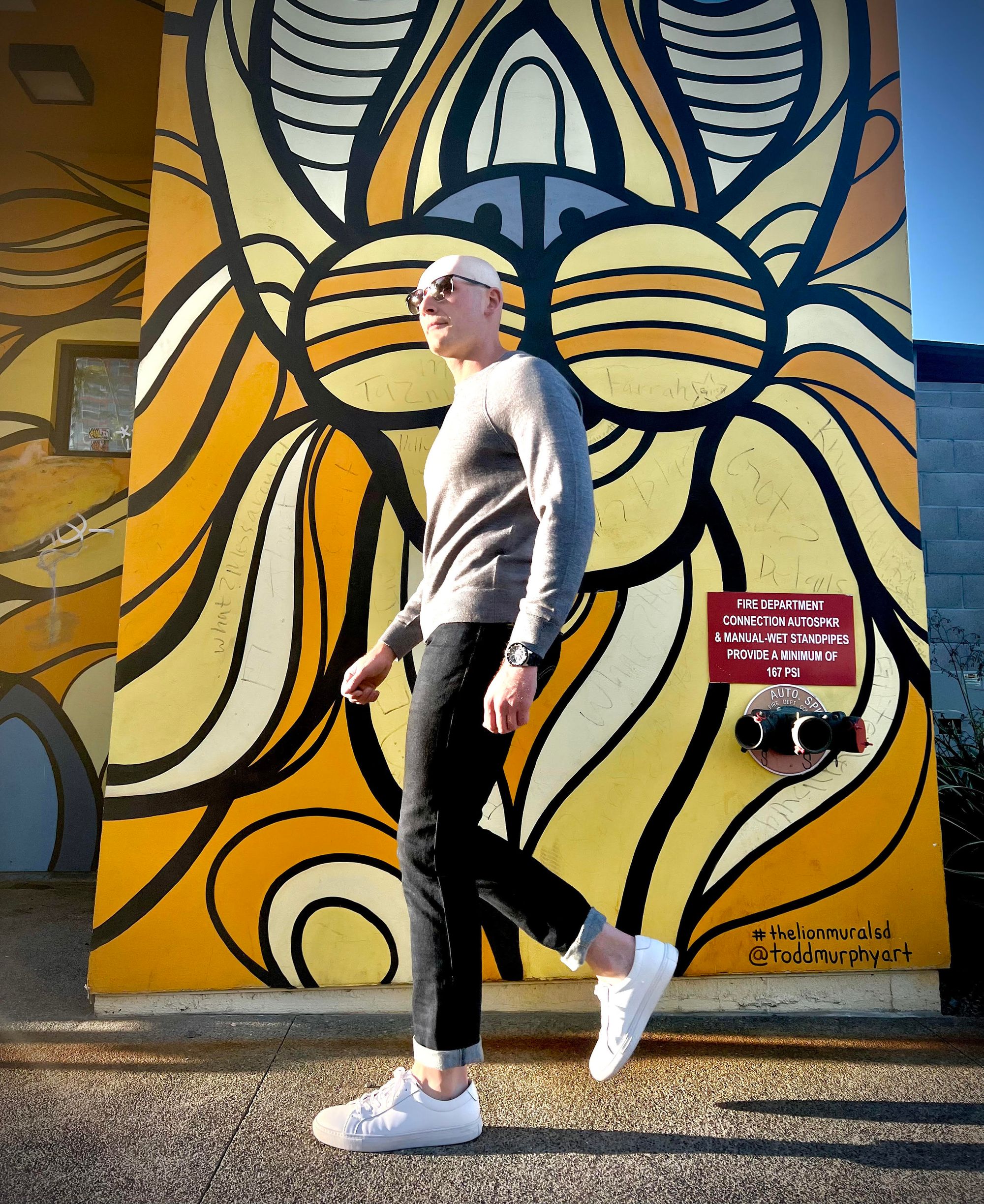 This look comprises two essential staples that every man ought to own. A pair of dark denim jeans and a crewneck wool sweater. Some folks might not think a sweater and white sneakers would go well together, but they'd be wrong. This is yet another example of how you can get the most from your closet both simply and effectively.
OUTFIT #14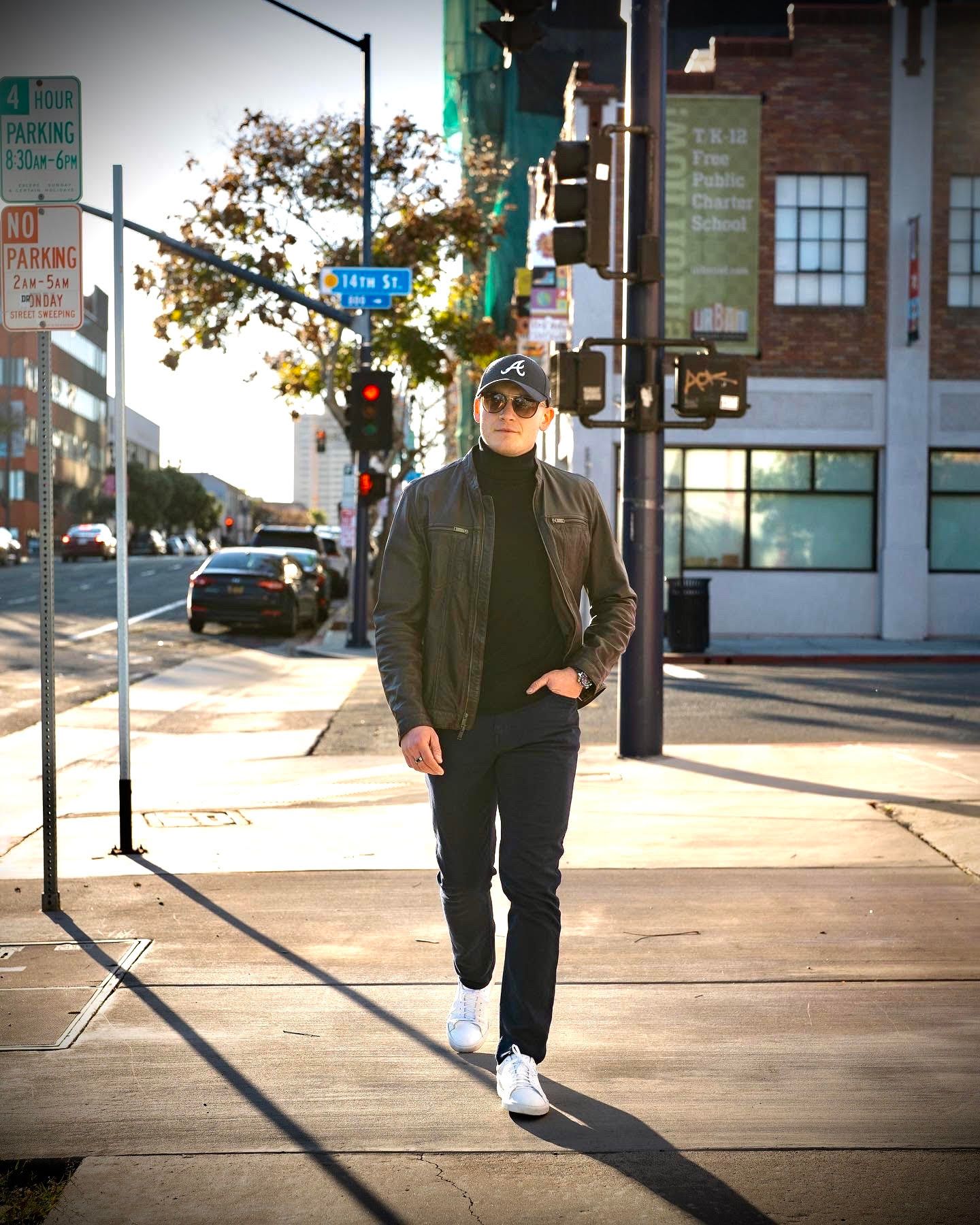 Leather with leather. This is undoubtedly a bolder look, but one with profound results. A brown leather bomber jacket, black knit turtleneck, navy chinos, and our white sneakers all give you the ultimate brunch-date look.
OUTFIT #15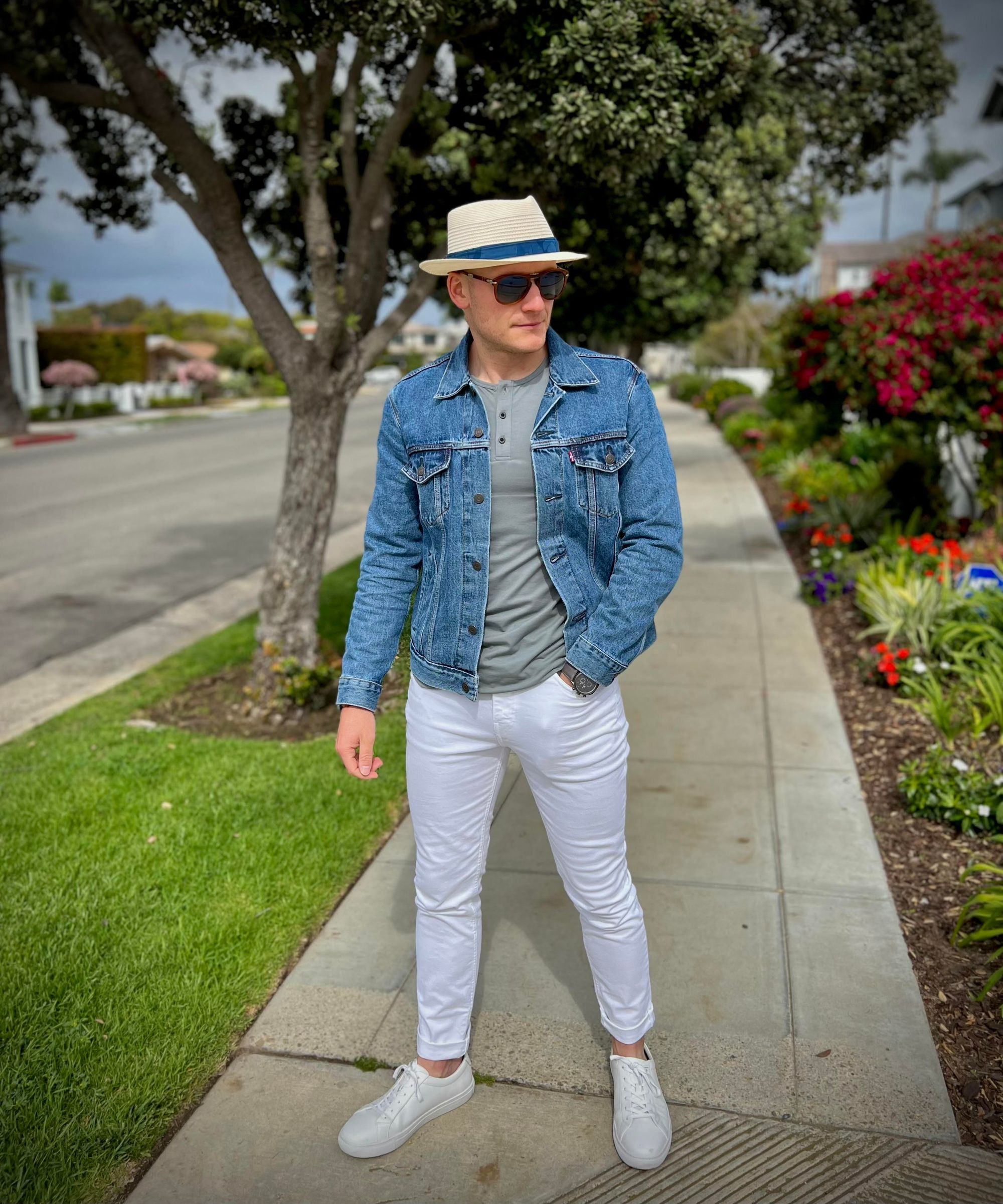 Busting out the white denim again, this look isn't for everyone. I've opted for a lighter-wash trucker jacket and a light-green henley shirt. Adding the straw fedora is a bit of a style of affectation that will or won't work depending on where you live and the people around you. In this case, I'm wearing this ensemble on Coronado island in San Diego, CA. Needless to say, it works just fine there.
OUTFIT #16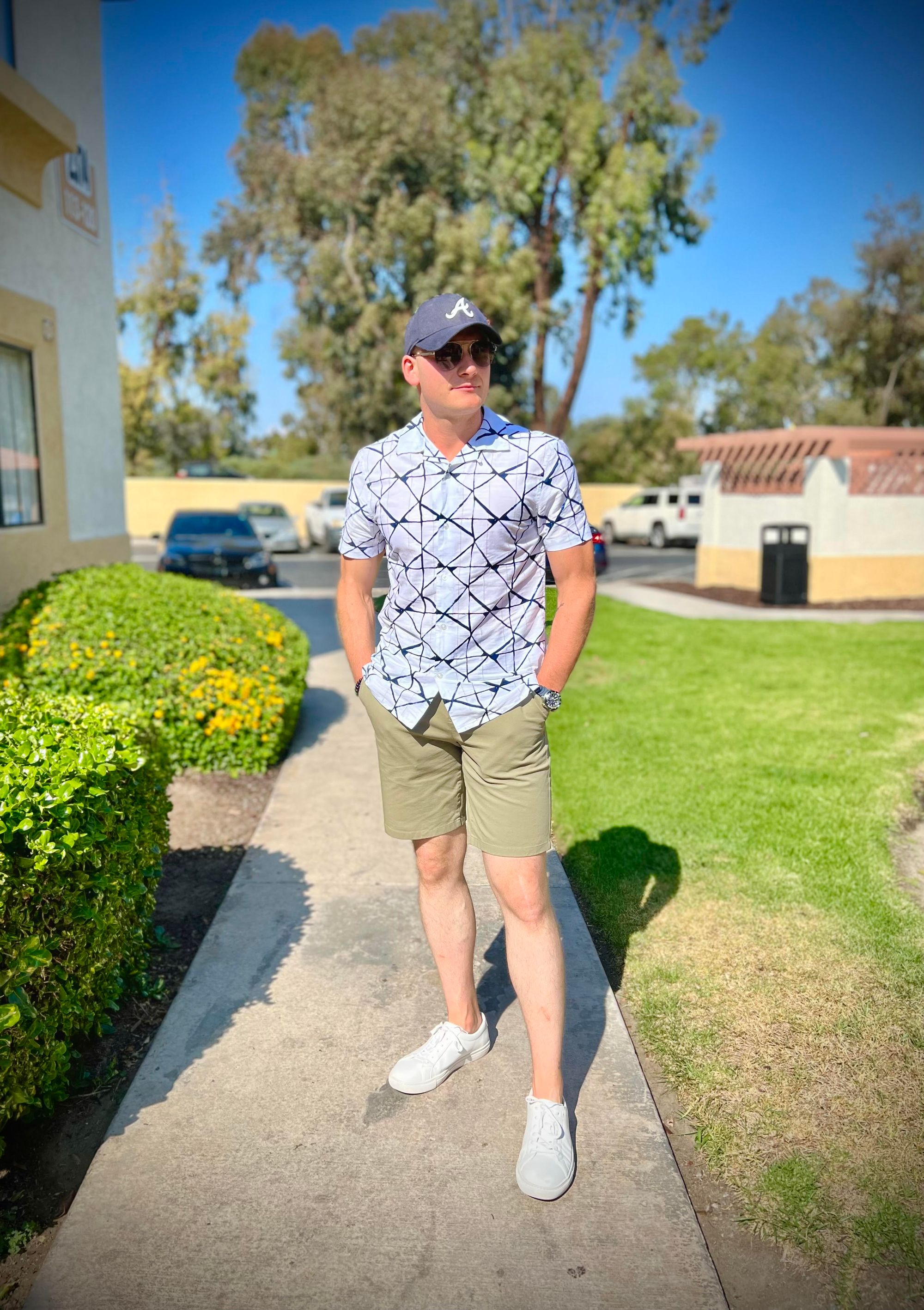 I know what some of you are probably thinking, 'finally, some shorts!' Yes, here they are, and much like chino pants, a solid pair of chino shorts in neutral colors such as navy, tan, olive, and gray is all a man needs. Anything in excess is hardly required. This camp-collared shirt with a playful (but not too loud) pattern is perfect for Summer and meshes well with the shorts and sneakers.
OUTFIT #17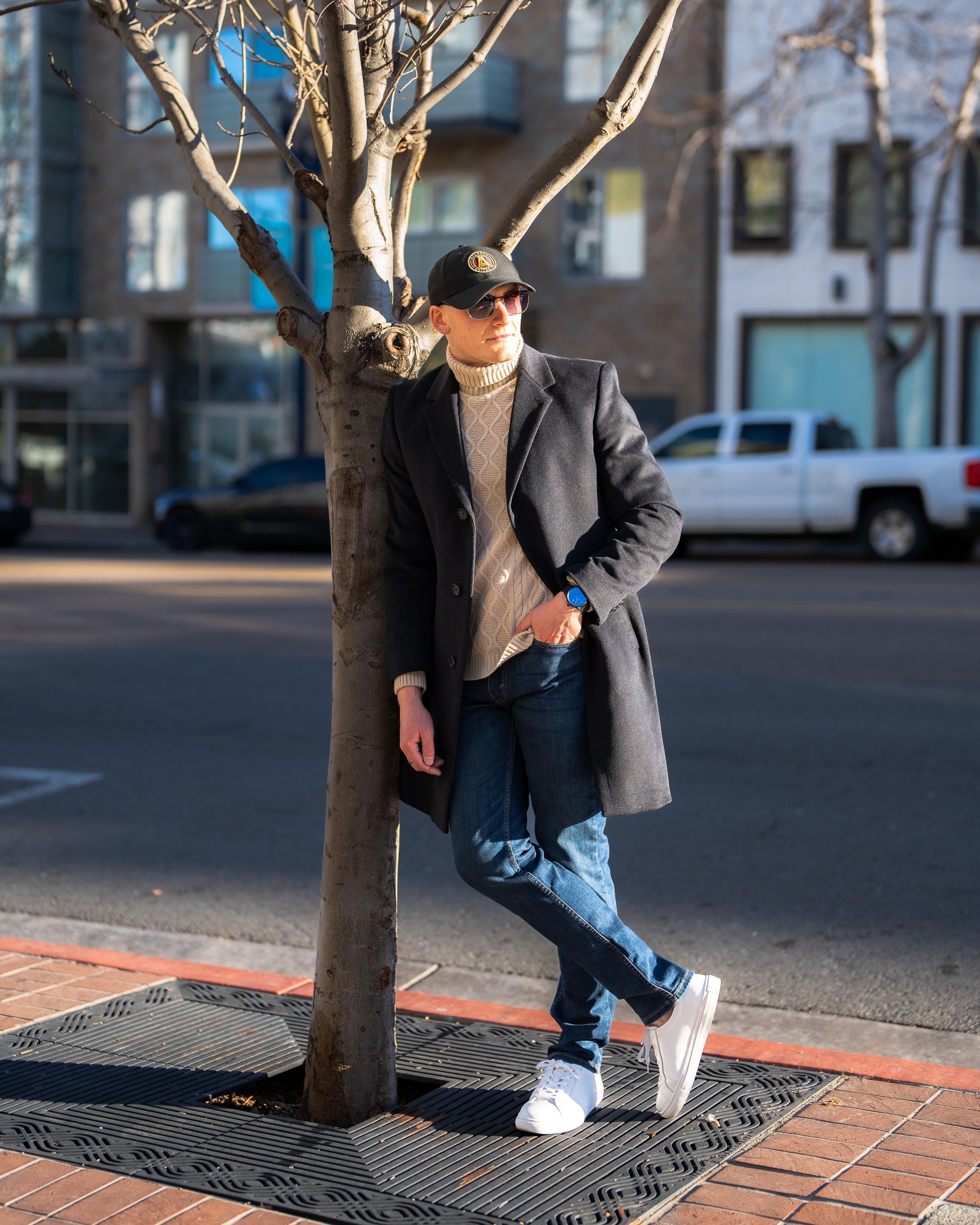 This is undoubtedly a more fashion-forward ensemble, but one that works well in urban environments. This look is the epitome of cozy due to the chunky cable-knit sweater and charcoal topcoat. The blue jeans, ballcap, and sneakers tone down the outfit for a more chill vibe.  
OUTFIT #18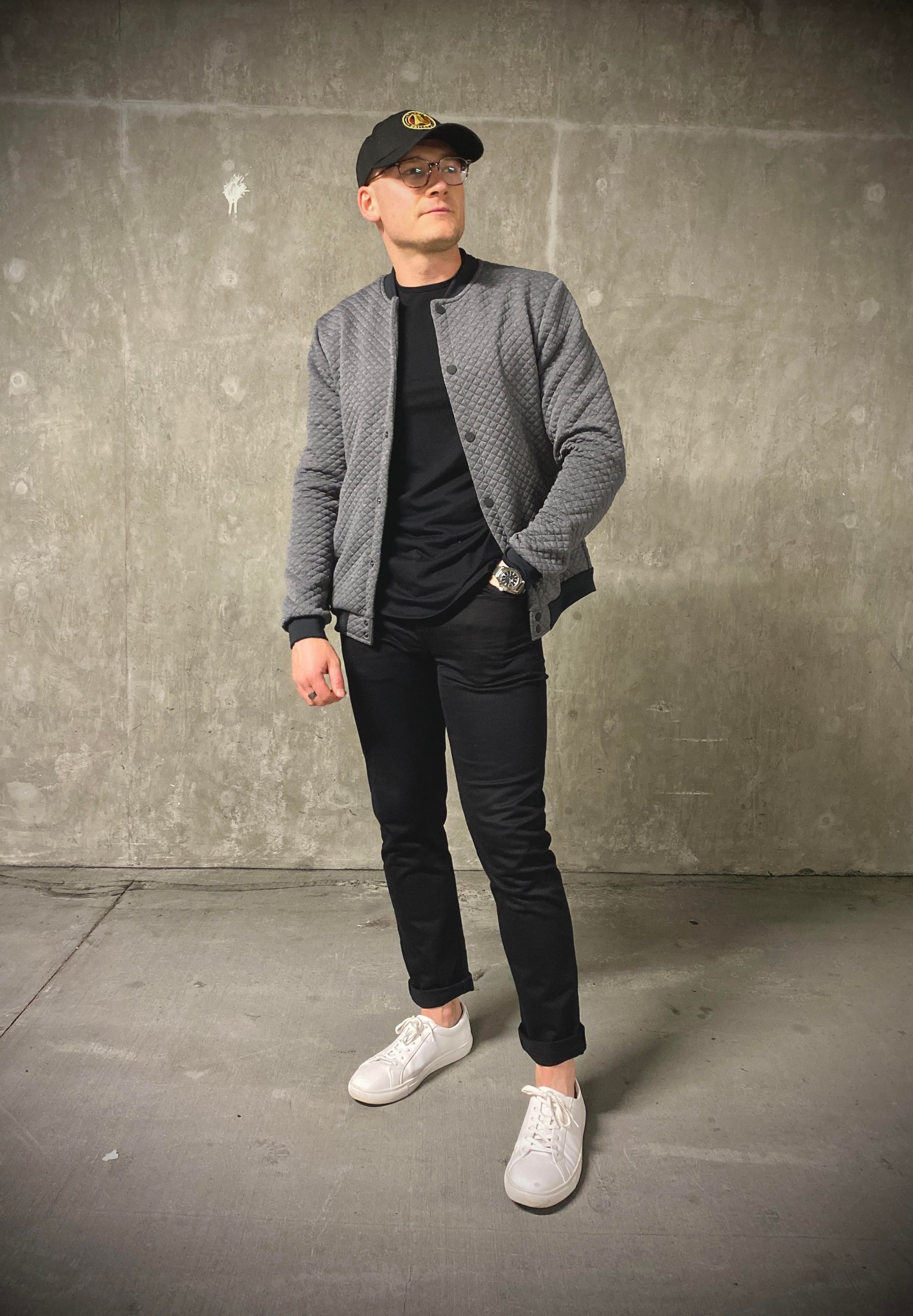 A primarily monochromatic look, the clear statement piece is the quilted bomber jacket. This adds some much-needed texture to the look, which is a part of nailing any outfit for the Fall season. This outfit also serves as a reminder that having a mostly monochromatic outfit with all-white sneakers isn't something to avoid but rather embrace if executed tastefully.
OUTFIT #19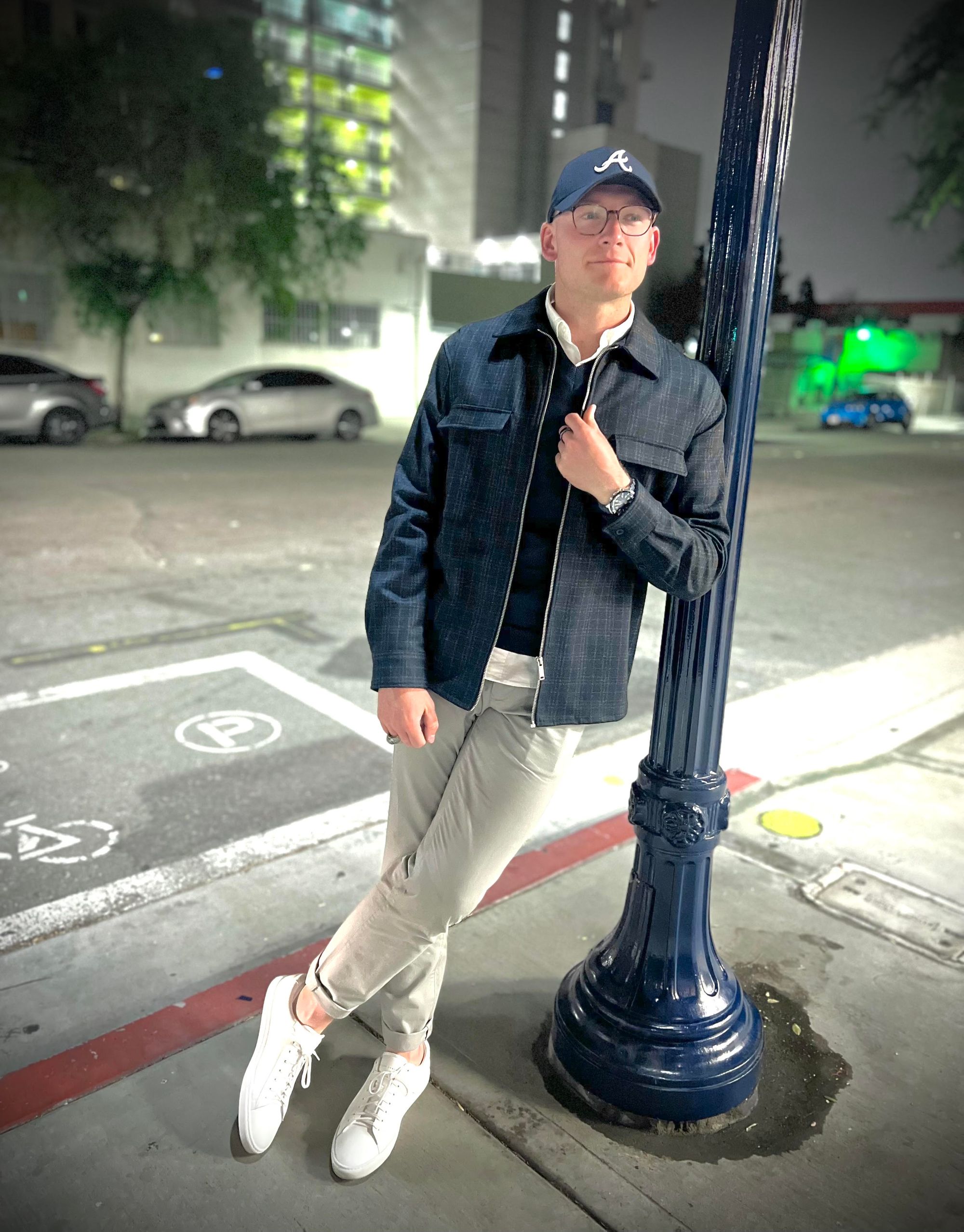 This look is great for a casual date where you're not trying to look like you're attempting to be the best-dressed guy in the room (even if you secretly are). Four layers are usually too much, two layers are fine, but three layers are perfect. Here, I have an OCBD as the base layer, a timeless navy v-neck sweater, and a patterned jacket for my outermost layer. The chinos are a light gray and blend very well with my sneakers.
OUTFIT #20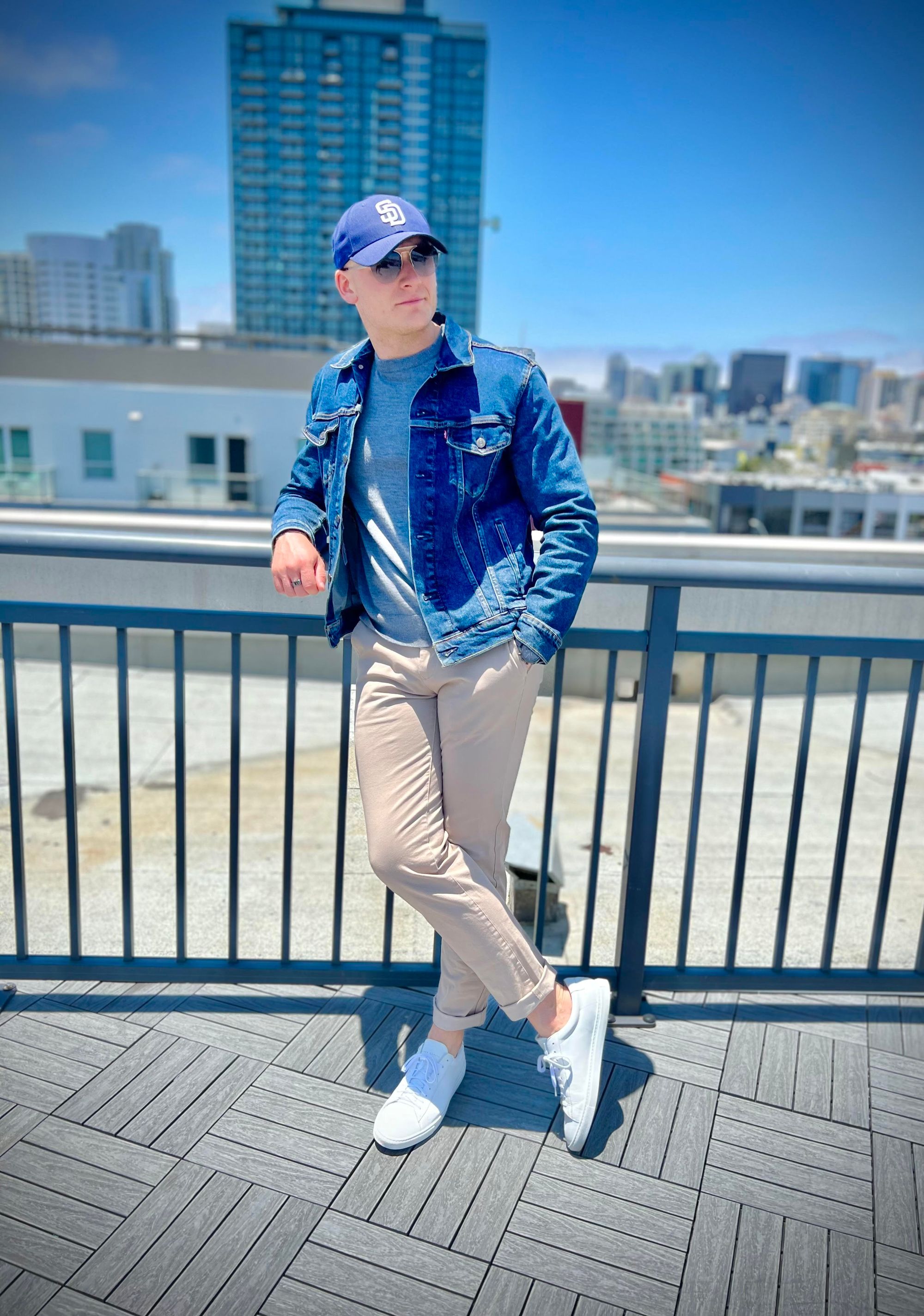 Back to the denim trucker jacket (I told you it was versatile). Here, we get the most from our khaki chinos and gray sweater, both paired stylishly with the sneakers.
OUTFIT #21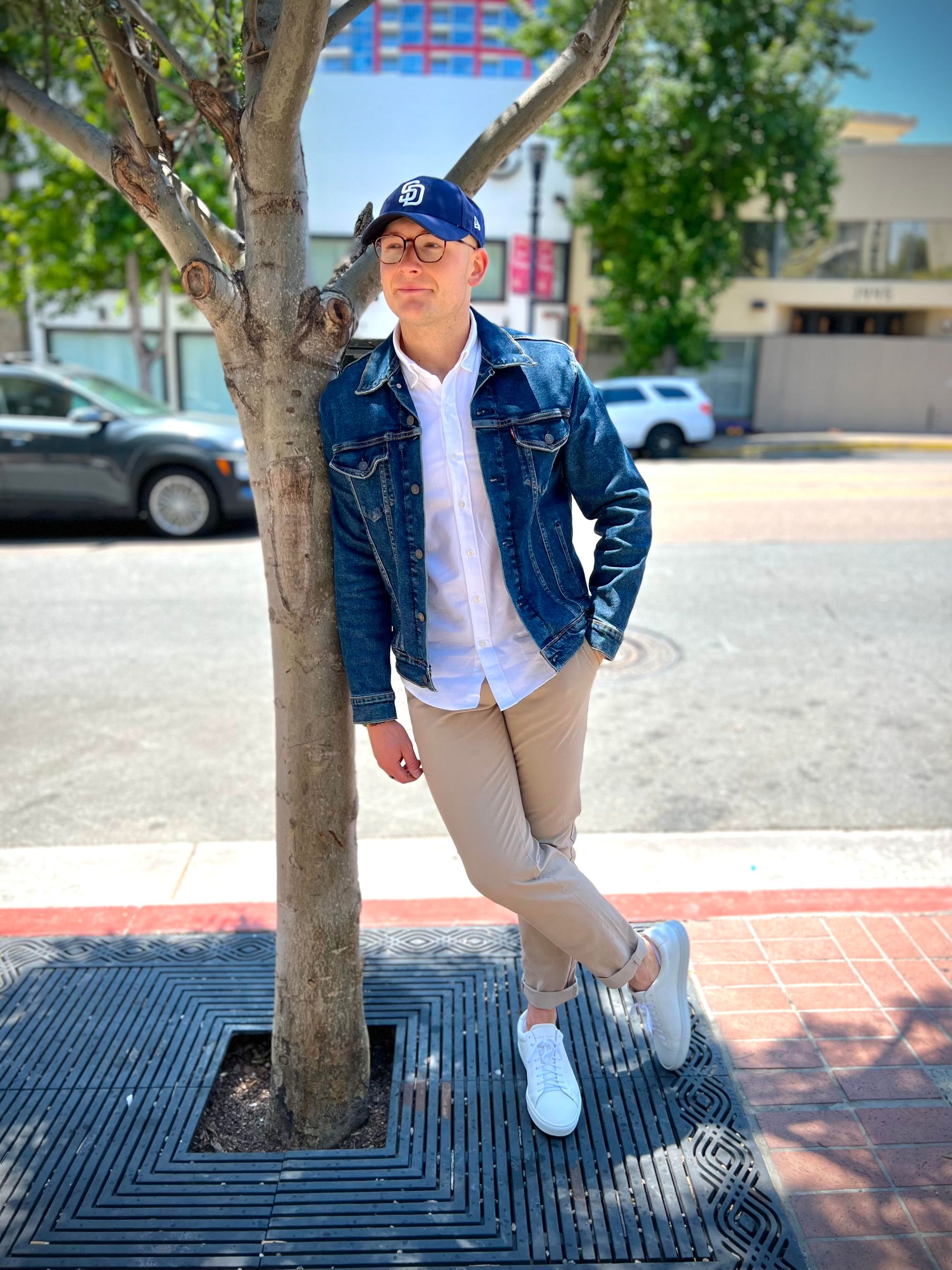 Swap the gray sweater for your trusty OCBD, and this is a classic menswear look that has stood the test of time and will never cease to be stylish.
OUTFIT #22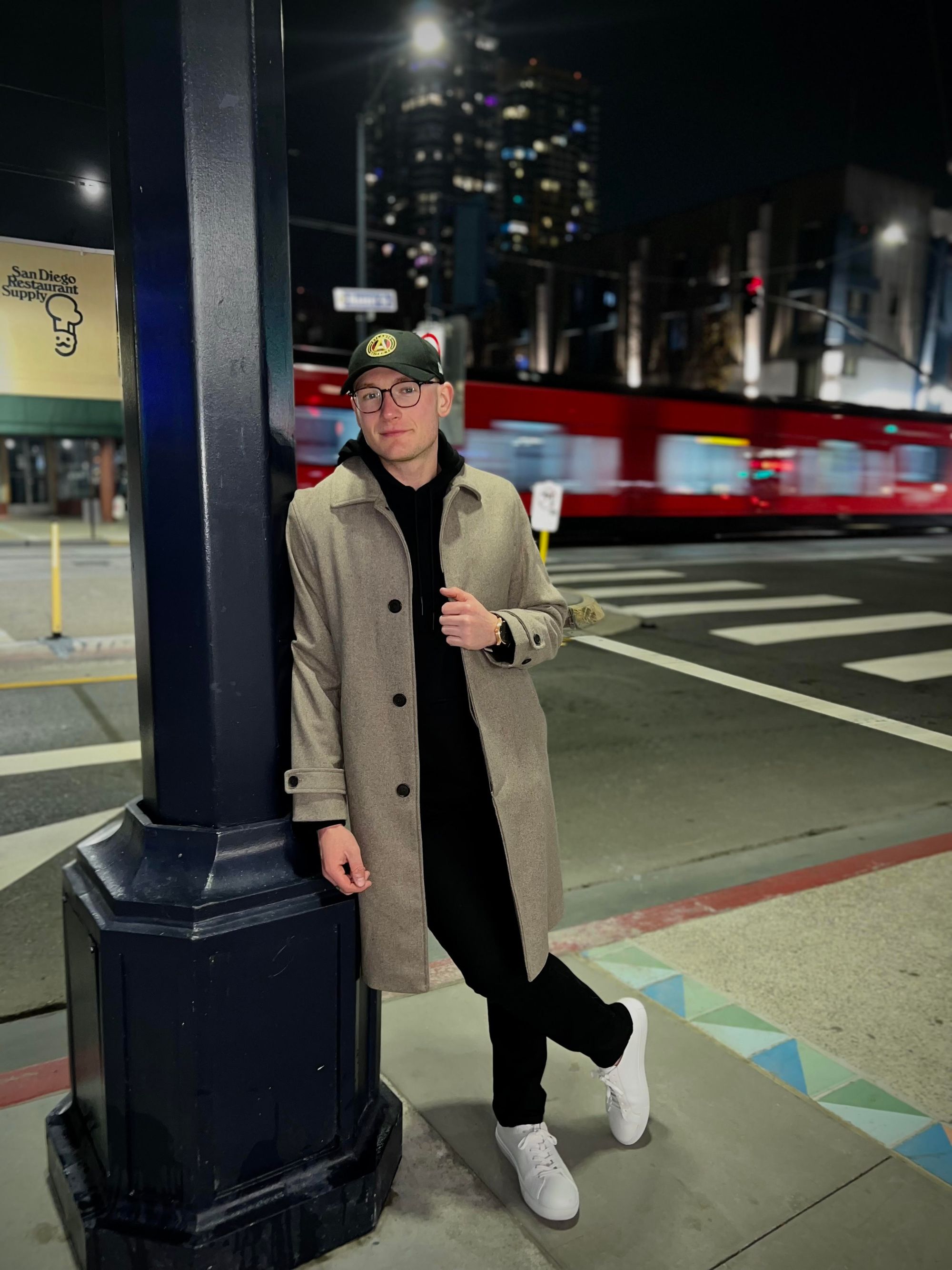 Yet another edgy and fashion-forward look that isn't for everyone. A black hoodie, black chinos, a beige wool car coat, and of course, white sneakers. This look works better in an urban environment and with more youthful people. This is another cozy ensemble that, if anything, further exemplifies the versatility of white sneakers across various seasons of the year.
OUTFIT #23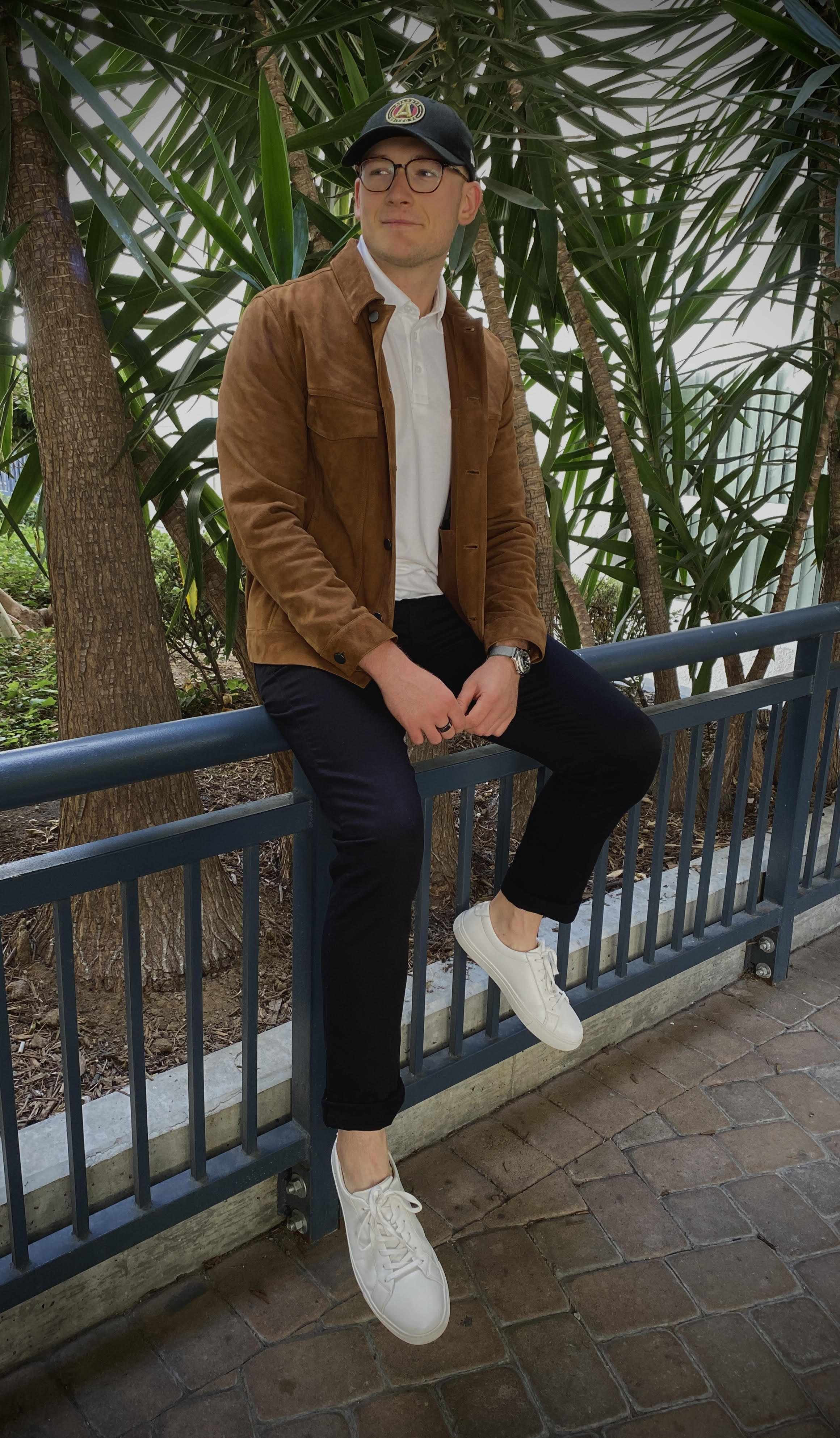 Another leather-on-leather look, here I have a tobacco suede trucker jacket, a white pique polo shirt, and the same black chinos from the previous look. The white polo works well with the sneakers, and the vibe remains ultra-casual.
OUTFIT #24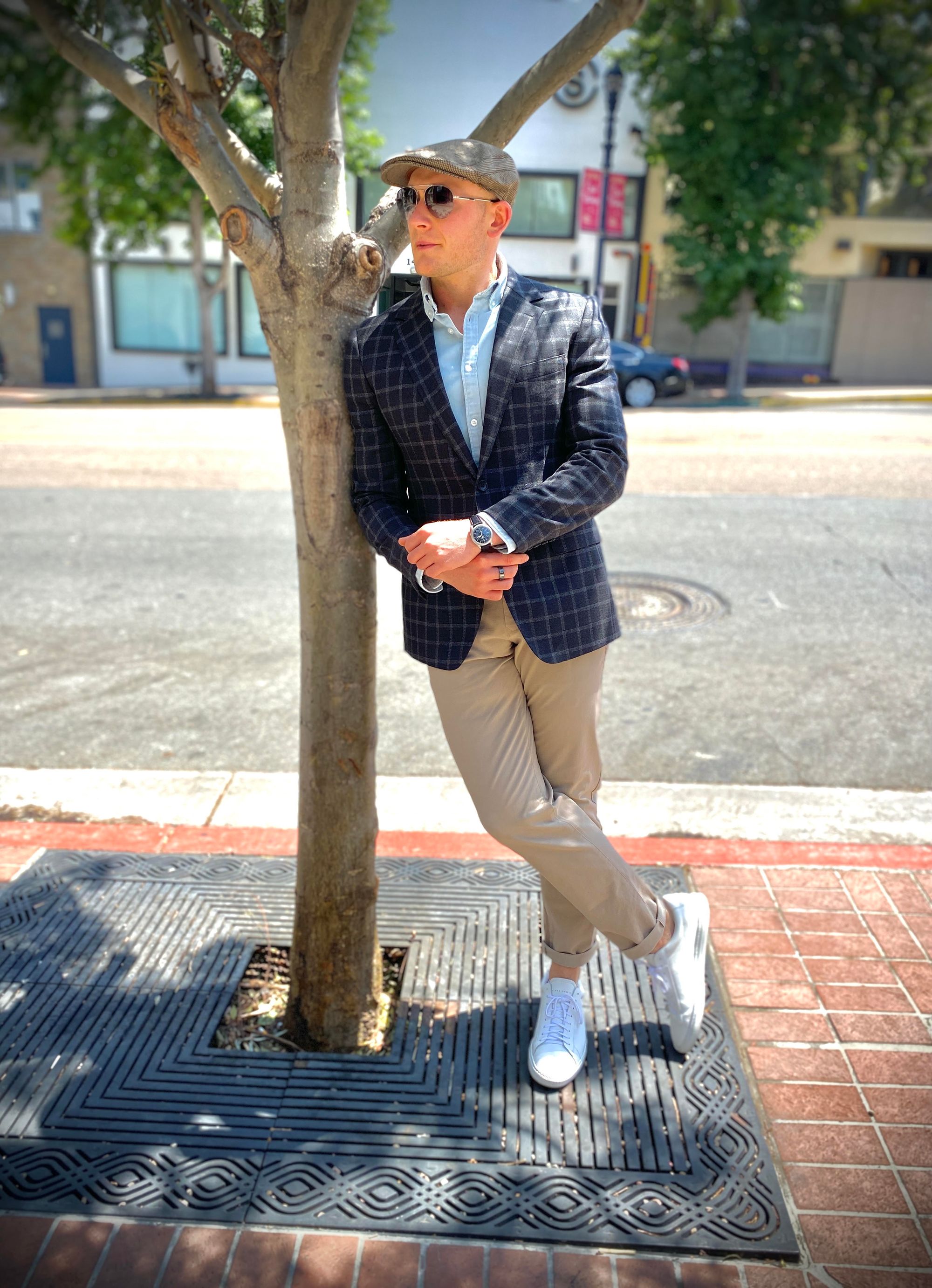 Time to break out the sports jacket. For more information on the differences between suit jackets, sports jackets (a.k.a. sport coats), and blazers, read my article here. This look is all-around dapper. Neutral colors work very well to create something that can be worn to events where you want to have a good time.
OUTFIT #25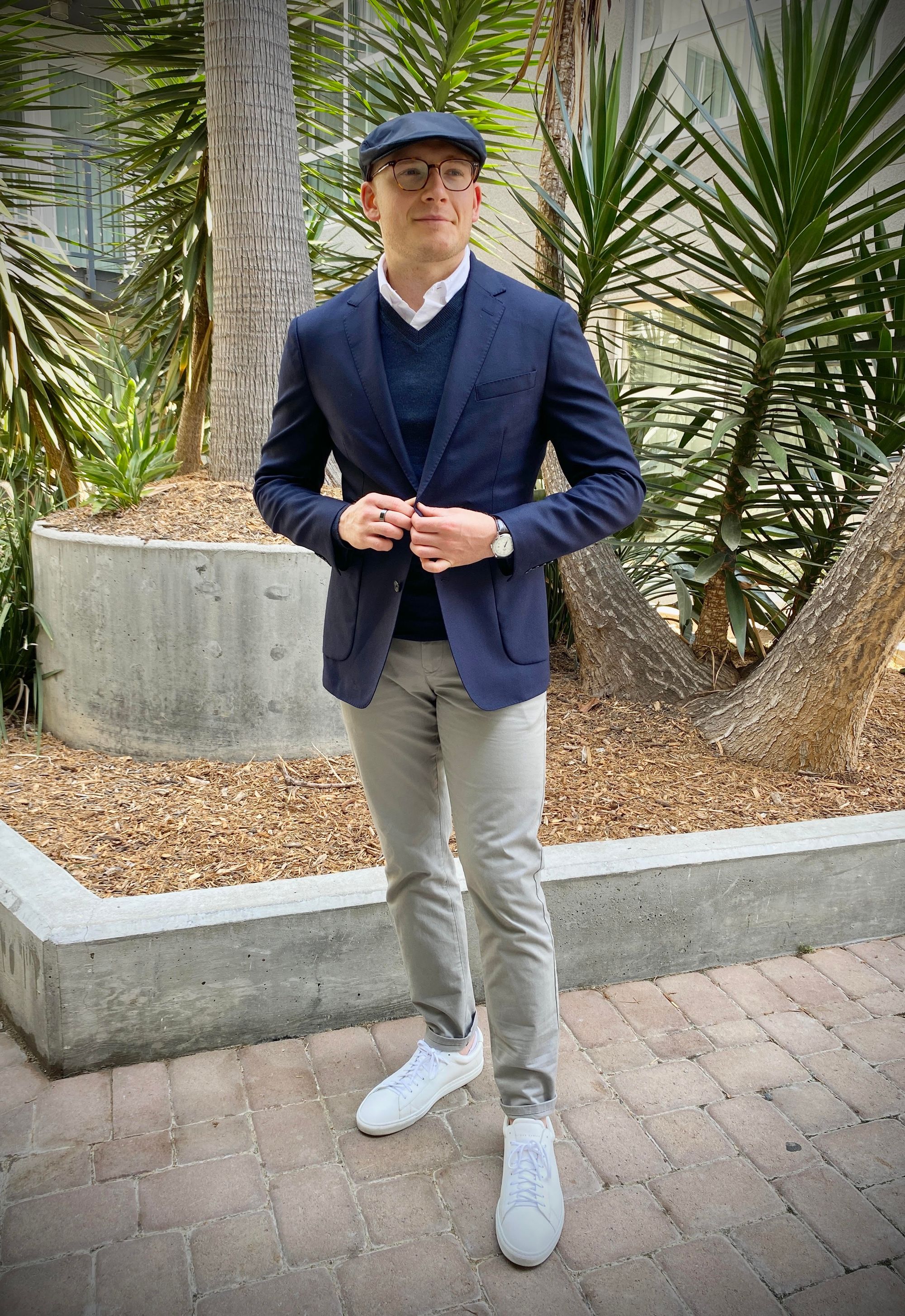 Here is a great way to smartly pair white sneakers and a classic navy blazer. Here we focus once again on layering. I have a white OCBD (more informal than a dress shirt) layered with a navy blue v-neck sweater. The stone-gray chinos blend well with the sneakers and contrast nicely with the navy blue up top.
This is a perfect outfit for a date or setting where you want to look dapper without looking "extra." For more ways to casually style a navy blazer, click here.
OUTFIT #26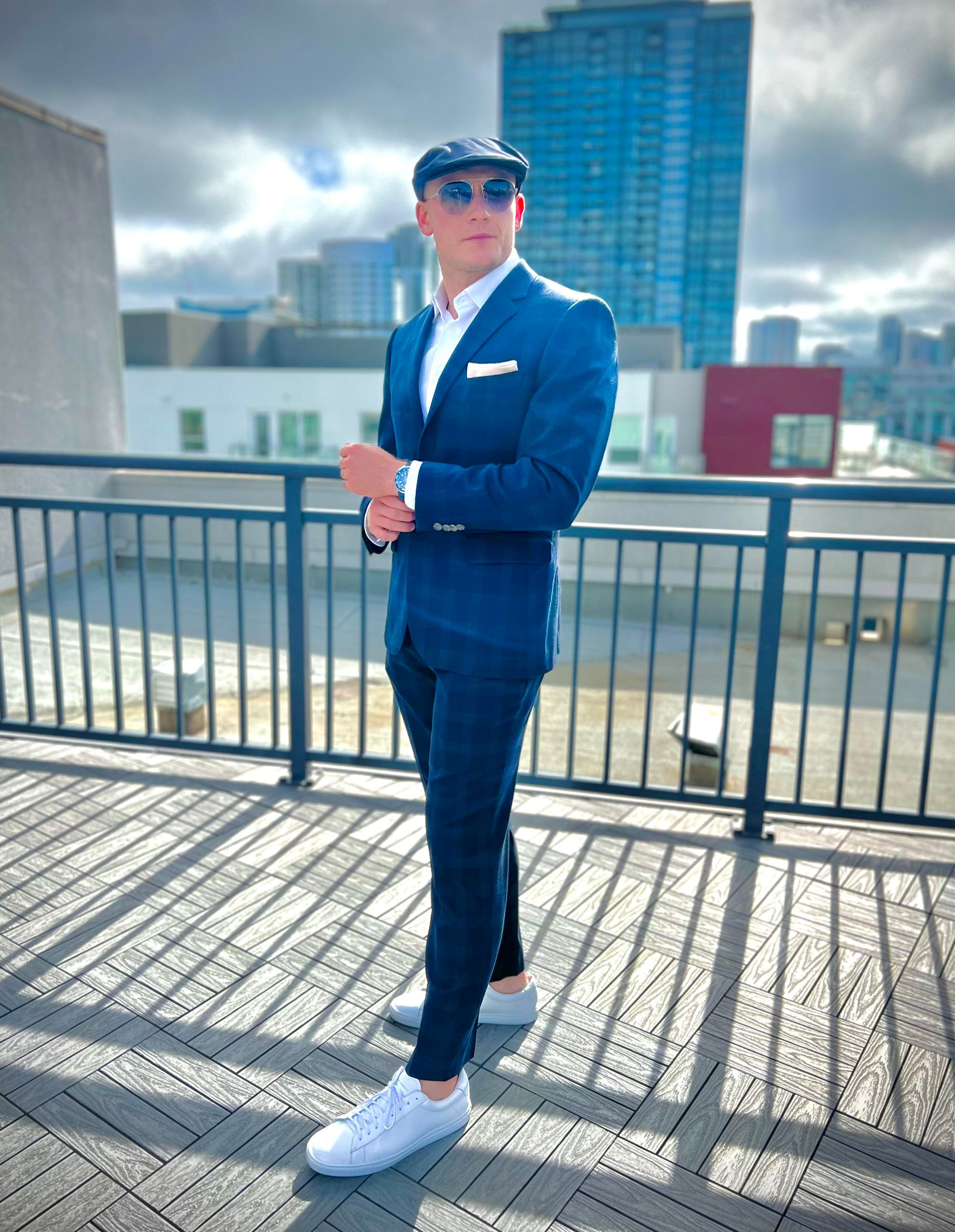 Last but certainly not least, this look aims to answer the age-old question of whether a man can wear a suit with sneakers, to which my answer is YES. Times have changed, and while I'm certainly not one for trends, this is a look that I feel is here to stay. Like anything in the realm of style, fit is critical. If your suit doesn't fit you well, this look will quickly fall apart for you and backfire.
---
ADDITIONAL VIDEOS
Oliver Cabell Cut in Half - Rose Anvil
---
The Best Minimal White Leather Sneakers - Stridewise & The Modest Man