THIS ARTICLE IS NOT SPONSORED, AND THE PRODUCT BEING REVIEWED WAS PURCHASED FOR FULL PRICE BY ME
Most men's style enthusiasts will tell you that a pair of white minimalist sneakers are critical to filling out your wardrobe, and they are correct. Unfortunately, for the longest time, the standard by which white leather sneakers have been measured is the Common Projects Achilles. At over $400 per pair, this is simply inaccessible to the average man.
I believe in investing in quality; however, if attempting to build an interchangeable and practical wardrobe as quickly as possible, shelling out $400-$500 isn't necessarily conducive to freeing up funds for additional garment pieces.
Enter the New Republic Kurt sneaker. You'd be forgiven if you couldn't tell the difference between Common Projects and the Kurt from afar and to an untrained eye. The silhouette is elegant, clean, and devoid of any apparent branding.
SNAPSHOT REVIEW
New Republic's mission is to craft products accessible to everyone and manufactured with quality. I can tell you that, in my opinion, they make good on their promise. At a retail price of $98 and often marked down to as low as $60, these are unquestionably the most bang-for-your-buck for a pair of white minimalist leather sneakers.
Every single outfit following this article from my archive showcases the Kurt. If you're in the market for an affordable pair of white sneakers that are comfortable and priced honestly, you can thank New Republic for delivering just that.
Pros:
Affordable and easily worth the $98 asking price.
Comfortable once broken in.
Clean and minimalistic silhouette, devoid of apparent branding or additional colors (triple white colorway).
They are often marked down in price to as low as $60.
Cons:
The low-quality leather limits the shoes' lifespan (dependent upon the duration of wear).
Stiffness in the laces when attempting to synch down and tighten around the foot (alleviates with time and wear).
No apparent venting, so mind the sweaty feet and odor!
ABOUT NEW REPUBLIC
Based in Los Angeles, New Republic set out to solve the issue of unaffordable footwear and has recently expanded into manufacturing apparel. Just a quick read of their mission statement tells you everything you need to know about the initiative that this company is attempting to champion:
"We design and develop incredible products that are accessible for everyone. This is the 'new luxury.'"
WHAT YOU'RE PAYING FOR
New Republic markets its leather as "genuine." Still, it's essential to understand and recognize that at a price-point of just under $100 certain compromises must be made to balance quality with honest pricing.
New Republic utilizes "action leather" instead of full or top grain leather. If you're uncertain about what this means, here's a brief explanation:
GENUINE LEATHER
Often marketed to sound extremely high quality, this is not the case. Genuine leather is synonymous with "technically leather" in that it is still made from the hide of an animal.
This is an important distinction to make because leather is no longer defined as "cowhide" as it once was but now includes the hides of other animals. This means that varying scraps of the lowest grade of leather can be rebuilt and embossed into a product that can then be marketed as "genuine leather."
Not to pick on any particular brands for choosing to market their leather goods as "genuine," but we need to understand what our money is getting us.
ACTION LEATHER
The leather chosen for the Kurt sneakers is suede cow leather covered with a thin coating of polyurethane. Once embossed, the sneakers are still classified as "leather" for import duty. The primary difference between the Kurt and a luxury pair of sneakers such as the $400+ Common Projects is the leather quality and the different outsole.
Without getting into too much detail about another white sneaker brand, you need to know that Common Projects offers a full-grain leather sneaker with a margom outsole (a higher grade of genuine rubber). This is difficult to spot at a distance to the untrained eye, but the differences become apparent once you put your fingers on each type of leather and learn what to look for. Full-grain leather is soft and supple, while genuine leather of the lowest quality is not.
FULL-GRAIN V. TOP-GRAIN V. GENUINE LEATHER (SKIP IF YOU AREN'T INTERESTED)
Full-grain leather is the good stuff. The complete and most natural animal hide provides the most durability for an item made from full-grain leather. Additionally, goods manufactured from full-grain leather often retain richness in color and texture, a quality that is commensurate with premium leather products.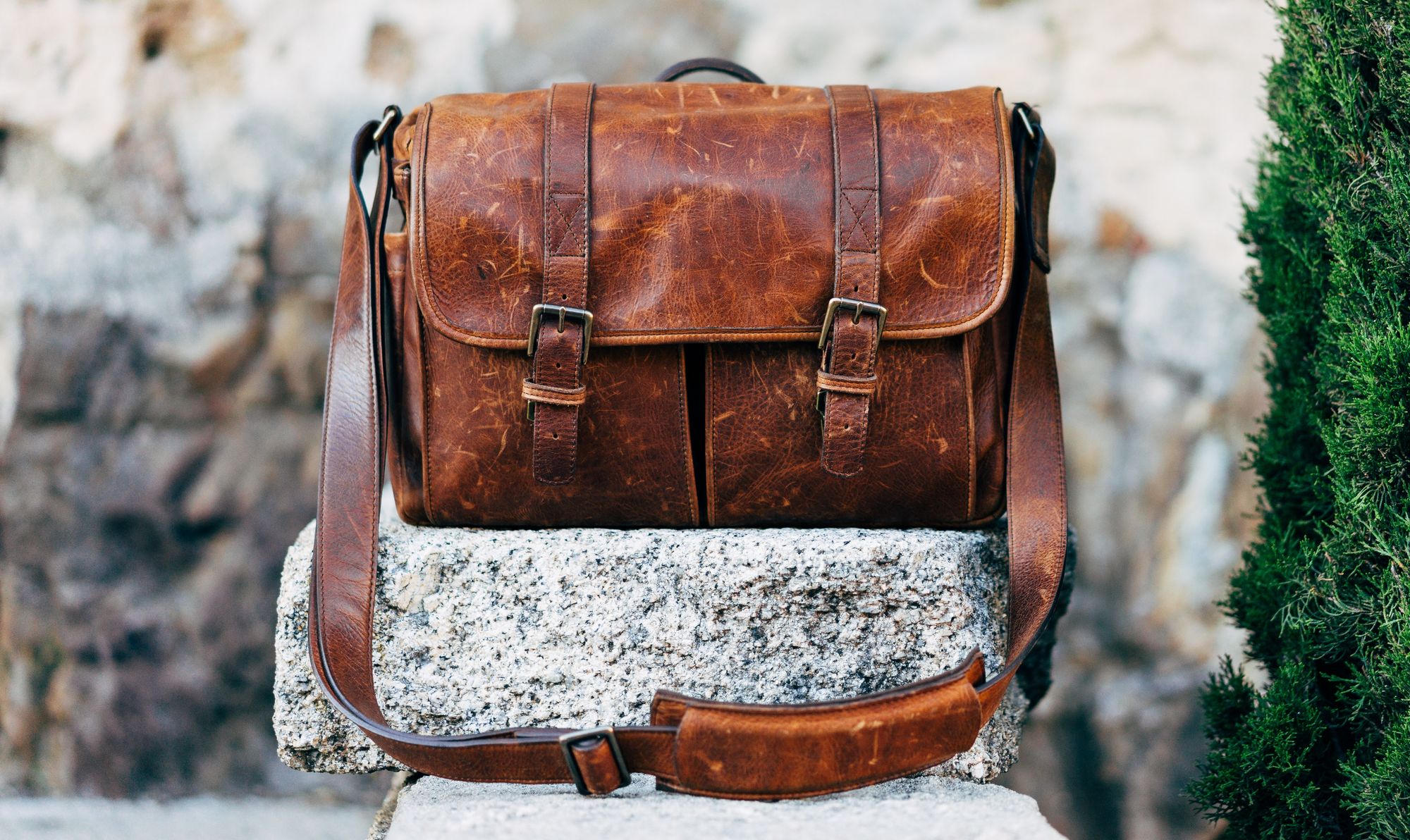 Top-grain leather is a step below full-grain and, as a result, is weaker because it usually has been sanded down. This process breaks the fibers and diminishes that premium richness and sheen, which has become synonymous with full-grain leather goods.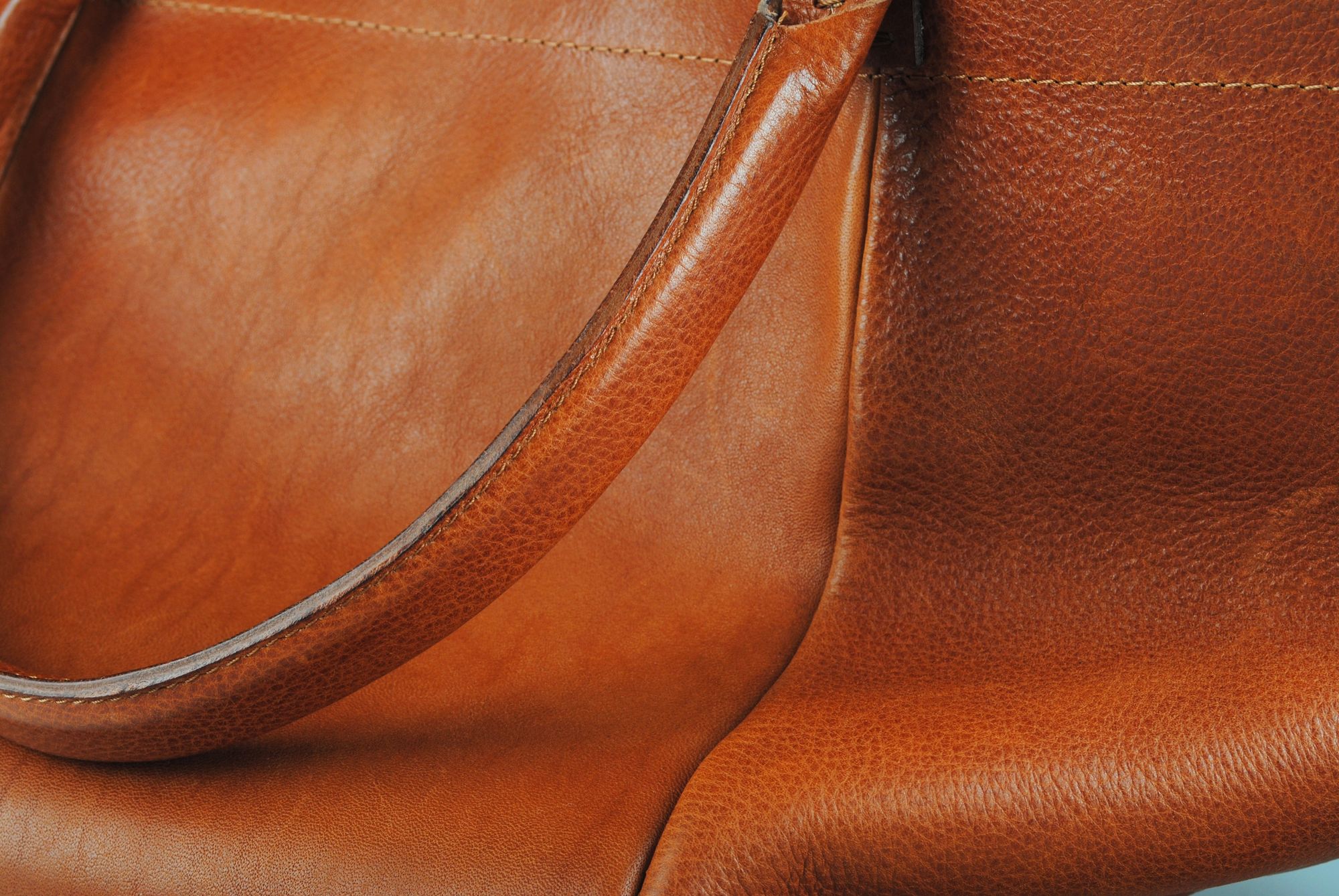 Genuine leather is "technically" leather, which we previously defined and is what the Kurt sneakers are made from.
CUPPED RUBBER OUTSOLE
The Kurt also features a cupped rubber outsole, which helps alleviate the cost of manufacturing compared to shoes with a margom sole.
FOOTBED & LINING
The Kurt also features a Tencel mesh footbed designed to prioritize comfort for the wearer's feet and thus decrease break-in time. The newest version of the Kurt, which has been available for roughly a year now, comes with a tonal microfiber and leather lining meant to accommodate comfort and complement the all-white silhouette.
HANDS-ON THE PRODUCT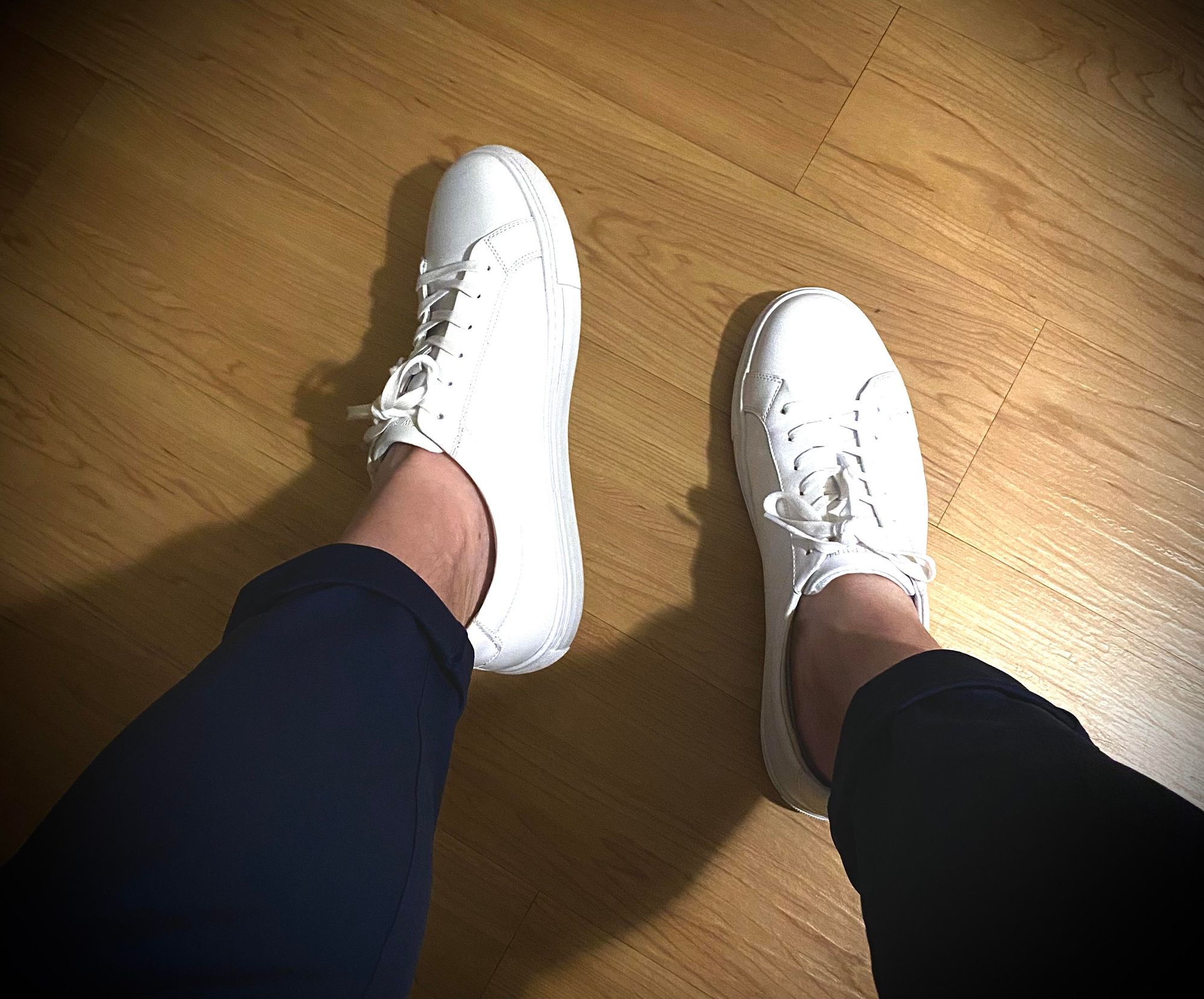 When I first ordered my triple white Kurt sneakers, I expected to receive a pair of shoes that did not look as nice as the images on New Republic's website. We've all been there before, thinking that something will look and/or feel a certain way, only to be underwhelmed when we unpack the final product.
When I received the sneakers and broke them out, I was surprised by how elegant they looked and good they felt. The leather isn't very soft and supple, but it also doesn't feel like plastic. It feels exactly how it's marketed (assuming that you're aware of "genuine" leather and can manage your expectations accordingly).
Perhaps the most surprising aspect of the sneakers (to me) was the heftiness of each shoe. Margom outsoles typically provide quite a bit of heft in and of themselves, and that feels quite good on the feet, adding to the premium quality of the sneakers, which feature margom.
I can safely say that the lower-quality rubber sole used for the Kurt sneakers is also hefty, and although it isn't nearly as premium of a material, it works just fine for the shoes themselves. The cupped sole works well with the Tencel mesh footbed to mimic the feeling of something similar to memory foam, and the result is a reasonably comfortable shoe once it's broken in.
This leads me to some criticisms. I'll be honest when I say that it took much longer to break these shoes in than anticipated. It's important to point out that I own pretty thin no-show socks, which perhaps contributed to the slight discomfort.
There was also a stiffness to the lacing system when I synched them down to tie the shoes. Certainly not a deal-breaker, but I surmise that this was primarily due to the lower grade of leather which, of course, is not as soft as full-grain leather is.
Oh, and if you have sweaty feet, mind the odors as these shoes don't breathe all that well.
CLOSING THOUGHTS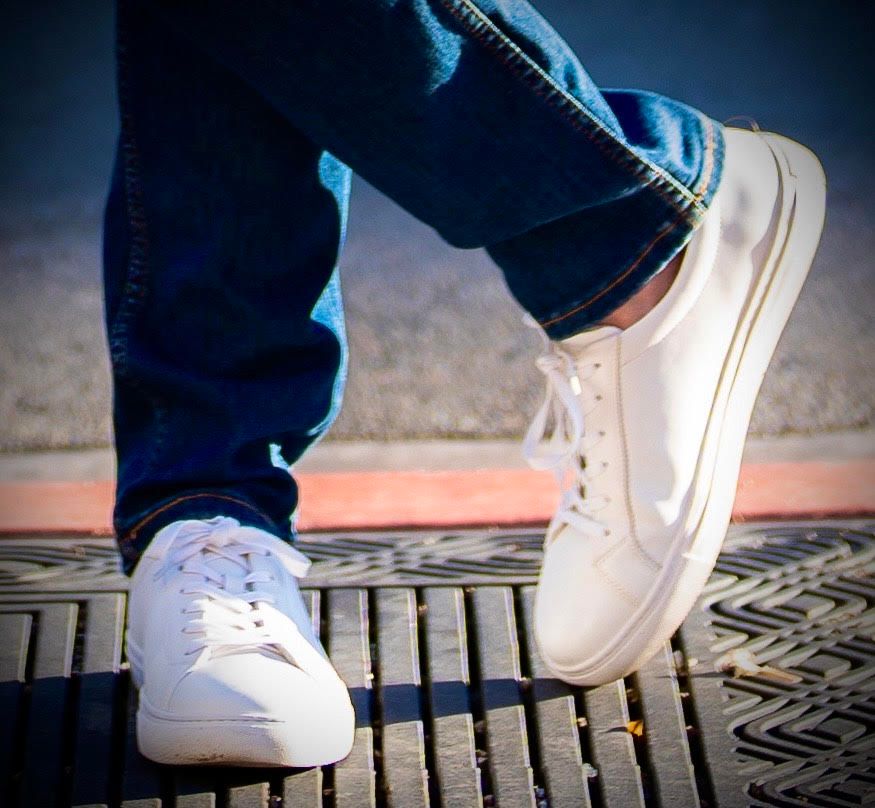 I highly recommend this product. I wear these sneakers more than any other in my current collection because I purchased them, intending to beat them up. I have spoken at length about the necessity of having white sneakers as a staple in any man's wardrobe, and as such, most of my outfits include this wardrobe staple.
If you're on the fence about this purchase and/or looking to make the first one to build out your wardrobe, I recommend that you look into these sneakers and consider what you're getting with your purchase. You will have to decide if they are worth the money for yourself. For me, they most certainly are, and after having disclosed to you what these shoes are made of and the intentions behind their construction, I hope that you can make an informed decision as you move forward.
See my article here for other white minimalist sneaker recommendations (on a budget).
For outfit ideas that feature the New Republic Kurt sneakers, see below.
NEW REPUBLIC KURT SNEAKER OUTFIT IDEAS