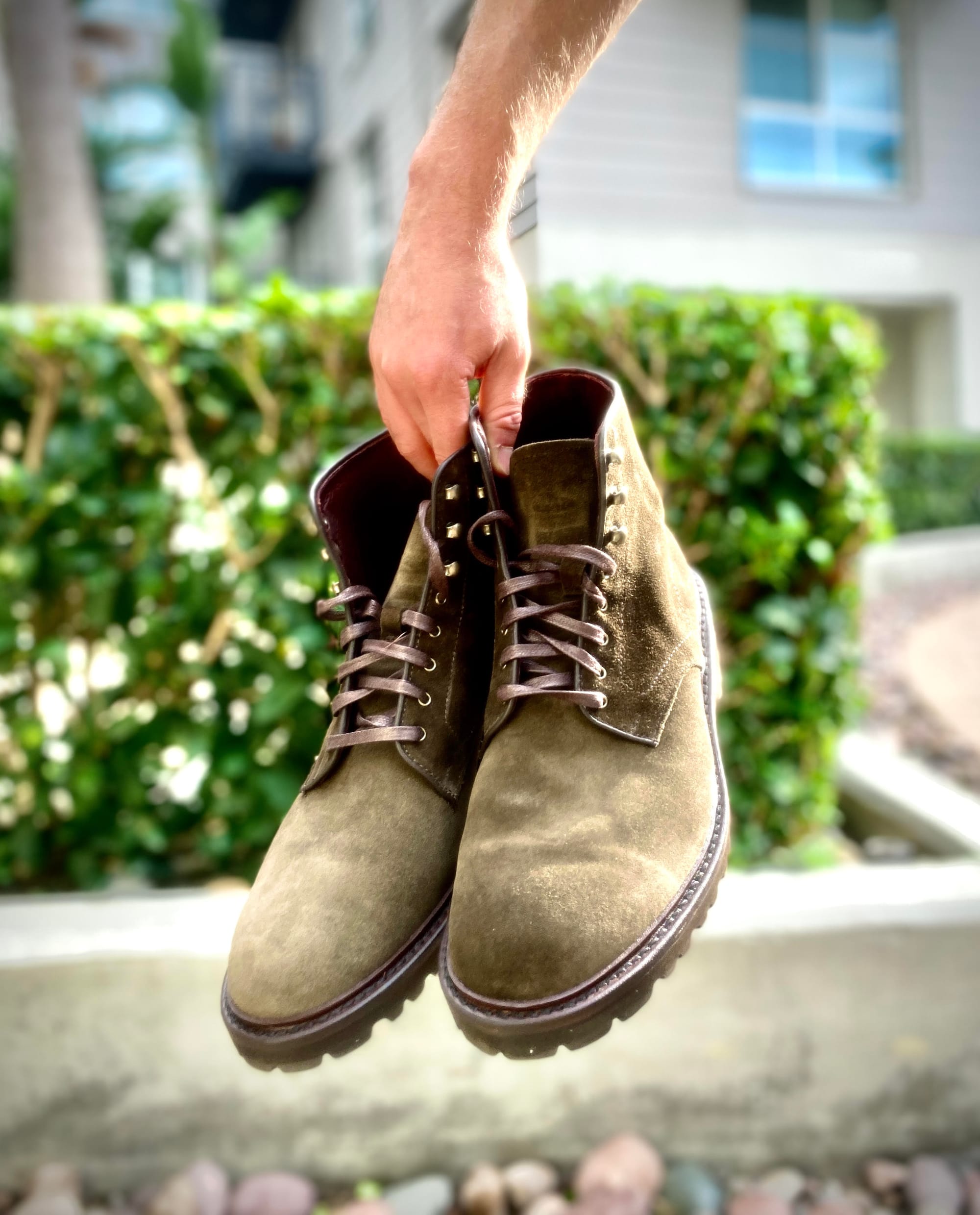 THIS ARTICLE IS NOT SPONSORED, AND THE PRODUCTS BEING FEATURED WERE PURCHASED FOR FULL PRICE BY ME.
Boots are essential for the Fall and Winter seasons. Aside from helping to keep your feet warm and dry, they are an excellent way of adding extra flair and sophistication to your look.
However, choosing only a single pair to get you through the Fall and Winter can be challenging with so many different types of boots. This begs the question...
Is there a boot that could compliment nearly any outfit combination?
The short answer is YES, I believe there is such a boot design and color. However, good advice at the wrong time becomes poor advice, and I want to start by admitting that the advice I am providing in this post is reserved for men who have already established their starter wardrobe and have even taken measures to expand upon it.
With that said, what is the most versatile boot style and color? Call me basic, but when it comes to the type of boot I recommend, it's best to stick with the basics and opt for a tried and true lace-up boot.
So then, what color should that lace-up boot be? In the past, I have recommended a brown lace-up boot for starting a wardrobe from scratch, and I stand by this advice because it's meant for men who are just starting out trying to determine and further develop their style.
Once the ball gets rolling, and you've invested in a quality pair of brown boots, it's easy to believe that a black pair of boots ought to be your next purchase. Now you aren't wrong for wanting a black pair of boots. If that is what you want and it better compliments your style, then by all means, get yourself a pair; but for those who prioritize versatility, here is what I believe to be the best boot color you can invest in next.
DARK OLIVE GREEN
Not all green is the same, and I'm going to be very specific about this because otherwise, investing in any old pair of green boots could backfire and make you look silly instead of stylish.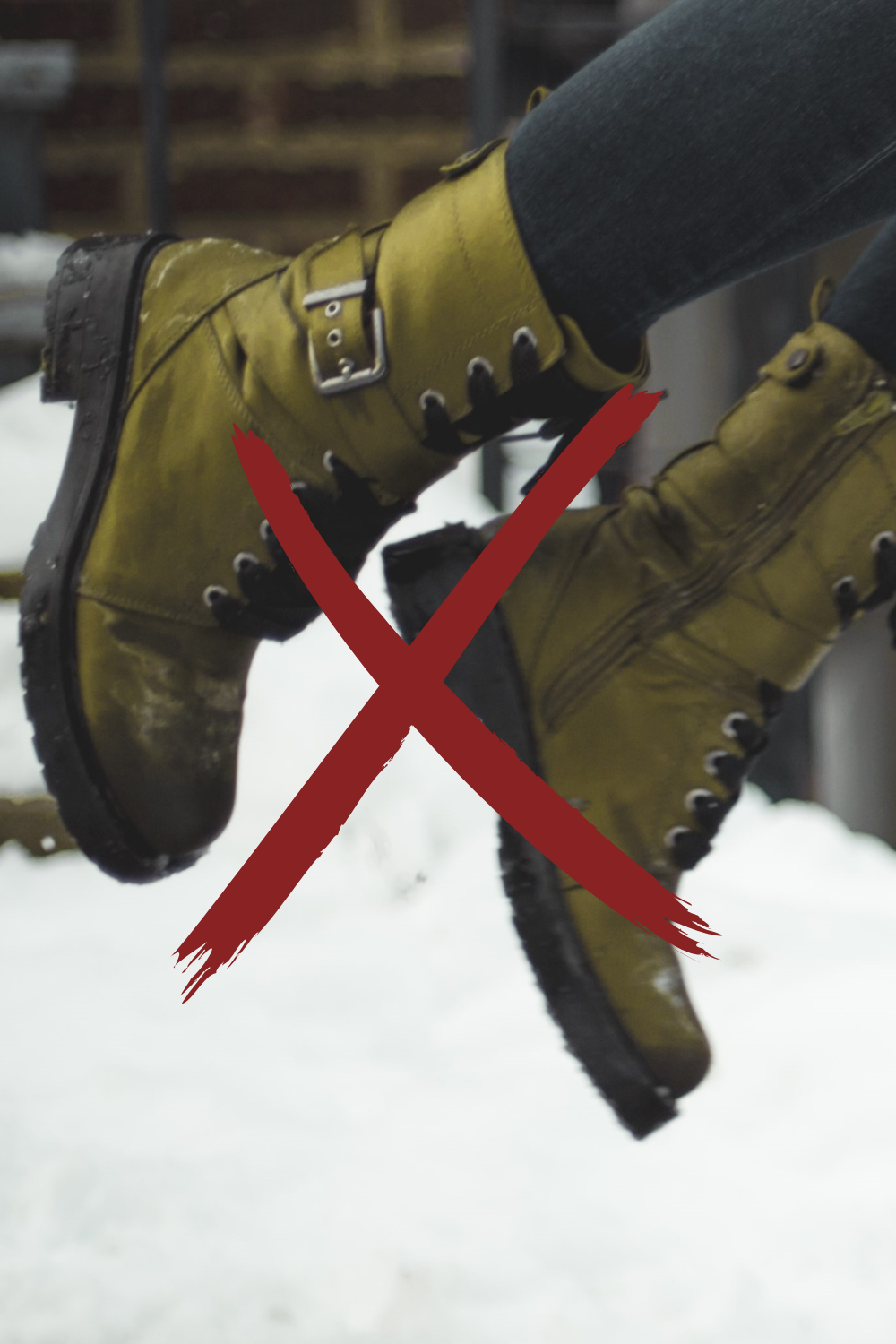 Dark olive green is an inherently earthy color that has brown undertones. It is muted and, on its own, may not seem like a versatile color, but here are some examples of what I'm talking about and how this color does an incredible job of rounding out your wardrobe.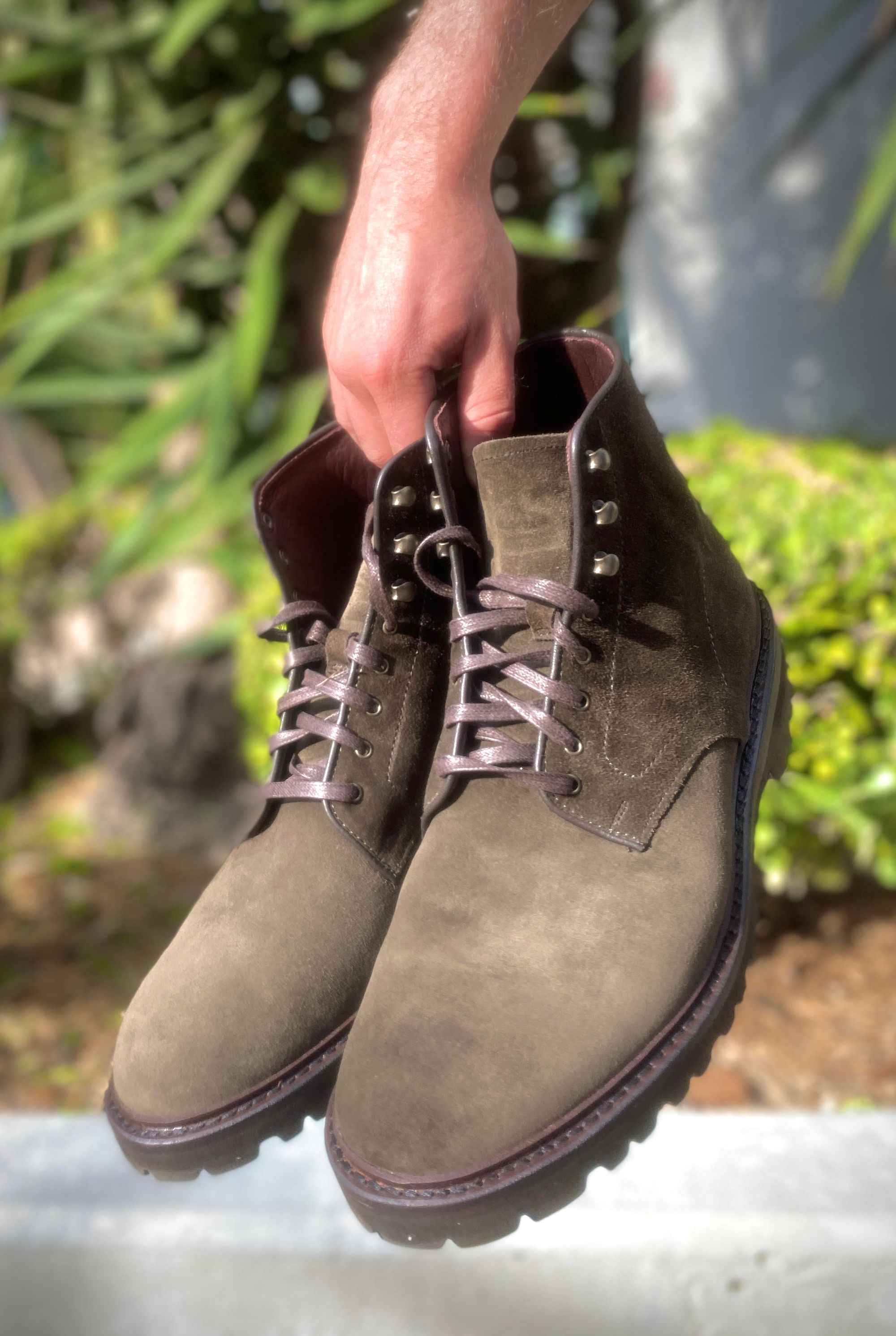 EXAMPLE #1: MOSTLY MONOCHROME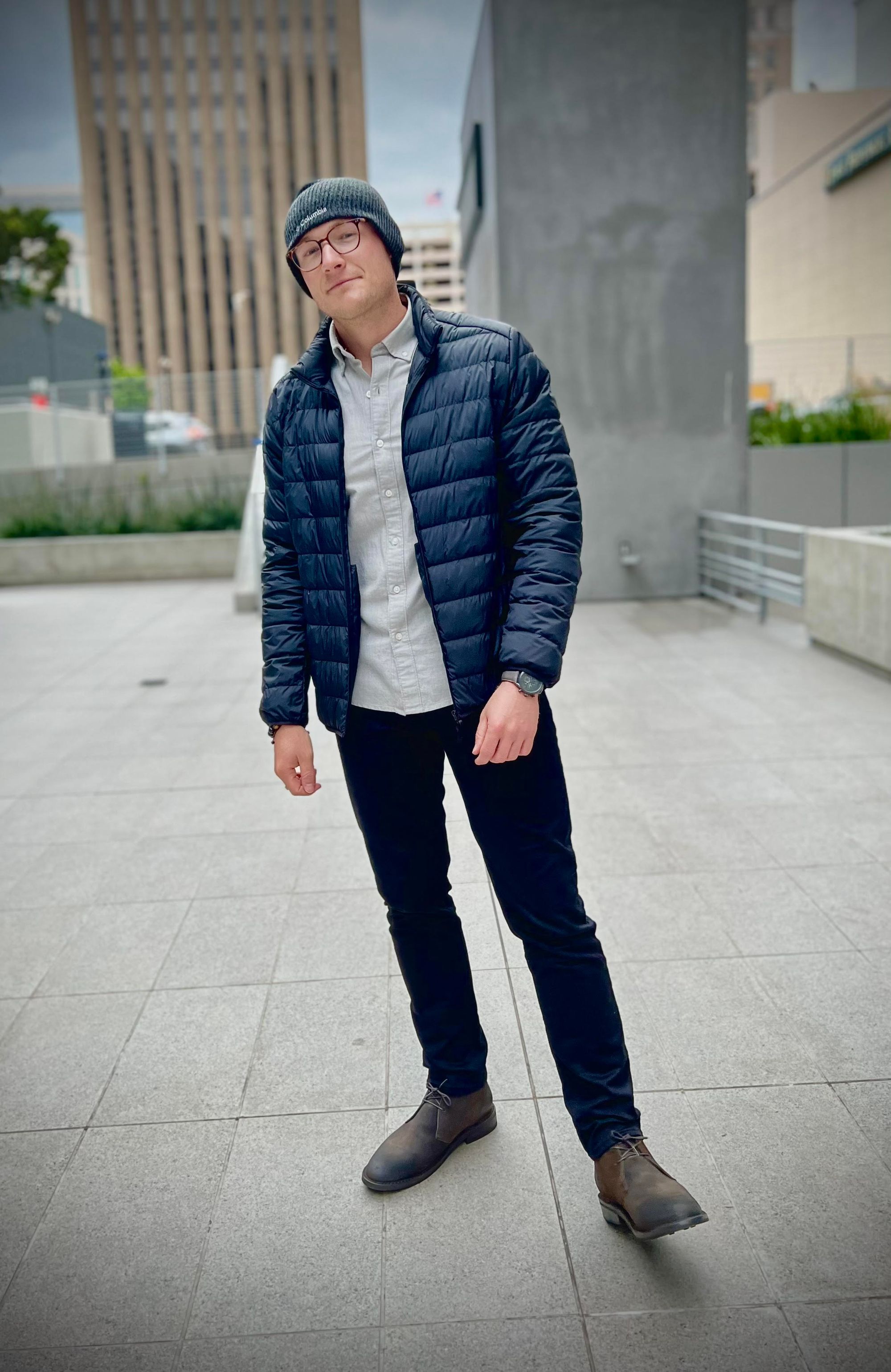 This is a primarily monochromatic look. I'm wearing a black down jacket, black chinos, a black knit cap, and a gray oxford-cloth button-down shirt (OCBD). The chukka boots, however, are dark olive green in suede. As you can see, replacing black boots isn't a problem.
EXAMPLE #2: BLACK & BLUE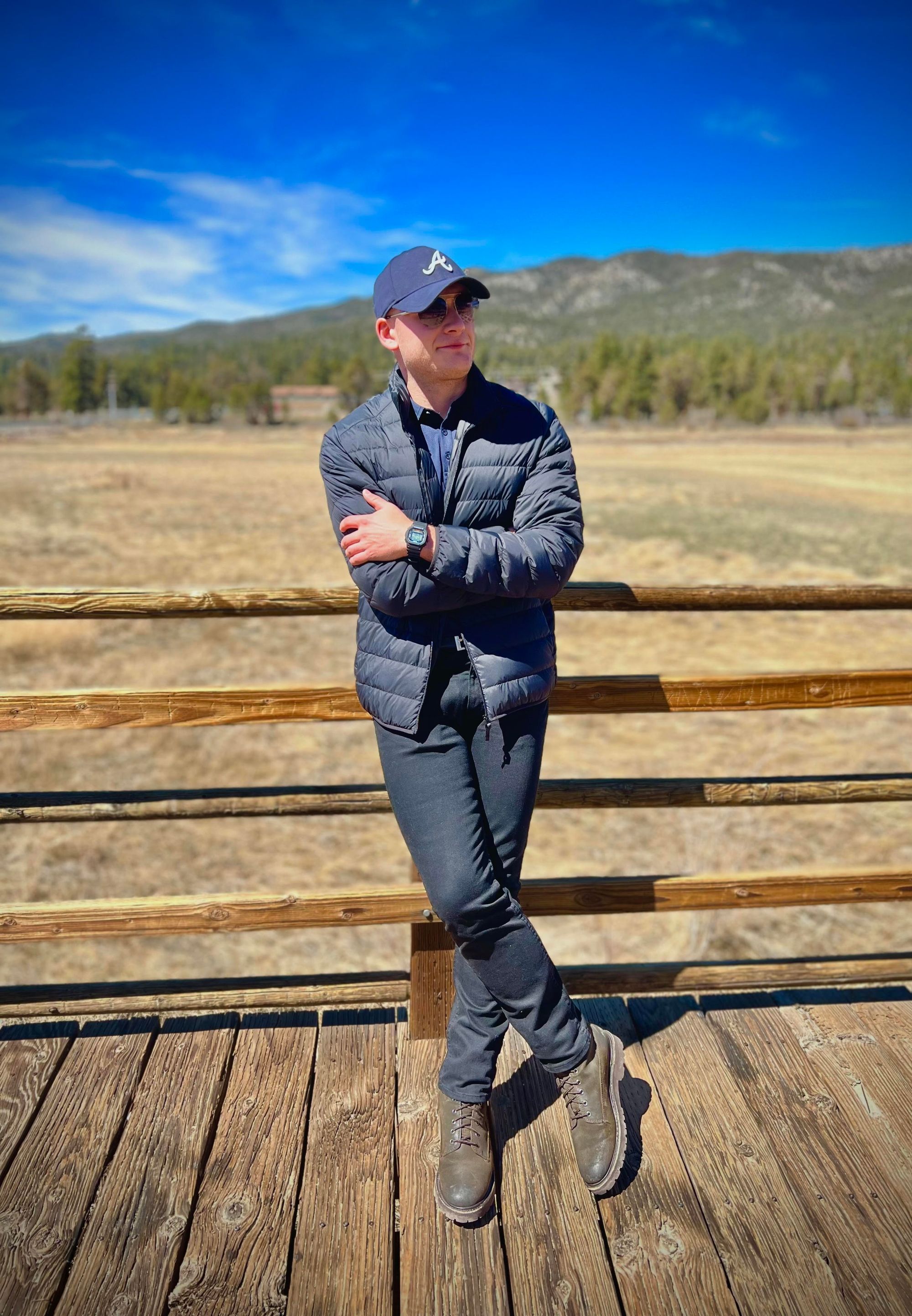 Here is a similar look. I have the same black down jacket as before with black denim jeans instead of chinos, and I am mixing some navy blue into my palette with the polo shirt and ballcap. I have opted for a more traditional lace-up boot this time, and the dark olive suede has a texture that meshes well with the other garments I've chosen.
EXAMPLE #3: ANALOGOUS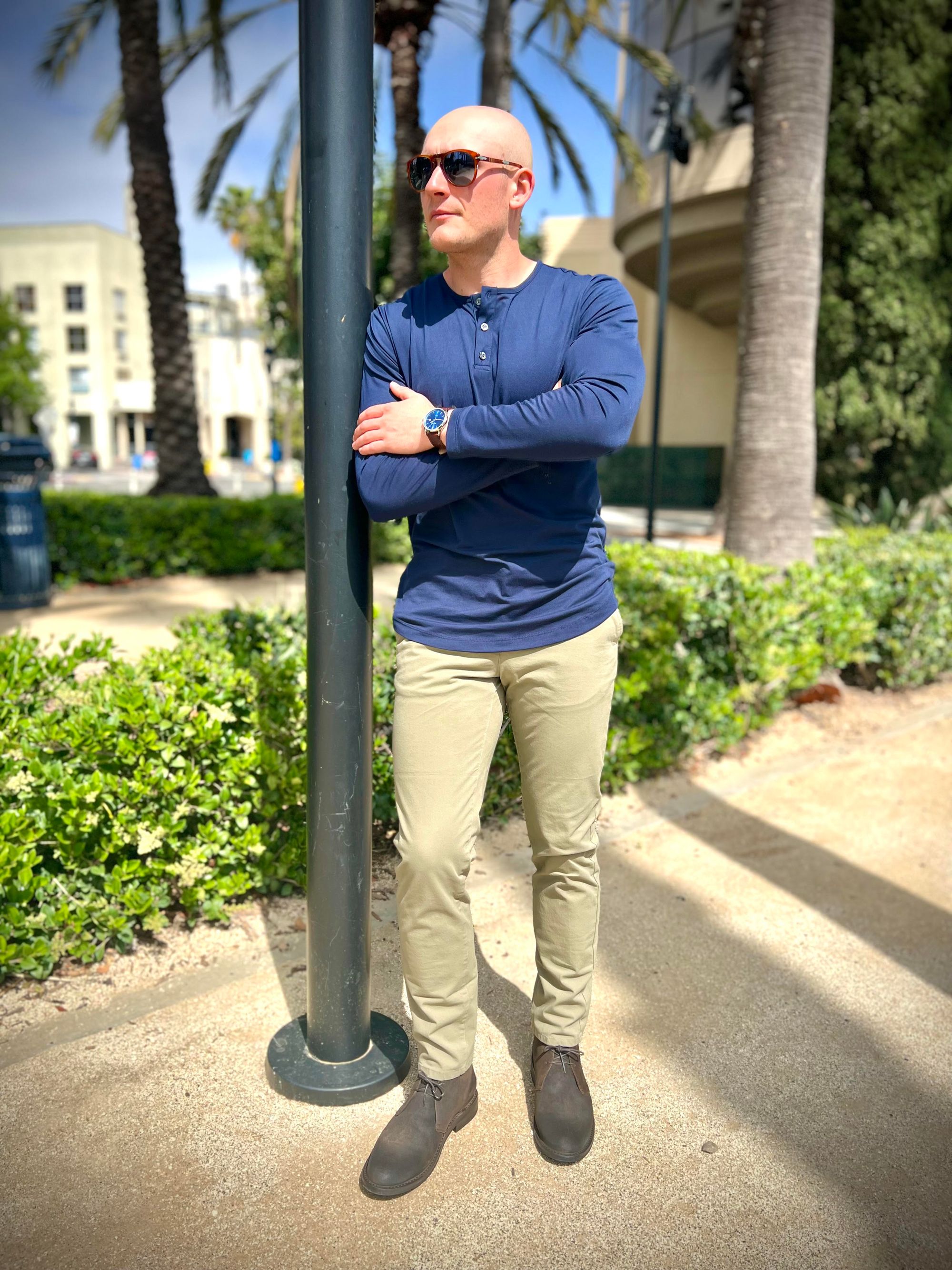 Here is a straightforward analogous color palette: blue and green. These two colors sit next to each other on the color wheel and therefore nearly always make a great pair so long as the tones don't contrast too sharply.
EXAMPLE #4: PALE OAK KHAKI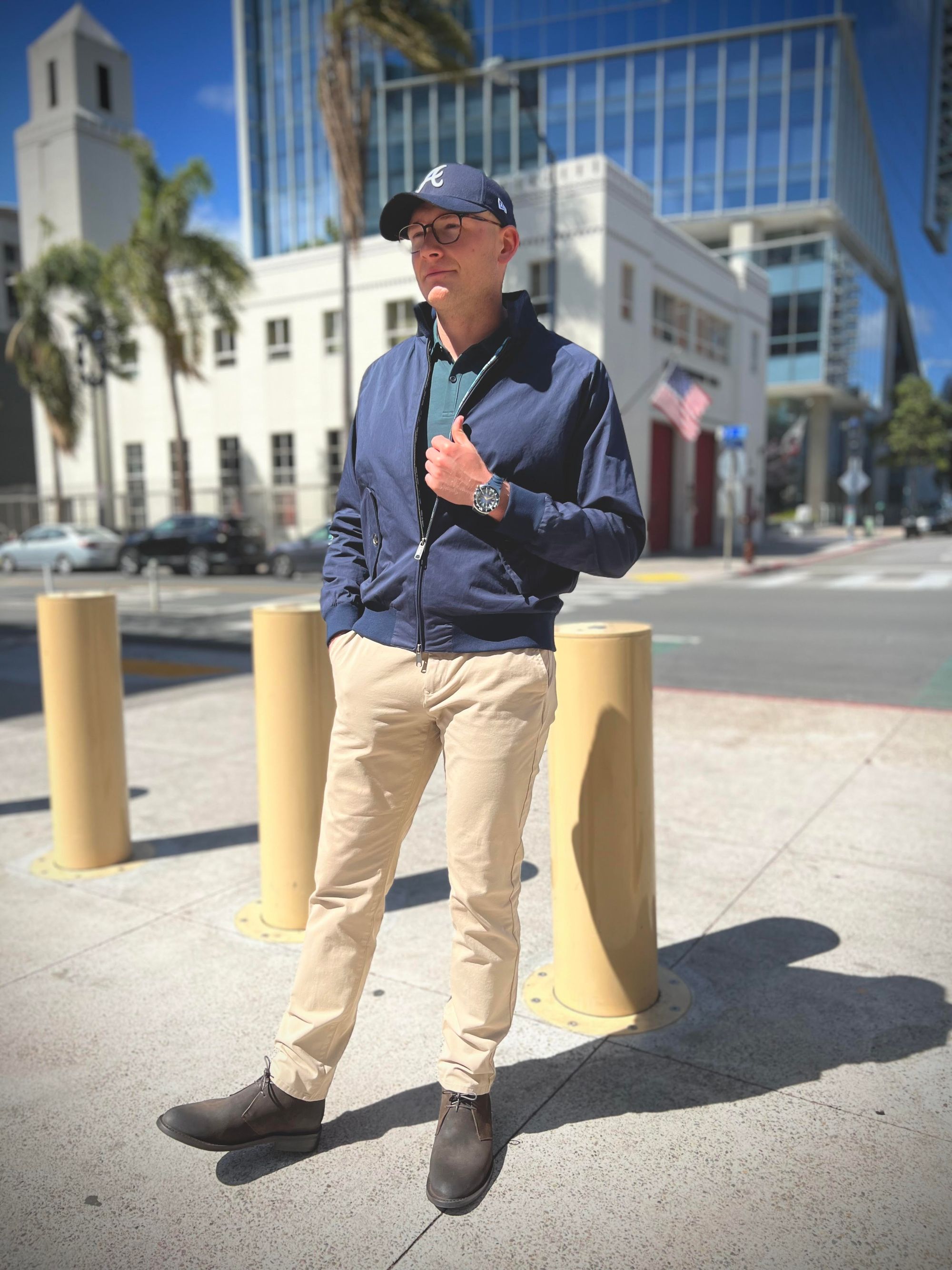 My first example of dark olive boots mixed with khaki chinos. Khaki in and of itself possesses brown dyes and, as a result, picks up the brown tones of the boots quite well. The green in the polo underneath the navy Harrington pops nicely but not so much to be overly loud.
EXAMPLE #5: RUSTIC RED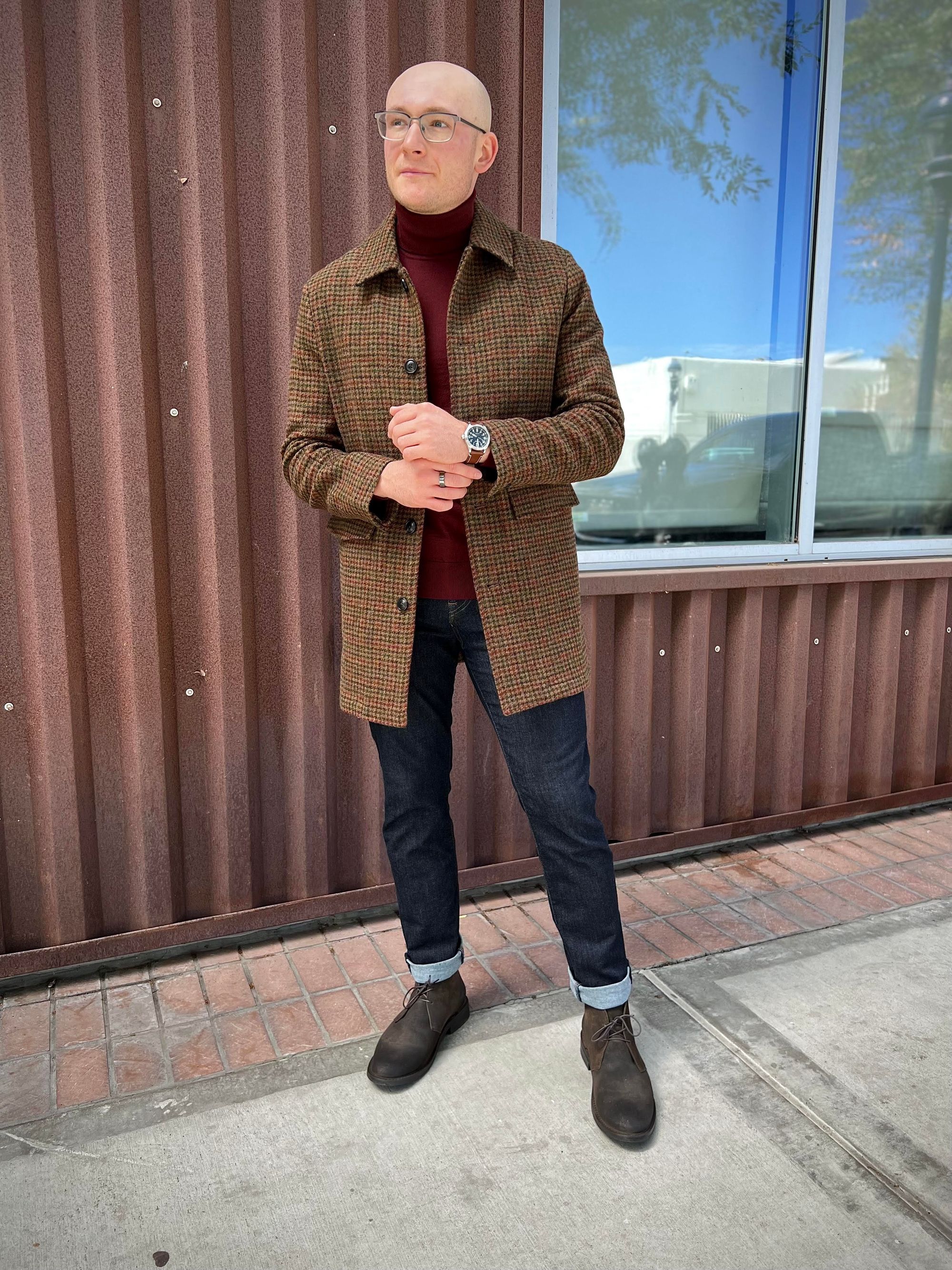 Sticking with the chukka boots, I paired them with dark-washed denim and a red wine turtleneck. You'll notice some hints of red and green in my tweed car coat, but the boots would work just as well even if the coat were solid brown. The key takeaway with this particular outfit is that warm colors are incorporated tastefully and harmonize well with the dark olive green boots.
EXAMPLE #6: BLUE & CHARCOAL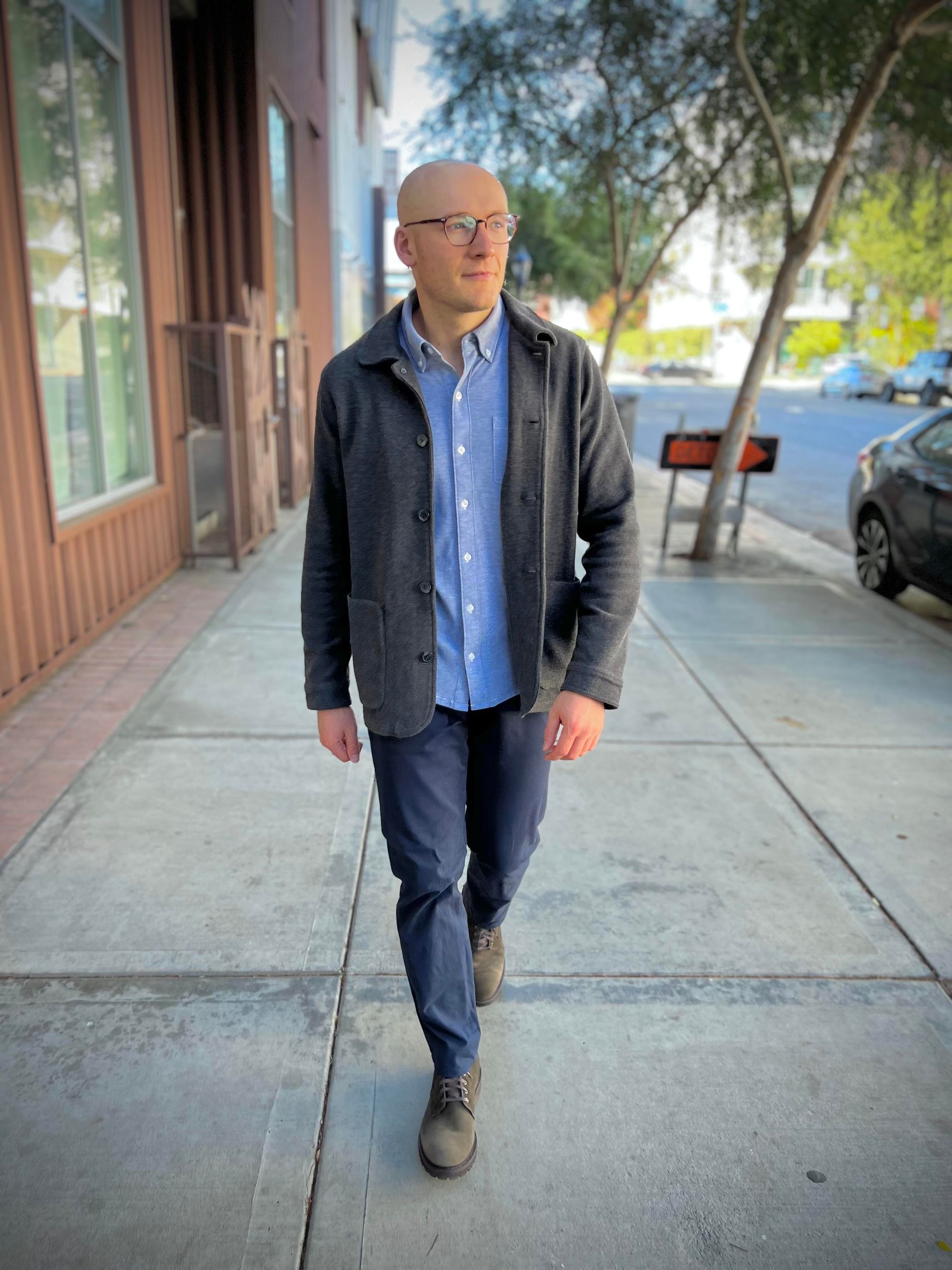 The color palette for this look is decidedly cooler in tone with a light-blue knit OCBD, navy blue chino pants, and a charcoal shirt jacket. This time I have decided to wear a traditional lace-up boot in a suede material. Again, green and blue work well together, so naturally, they are easily paired.
EXAMPLE #7: BLUE & TAN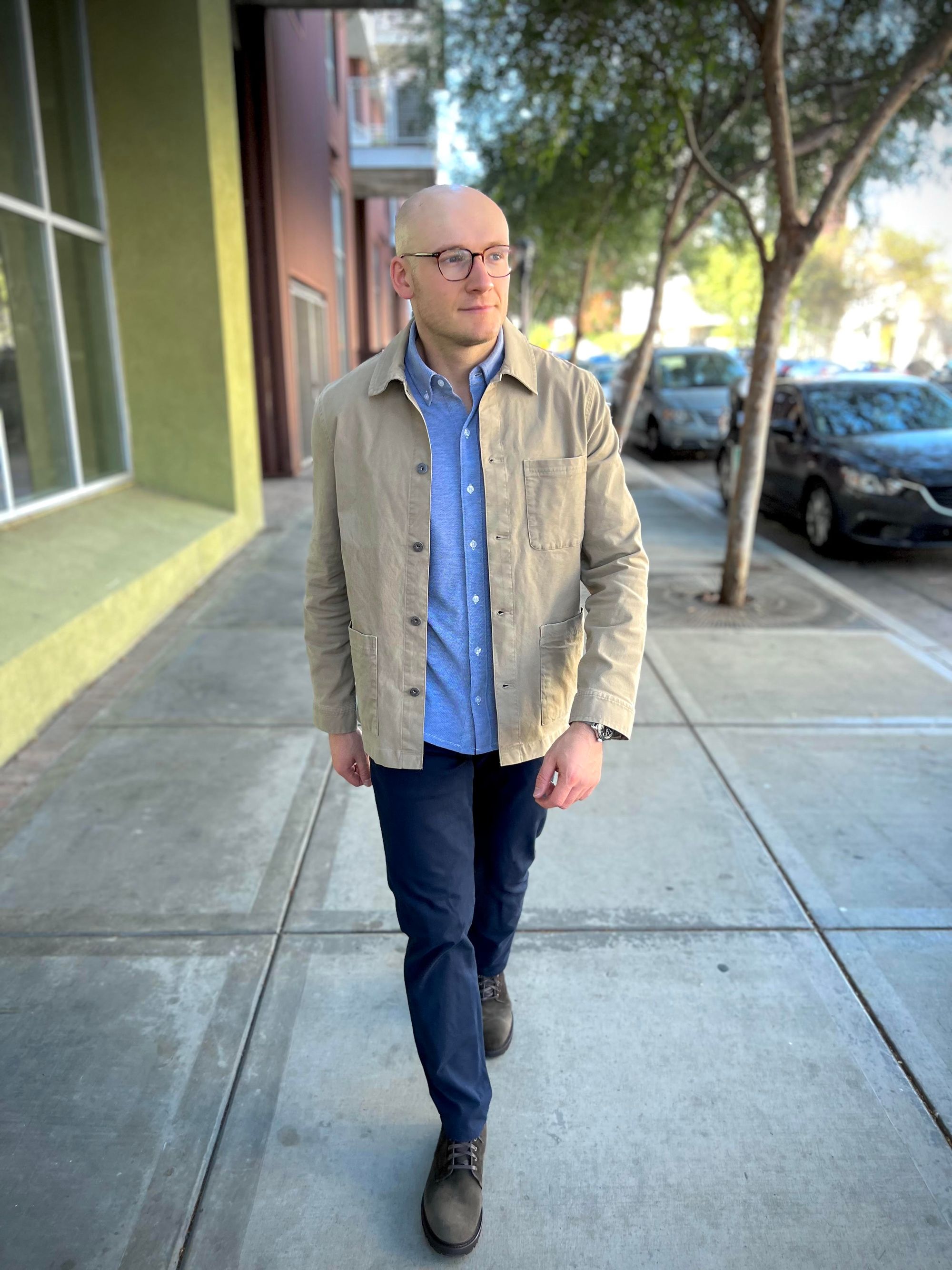 The only thing that I have changed with this look is my choice of outerwear. This time I have a tan chore jacket much lighter than the charcoal shirt-jacket from the previous example. Despite this significant exchange, the dark olive suede boots still work very well.
EXAMPLE #8: BLACK & BROWN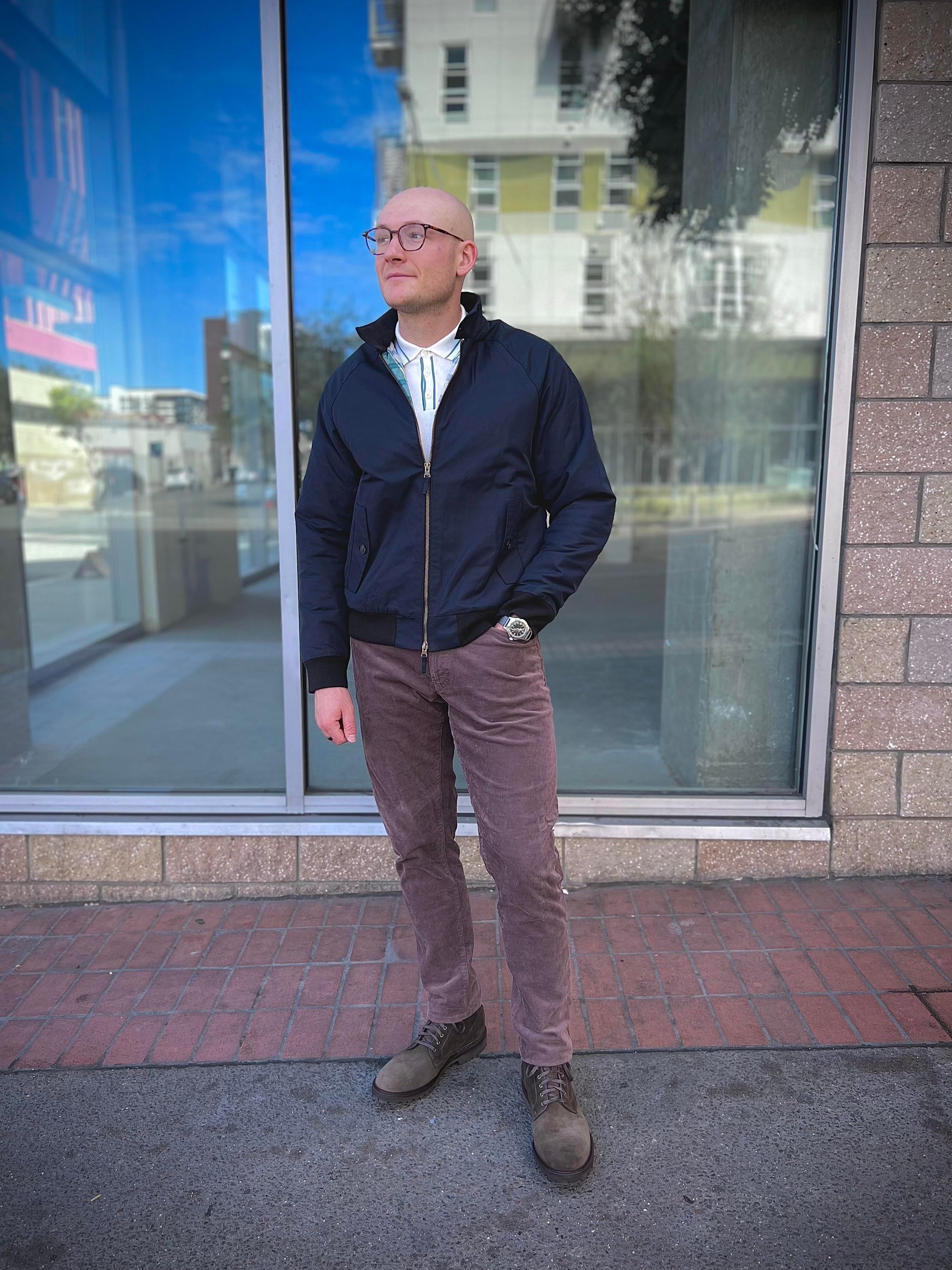 Here, I'm playing around with textures in a unique way by adding some corduroy trousers in a rugged brown, which I think adds a bit of visual intrigue. A standard black Harrington jacket with green and blue tartan lining and a white sweater polo with hints of sage green further compliment the boots' earthy green color.
EXAMPLE #9: DENIM-ON-DENIM FLANNEL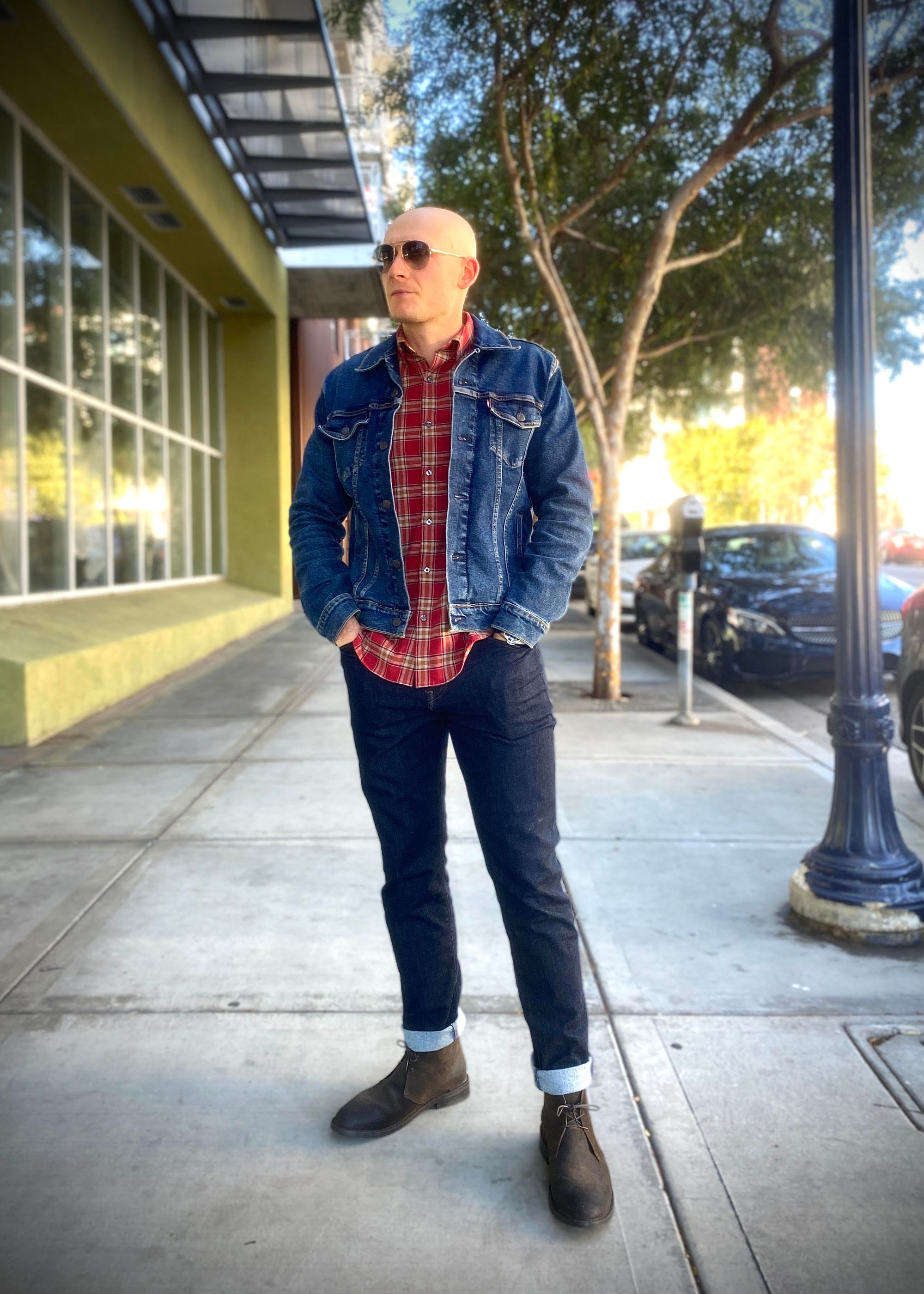 Here is a denim-on-denim ensemble that showcases varying shades of blue with a warm flannel shirt. Despite the warm and cool colors at play, the dark olive suede chukka boots expertly compliment the rest of the outfit.
EXAMPLE #10: KHAKI CONTRAST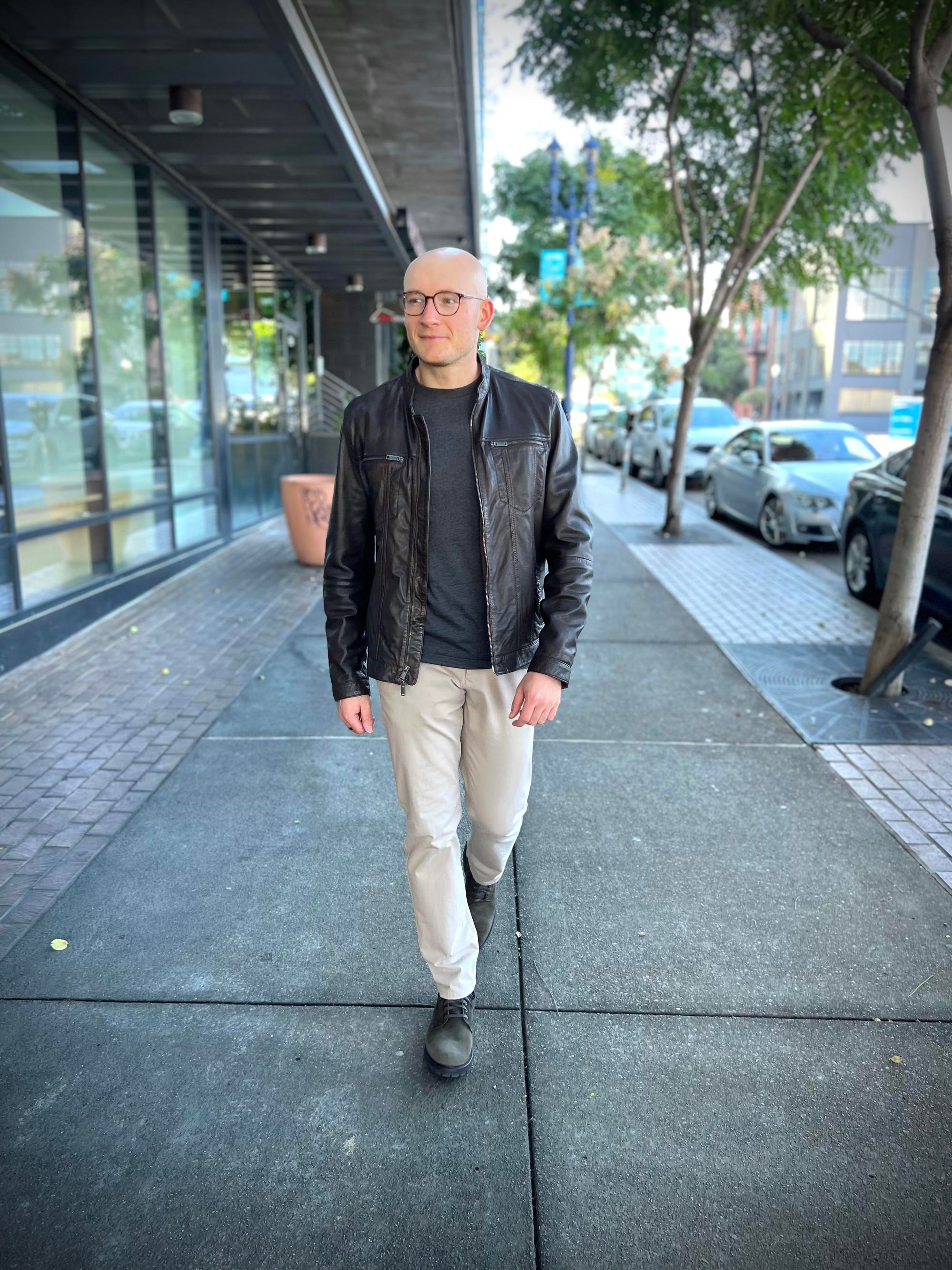 Even with the lighter khaki pants, dark olive green works well here. This outfit is relatively high contrast, with the top portion being darker than the bottom half, yet the addition of the dark olive boots balances it out nicely.
EXAMPLE #11: BLACK & BROWN WITH AN EDGE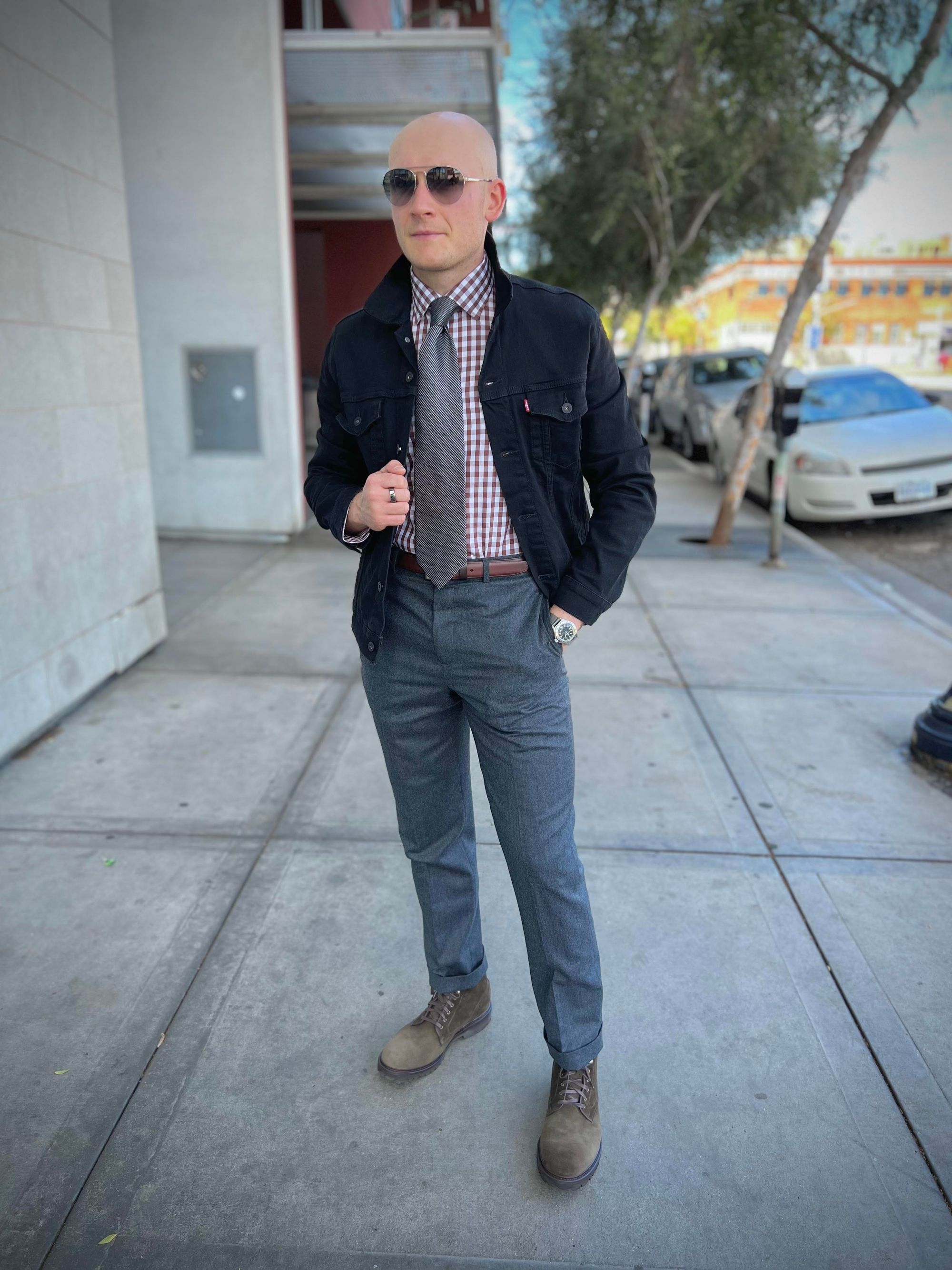 This edgy look sports a variety of casual textures such as flannel trousers, a denim trucker jacket, and suede footwear. I am wearing only black, brown, and gray this time, yet the dark olive boots fit right in.
EXAMPLE #12: KHAKI & NAVY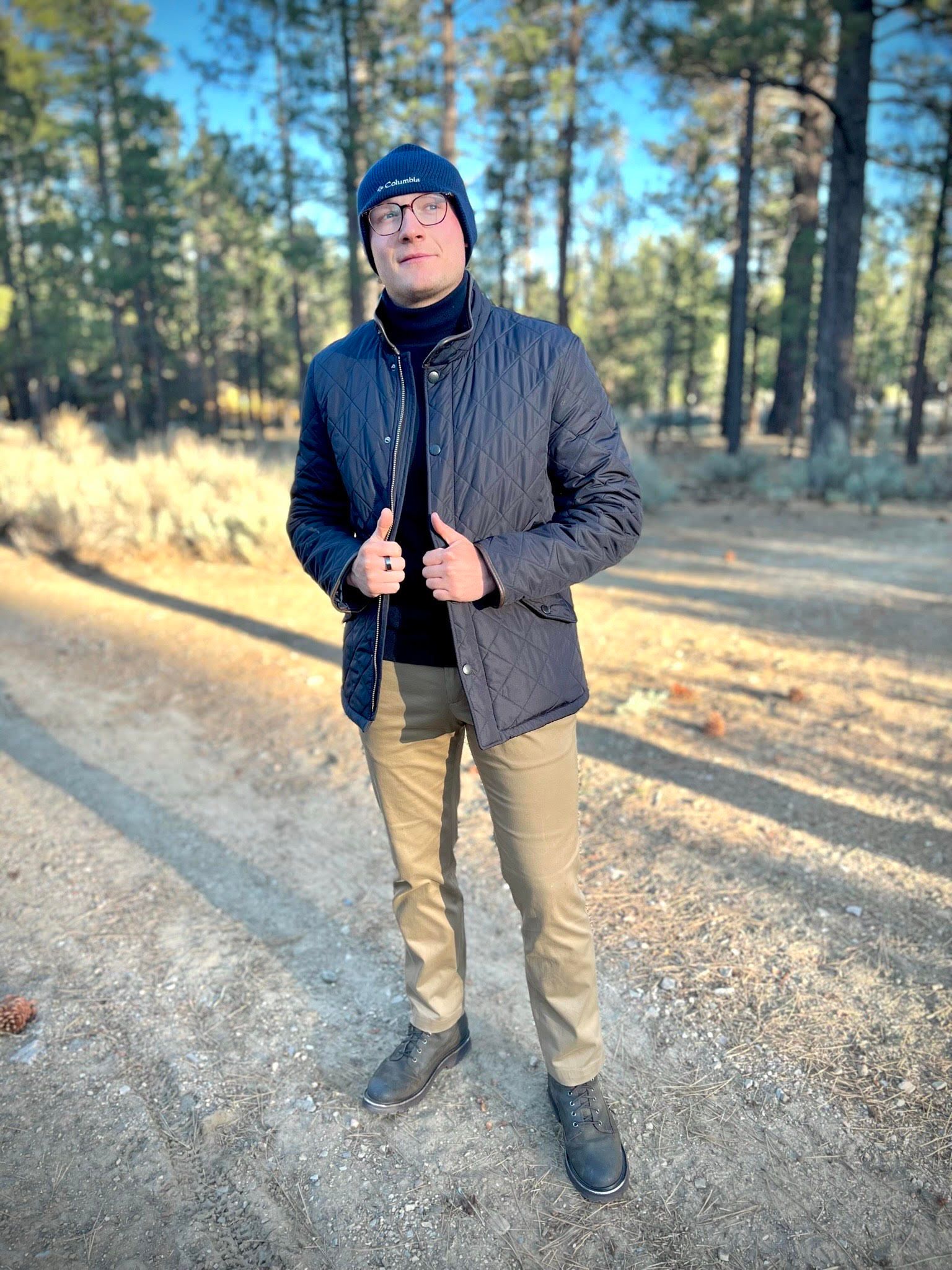 Here is another example of khaki pants mixed with navy blue. The boots handle this classic color combination with ease.
EXAMPLE #13: EARTHY TONES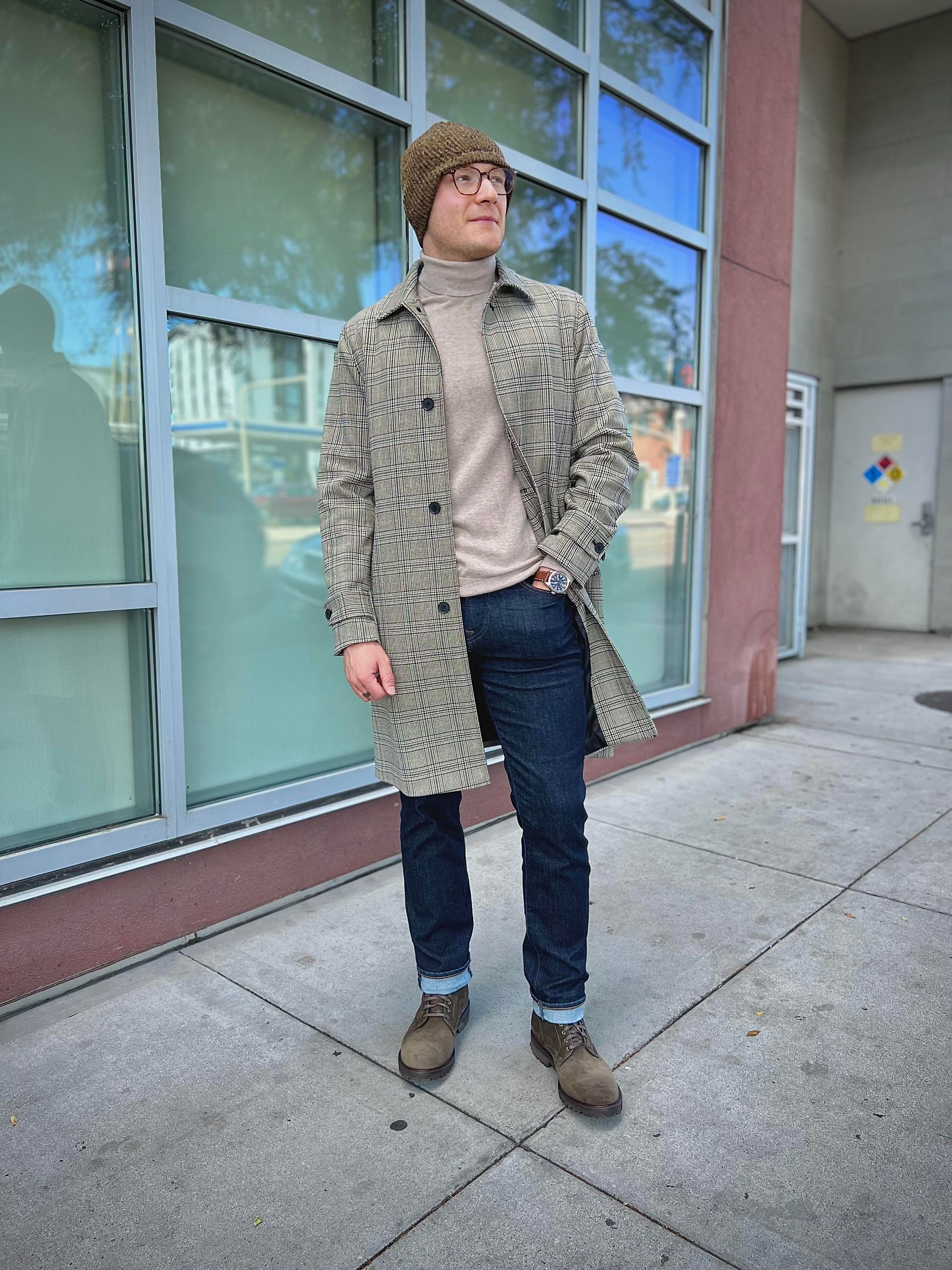 Blue and beige look handsome in almost every instance. Neutral colors are famous for the degree of versatility that they inherently share. The dark olive green in the boots is not out of place. Again, the dark blue in the denim works well because blue and green are analogous colors, and the upper body's earthy beige, tan, and brown harmonize well with the boots because of their earth-colored quality.
RECOMMENDED BRAND
Regarding quality boots for an honest price, Thursday Boot Company is the gold standard. You can't go wrong with any of their dark olive-colored pieces, and their weather-proof suede options are well worth the investment.
For a traditional lace-up boot in dark olive green, go with the Captain boot from Thursday, which is offered in a matte and suede finish and if you want something more rugged and bulky, then Thursday's Explorer model is another excellent choice.
Of course, Thursday has you covered for Chelsea and Chukka boot variations in the same dark olive suede color.
BOOTS FEATURED IN THIS POST