Semi-Formal Suit Colors for Men
Semi-formal invitations are hard to interpret. They give an idea of dressing well, but suit colors and level of formality remain naive.
I have published this guide so you set your expectations and know what to wear for a semi-formal event.
What's a Semi-Formal Dress Code?
Classic menswear defines semi-formal as wearing a full dark suit, light-colored shirt, tie, and dress shoes.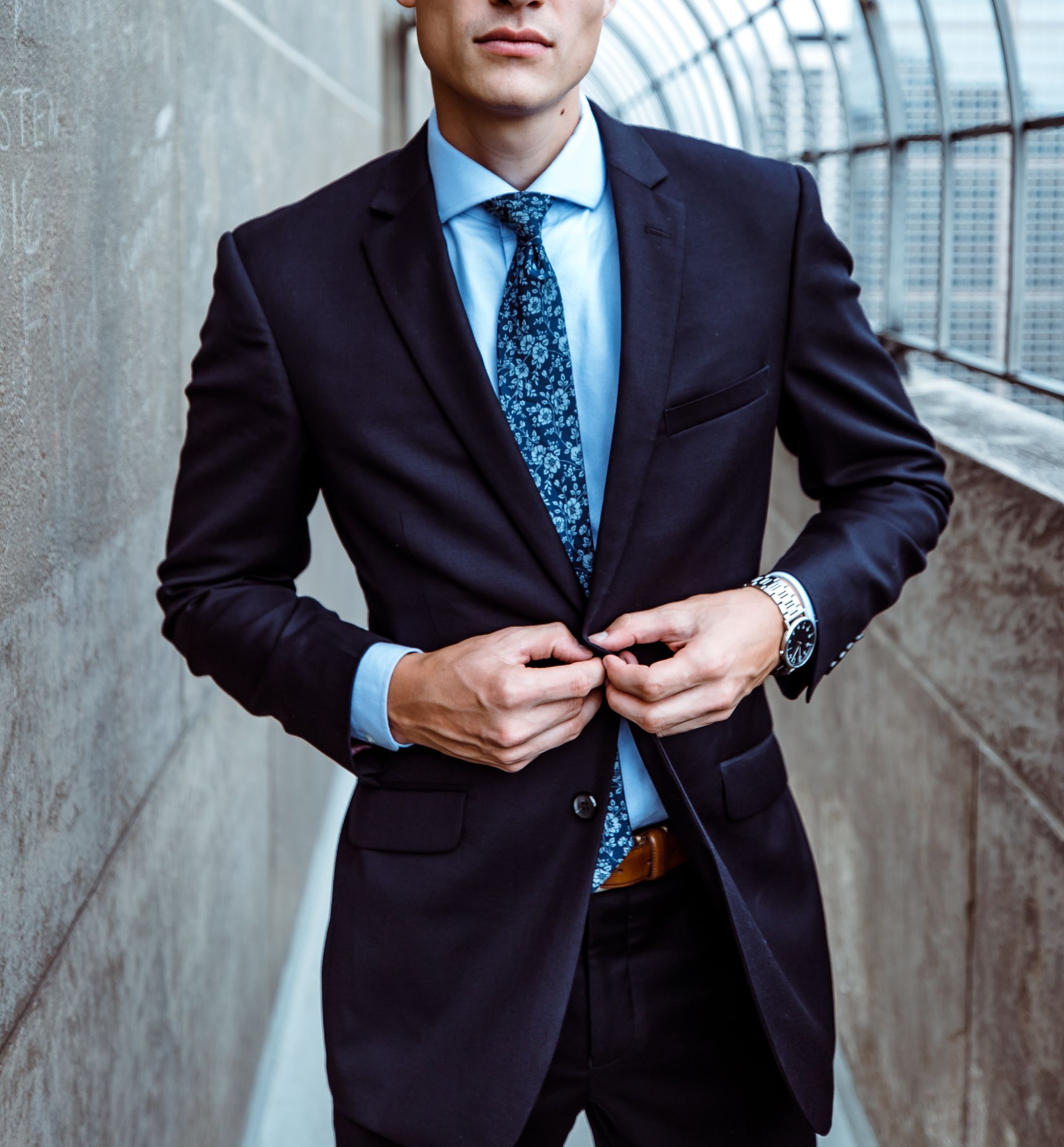 Modern style has a revamped version of this dress code, depending on the occasion. For most parts, wearing a well-fitting suit is ideal. But, sometimes, you can get away with an odd jacket or a sports coat.
Plus, things that cater to your personal style are a good fit. These could range from choosing suit colors to matching accessories.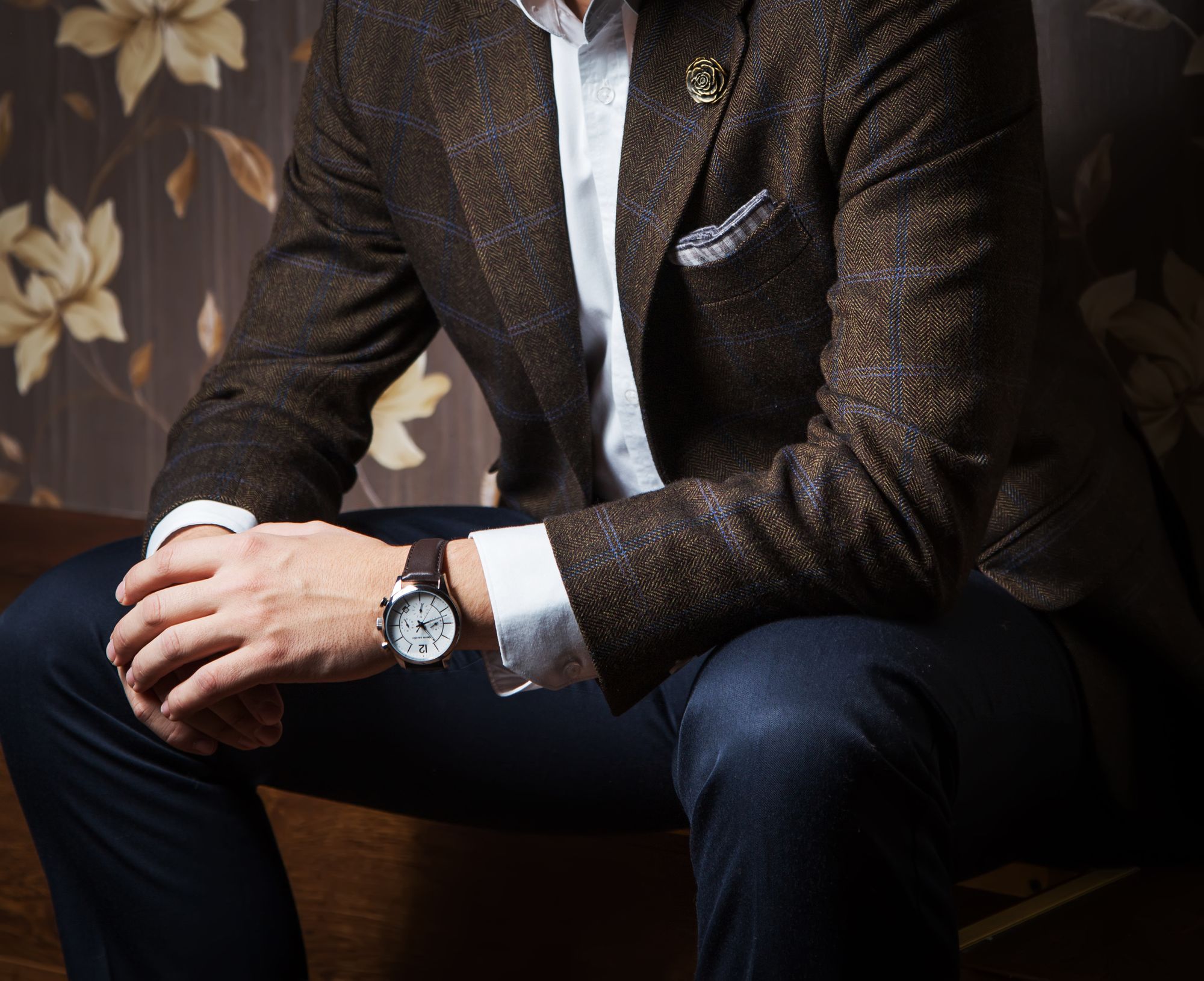 Overall, a semi-formal dress code demands a well-tailored outfit that's dressier than the regular office look. But not as stubborn as black-tie.
Differences Between Semi-Formal and Formal Dress Codes
White and black-tie are the souls of formal dress codes, defined by their sartorial excellence and fixed rules. So, you wear a tuxedo, waistcoat or cummerbund, bow tie, and everything predefined.
While for a semi-formal dress code, there is only one rule. You adhere to the prerequisite of looking dressed up for the event. In contrast, other outfit items can vary with your mood and style.
Therefore, you can choose the suit color according to day or night time. Tie or no tie can be a preference. Shoes, shirts, and ties could be worn in different ways.
But don't get carried away, considering it a casual dress code. Instead, put in the adequate effort and showcase an elegant style.
Proper Semi-Formal Suit Colors
For a semi-formal look, I want you to look elegant and timeless. Therefore, I suggest wearing a suit in versatile suit colors. Navy and grey are, no-questions-asked, the best options.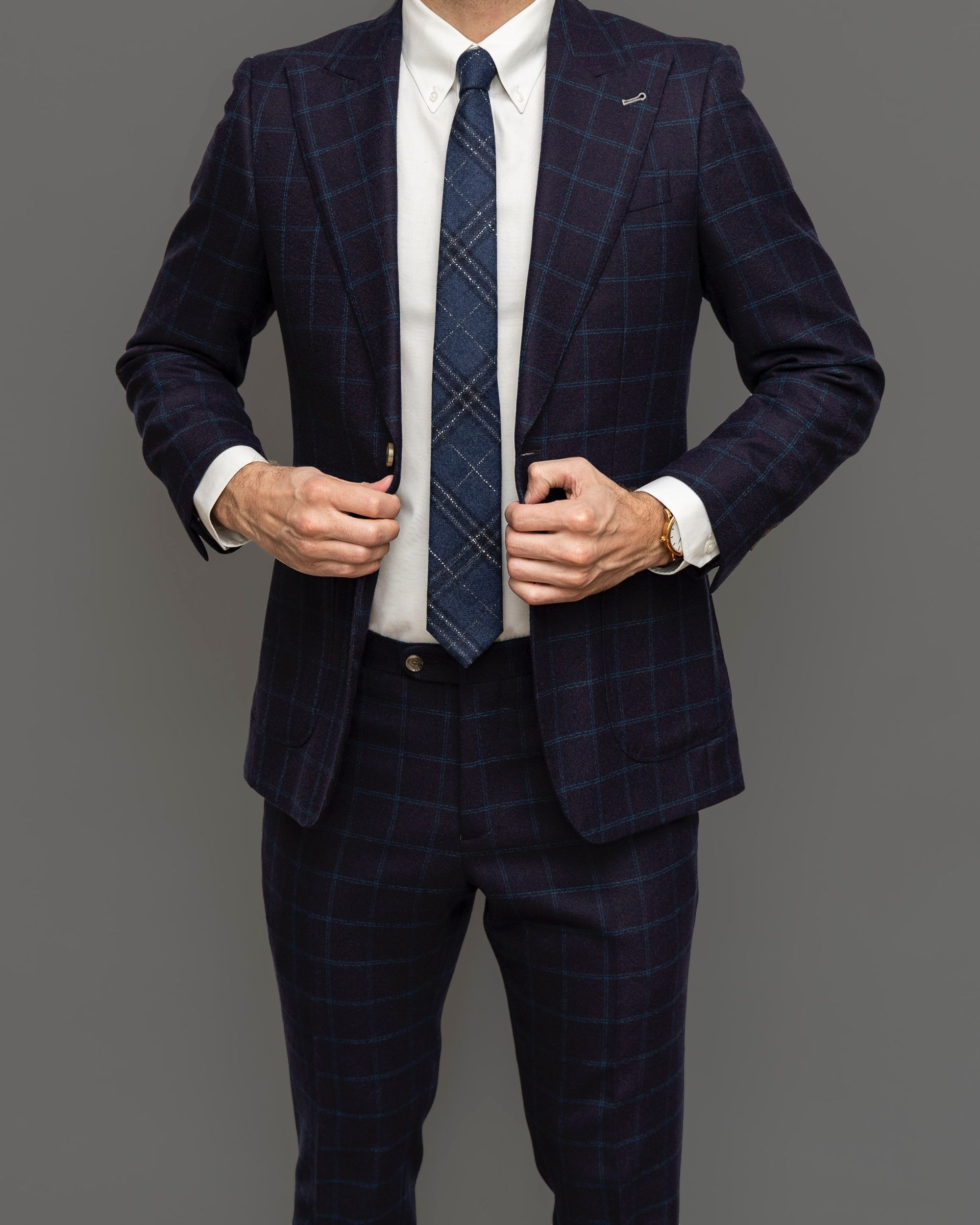 Blue, brown, khaki, and burgundy come after that. Avoid a black suit, as the formal black tones don't fit into a festive semi-formal outfit.
Each of these suit colors also has various shades. The choice of which depends on the time of the event: day or night. Plus, the other ensemble items impact the color coordination of semi-formal attire.
Semi-Formal Suit Colors for Daytime Events
Any color with warm, vibrant overtones makes a great daytime semi-formal outfit. Suits in lighter shades of blue and grey are the year-round classics.
Earthy tones also merge well with the daytime zest. Therefore, brown, beige, khaki, and tan will be appropriate daytime suit colors.
White is a statement maker and radiates a lot of energy. It also works well for summer weddings and garden parties, but not for everyone.
You can also try darker suits for daytime events in fall and winter. For example, medium grey and navy can work in most situations. Also, dark brown suits are great for colder months too.
When wearing darker suit colors in winter as a daytime dress, it's best to have patterns. These patterns make the outfit cheerful and on par with the formality. Thus, an appropriate semi-formal dress.
Semi-Formal Suit Colors for Nighttime Events
Nighttime semi-formal events tend to be more elegant than their daytime counterparts. So opt for darker suit colors.
Charcoal grey and navy are the easiest to style and the best color options for nighttime events. Medium grey and dark brown suits will be some suitable replacements.
Burgundy, maroon, and olive green are also timely for night events. I consider these festive alternatives to navy and charcoal.
Blue suits can work for both day and night events. Particularly for the nighttime, it marks a solid first impression. Sprinkle some confidence; the blue suit will give you a statement-making semi-formal look.
There is little room for bold patterns in the nighttime semi-formal attire. So, either avoid them or choose subtle ones.
Other Semi-Formal Suit Jacket and Pants Color Combinations
Blazers and pants that match the elegant mainstay of two-piece suits can work as a semi-formal outfit. Navy blazer and charcoal pants, for example. In fact, any shade of grey pants will make a perfect half-dress with the navy jacket.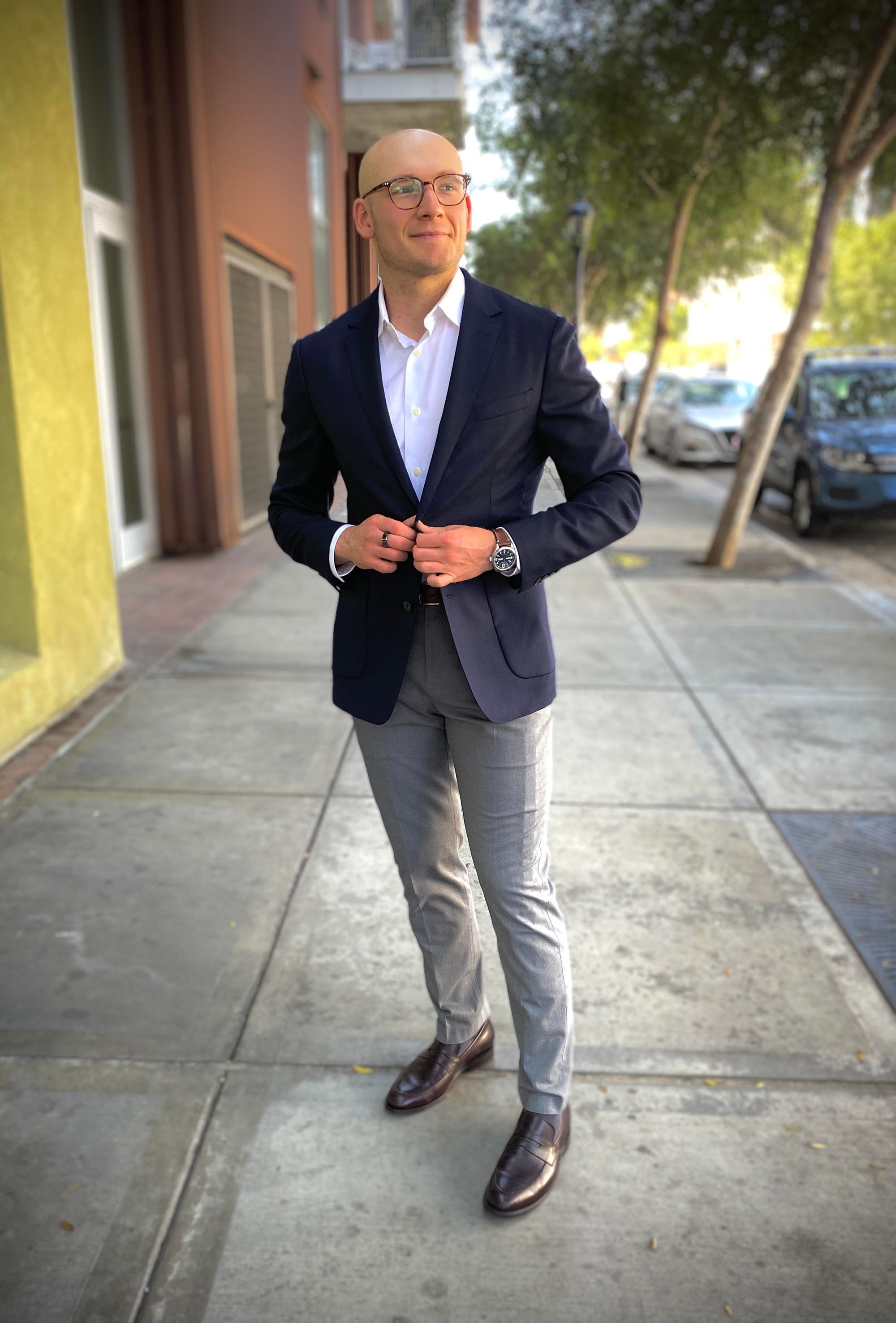 Similarly, black pants and a light grey blazer make a striking semi-formal outfit. Brown pants and blazers also contribute to semi-formal outfits to maximum capacity. You can pair these with navy and grey to have multiple semi-formal outfits.
Similarly, khaki pants with a navy blazer also make elegant semi-formal ensembles. This look is ideal for daytime weddings when you want to look dressed but not too formal.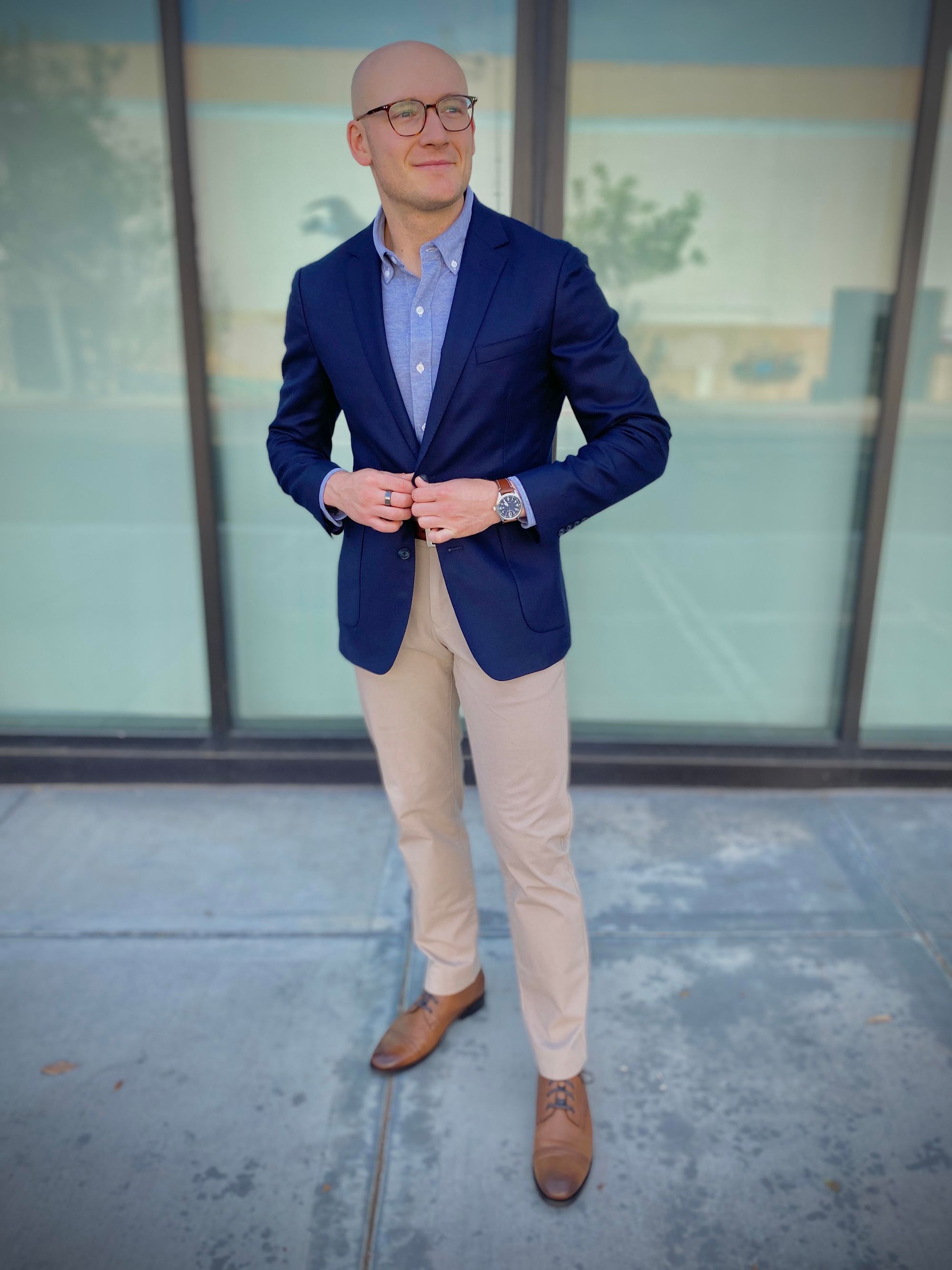 There are myriads of other outfits. You can create these by mixing navy, grey, brown, and khaki blazers and pants. I recommend a tie to keep things formal. Also, keep other flashy items of the ensemble minimum, as it can offset the color balance.
How to Match the Semi-Formal Suit Color
Dress shirts, ties, pocket squares, and other accessories are integral to a semi-formal outfit. You can use these to tailor the formality of the dress. Or you can incorporate personal elements.
However, don't overdo colors or choose flashy accessories. Instead, mix subtle and flashy color components. This will make you stand out without breaking the dress code decorum. For inspiration, read the following sections.
Pair it With a Contrasting Dress Shirt
A plain white button-up with straight pointed collars suits everybody. Tie or no tie, this shirt is acceptable for both situations. A light blue dress shirt is the other versatile option. It spices up the color options keeping the formality intact.
A pink dress shirt is suitable for summer, with a light grey or blue suit. For stylish young men, pastel yellow and green can also be options.
Subtle patterns are a great choice to add depth to the outfit. Plain weaves with white and blue dress shirts look right for semi-formal outfits.
Striped shirts are mainly business-oriented. But they could also be a part of a semi-formal suit. Just make sure to narrow and subtle stripes. Also, avoid choosing other patterns like check and gingham.
In the dress shirt styling, don't experiment too much. Straight-pointed collars and barrel cuffs are sufficient.
Formal Dress Shoes
The formality of the event indicates the shoe choice. For example, the black cap-toe oxfords are ideal for a dressed-up look as cocktail attire. In comparison, loafers are suitable for nonchalant summer weddings. Other shoe options reside between these two.
Brown brogues and double-monk straps look immaculate when paired with grey and brown suits. For a light to genuine blue suit, brown cap toes would be an elegant choice.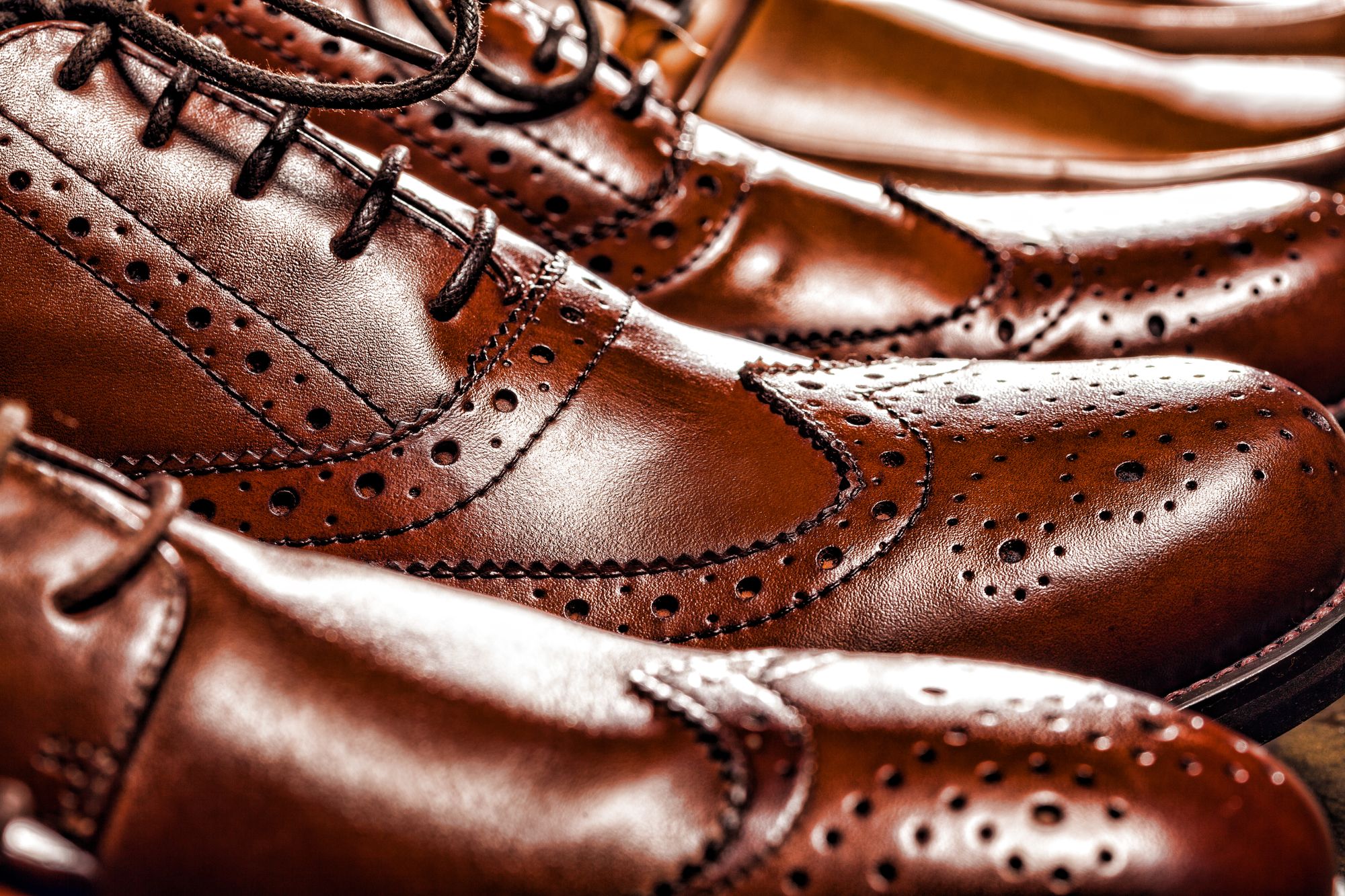 Burgundy double monks are a stylish alternative to black and brown equivalents. These also pair well with most suit colors from the semi-formal dress code. However, these burgundies sometimes get the needless spotlight. Therefore, choosing them is a personal preference.
Spice Up the Look with a Tie
A no-tie look creates a relaxed appeal. But a tie does an excellent job of framing your face. What to choose may vary with the occasion.
I, however, suggest wearing a tie as it looks more polished and dressier. Plus, it is always better to dress up a little than to feel under-dressed.
Among the ties, patterns are excellent for a semi-formal outfit. Some excellent options include regimental stripes, foulard, polka dot, and florals. In addition, navy, red, orange, and grey are suitable colors.
Matching the Belt
You don't need to accessorize the suit with a belt. But if you do, it should correspond to the shoe color.
The belt color should match the suit color and should be the same as the color of your shoes. The hues may vary, but slightly. Additionally, match the belt buckle with other metal items in the outfit, i.e., cufflinks.
Finally, the belt shouldn't be thick or flashy. Instead, choose a slim, good-quality dress belt. I suggest a frame or box buckle.
Watches Should Be Dressy
Watches speak for themselves; therefore, don't go flashy with them. A good-quality leather watch is a perfect fit for a semi-formal outfit. The color of the leather should be in accordance with the shoes and belt.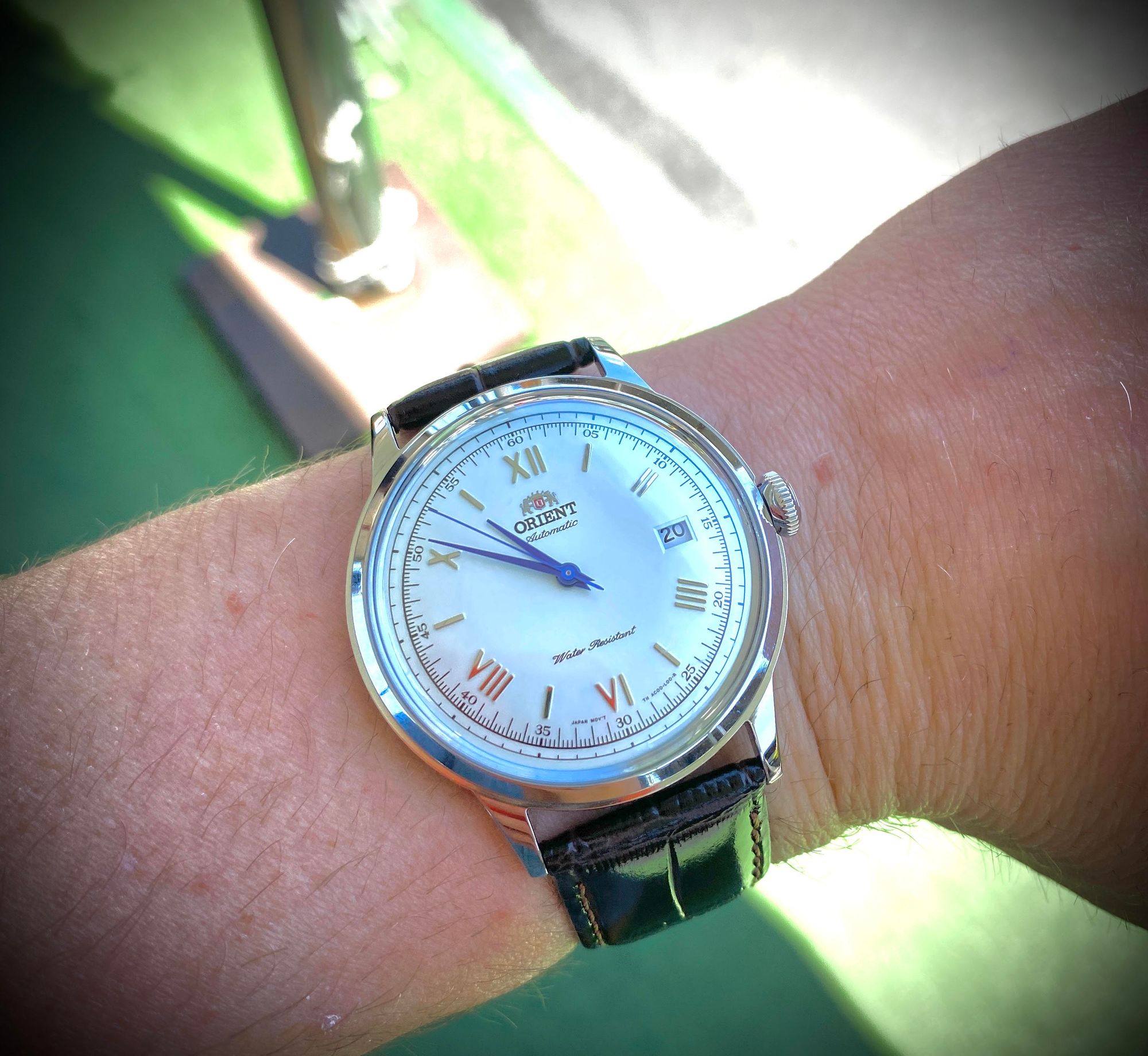 Metal and steel bracelets are also fine. But avoid them on sporty dive watches with big complications. Instead, choose ones with simple and elegant dials.
Choosing a smartwatch can be a personal preference. However, I don't see it fitting into a semi-formal dress code.
Semi-Formal Suit Color FAQs
Can you wear black to a semi-formal wedding?
For daytime events, a black suit is too formal. However, you can wear it to nighttime events for evening weddings, where darker shades are encouraged. You can also wear black by pairing it with some traditional color, i.e., grey.
Can you wear jeans to a semi-formal event?
Jeans are a part of casual styling, while semi-formal events demand a dressy look. Therefore, no matter how hard you try, jeans will not fit into a semi-formal dress code. At best, you can replace the dress pants with high-quality chinos, not jeans.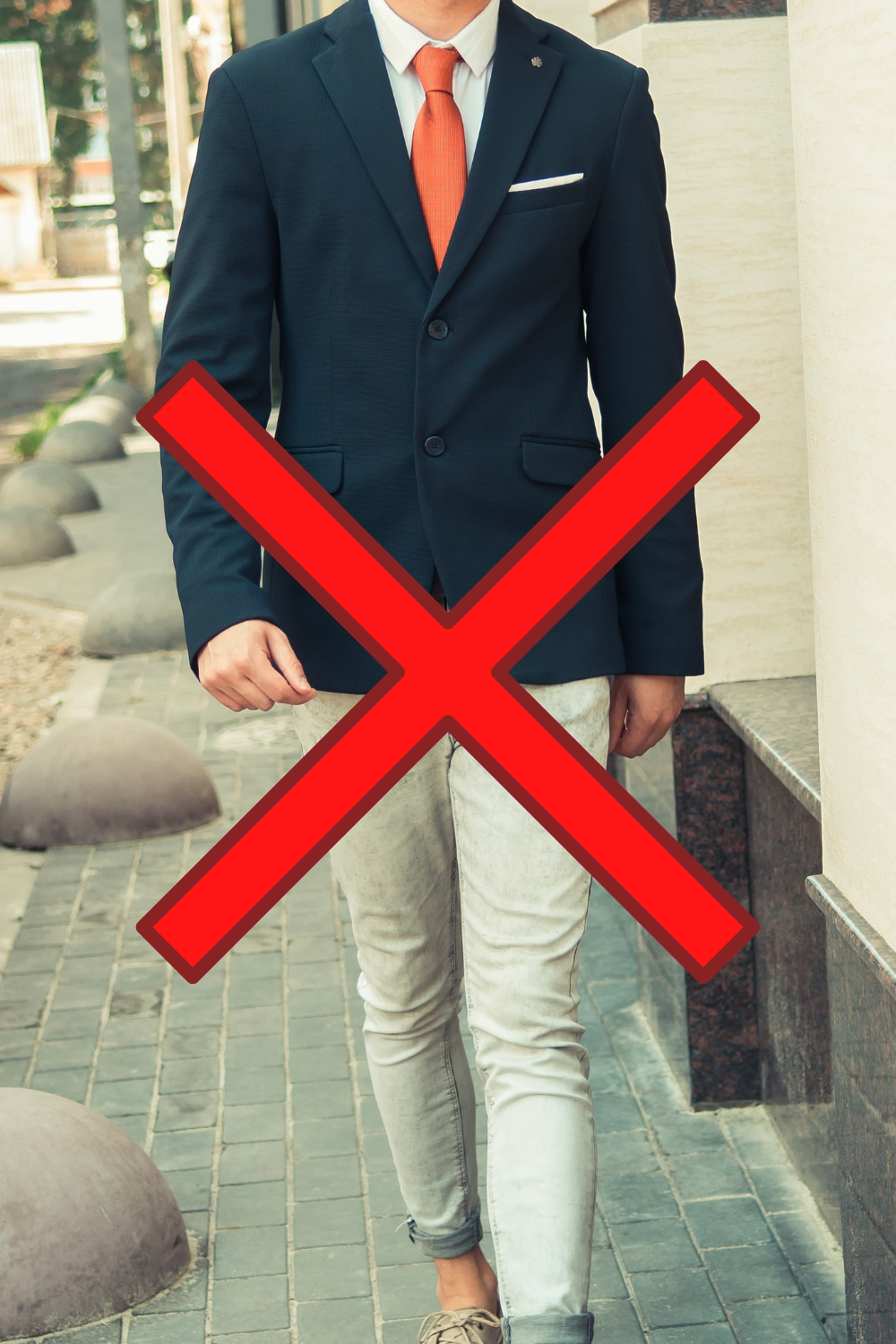 Can you wear a vest for semi-formal events?
Yes. The additional fabric of the vest adds depth to the outfit. Plus, the layering effect makes the outfit more polished. All this accounts for better-looking semi-formal attire.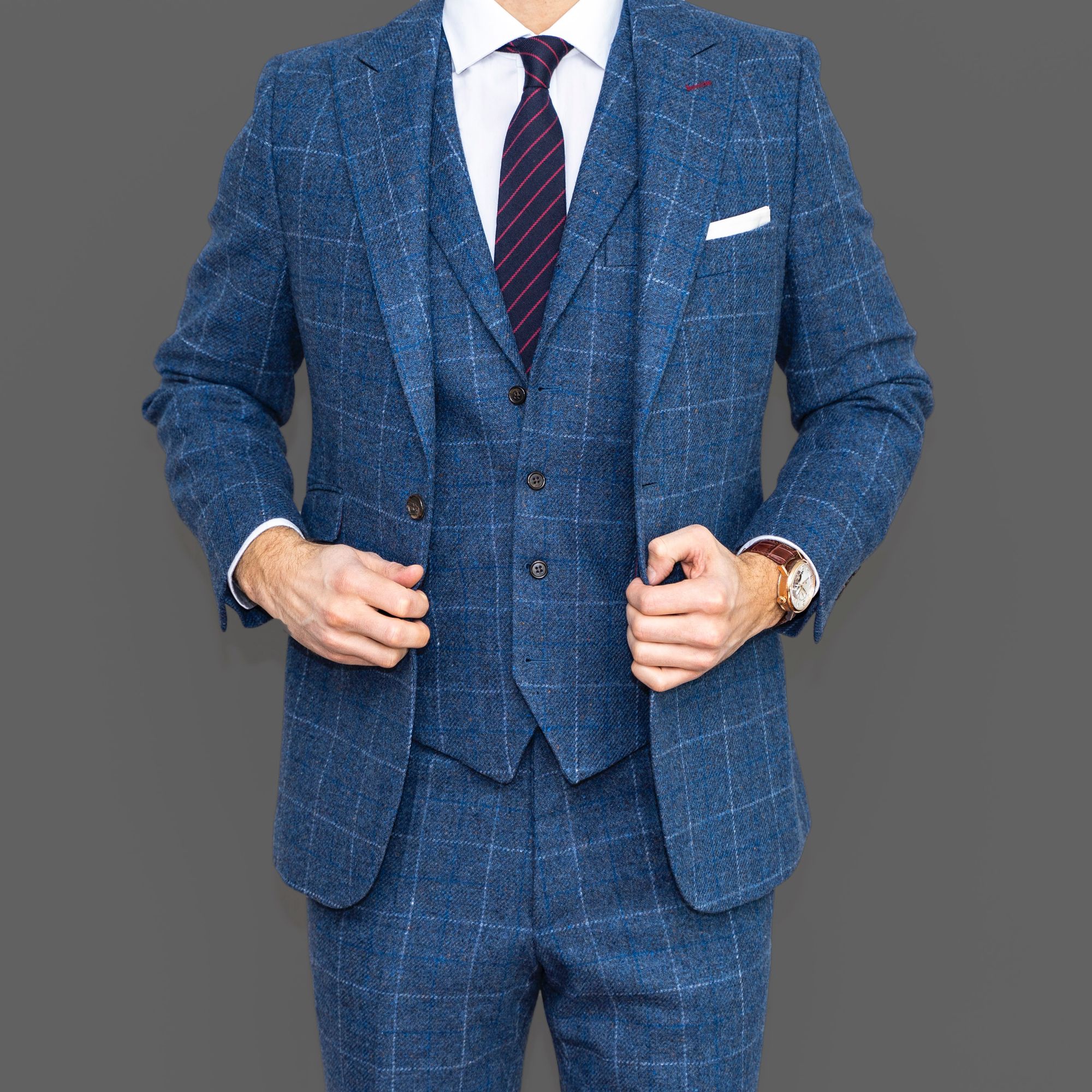 Do you have to wear a suit jacket to a semi-formal wedding?
Wearing suit jackets is the best practice for semi-formal weddings. However, you can switch it with a blazer or sports coat. But these should be equally formal as the suit jacket. Otherwise, you'll have a hard time looking your best.