Summer is here, which means reducing layers, opting for brighter colors, and above all, having fun when choosing a more casual appearance, but don't go too crazy, and remember to always dress for the occasion.
Depending on where you live, your mileage may vary regarding each of these recommendations, but for most of us gents, arguably everything you could ever need for a stylish Summer will reside in this post. So let's get into it.
1. WHITE TRAINERS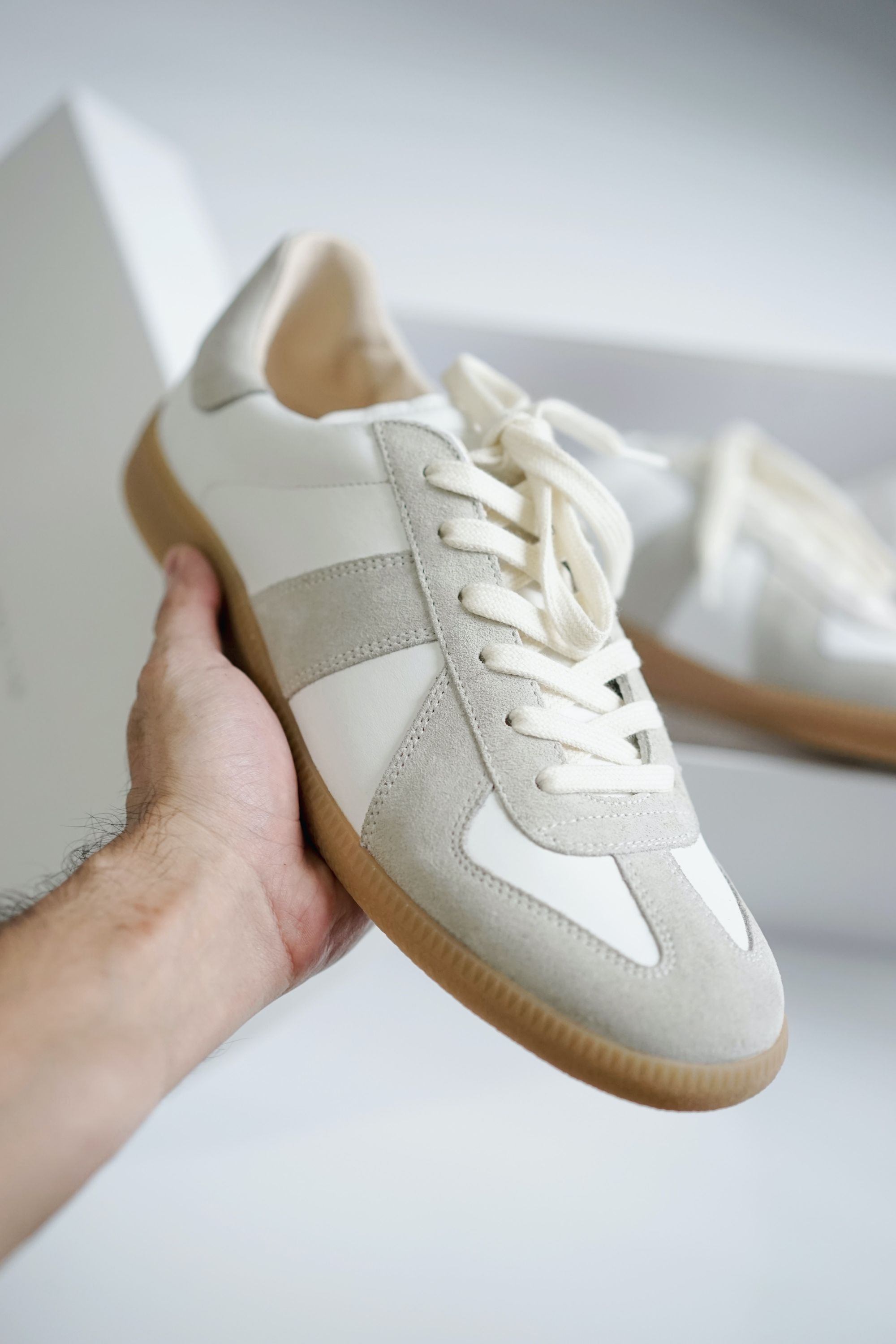 I'm a sucker for a quality white low-top sneaker with no branding and a clean silhouette. This is essential for any man regardless of age, and their versatility is unmatched. Just look through my Spring and Summer style archive, and you'll quickly see what I'm talking about.
If you already have some white sneakers but want to branch out in a slightly different direction, then a pair of German Army Trainers (GATs) can help elevate your looks to a whole new level. They're equally as timeless and perhaps slightly less versatile than a plain white sneaker, but I can guarantee that most other men won't be rocking these sneakers out in town, especially if you live in the U.S.
For ways to style GATs, as well as some history about them, click here.  
2. LOAFERS & DRIVING MOCCASINS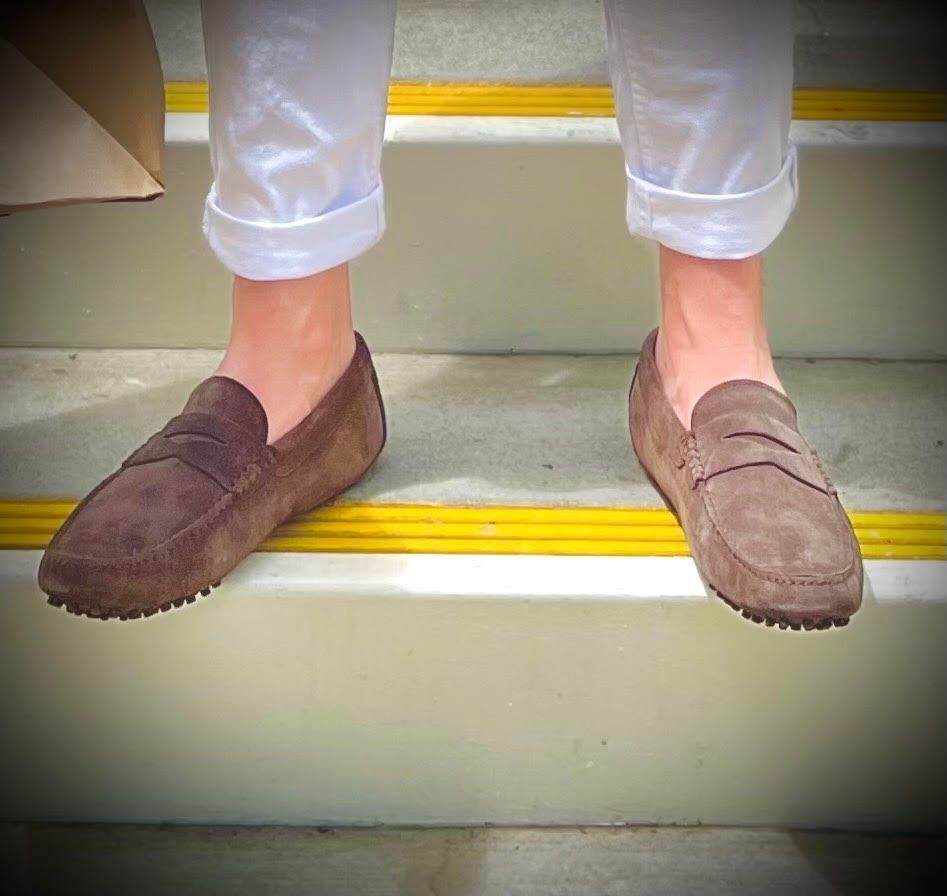 Nothing says "casual but stylish" like a pair of driving moccasins in suede. These will help you look laid back but not too much so and in an elegant manner. Just remember to wear no-show socks... seriously, never wear socks with driving moccasins (unless you have some no-show socks), especially during the Summer!
Another great option is a leather penny loafer if you want to be a bit more formal while also retaining a leisurely style.  
3. NO-SHOW SOCKS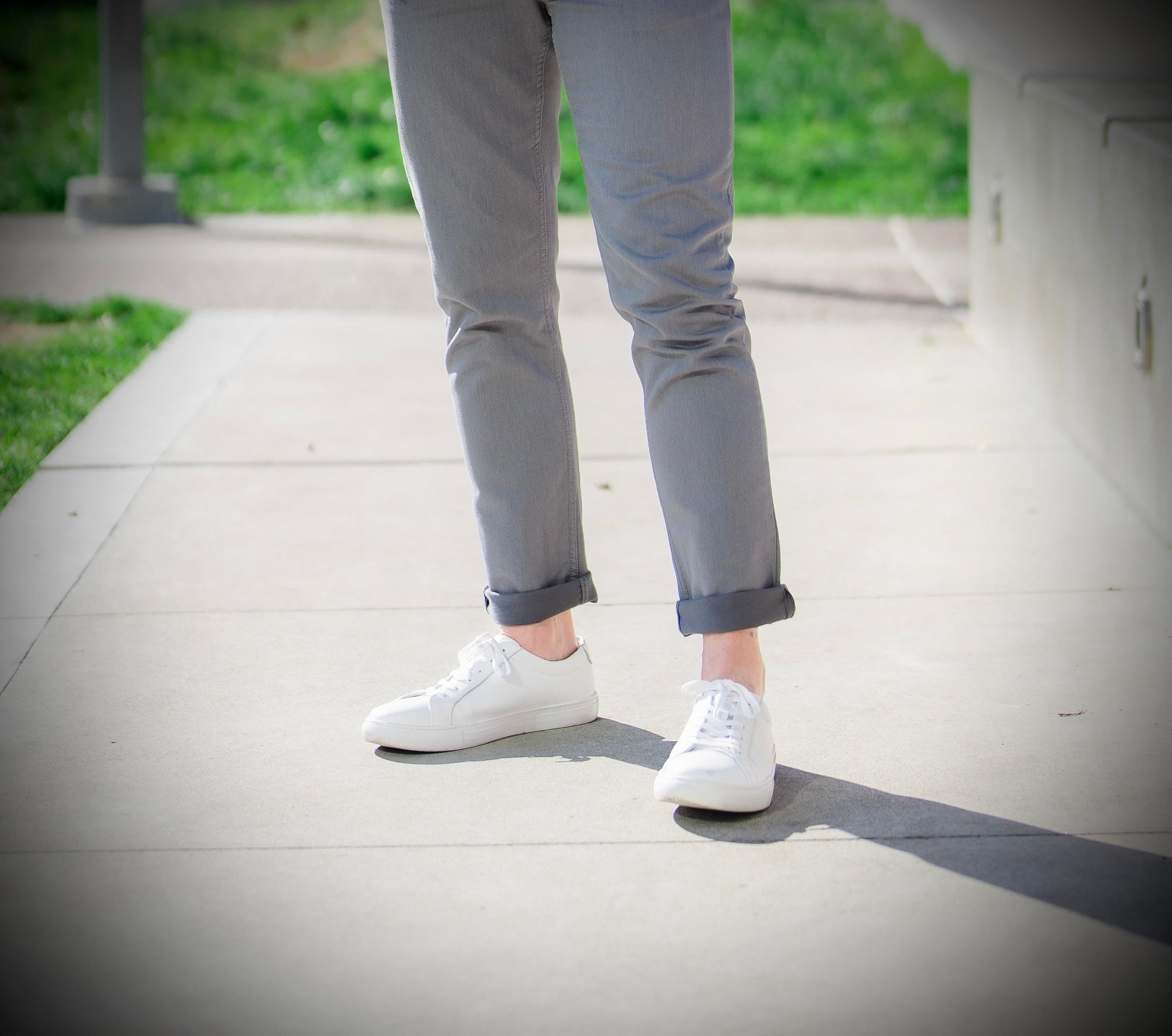 These should be worn with all sneakers and especially loafers/driving moccasins, but it also depends on the outfit you're putting together. Regardless, during Spring and Summer, cuffing your pants to show a little ankle is a subtle but charming way to add some extra flair to your look; having no-show socks enables you to make the most of that effort.
You need a few pairs of these socks to look crisp, clean, and refined. When socks are poking out of your low-top sneakers, they ultimately distract people's gaze from your footwear and disrupt the harmony in your outfit.
Here are some easy and affordable pairs that I have personally gotten a lot of use out of.
4. CHINO SHORTS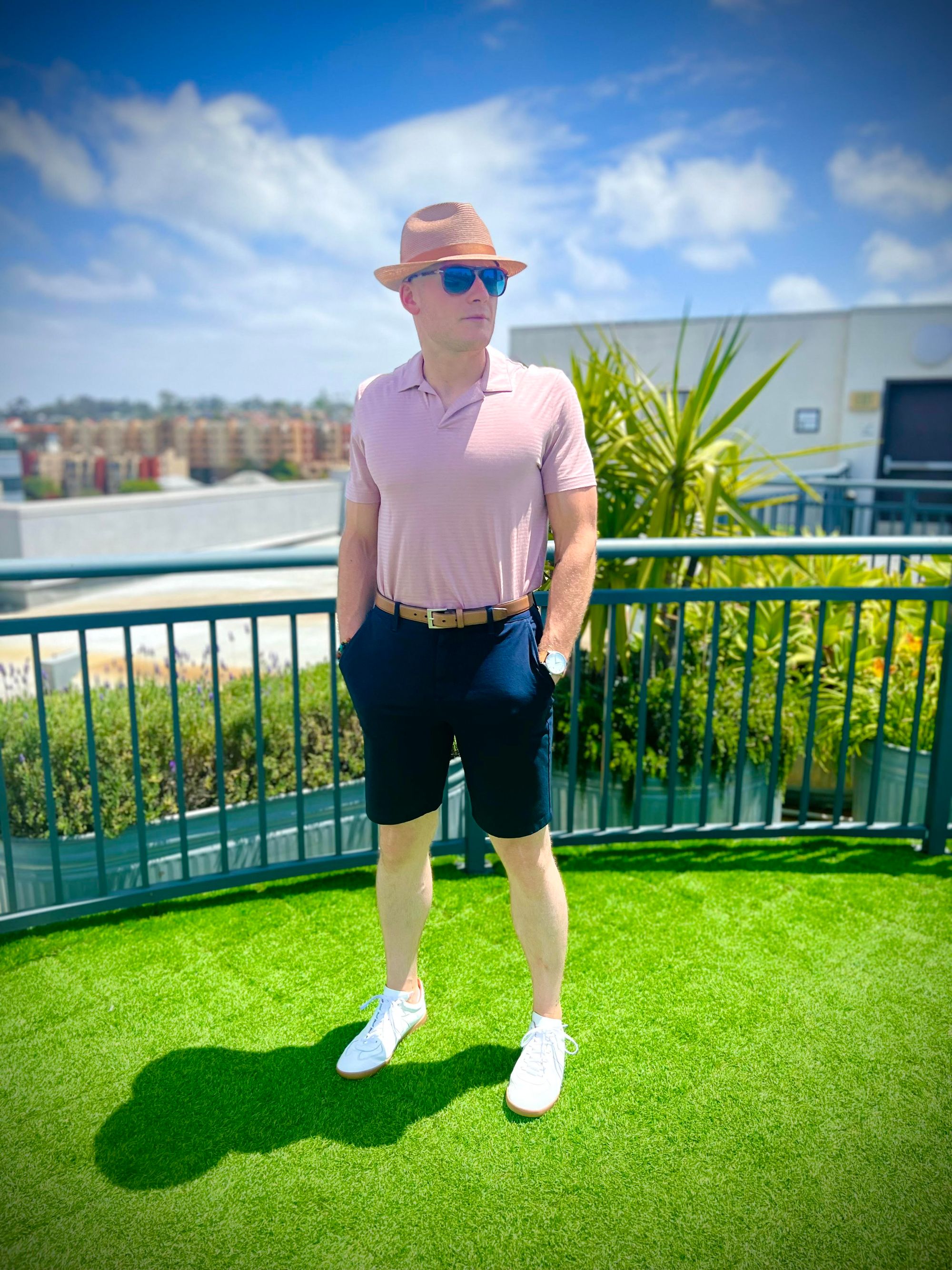 Admittedly, I never liked wearing shorts all too much (look at those pale legs), and depending on who you ask, some old-fashioned men will tell you that you should NEVER wear shorts; but it's 2022, and most people love them. So when it comes to rocking shorts, stick with chino shorts that aren't too short or long. The proper length should usually be somewhere above the knee but below mid-thigh.
Generally, if you have athletic features and your legs aren't too thick or bulky, you can usually get away with a shorter length. If you're a heftier gent, stick with a size that ends just right above the knee, or reconsider wearing shorts—a perfect opportunity to wear the next item on this list.
5. CHINO PANTS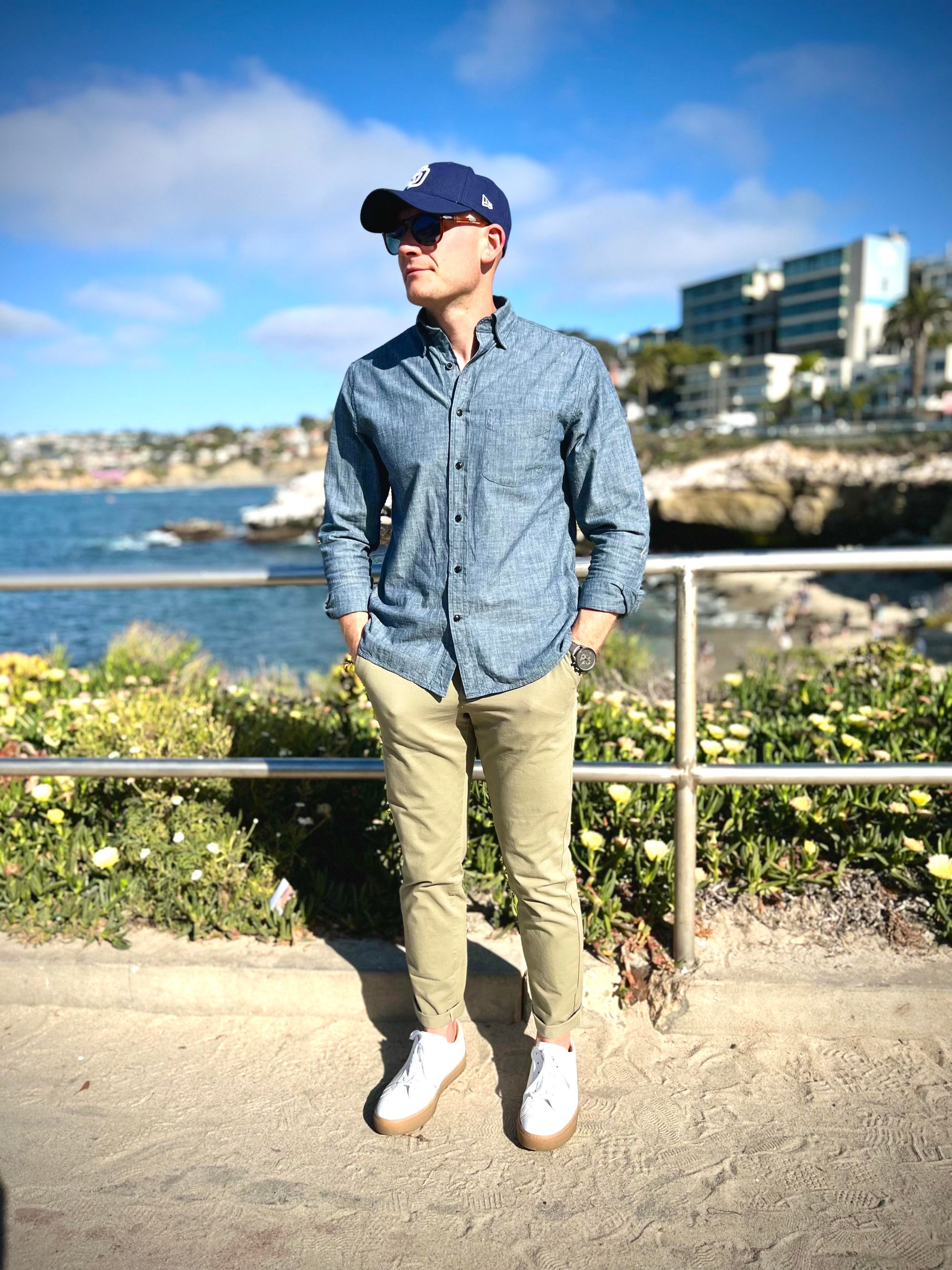 Arguably the most versatile of all pants, chinos can cover you for nearly any situation. They can be dressed up or down and come in various colors. In my 15 Menswear Essentials post, I advise that you first own a pair of khaki chinos. After purchasing these, if you intend to purchase more colors (an intelligent choice), then I recommend navy blue, olive green, or a stone color (light gray).
6. WHITE JEANS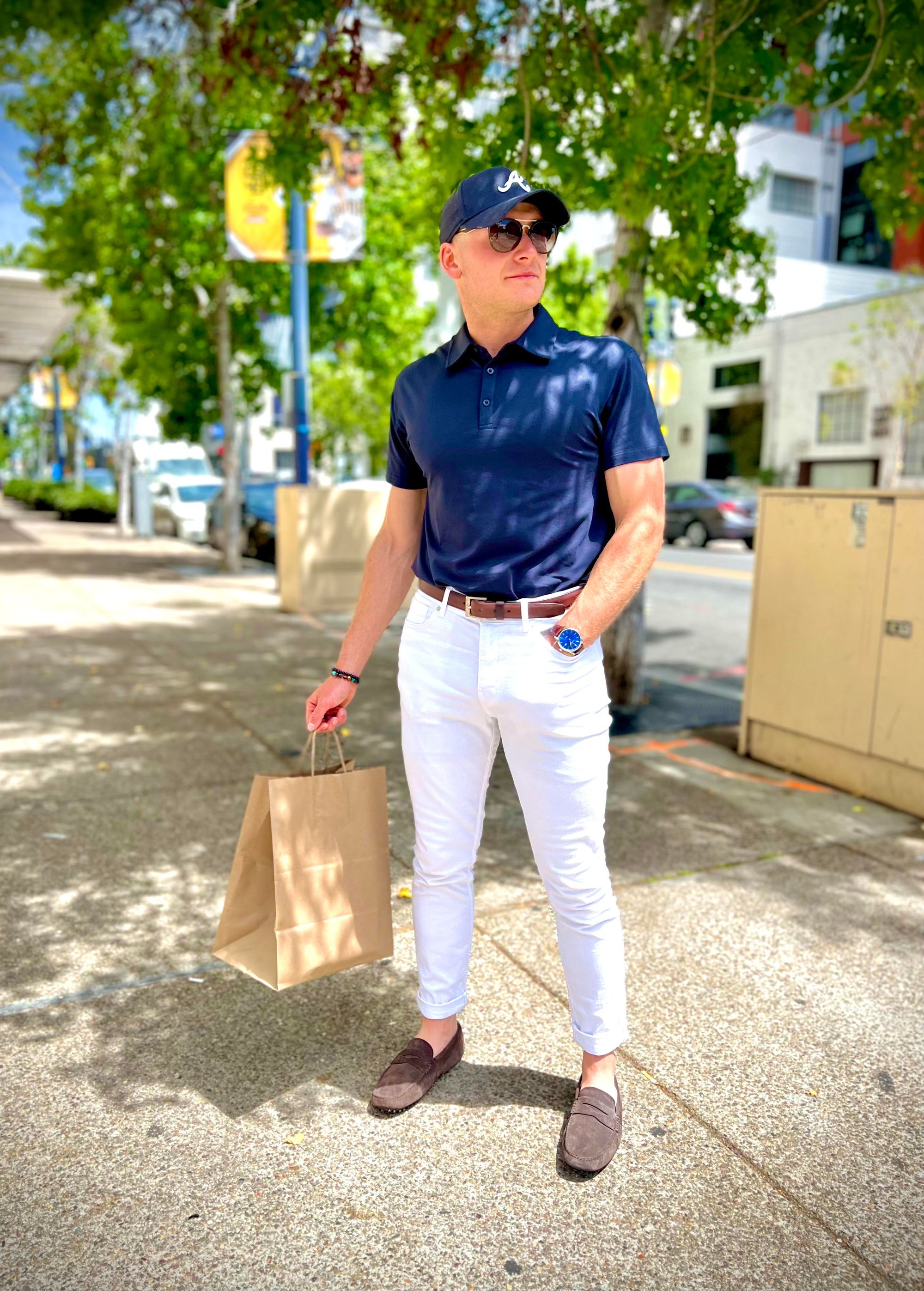 I understand that not everyone thinks about rocking white, but it looks excellent when paired with blue for the Summer. I would consider wearing white denim, especially if you make a point to work out and have more of an athletic physique. If white isn't something you like or feel comfortable in, try stone (light gray) colored chinos in a straight-slim or athletic taper. If you happen to be a heftier guy, then opt for a straighter cut of jeans or chino.
7. POLO SHIRTS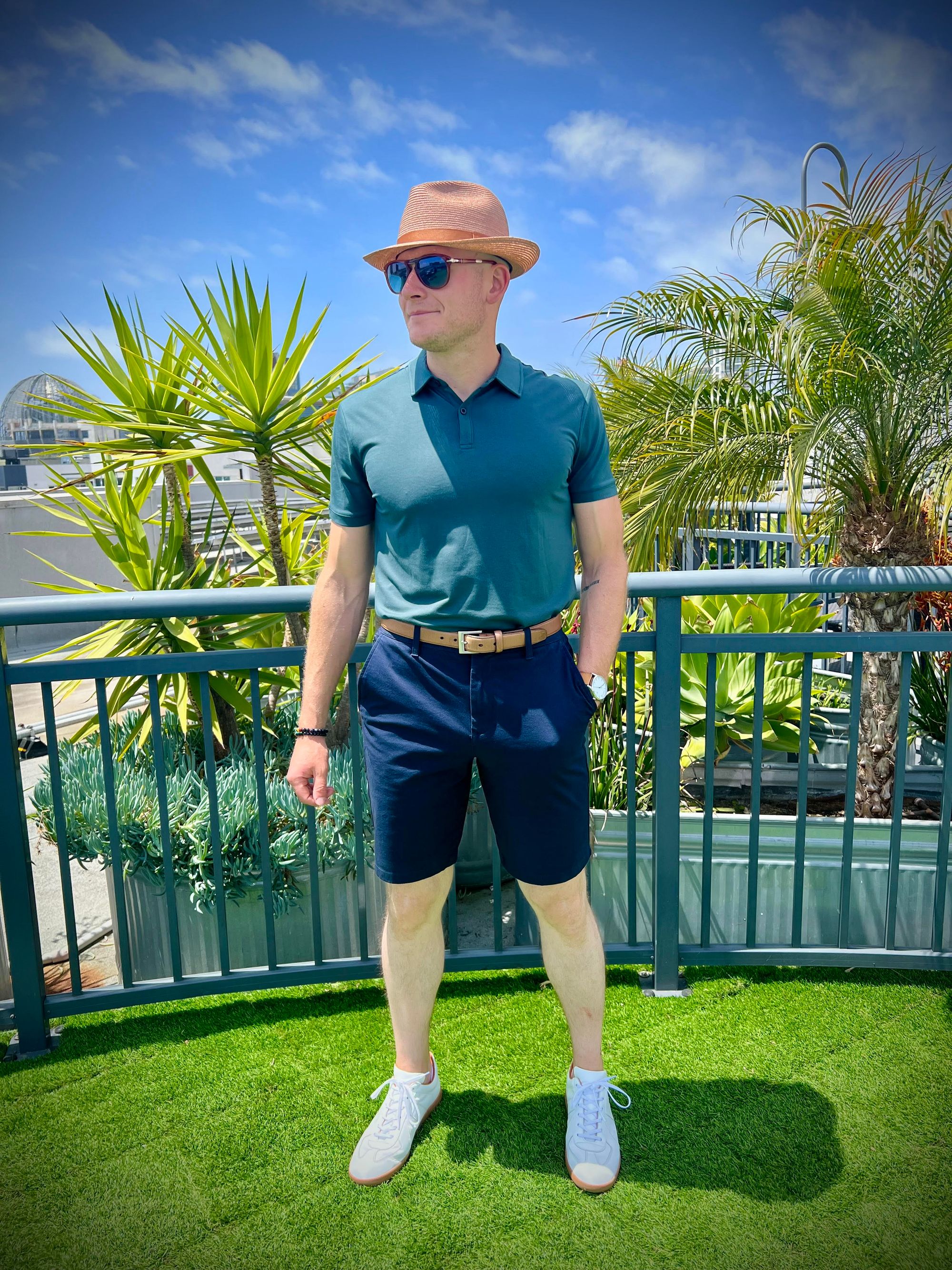 There isn't much to say here. A black or navy polo should be in every man's closet and is a classic staple for the Spring and Summer months. Depending on who you are, this might sound a bit too generic, but when your polos fit you well, they can cover you for nearly any occasion. Simply put, having at least one polo in your closet is essential.
8. BAND-COLLAR SHIRTS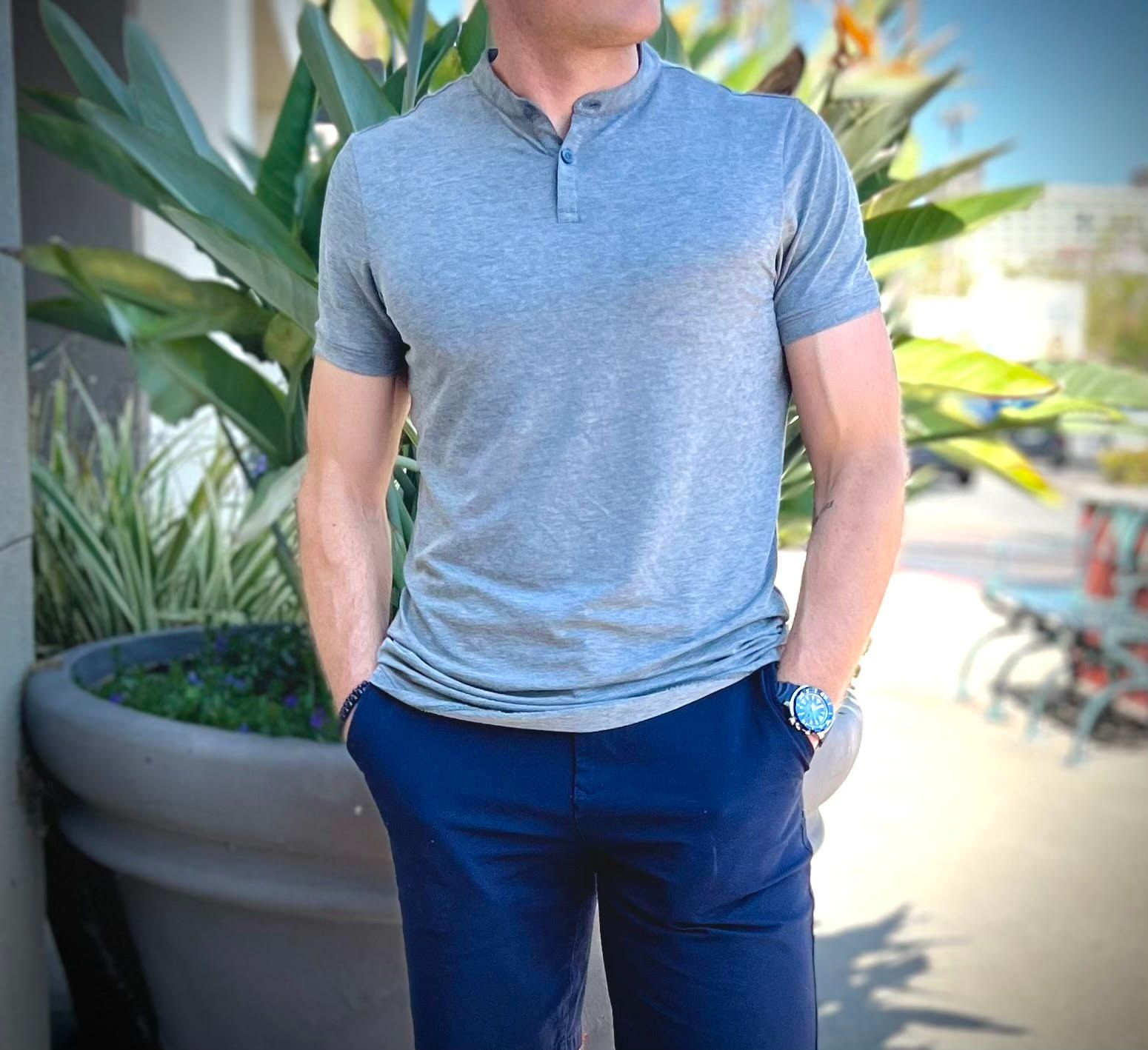 The band-collar shirt is a great way to add some more variety to your wardrobe. Due to the frequency of minimizing layers during the Summer, I find that to stand out; we have to find tasteful ways to be different while still being quintessentially stylish. This is not always easy to do, and there is often a lot of subjectivity baked into the execution, but I find that a band-collar shirt looks fresh and different enough to elevate your look for the sunny Summer months.
9. CAMP COLLAR BUTTON-UP SHIRTS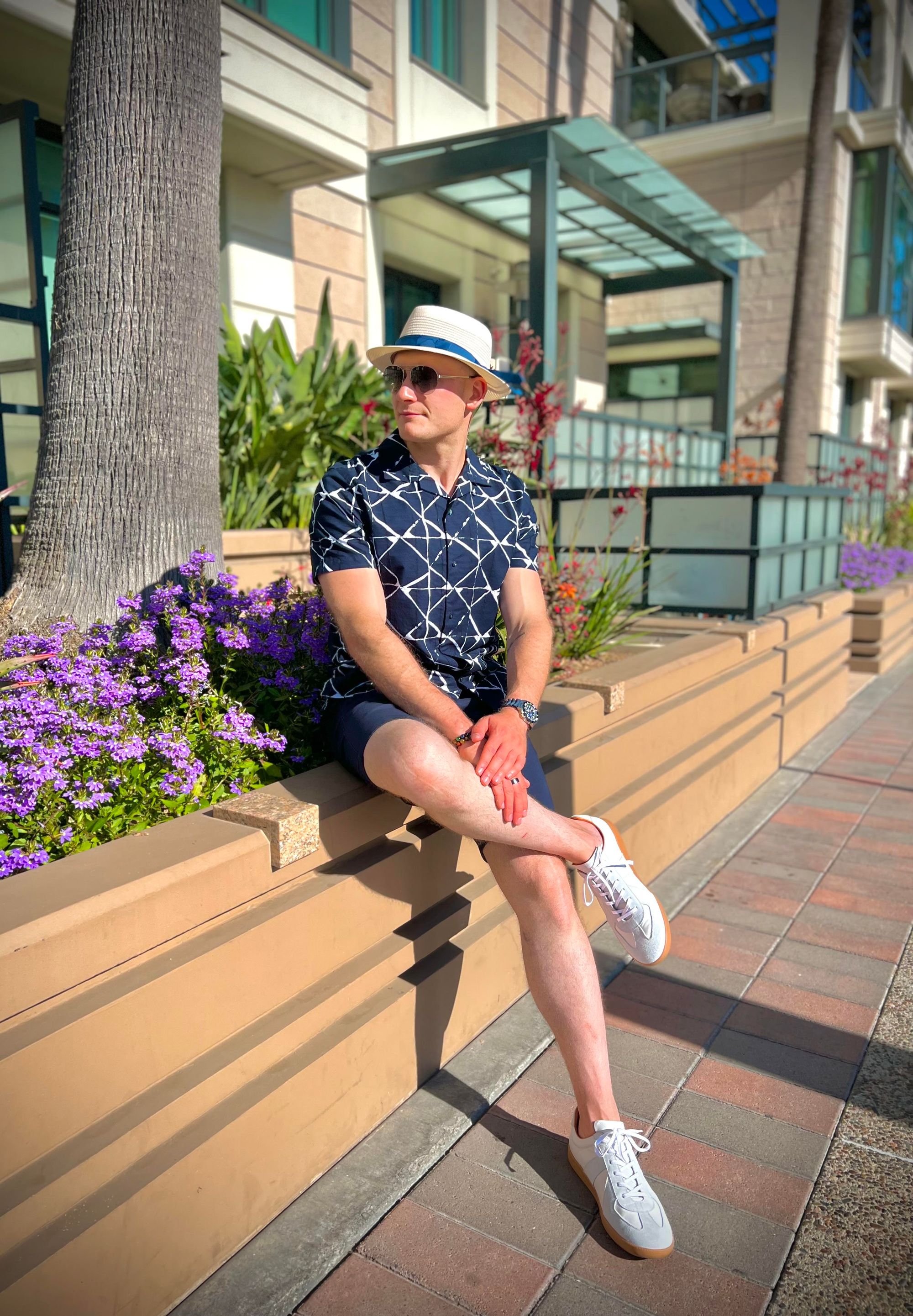 Camp collar shirts are another great way to add variety to your Summer wardrobe, especially when you incorporate some fun but tasteful patterns. I particularly enjoy a camp collar shirt with floral designs, and while I understand that floral patterns can easily be overdone,  if you pair them with a clean pair of white denim or some neutral-colored chinos (or chino shorts), they can be a lot of fun, especially at the beach or, for example, a Hawaiian-themed party.  
10. LINEN SHIRTS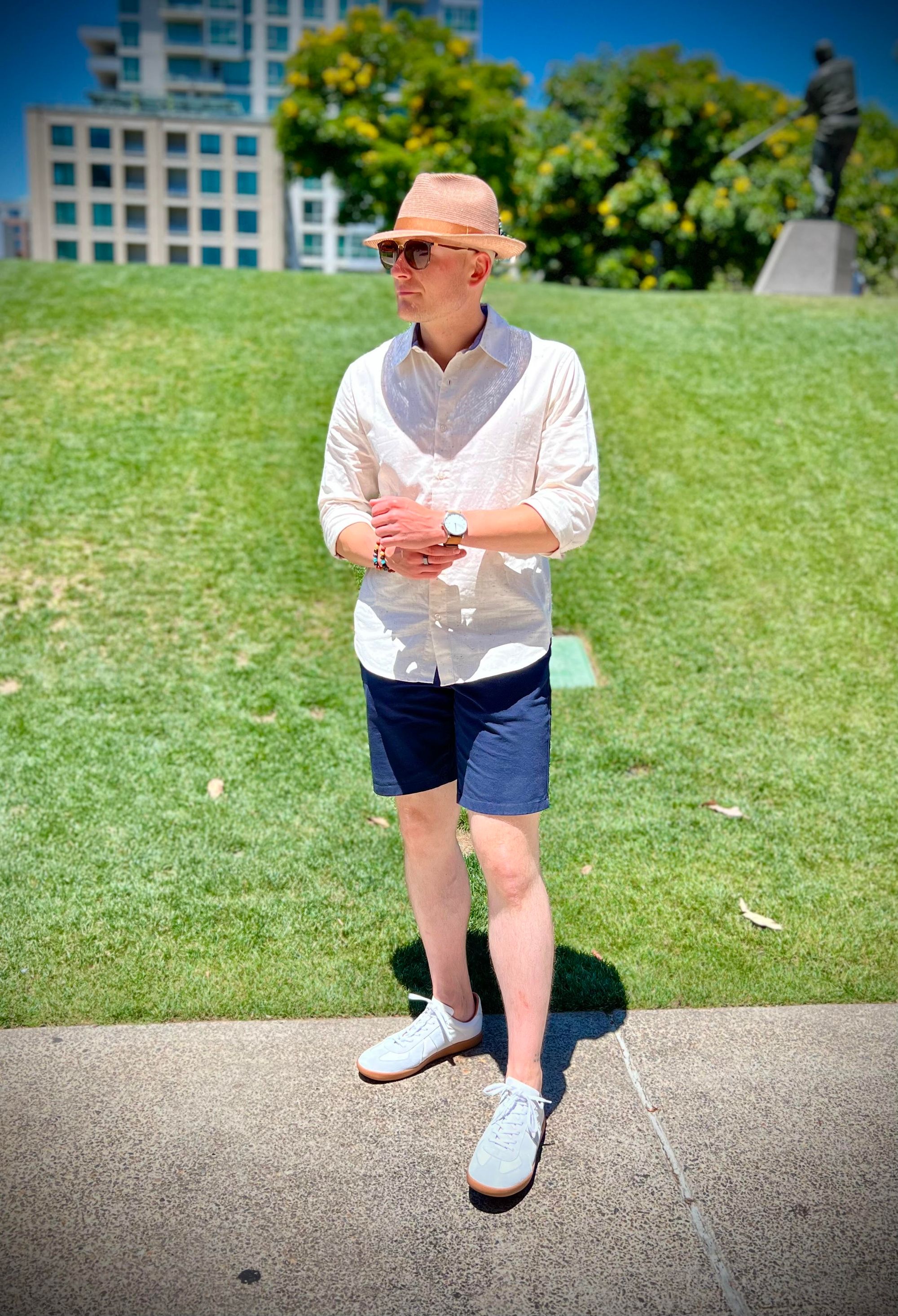 Linen shirts are an ideal Summer garment because they are light and breathable. However, be sure to opt for an appropriate color, because these more lightweight constructed fabrics are also easier to see-through. That said, when you opt for lighter colors, they can look exceedingly handsome when made from linen. So if comfort matters a lot to you, try out some linen shirts and pants/shorts for the Summer.
11. SUNGLASSES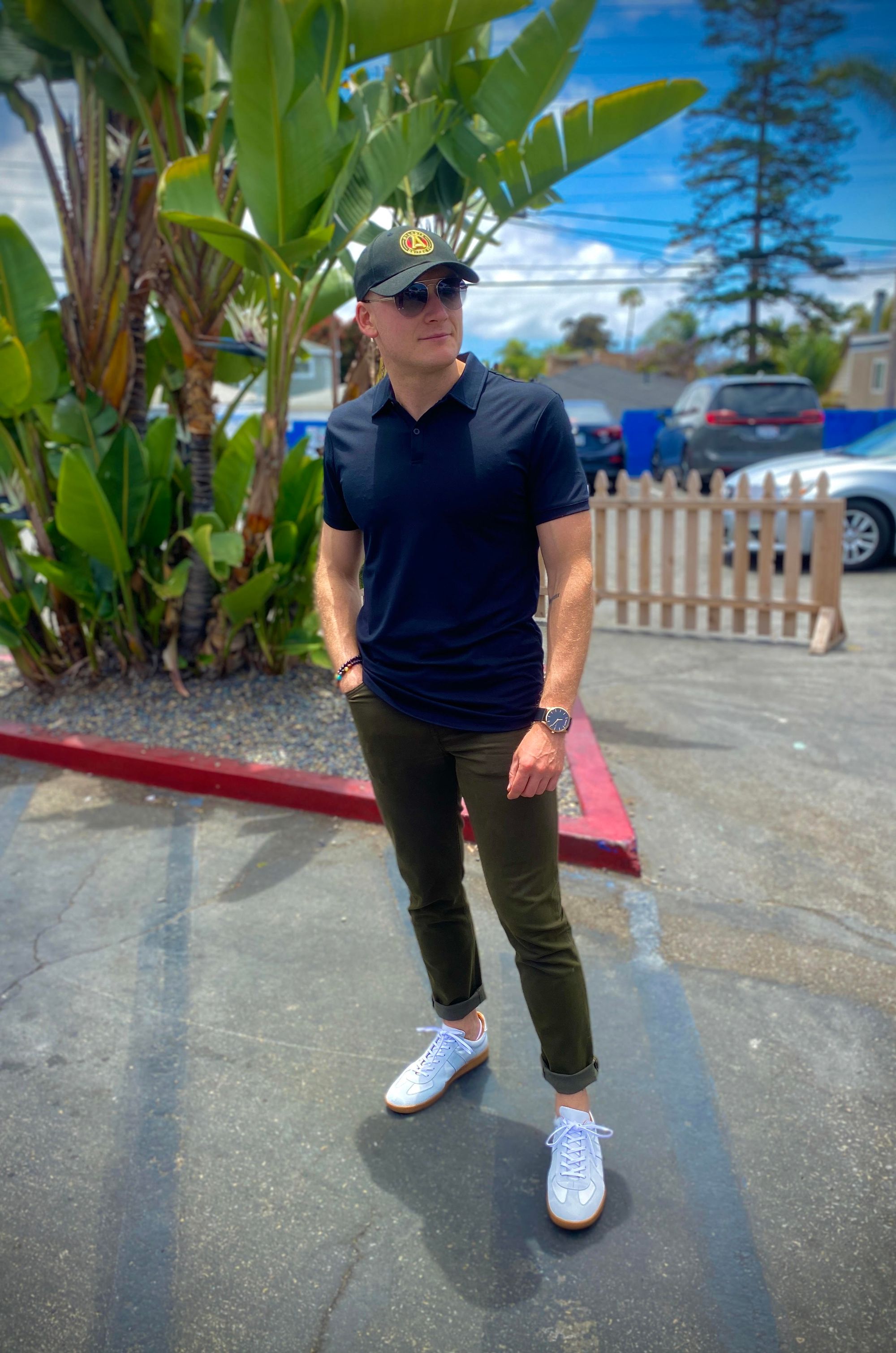 Sunglasses not only make you look 100% cooler, but they also protect your eye's from the sun's rays. Research has shown that ultraviolet (UV) light can damage the iris, retina, lens, and cornea, leading to permanent vision loss. It is often recommended to wear sunglasses year-round for this reason, especially during the Summer months. So all the more reason to make a good investment not only for your style but also for your general health.
12. LIGHTWEIGHT JACKETS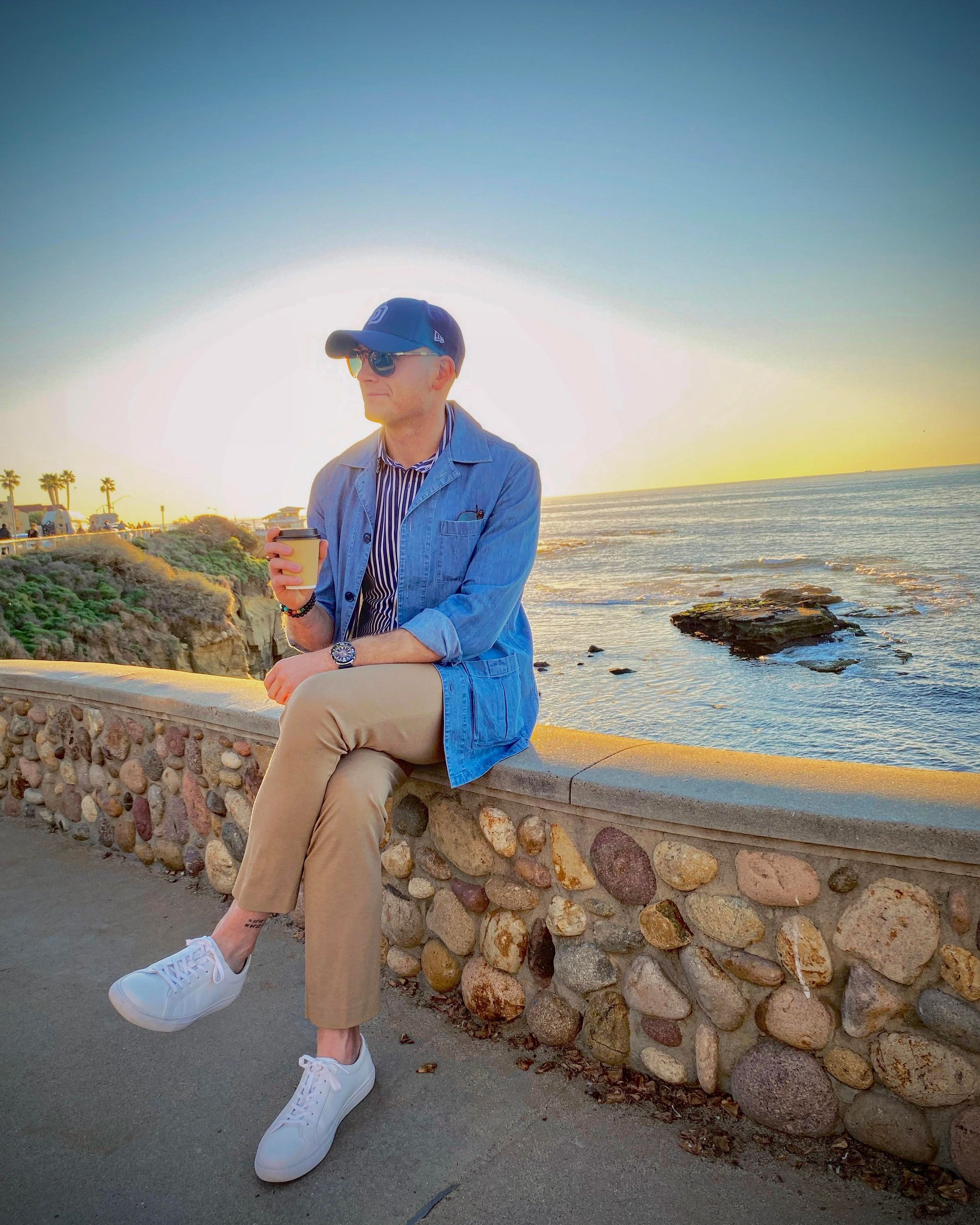 Lightweight jackets for the summer? Yup. Even as someone who currently stays in Southern California, being next to the water and after sunset, it can get brisk! So if you are living somewhere where it gets colder during the nighttime, be sure to have a functional, but stylish piece of outerwear to layer up for warmth while looking cool.
When it comes to your options, don't overthink them. Go for a nice denim trucker jacket or a bomber jacket.  These are timeless, and you can't go wrong with a neutral color, and they'll typically pair well with most other neutral colors. Blues, grays, tans, and olive green can work wonders for you in bombers or shirt jackets, and for denim trucker jackets, stick with something in a medium wash, and you'll be all set!
---
HEALTH DISCLAIMER
All content and information on this website, including our programs, products, and/or services, is for informational and educational purposes only, does not constitute medical, psychological, or health advice of any kind, and we do not warrant that the information presented herein is free of any errors or omissions. We are not providing medical, health care, nutrition  therapy, or coaching services to diagnose, treat, prevent or cure any kind of physical ailment, mental or medical condition.  A professional-client relationship with you is only formed after we have expressly entered into a written agreement with you that you have signed, including our fee structure and other terms to work with you in a specific matter.
Although we strive to provide accurate general information, the information  represented here is not a substitute for any kind of professional advice, and you should not rely solely on this information. Always consult a professional in the m medical and health area for your particular needs and circumstances prior to making any medical or health-related decisions. For your health-related questions, please seek the advice of a licensed physician or any other qualified health care provider immediately.