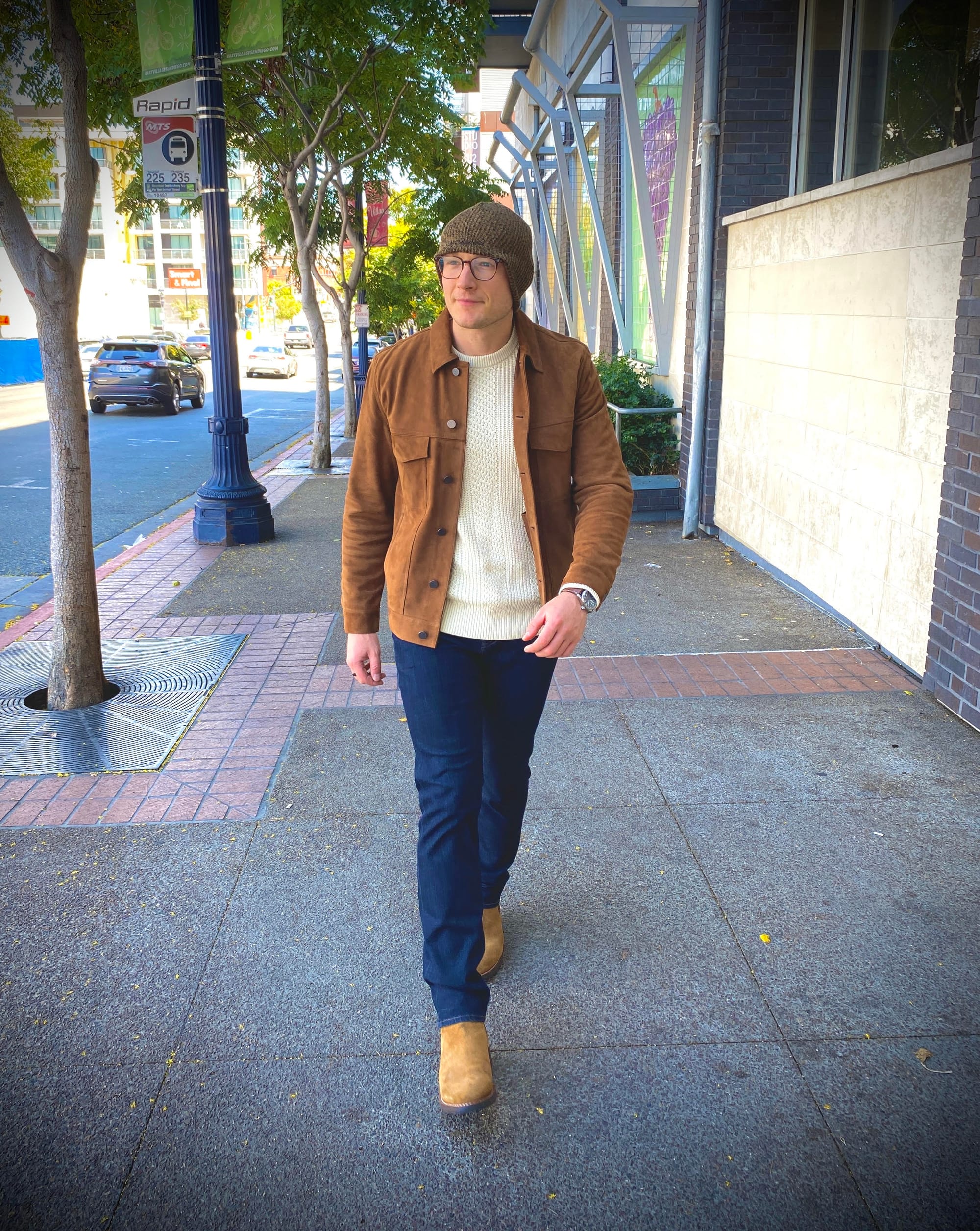 The Fall season is when men can flex their style muscles because of all the available options. The autumn months are when we can better utilize layers, texture, and darker tones of colors to look our very best. The sheer number of options increases with this time of year, and here are my twelve picks for what every guy can wear to look his very best for the Fall season of 2022.
1. BOOTS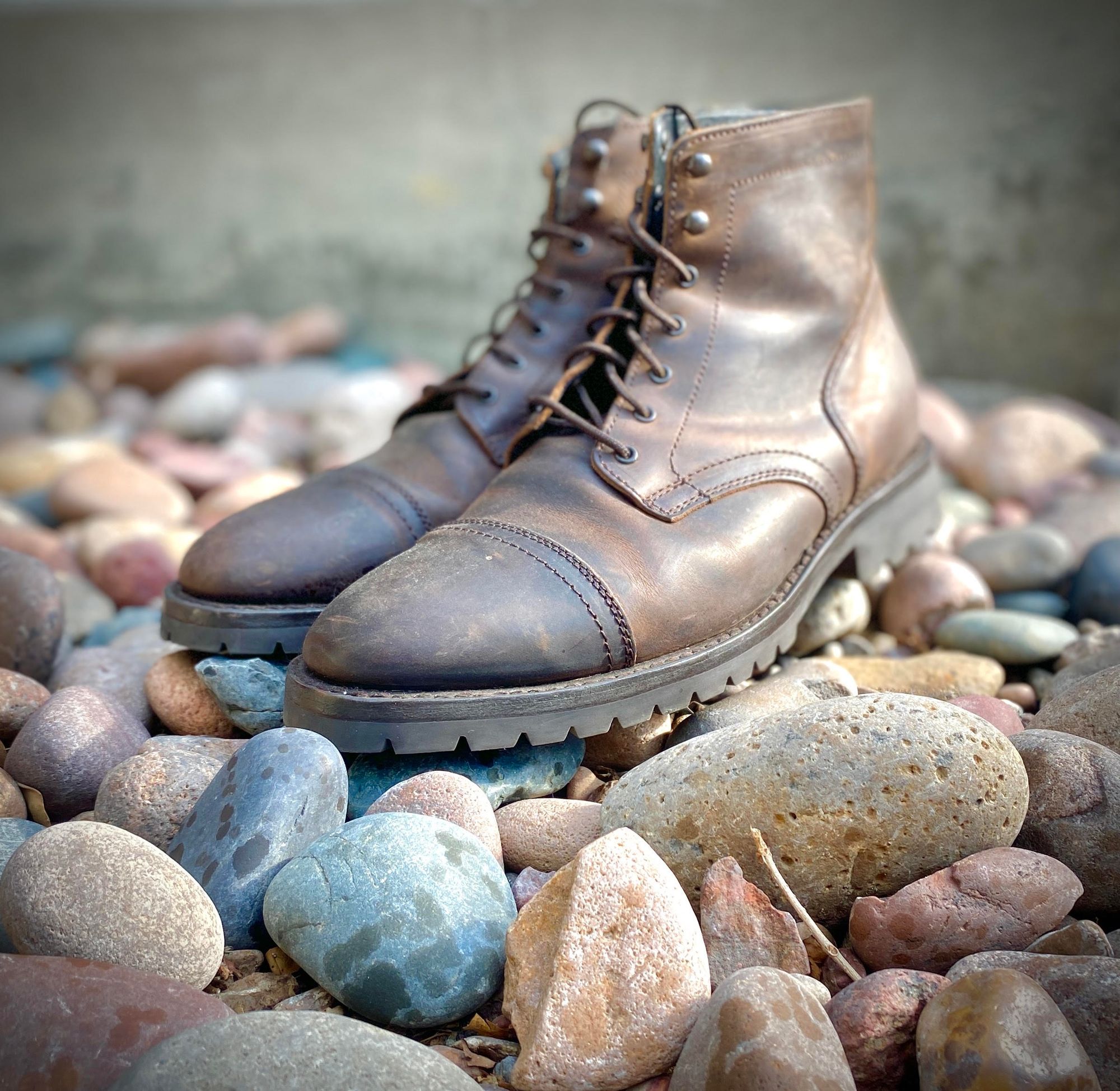 Let's get the obvious out of the way first. Fall means boots, and if you don't have a solid pair of lace-ups in either brown or dark, earthy olive, then I suggest you start there before amassing a collection of any kind.
Boots can be crucial for function (depending on where you live) and are highly versatile as well as extremely masculine, despite what you might initially think.
Look no further than Thursday Boot Company if you want to start with a classic pair of boots for an honest price. I recommend their Captain boot in their popular brown chromexcel leather. You simply cannot find a better quality boot for $200 anywhere.
2. BROWN SNEAKERS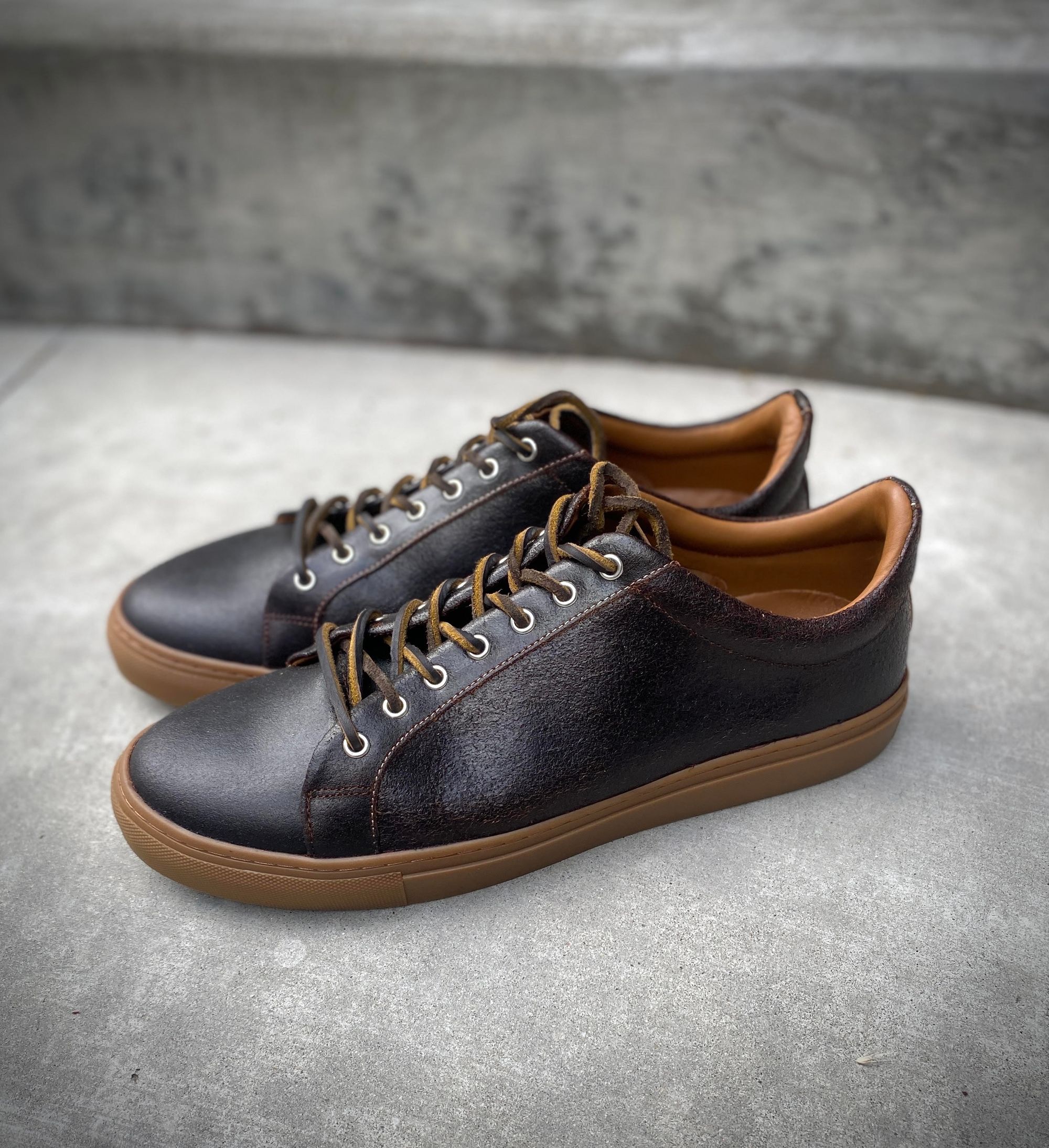 This doesn't bar you from wearing white sneakers; those are relevant for every season. However, since we want to incorporate darker tones of colors into our outfits, darkening the sneaker in beautiful earthy browns will better harmonize with our layered and sleek autumn fits.
These look brilliant with dark denim jeans and chinos, and despite not being quite as versatile as white sneakers, you'll find that brown sneakers can easily slide between multiple different looks for the latter months of the year.
3. DARK-TONED CHINOS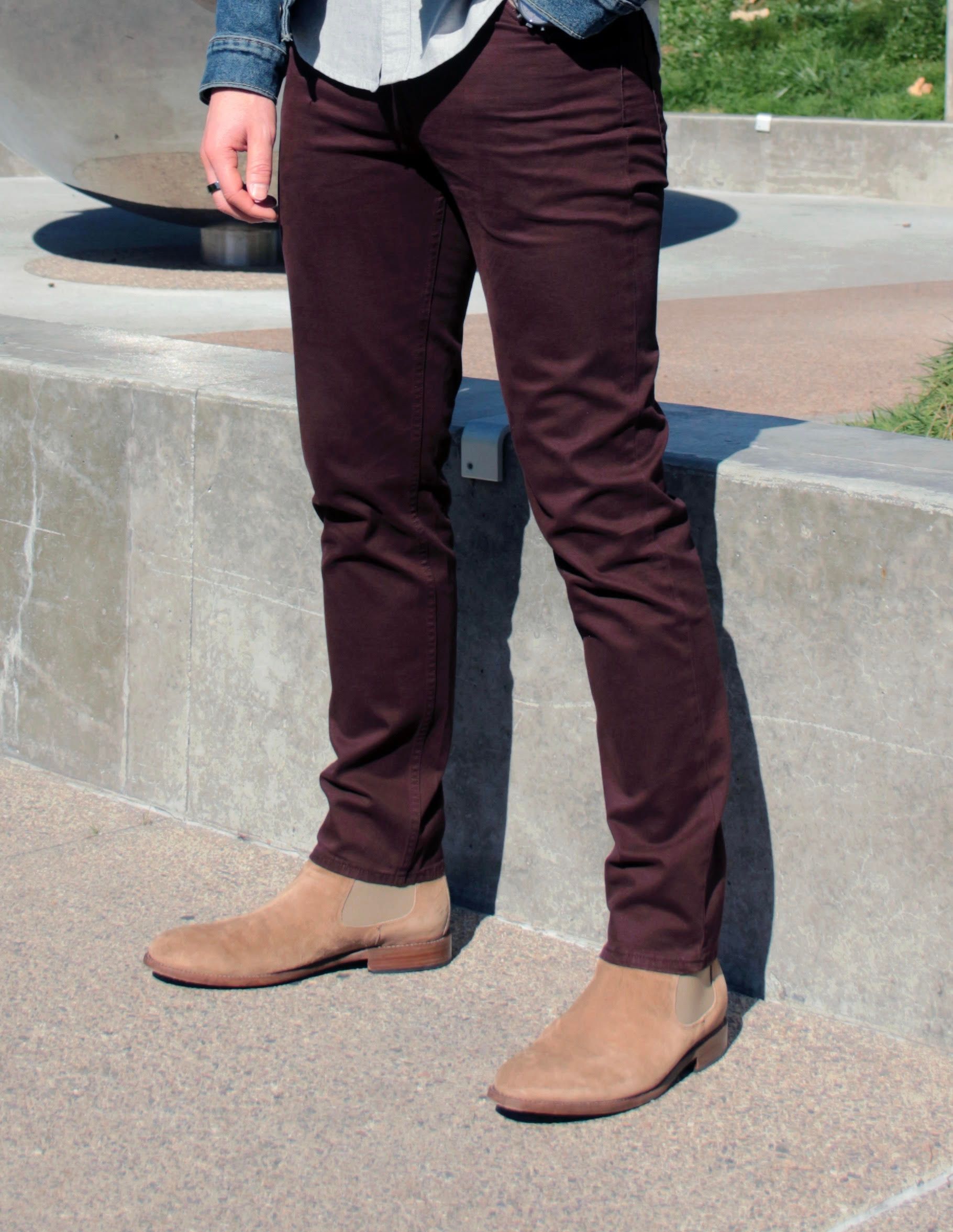 The autumn months are often synonymous with changing colors, which is our cue to start wearing darker-toned garments. Chinos are, unquestionably, some of the most versatile trousers any man can own and the way to get the most out of the Fall season is to invest in a quality pair of darker-toned chinos.
Dark brown and navy blue are excellent choices, but burgundy and dark olive are standouts and a lot more versatile than you'd expect. My advice would be to try either (or both) and revel in the joy of finding unique and sophisticated ways to style them.
4. DARK DENIM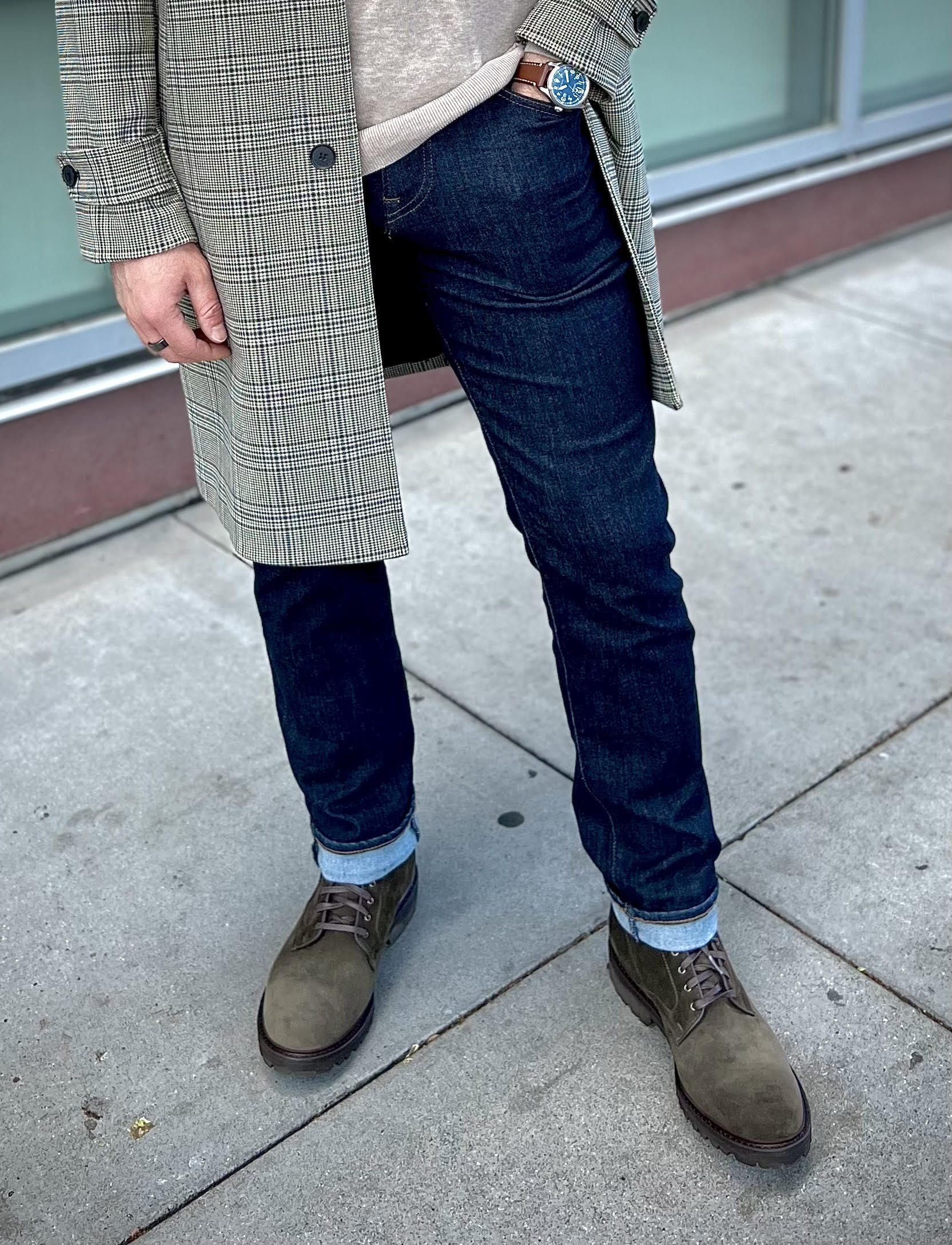 Denim is a year-round fabric, and much like the aforementioned chinos, the Fall is the time to start incorporating darker-washed jeans into our looks. Trust me when I tell you that a solid pair of dark-washed jeans can get you through every season of the year as they ought to be a mainstay in your initial wardrobe.
However, this particular wardrobe piece becomes most important in the Fall and Winter months. Paired with sweaters, virtually any form of outerwear, flannel shirts, overshirts, chore jackets, and boots, these can be just as versatile as chinos.
5. CORDUROY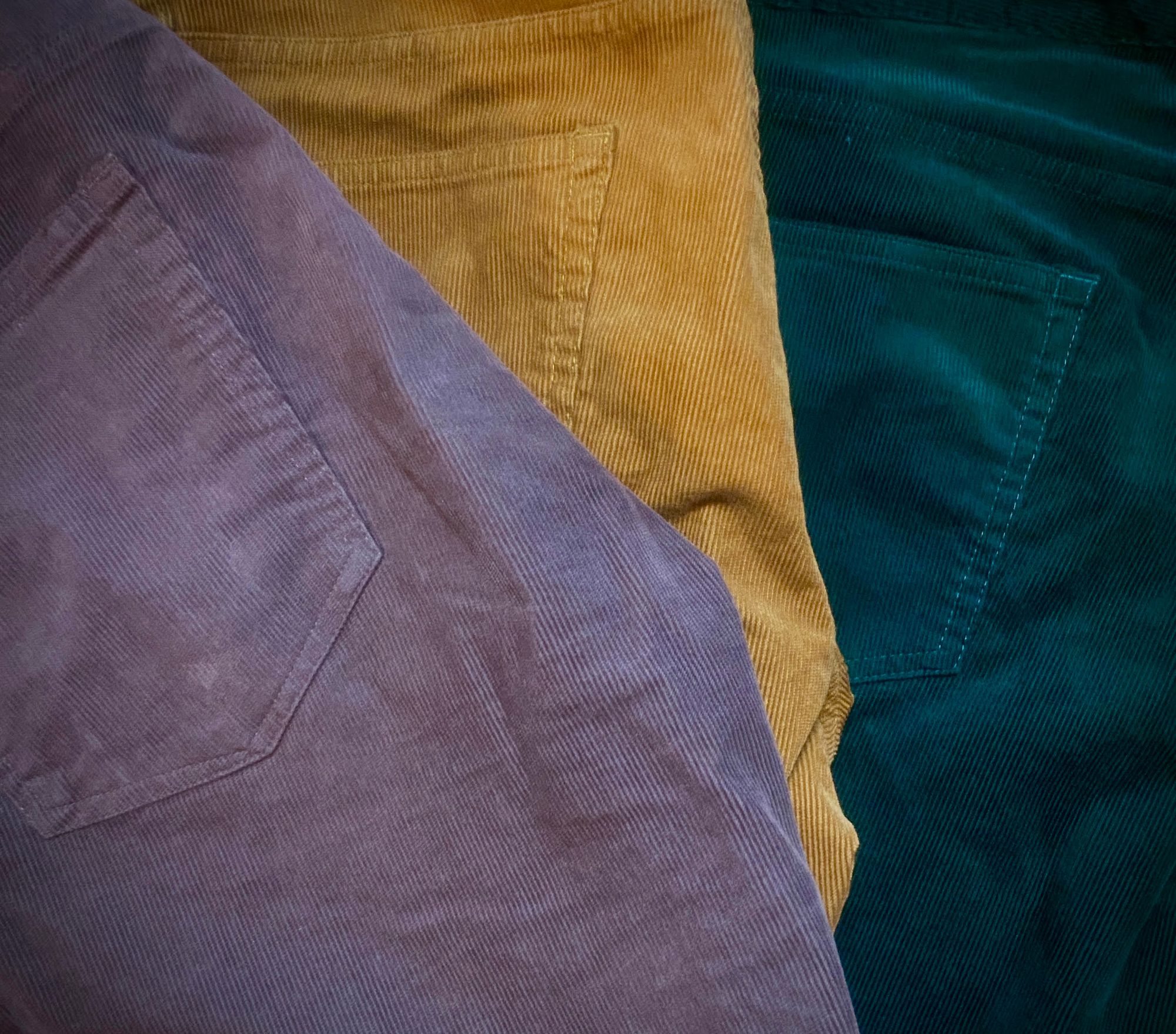 If you're at this point in the post and wondering if corduroy is something YOU can personally rock for the Fall, stop thinking... the answer is YES. Corduroy has a rich history that I won't dive into here as it is beyond the scope of this article, but know that this unique texturing looks excellent with neutral-colored dyes and adds a lot of flair to virtually every outfit.
Do you want to stand out from most other men this Fall with a subtle (yet tasteful) flex? Then rock some corduroy in brown, gray, navy, maroon, or green.
6. FLANNEL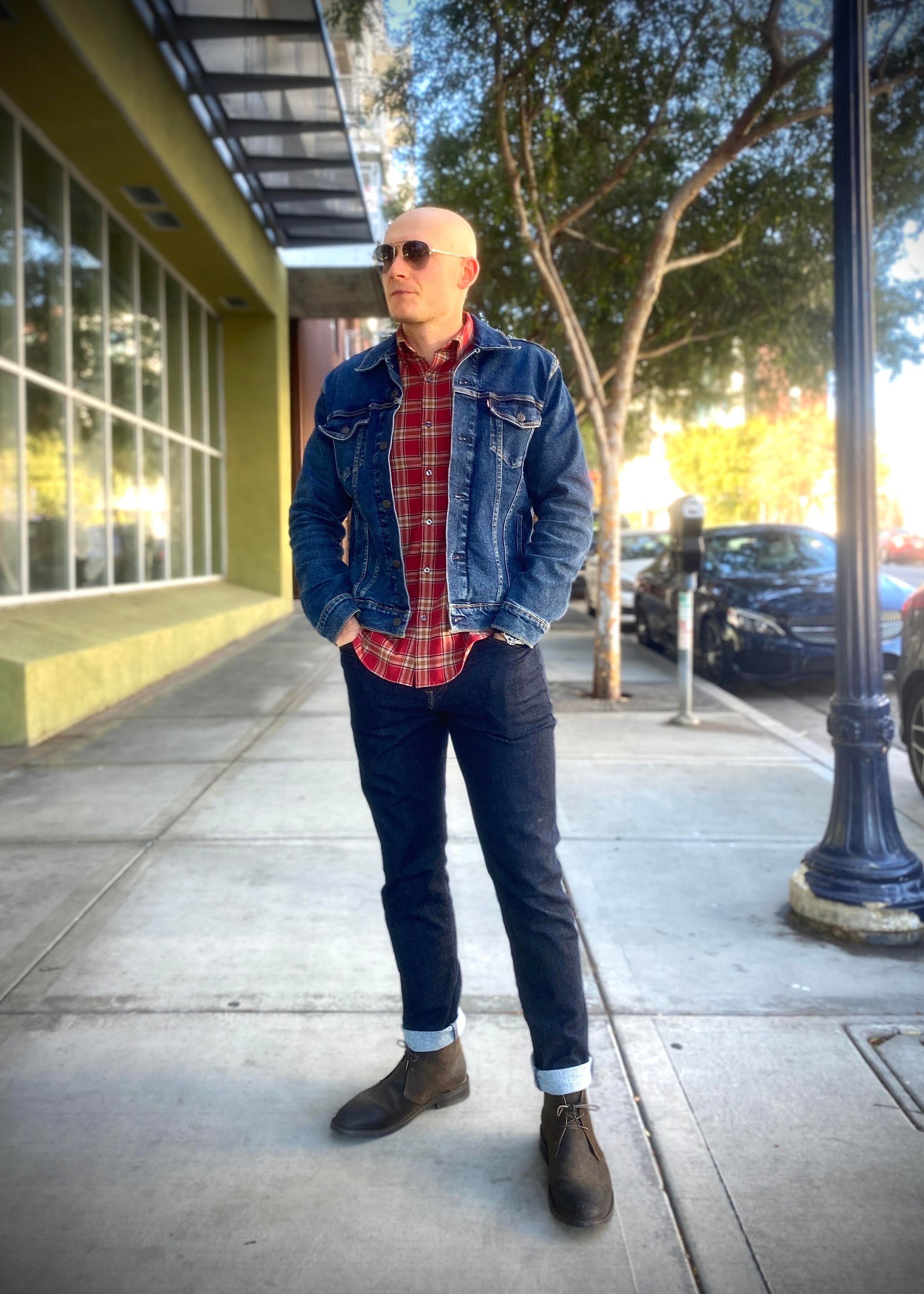 Yes, flannel, whether for shirts or trousers, is a simple but excellent addition to any man's wardrobe that should not be missed. Nowadays, there are so many options for flannel shirt patterns that you'd be hard-pressed not to find something you didn't like (even if it's just a solid color).
Where flannel garments shine, however, is in their texture. Flannel brings a soft look that pairs well with denim and corduroy due to the casual nature of the fabric.
Flannel looks particularly handsome when paired with rugged boots, denim trucker jackets, and corduroy overshirts or trousers.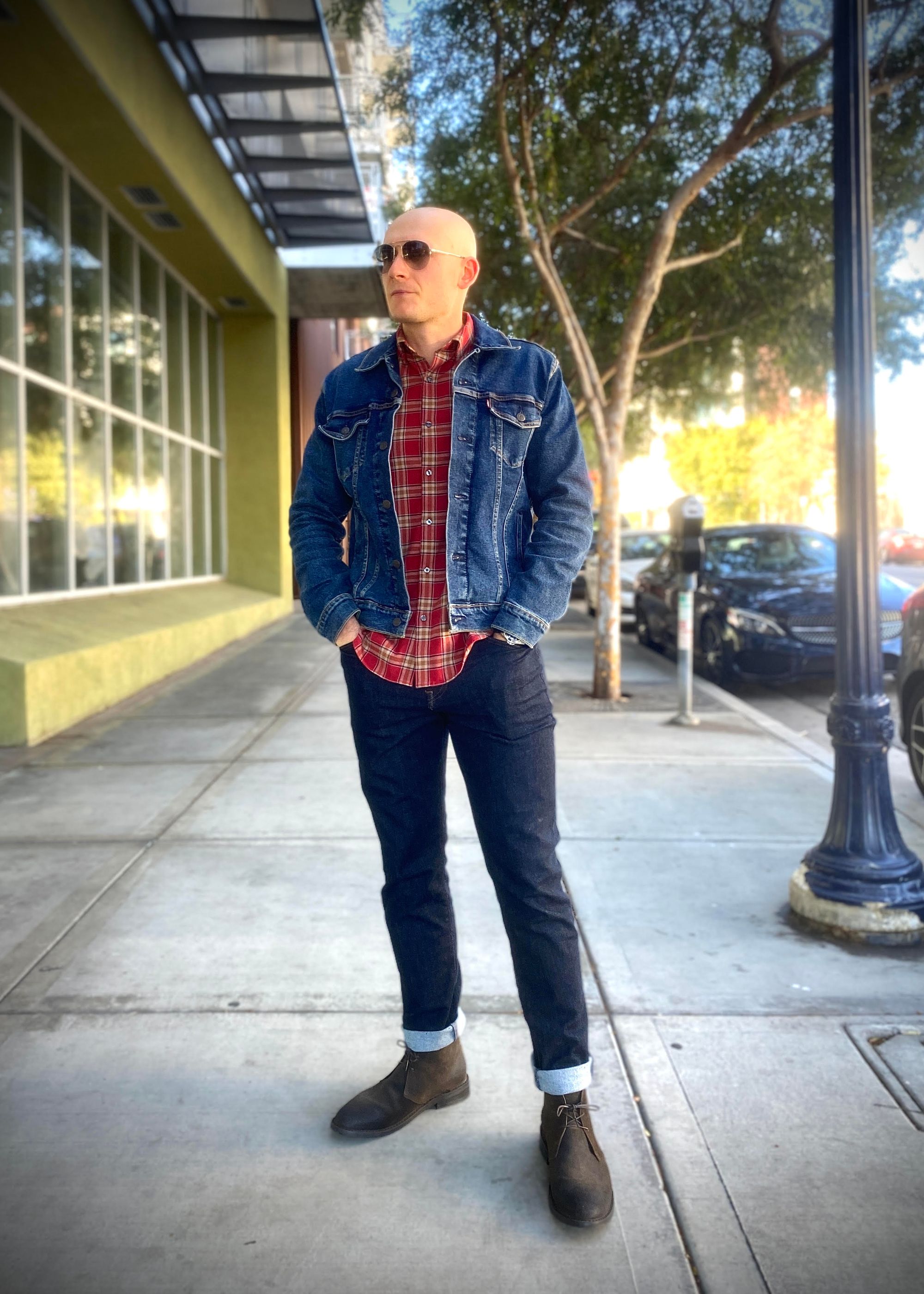 Don't limit yourself to flannel shirts; flannel trousers in darker charcoal or gray are versatile pieces you can get a lot of mileage from for many occasions. Just take a look at these looks where I'm rocking the same pair of charcoal flannel pants from Brooks Brothers: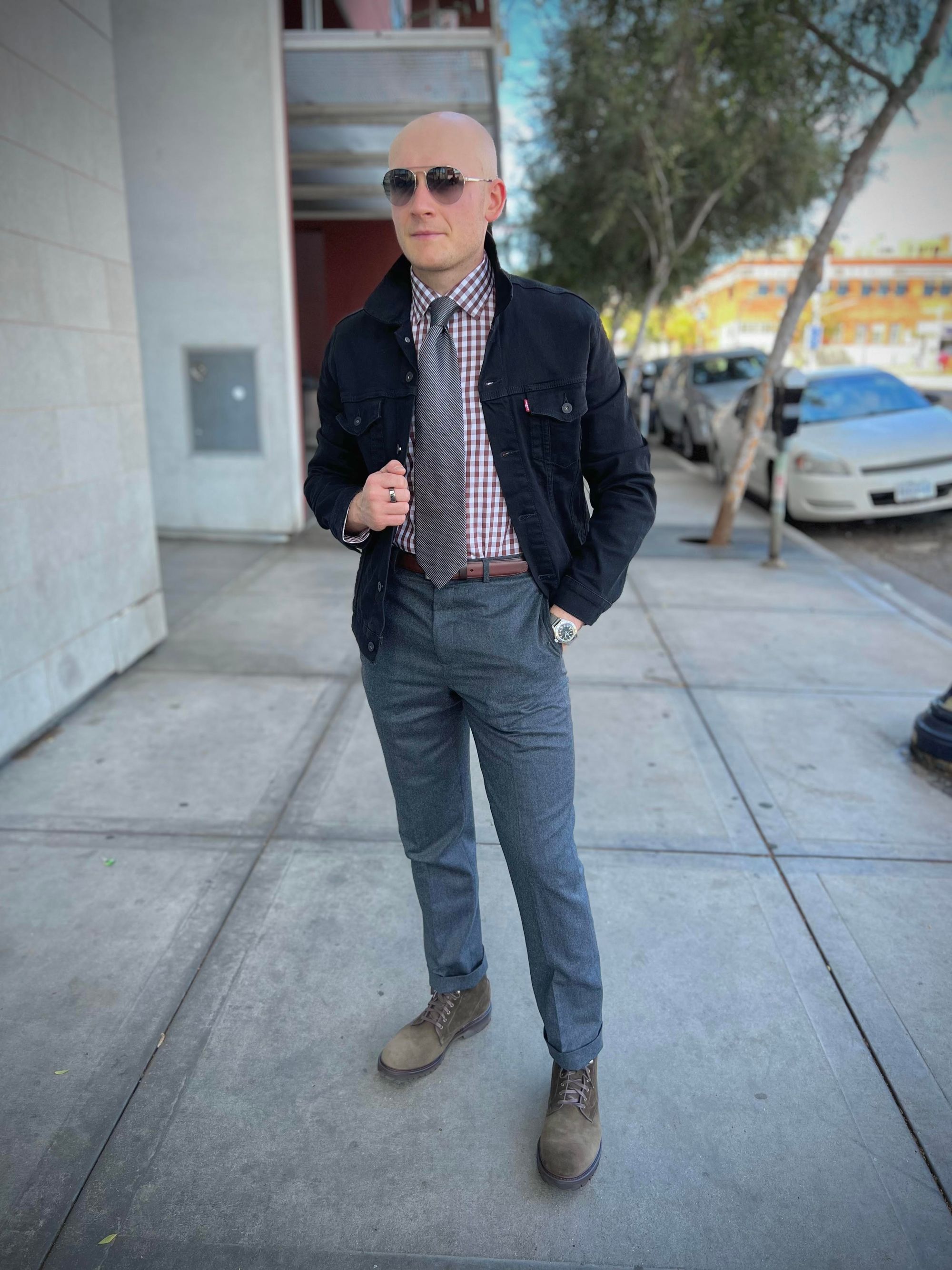 7. SWEATERS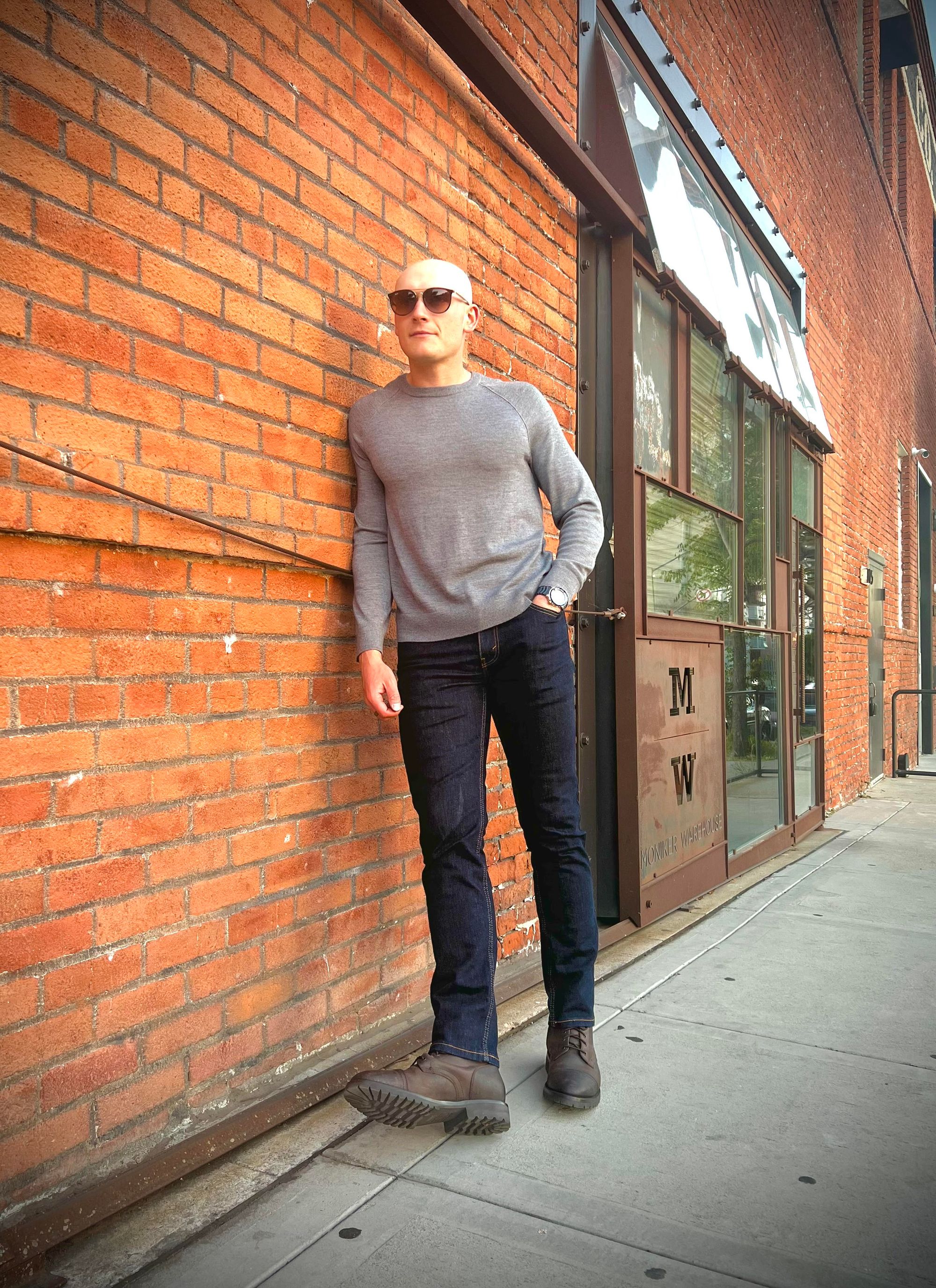 Never underestimate the power of a classic gray crewneck sweater. This is a garment you should incorporate into your initial starter wardrobe that can be used in various ways and throughout the year. With that said, you'd do well to invest in a quality sweater that will stand the test of time, provided you take care of it. Cashmere is an exceptional fabric, but it's pricier and sometimes requires more care.
Of course, a gray crewneck sweater isn't the only sweater you can or should own. V-necks, turtlenecks, and cardigans are all something I would encourage you to build into your wardrobe over time. Again, invest in quality and stick with neutral colors to start.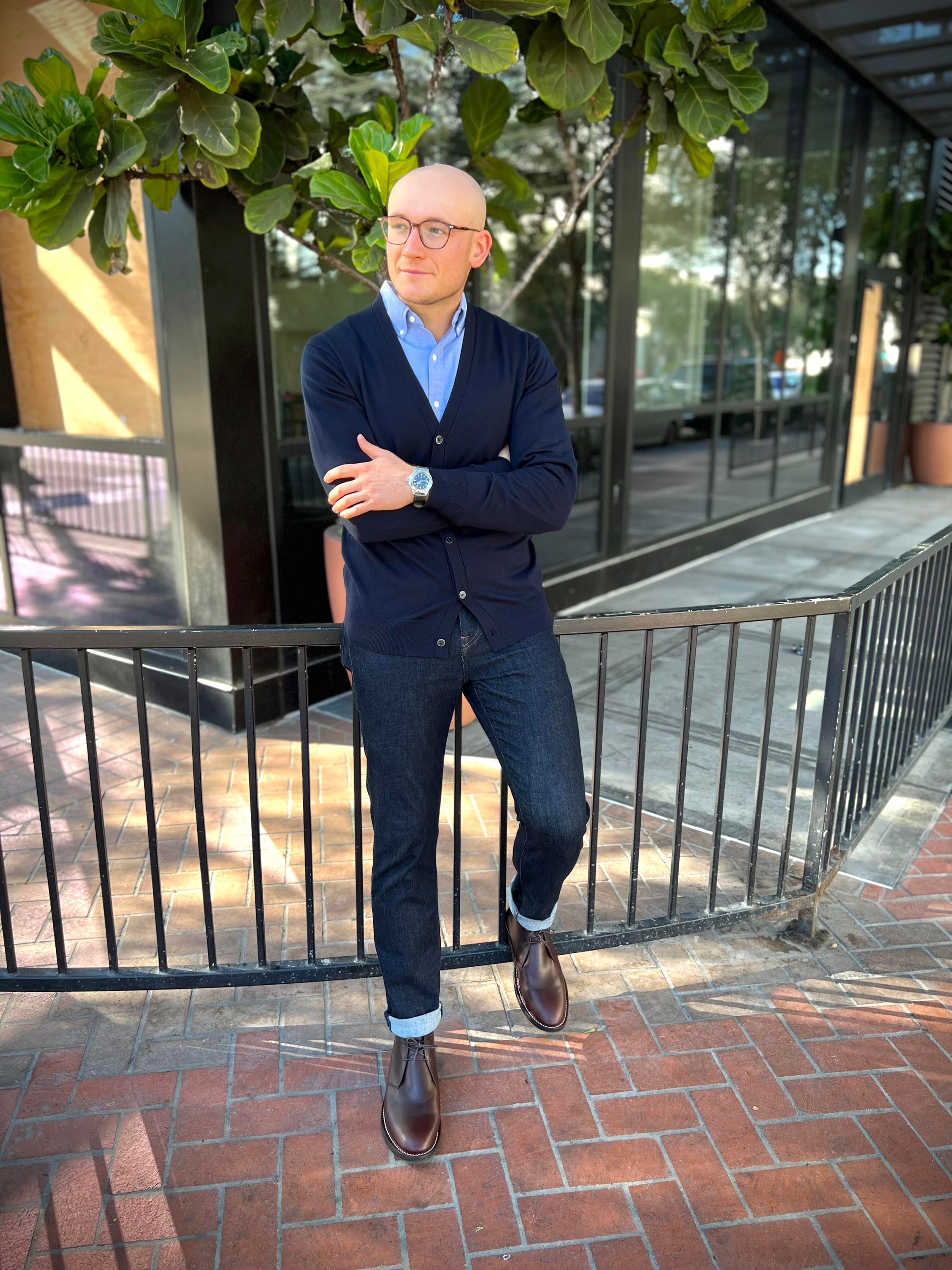 For the best quality staple pieces such as these for the most honest price, I recommend Uniqlo.
8. SHIRT JACKETS & CARDIGANS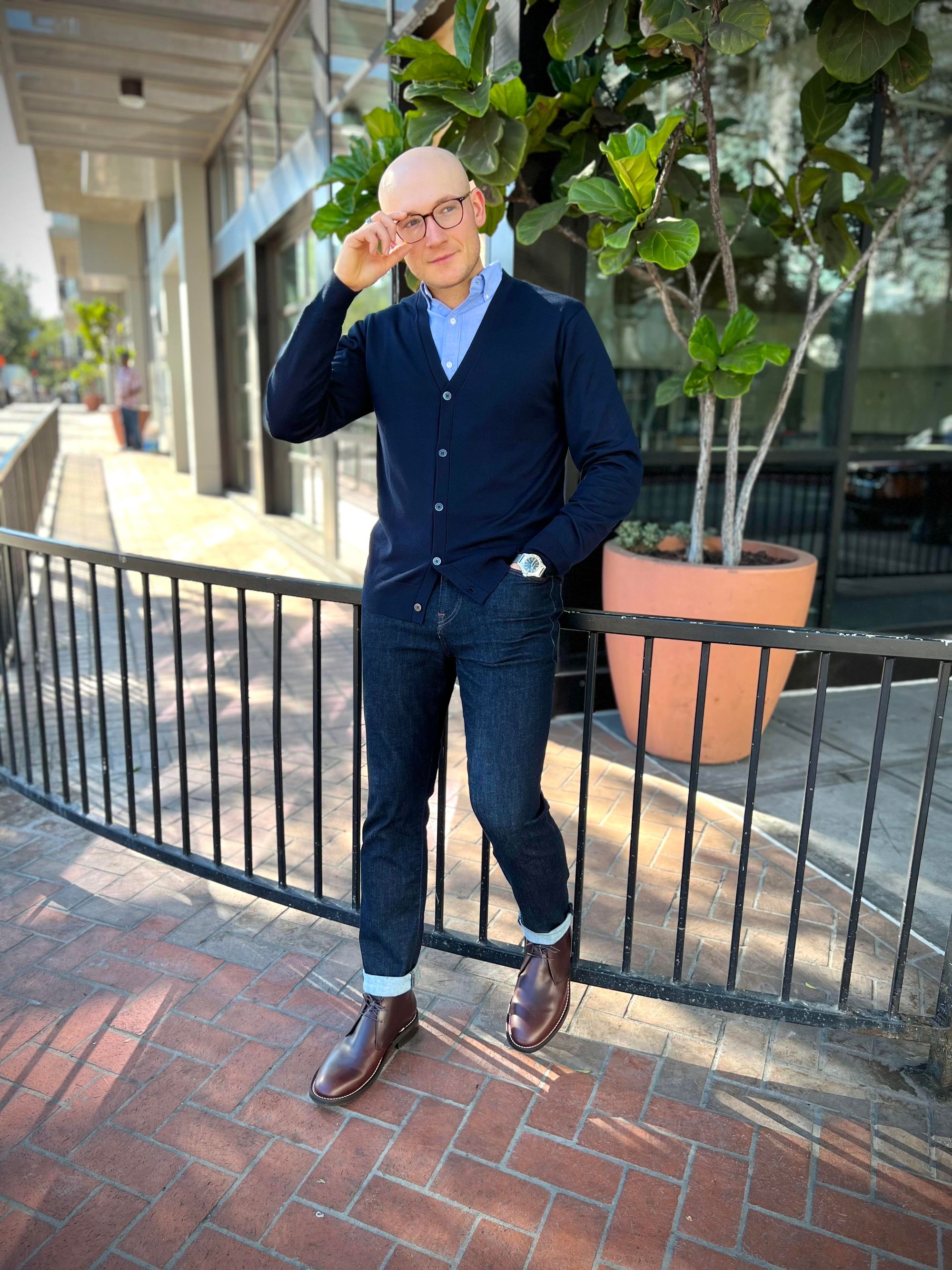 Cardigans and shirt-jackets (a.k.a. shackets) are a great way to layer your outfits in a smart-casual way. Additionally, they can provide extra pocket space for weekend adventures, quick getaway trips, etc.
If you already own a cardigan sweater but want to elevate the look more, try finding a thicker cardigan with a shawl collar in a hardier fabric. Even with something as basic as a white t-shirt and denim jeans, a cardigan can add a surprising amount of flair to your look.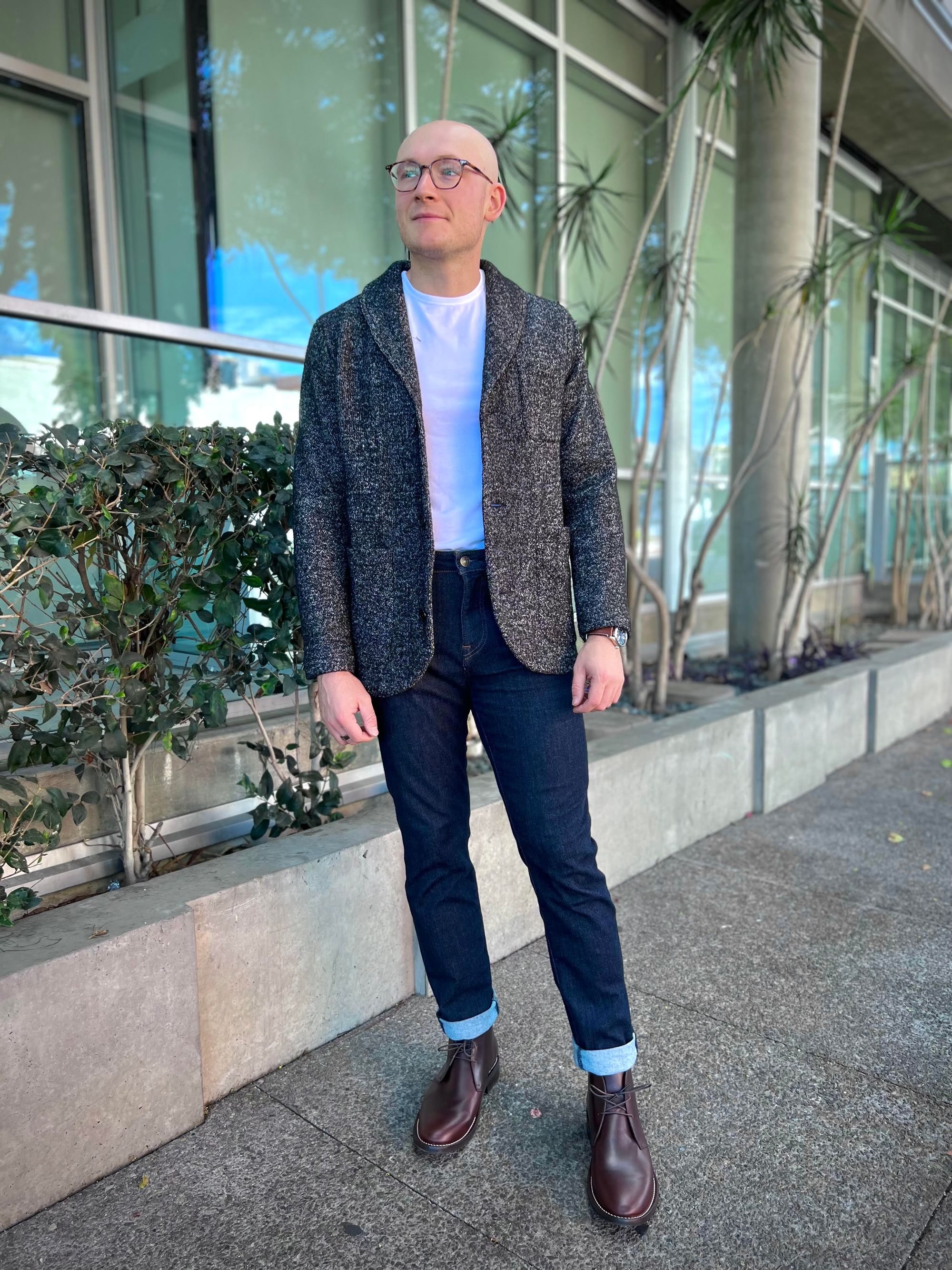 If you already have some overshirts or shirt jackets and want something different, then a chore jacket is a simple but effective way to stand out from the crowd without looking like you're trying too hard (even if you are).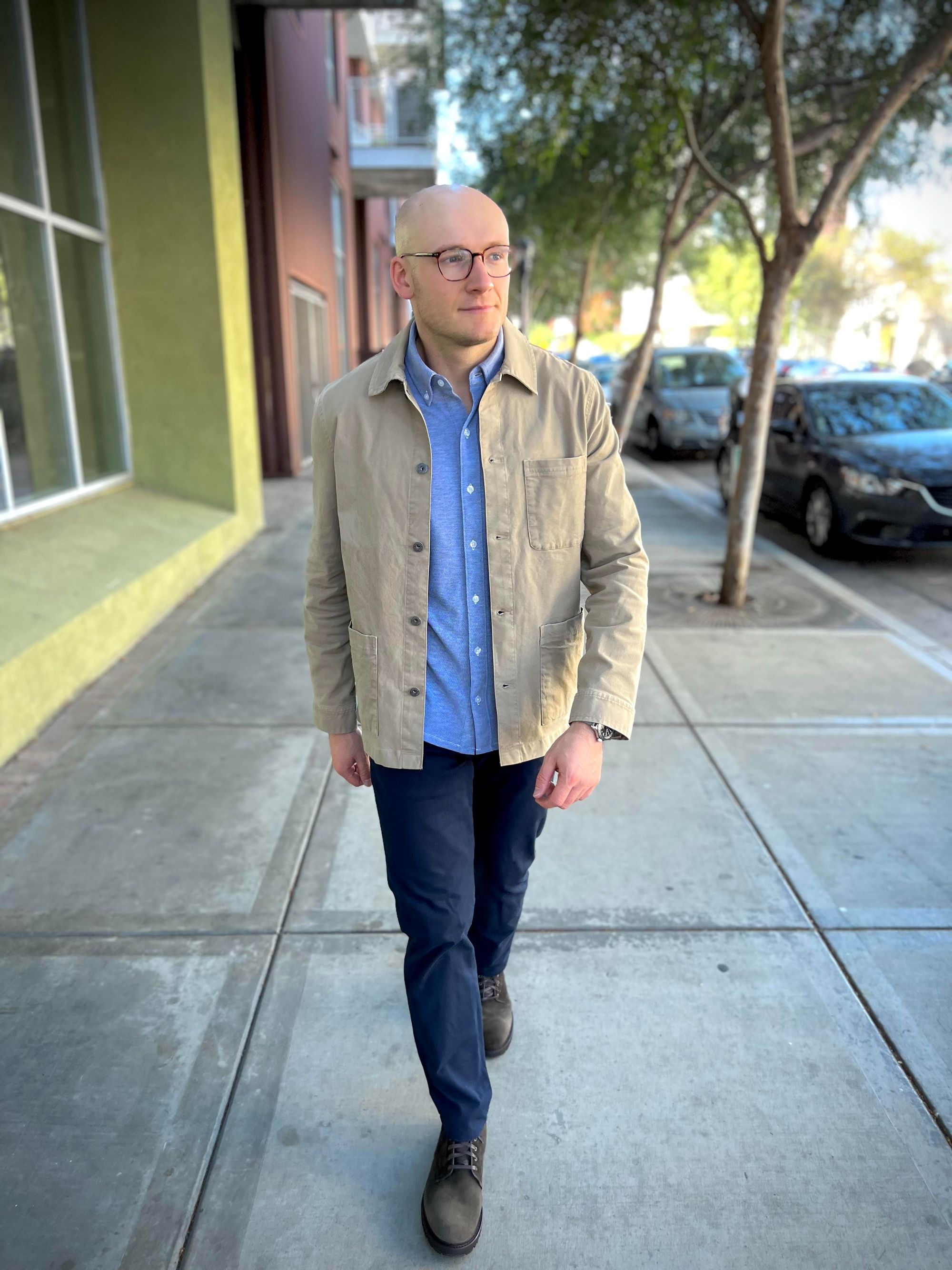 9. LIGHTWEIGHT JACKETS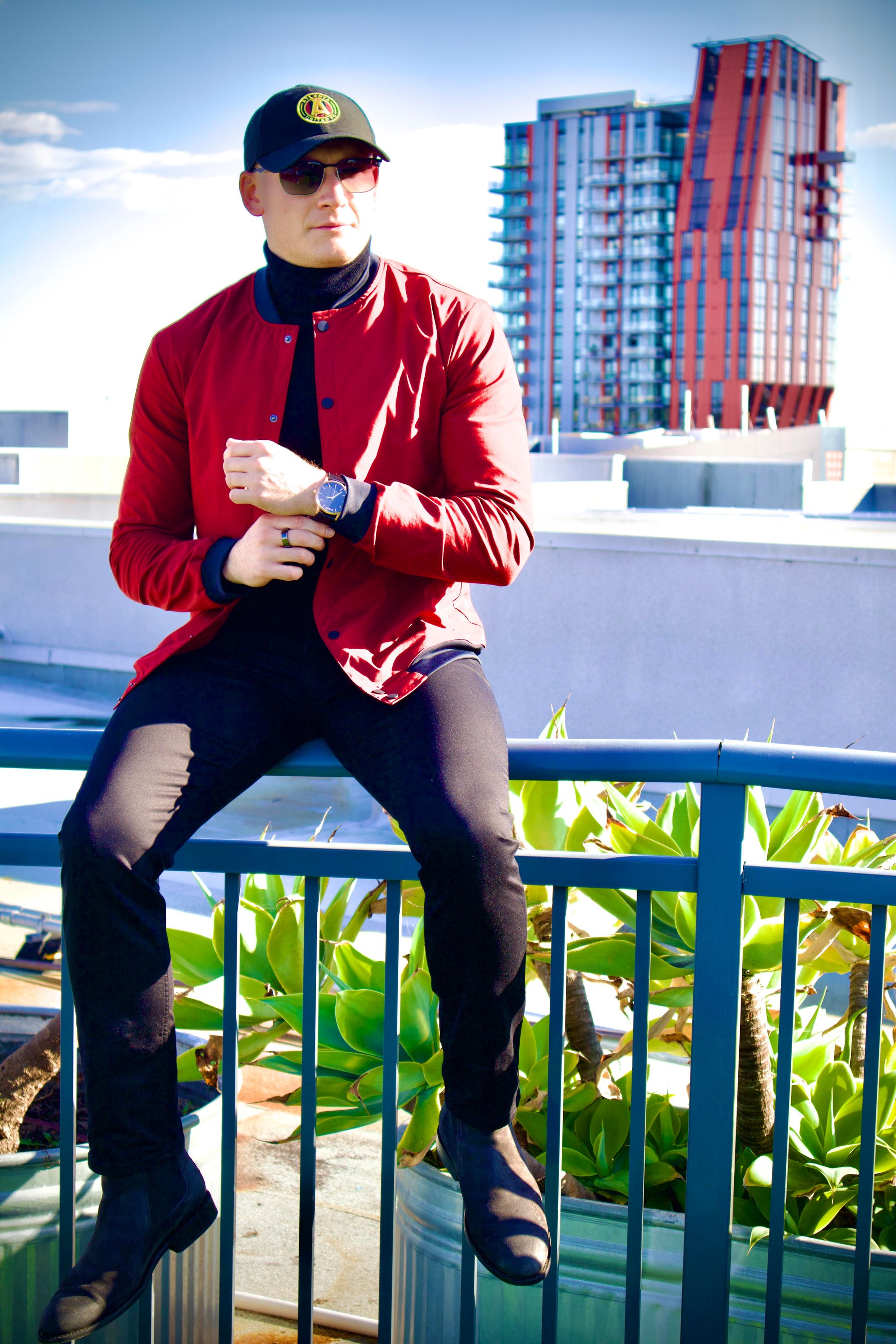 The autumn months often bring a crisp chill during the daytime or after sunset. You can't go wrong with a Levi's denim trucker jacket, a classic and affordable choice. Other notable options are bomber jackets, which can be purchased in various colorways and patterns, as well s the timeless and classic Harrington jacket in navy, black, olive, or tan.
10. CAR COATS & MAC JACKETS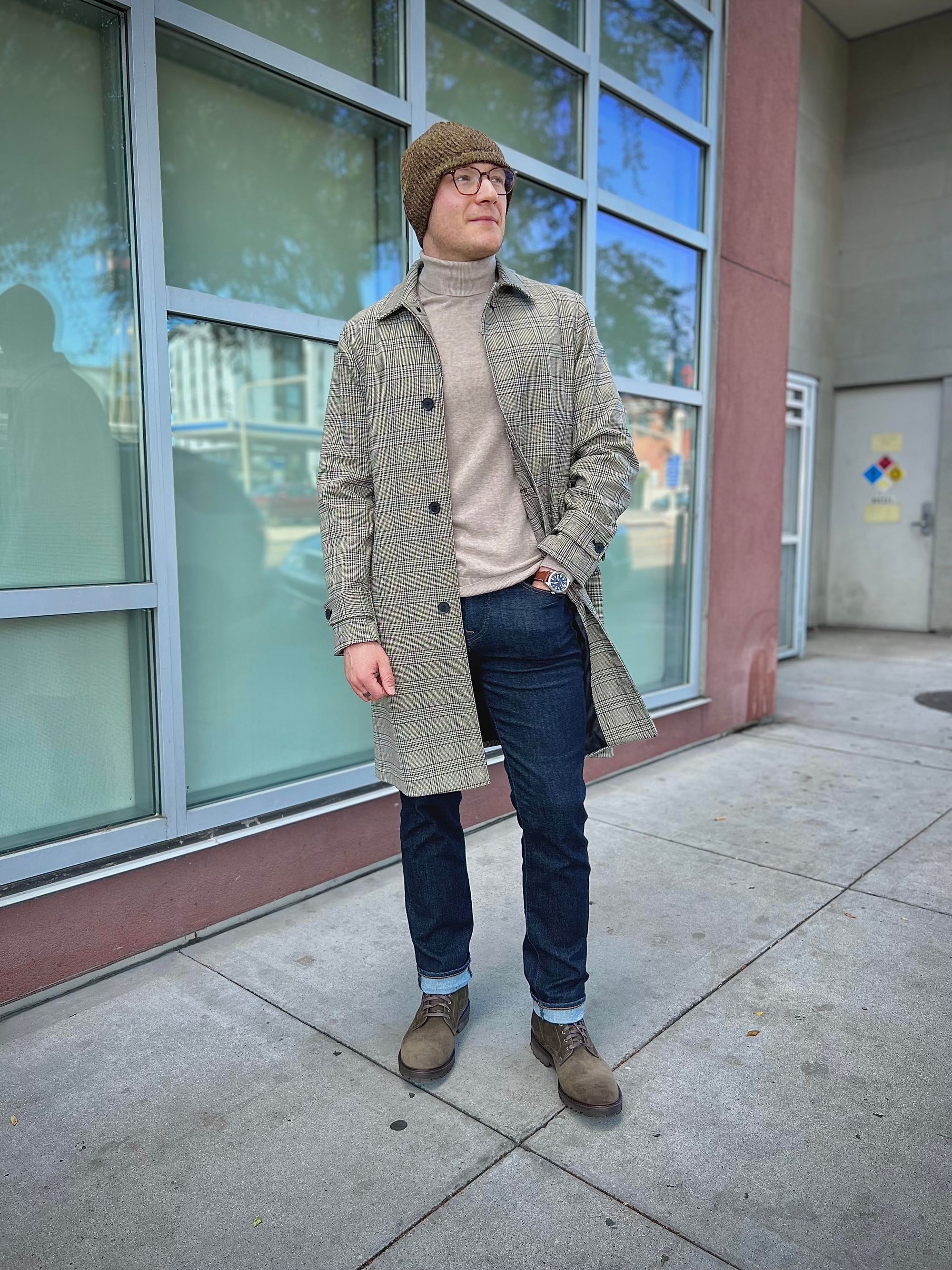 Men can own numerous coats as a part of their Fall and Winter wardrobe, but I think a great place to start is a versatile car coat for the autumn months. Find one in wool, tweed, or a polyester blend with a simple pattern that will pair well with many other neutral-colored garments. Depending on how many layers you opt for, these can provide a good bit of warmth and work well for the following winter months.
If you live somewhere that receives a lot of rain during the year, look into a Mac (Macintosh) Jacket that also serves as a raincoat and will better shield you from the elements. You can find these in numerous colors and patterns as well as lined or unlined options.
11. FIELD JACKETS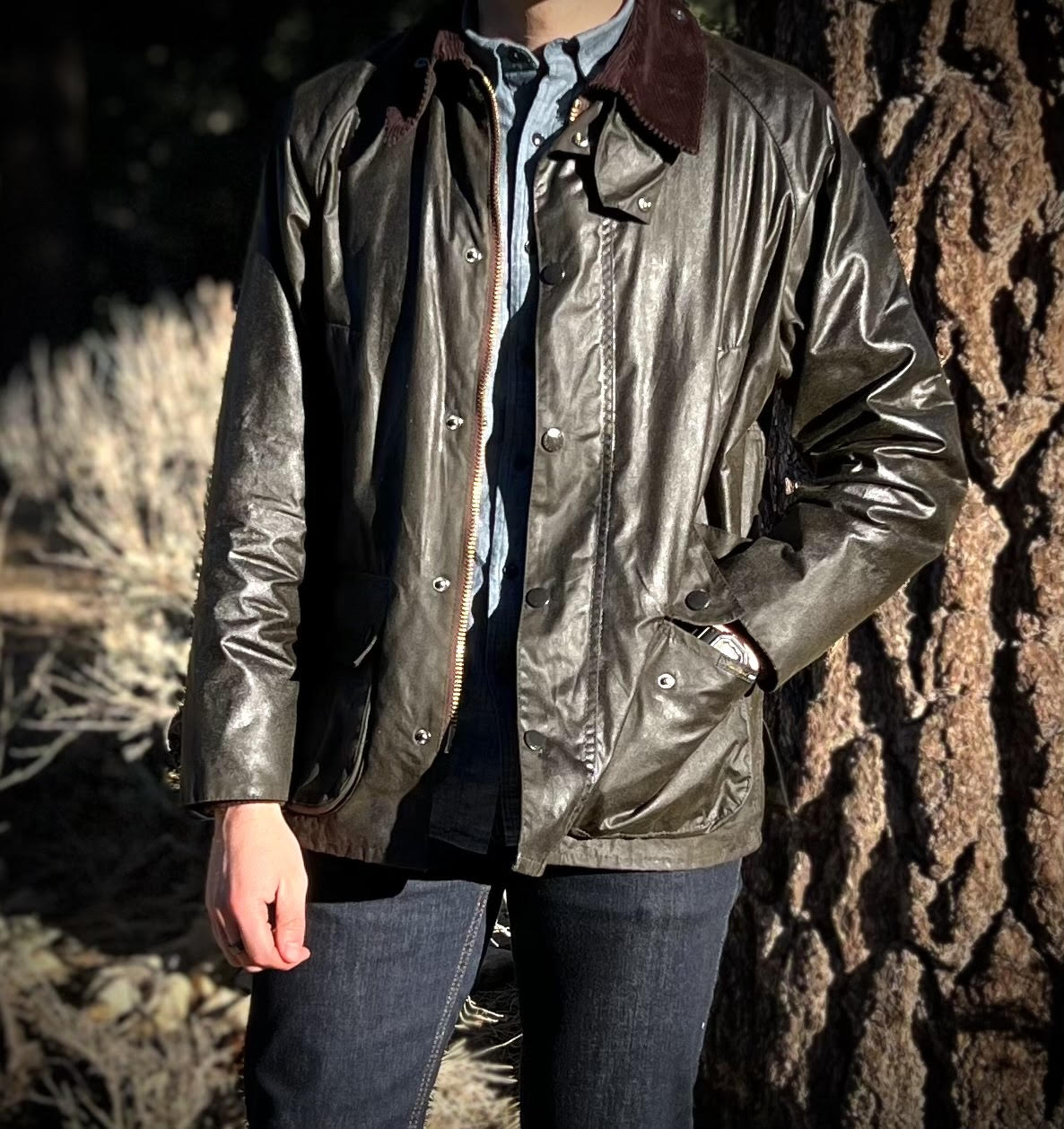 Field jackets aren't for everyone, but they have a timeless and rich history, particularly those made of waxed cotton and canvas material. One such example is the Barbour Bedale waxed cotton field jacket which gentlemen in the countryside have used for generations. I don't necessarily recommend this variant (or any other waxed jacket) to everyone because it will require you to re-wax it or have it serviced by professionals across the pond.
If you're not willing to undergo the maintenance (trust me, I get it), then there are many options for field jackets from brands such as Peter Manning NYC, Banana Republic, Orvis, etc. I recommend something in a neutral color and earthier tone. For example, a green, tan, or brown option will work very well and goes with almost everything in your closet (particularly other neutral-colored garments).
Field jackets can lend the wearer a rustic, rugged yet sophisticated look that can be very handsome if paired with other casual pieces, such as denim shirts, dark-washed jeans, darker-toned chinos, etc.
12. DOWN JACKETS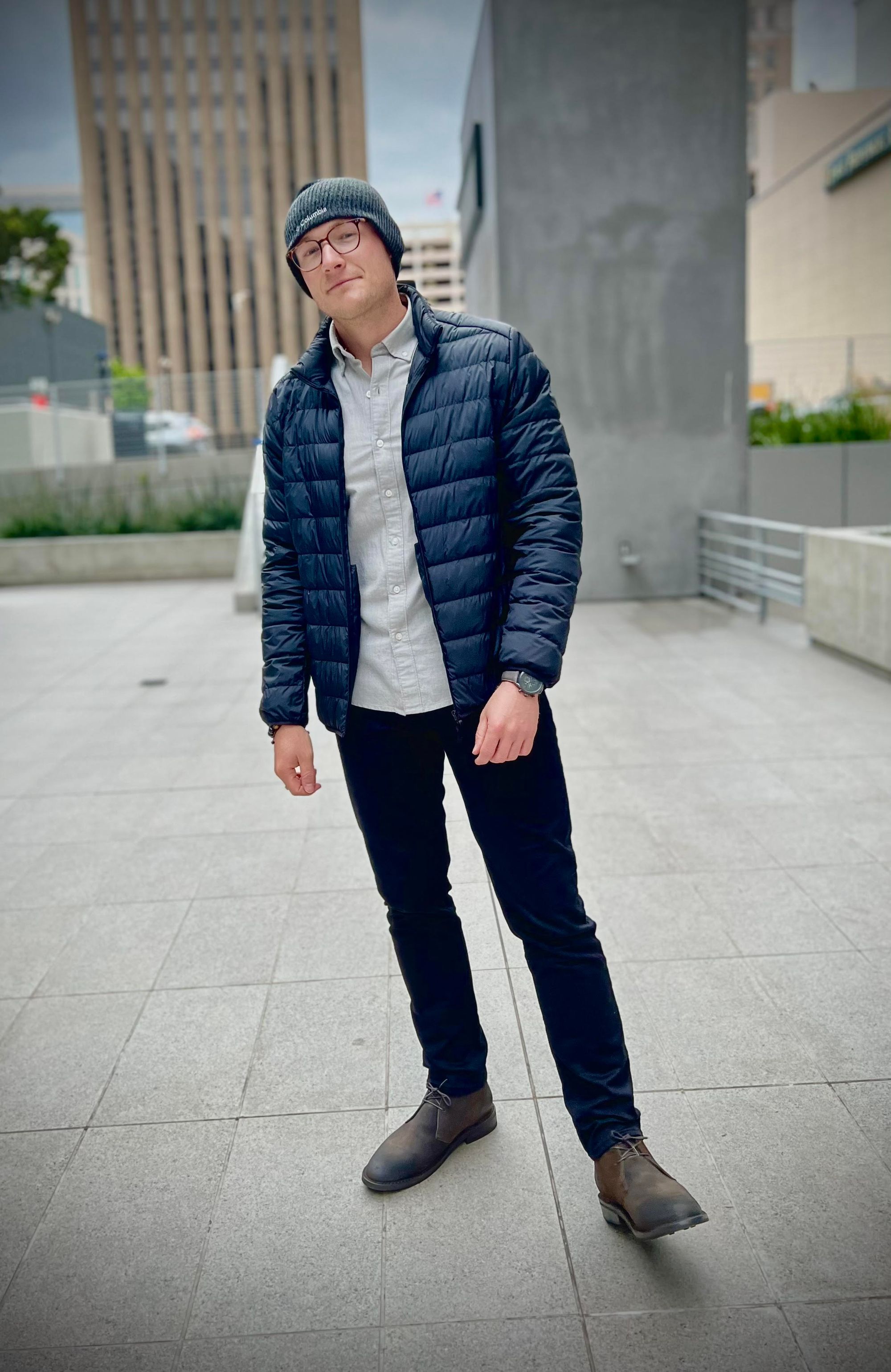 Also known as the "puffer" jacket, this casual, cozy, and, most importantly, versatile garment can get you through the Fall and Winter in both style and comfort. Down jackets are simple in design and construction, decidedly lighter in weight than a Mac Jacket, but equally as effective in keeping the wearer warm and dry.
Not everyone needs to bundle up for the Fall and Winter, but for those who do, you cannot beat a tried and true down jacket from Uniqlo (such as the one depicted above), which consistently sells for under $100 and is well-made.