More sunlight during the daytime hours means it's Spring season, and as we make the transition from thicker outerwear and darker shades to lighter jackets and brighter colors, there are a few things to consider so that we look stylish and sexy before breaking free for Summer.
Here are 11 items that any stylish man should consider rocking for the Spring season in 2022.
1. POLO SHIRTS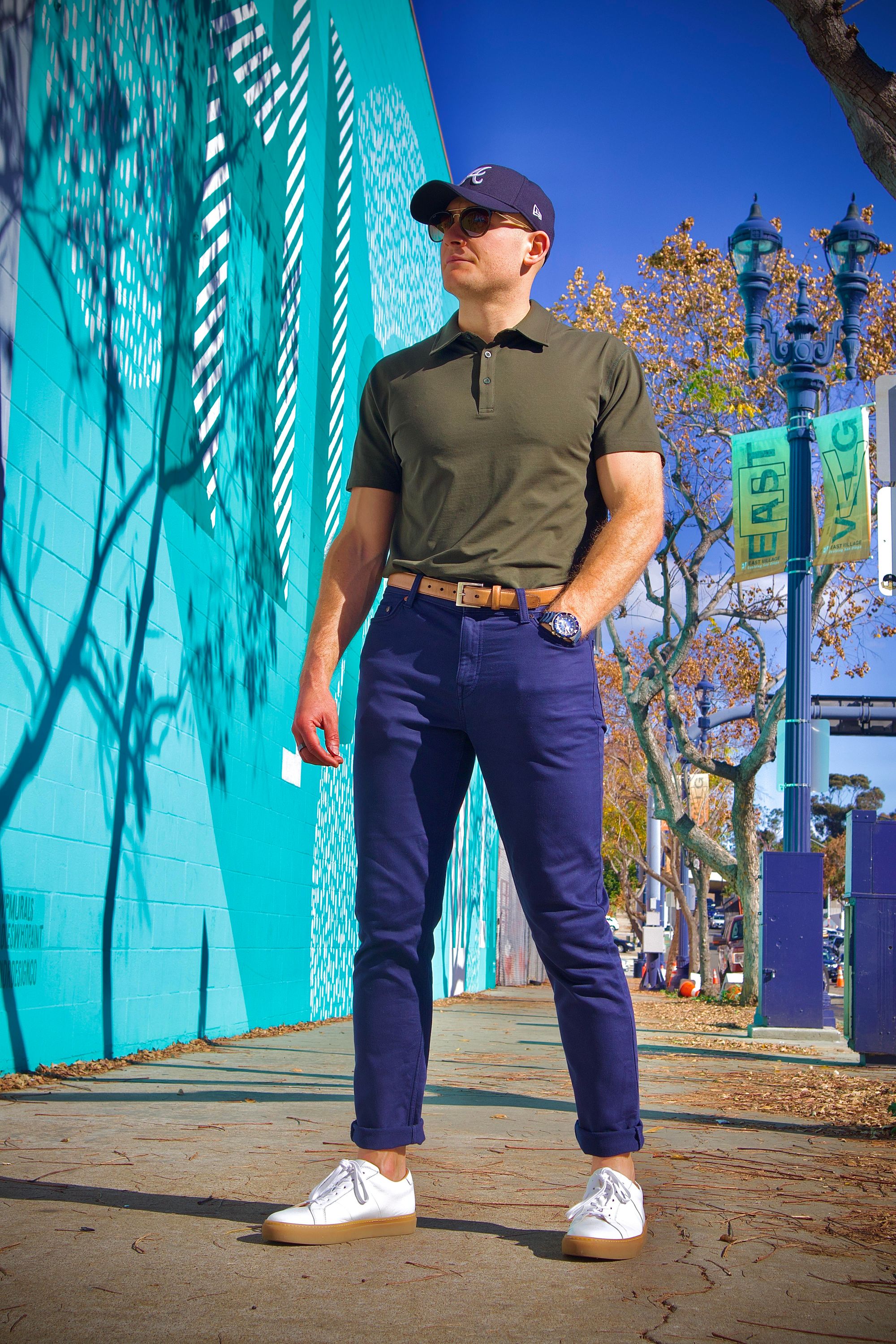 A polo shirt is one of the multiple staples that every man should maintain in his wardrobe. Whether worn underneath a lightweight jacket or as a standalone piece, there is a timeless elegance to a black or navy polo (so long as it fits you well).
When it comes to materials, cotton or a cotton blend will be your best bet. Try staying away from 100% polyester materials. At the same time, these don't necessarily look terrible (depending on what you choose to pair them with). However, traditional materials will always elevate any look and can even add richness and a more noticeable texture to the colors.
2. CHAMBRAY OR DENIM BUTTON-UP SHIRT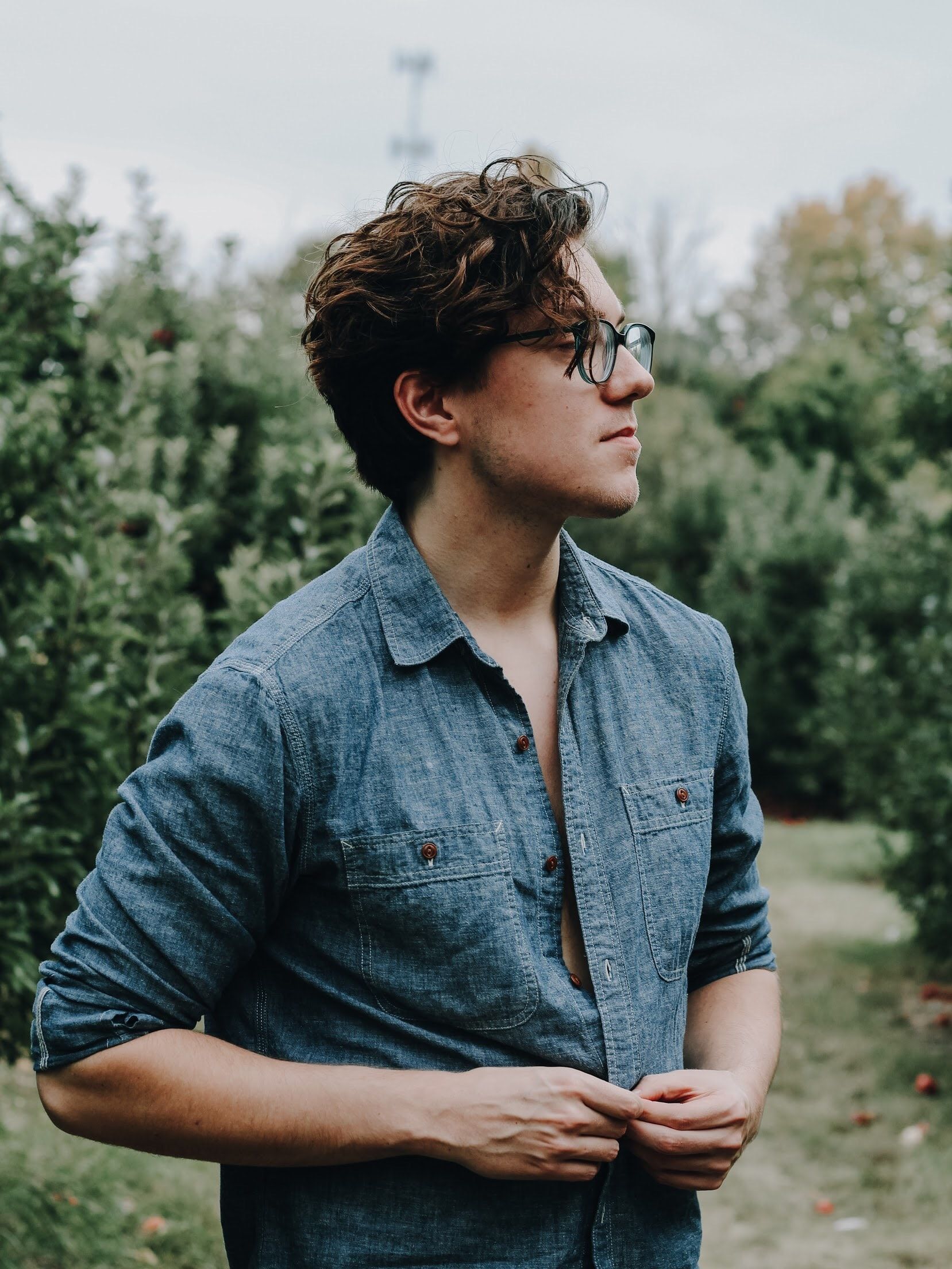 Chambray is very similar to denim, and the primary difference is in their construction. Chambray is a plain weave fabric woven with a colored yarn in the warp and a white yarn in the weft. Like chambray, denim is interwoven with the same methodology except in a twill construction.
Warp is the long yarn that runs vertically up and down the fabric roll and governs the vertical pattern. Weft is the yarn that passes horizontally across the fabric roll and usually governs the horizontal pattern. Twill refers to the construction and method of weaving a fabric and not the actual material.
Chambray's warp and weft threads will alternate one over the other, while denim's warp thread will be woven double with two lines in the weft before going under one.
What's important for you to understand is that these two slightly different methods of construction become noticeable with the weights of denim and chambray items. Chambray comes out feeling much lighter in weight.
The lightness of a chambray fabric makes it an excellent option for Spring (depending upon where you live and how cold it gets). Paired with a great set of chinos and some minimalist sneakers and voila, you have elevated a traditional look.  
3. HENLEY SHIRT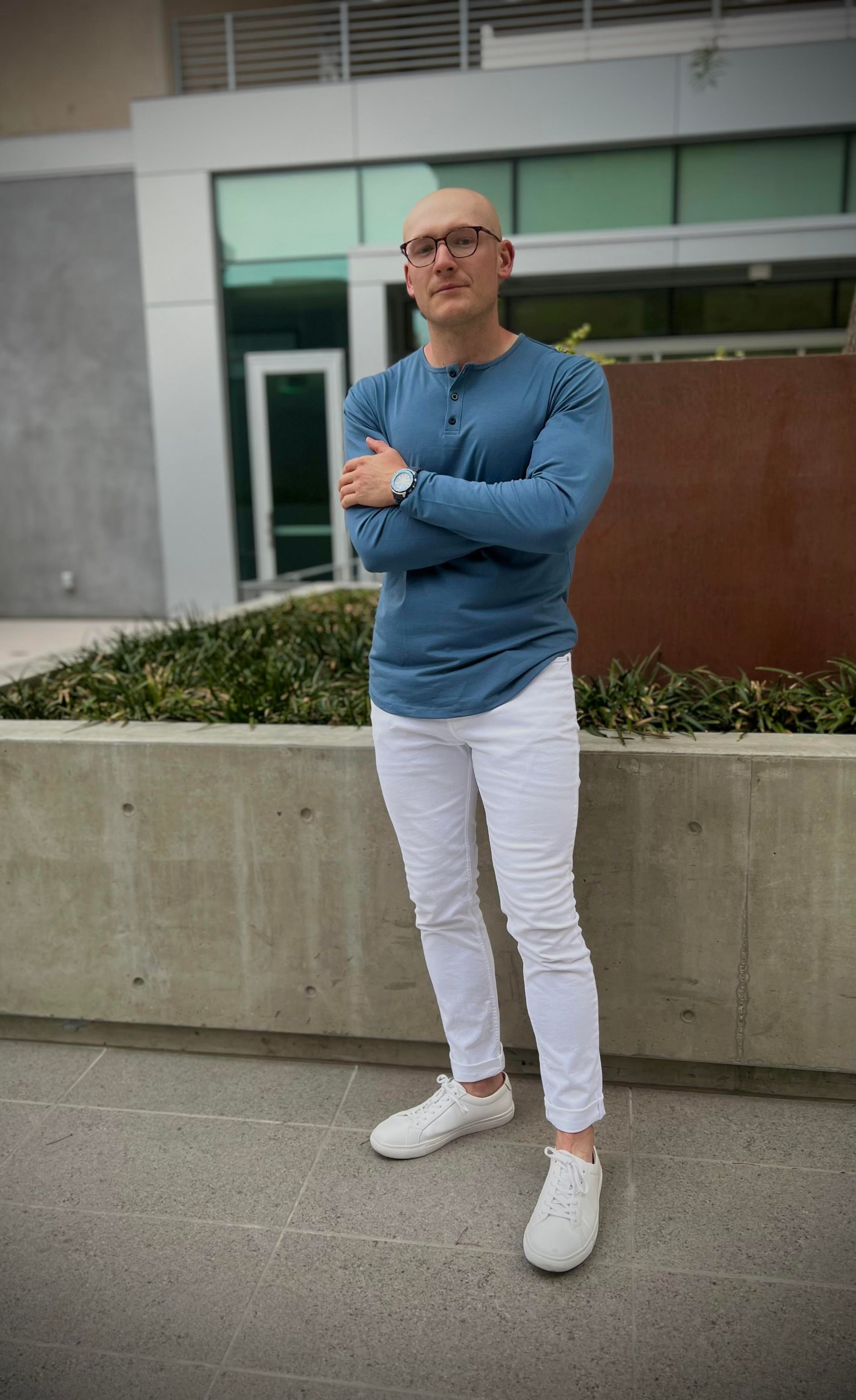 There's just something masculine about a henley shirt. This can be worn solo or with a lightweight jacket on top. While I wouldn't say that Henley's are necessarily uncommon, they are not as abundant as polo or crew neck shirts. You can be confident that the same rules for nailing a polo also hold up for a henley shirt.
This casual piece lends itself a dash of elegance with a three-button design and is very comfortable in its longsleeved form. Wear it solo or rock it with some form of outerwear. I recommend sticking to neutral colors to start. For more info on colors, check out my introduction to color theory for the average guy, here.
4. HARRINGTON JACKET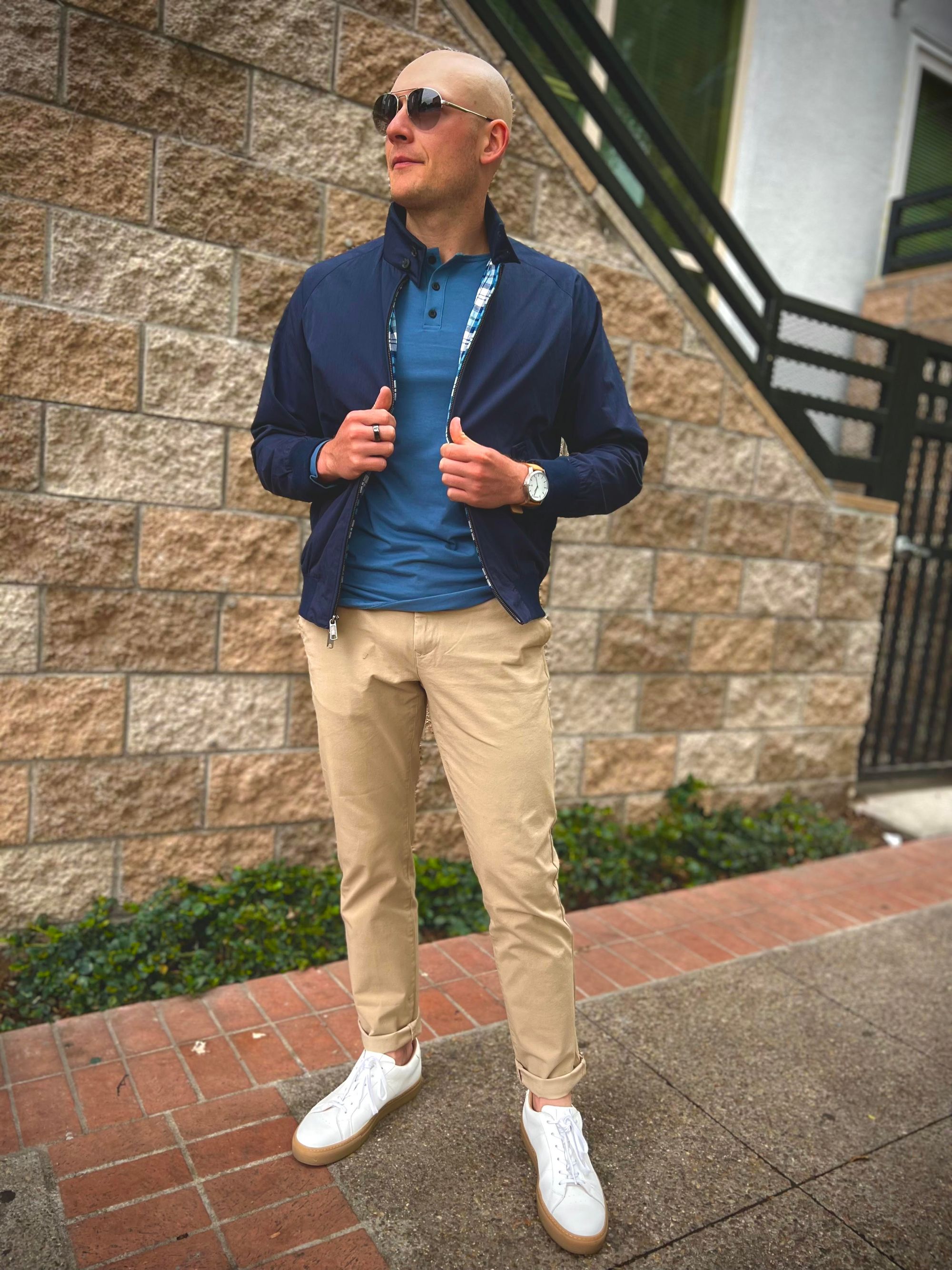 Popularized by Steve McQueen, Elvis Presley, and James Bond, a Harrington jacket received its name from the fictional character Rodney Harrington in a 1957 film and 1960s television series called Peyton Place. There is some contention about which English company officially designed the original Harrington jacket style; Baracuta claims to have done so back in 1937, while Grenfell reports that they did so as early as 1931.
The official records are not clear as to which organization made the first jacket. Still, regardless of who claims to have invented it first, this jacket type immediately levels up any man's style during the Spring and even Fall seasons because it is the epitome of "cool."
A critical factor to consider is that most Harrinton's (especially those with a more classic look) will run you up to nearly $200; in fact, the G9 from Baracuta costs almost $400, primarily due to its iconic look, history, and pedigree. Not every guy has the disposable income for that. For those that do, by all means, get yourself a navy or tan Harrington jacket ASAP. But for those of you who want to stay stylish on more modest budgets, try looking at brands such as Orvis, Peter Manning NYC, and Uniqlo.    
5. BOMBER JACKET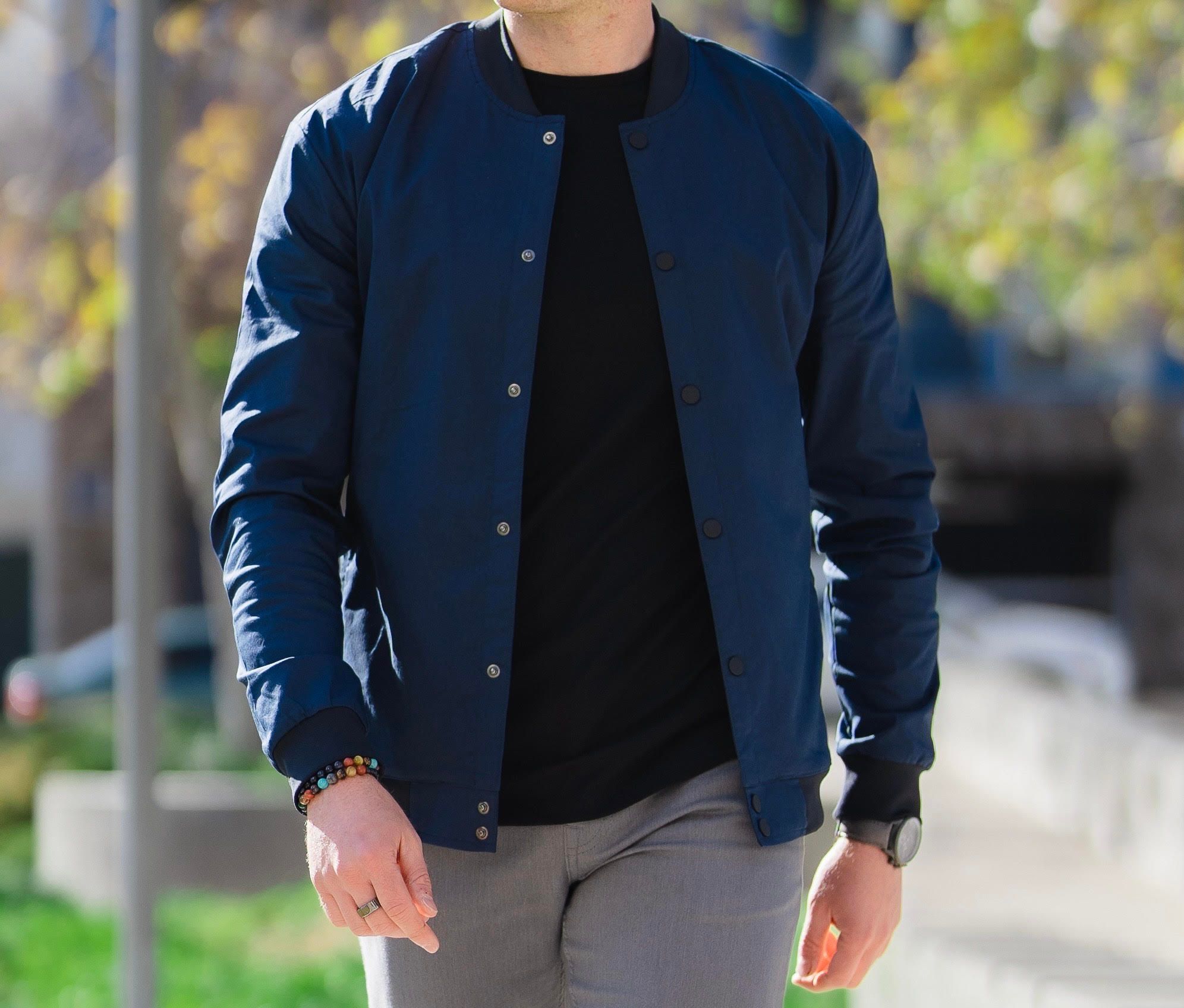 There are many kinds of bomber jackets, and some are lighter than others, both in fabrics and colors, but what's important is selecting a bomber jacket that is versatile and fits your style. If you haven't figured out your personal style yet, you can never go wrong with a good gray or blue bomber (black is overrated). Given that the Spring season is associated with brighter colors prioritizing a neutral but vibrant variation of blue, olive, or tan might be worth considering as well.
Just remember that most bombers are going to be lighter-weight fabrics. So if it's colder where you reside, bear this in mind and opt for thicker materials to suit your circumstance.
6. DENIM TRUCKER JACKET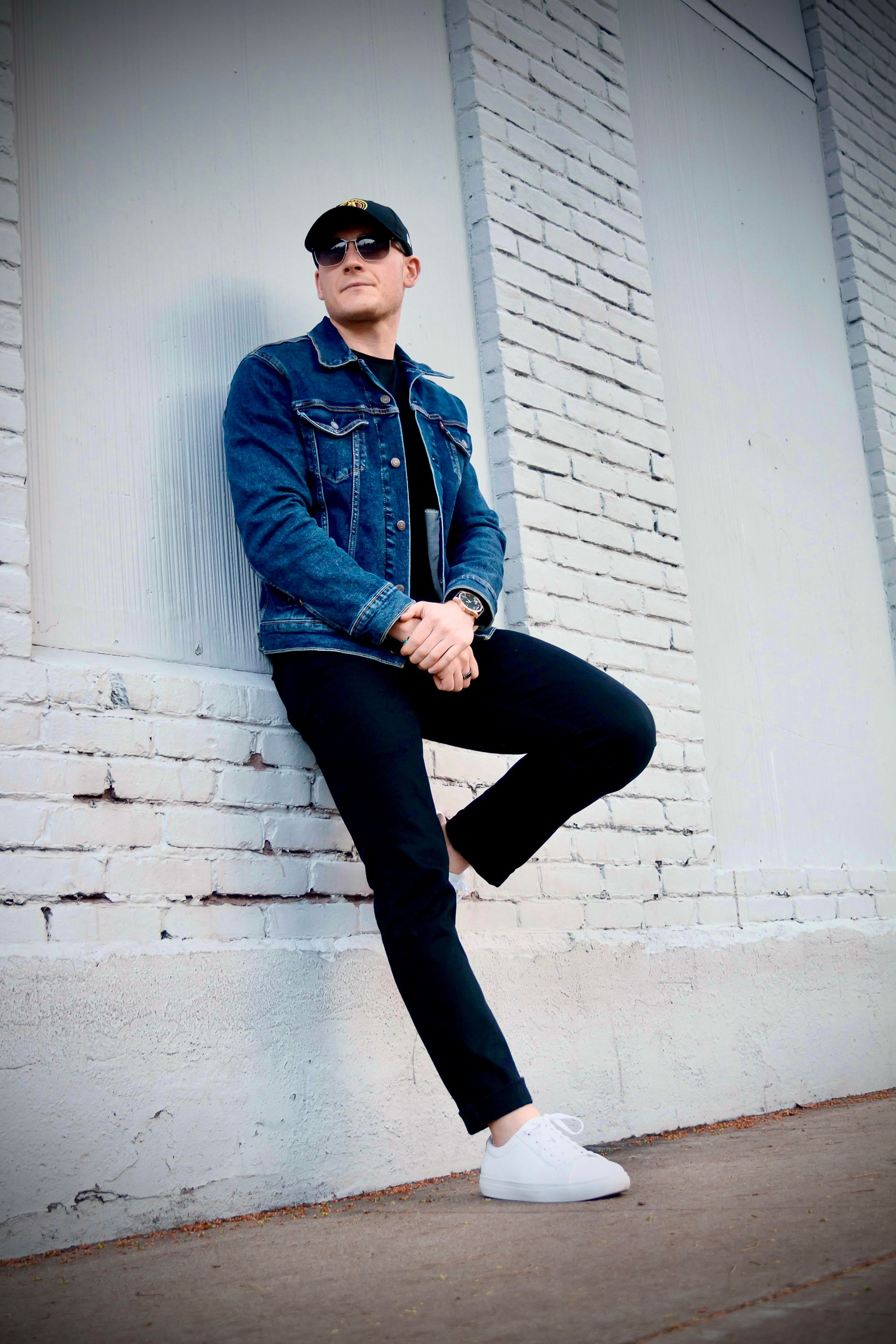 I love denim trucker jackets, and outside of the Summer months, they are one of my go-to garment pieces. There is a lot of rich history associated with this piece, and even though it is traditionally a very casual wardrobe piece, it is surprisingly versatile. There is a lot that you can do with a denim trucker jacket, and you can find high-quality versions at honest and reasonable price points.
If you don't have a denim trucker jacket. I personally recommend Levi's for a balance of price and quality.
7. LIGHT-WASH JEANS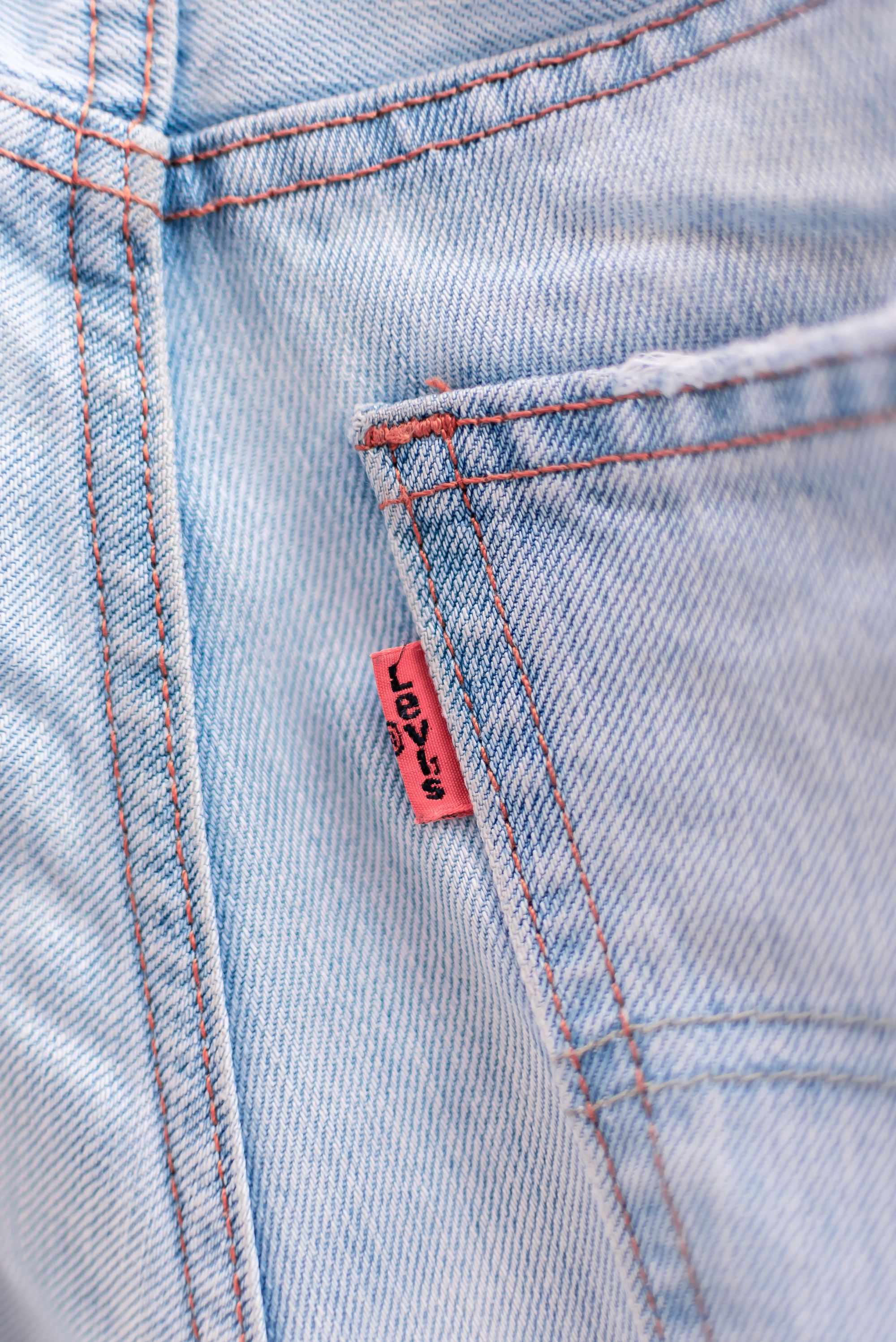 Light-wash jeans work pretty much year-round. However, during the Spring, they go well with other lighter colors as we make our way towards Summer (before we begin to break out the shorts).
Paired with a colored polo, Henley, or a button-down shirt, as well as some neutral-colored chukka boots or white sneakers, you really can't go wrong.
8. CHINOS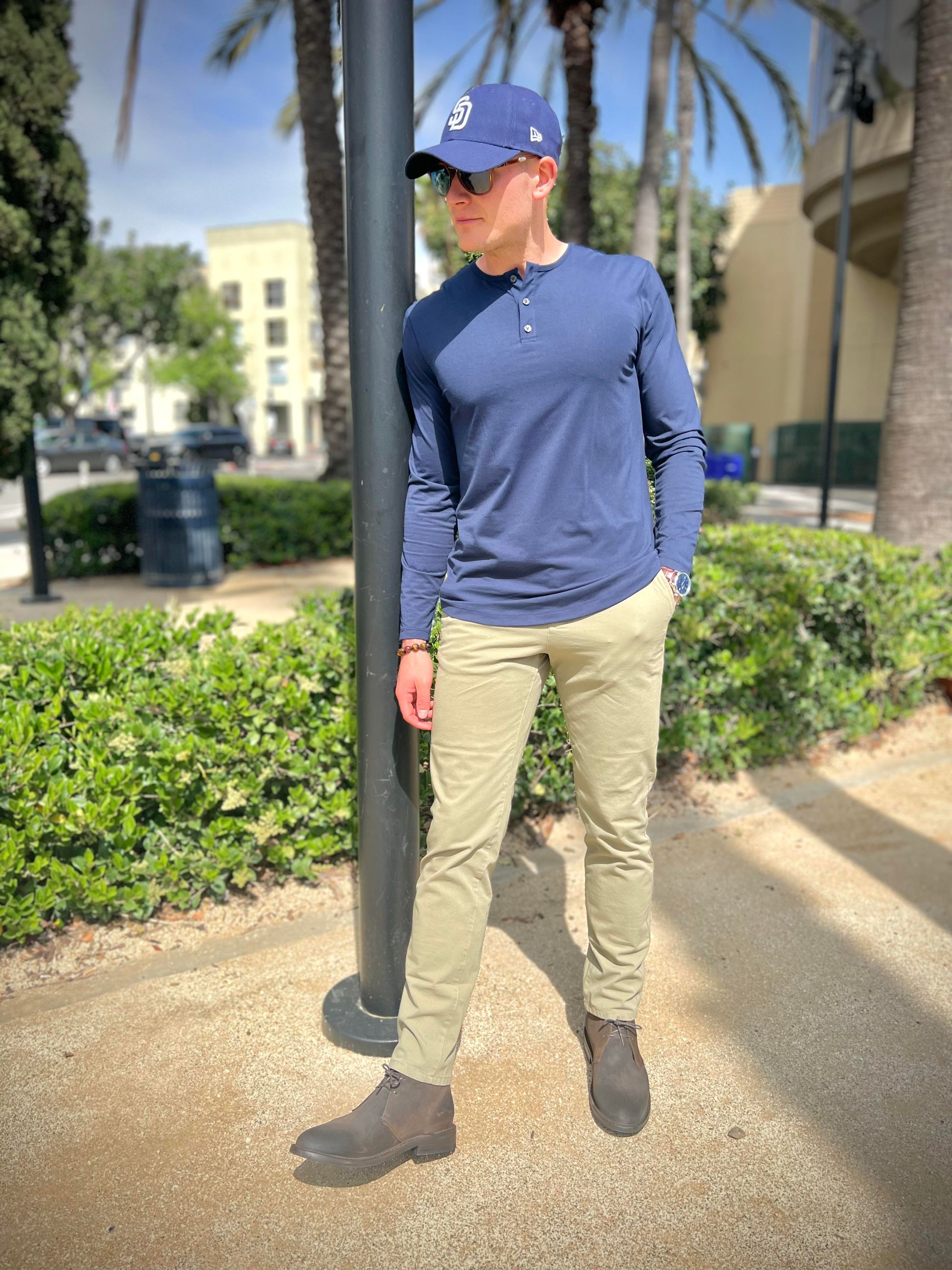 Chinos are a must almost year-round, and they go with pretty much everything. They're one of those wardrobe pieces that you know you have, but sometimes we never realize how much mileage we can get out of them. A solid pair of khaki or olive chinos will work wonders with a neutral-colored wardrobe. Just be sure to take them to the tailor if need be.  
9. LOAFERS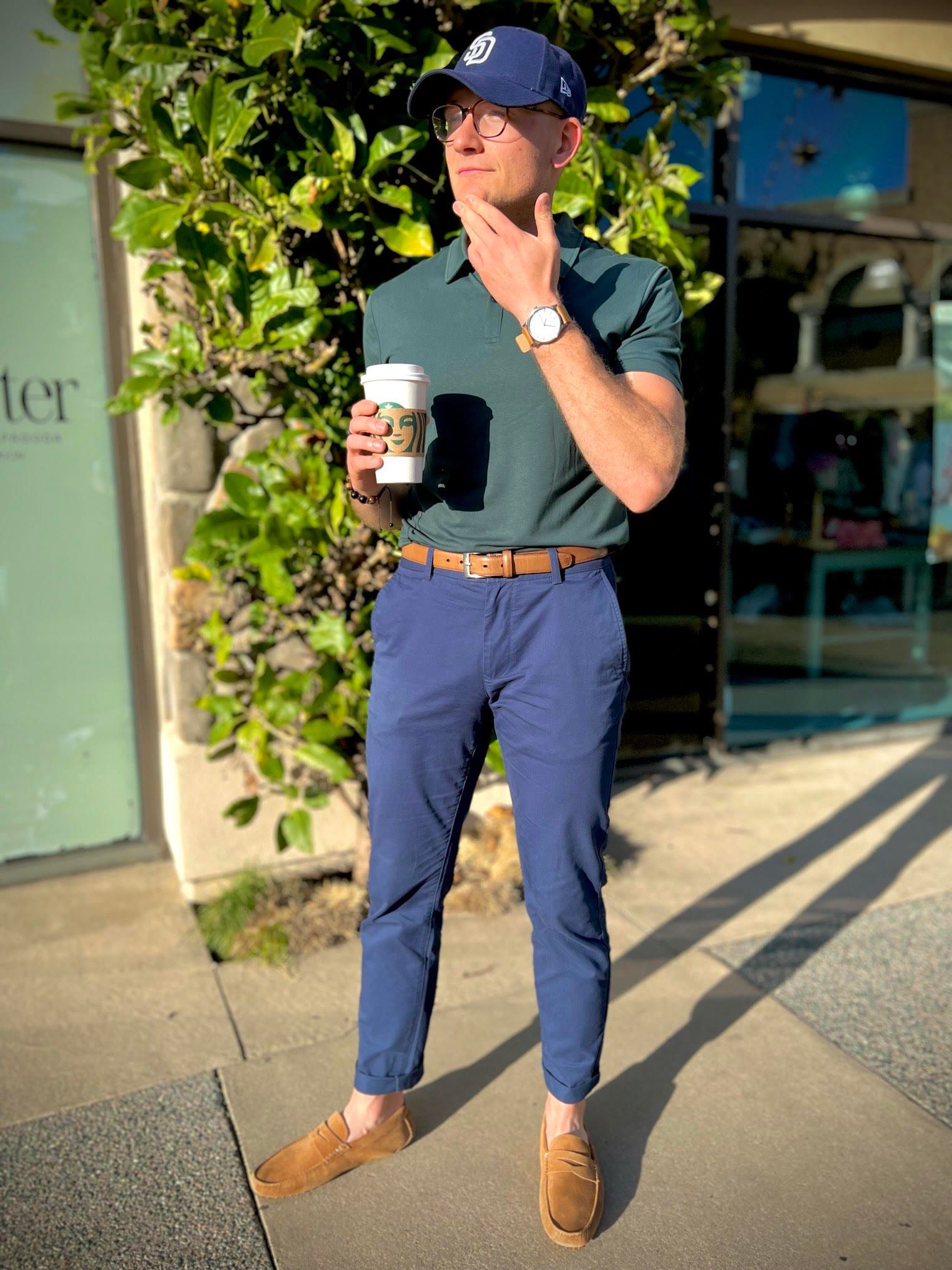 A very casual option, but then again, that's the point. You can find a great pair of loafers online, but be prepared to send them back, as many of the variations I have come across have sizing issues or abnormalities (typically, I have had to size down from my usual size 12 sneaker to a size 10.5 loafer).
Great options for loafers at a modest price point are Thursday Boot Company and New Republic.  
10. WHITE SNEAKERS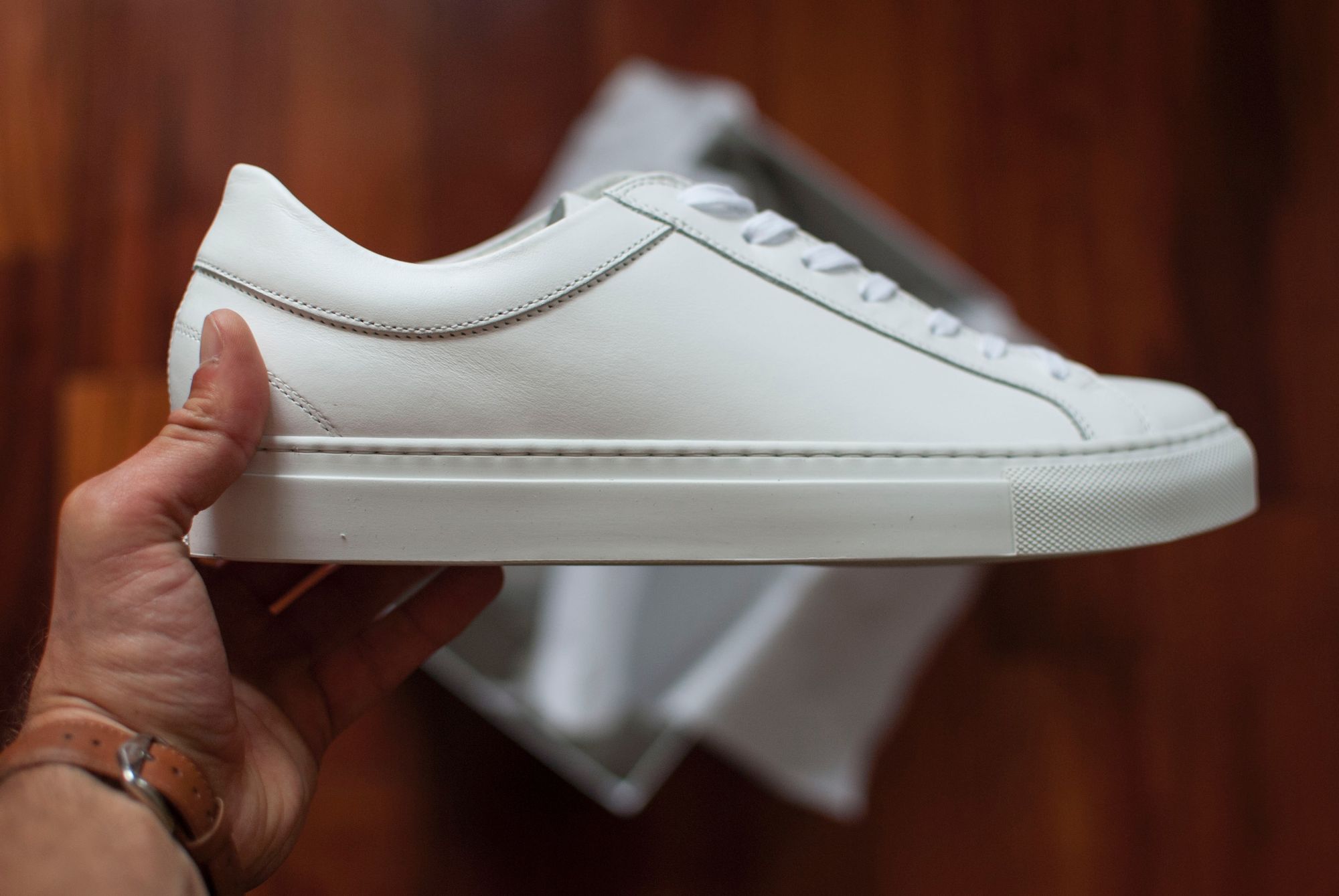 I have spoken at length about the necessity of having a pair of white minimalist sneakers. This should be an absolute mainstay in any man's wardrobe as they will prove essential throughout the year.
If you want to know what my top picks are for the five best white sneakers on a modest budget and how to style them, read my separate article here.
You'll get tremendous use out of a good pair of white sneakers throughout the Spring and Summer months, and depending upon where you live, you can rock them in the Fall and Winter months. Just be sure to opt for a low profile and slick but plain silhouette (like the above example).
11. CHUKKA BOOTS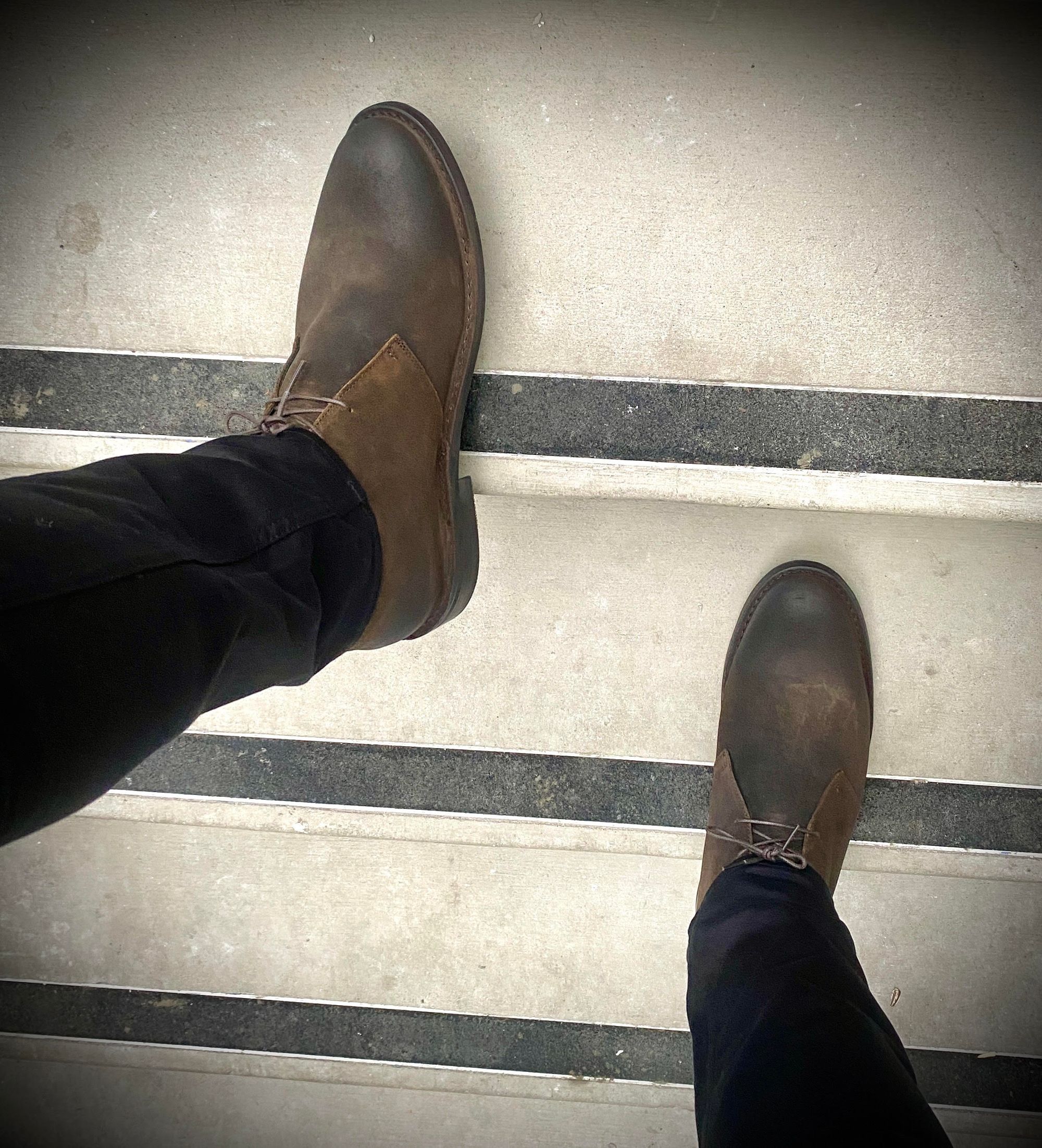 I know what some of you might be thinking. Boots in the Spring? To which my answer is, YES, you can rock any boot during the transition from Winter to Summer, but you should be rocking Chukka boots due to their lower profile, casual nature, and elegant design.
Some men believe these boots to be overdone (like the Chelsea boot), but I can tell you that most men don't pull off wearing Chukkas very well, which comes from someone working in Southern California. For those who do, you should try to invest in a pair of dark olive suede chukkas due to the exceptional versatility they provide and a more different take on the classic boot style.
If you can select the correct dark olive suede color for your boots, they can be paired with just about anything. They are more interchangeable than brown boots and can be rocked with black pants, blue pants, varying shades of denim, tan colors; you name it, etc.
If you happen to reside in an area where many dudes are wearing chukkas for the Spring, I can almost assure you that hardly any of them will be wearing dark olive suede. This is an opportunity to stand out. You cannot go wrong with Thursday Boot Company's Scout Chukka for the best boots in terms of quality and honest pricing.