Here is a comprehensive explanation of what each of my workout playlists provides. All three of these playlists are meant to provide something for everyone. While I understand that they won't necessarily be everyone's "cup of tea," I would at the very least hope that they prove my point that we can all work smarter as opposed to harder to build a body that helps us to feel free and live better.
So here is my way of doing more with less...
THE BARE BONES PLAYLIST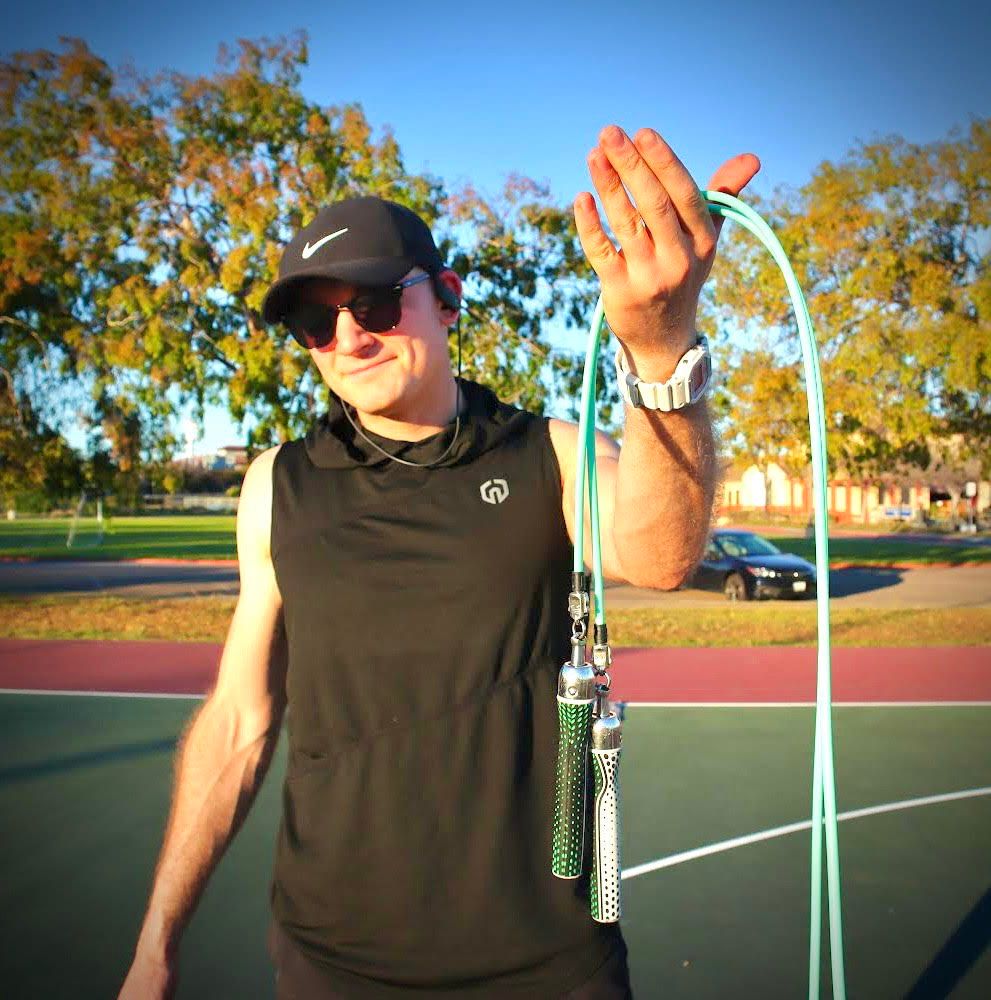 The Bare Bones playlist is for people who have difficulty finding time during the day to exercise and adequately move their bodies or who are tight on money and need an effective routine without sacrificing much in the way of funds. The heart and soul of these workouts are a combination of calisthenics and plyometrics. The only two pieces of equipment required are a basic jump rope and a cushioned exercise mat (or towel if you don't want to drop the money on a fitness mat).
This playlist contains Beginner, Intermediate, and Advanced-level workouts. It is important to note that all of my Beginner workouts are in the Bare Bones playlist exclusively.
Suppose you are just starting and find that the Beginner-level workouts are a challenge for you; pay close attention to the Modifier exercises within each Beginner workout. These are more accessible exercise alternatives to conduct, i.e., knee push-ups in place of regular push-ups, etc.  
THE HOME GYM PLAYLIST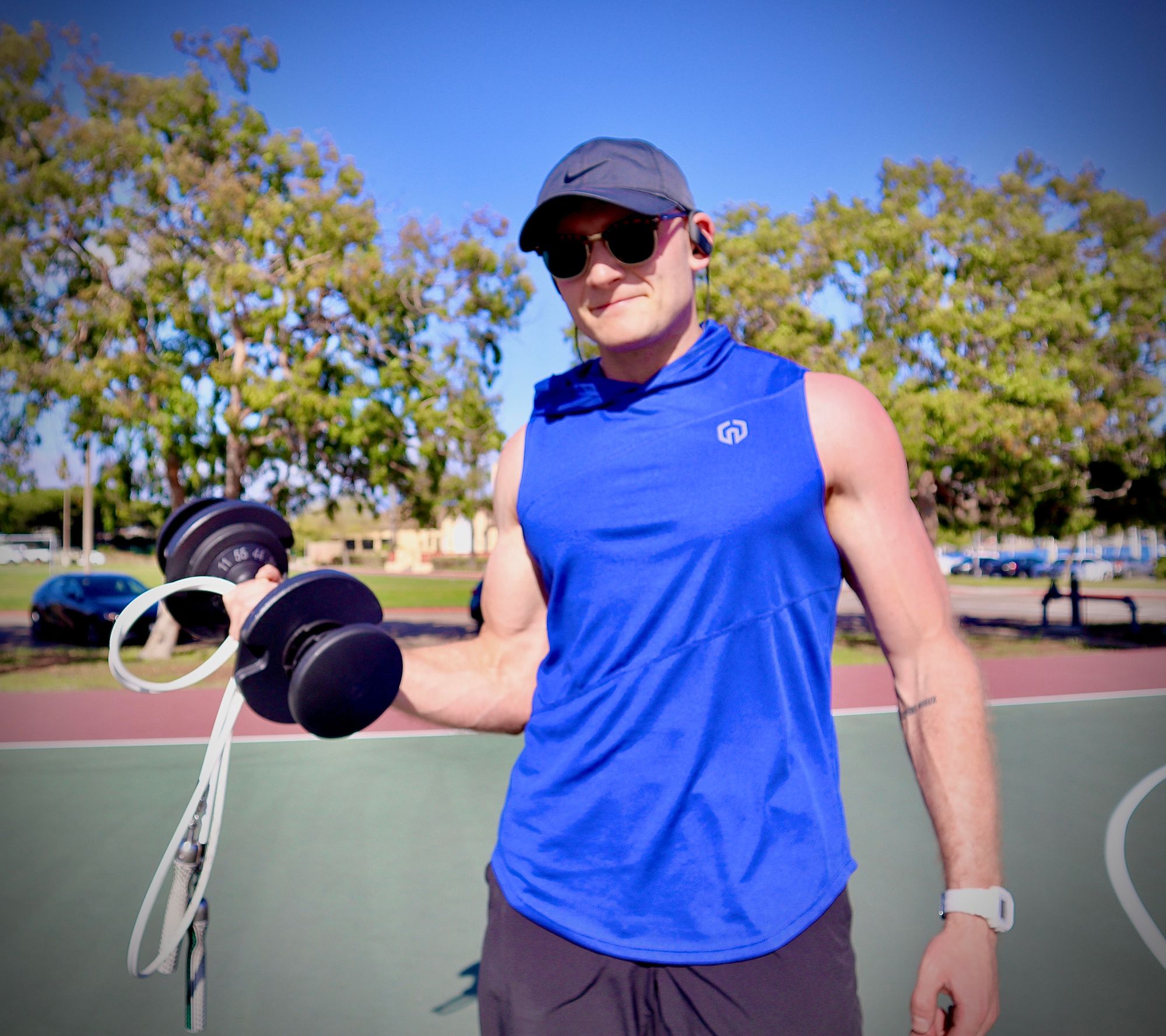 The Home Gym workouts are for folks who also have busy schedules in one form or another but don't mind investing in workout equipment such as dumbells, kettlebells, exercise balls, etc. Throughout these workouts, you will see me utilizing weighted jump ropes, which can be pricey but elevate the intensity of the workouts in significant ways. I'll include a link below that details those jump ropes that I enjoy using.
This playlist contains only Intermediate and Advanced-level workouts due to the inherent rigors and complexities commensurate with heavier resistance training. If any of these prove too tricky for you, then opt for the exercises found in the Bare Bones playlist and start building from there.
THE NOMAD PLAYLIST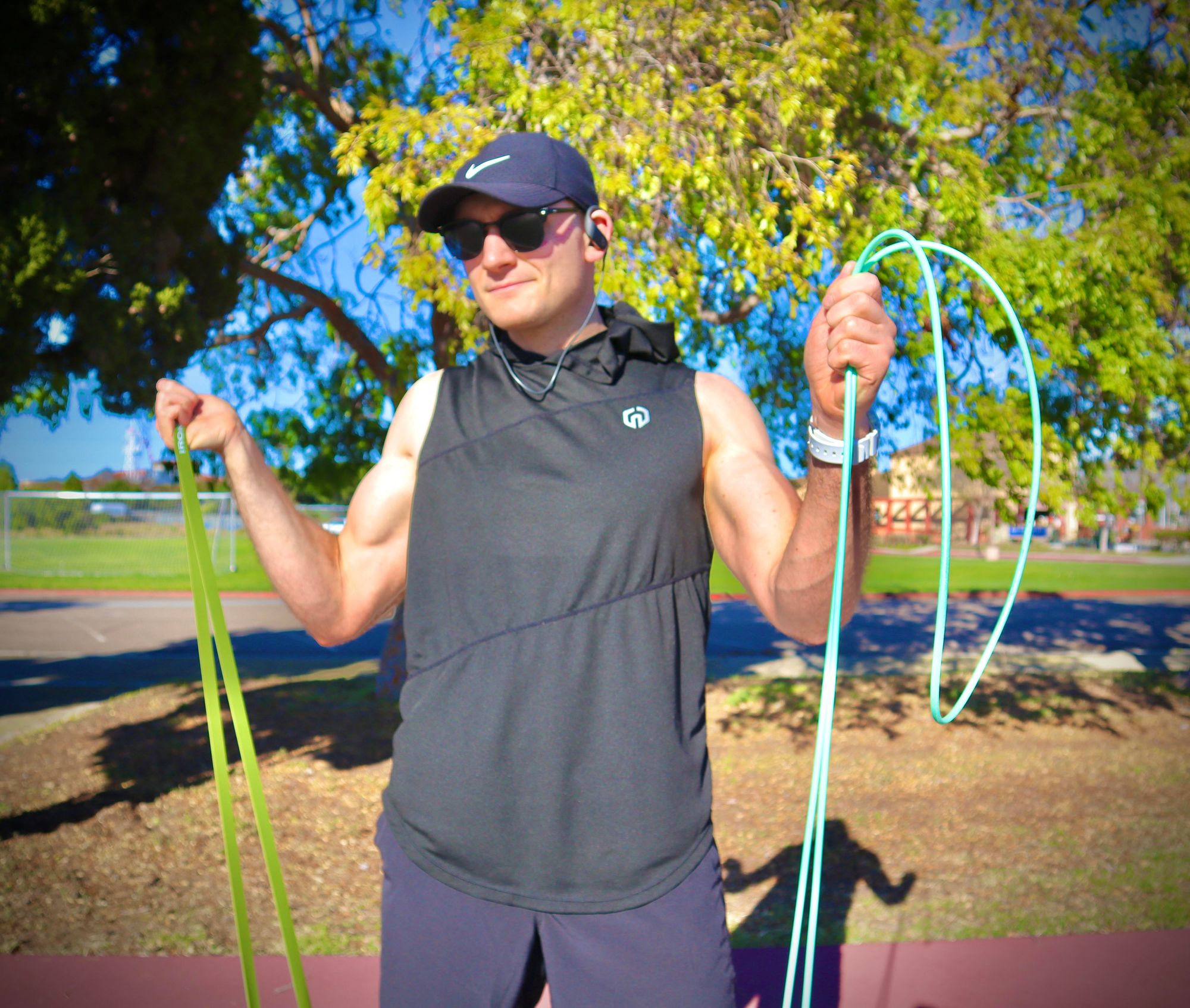 The Nomad playlist is designed for men who cannot or choose not to throw too much weight around or partake in complex plyometrics and calisthenics. Whether you're an older gentleman who doesn't have the capability you once did during your formative years, or you're just trying to strike that balance between the Bare Bones and Home Gym workouts; with the Nomad playlist, the world is your gym.
Unlike the other two playlists, the focal point of these workouts is not dependent on the jump rope but instead on the use of resistance bands. Research shows that as we get older, the demolition process of bone health begins to outpace the reconstruction process, thus causing our bones to deteriorate and grow weaker over prolonged periods.
Resistance bands offer resistance training for people of all ages that don't put too much shock on the body while still allowing for some moderate weight-bearing activities. When utilized in conjunction with a jump rope, you have everything you need at a fraction of what a typical gym membership would cost you; the best part is that you can work out anywhere.
The previous research shows that men can strengthen their bones over time by participating in weight-bearing activities that stimulate bone formation by putting just enough pressure on their bones, particularly in areas such as the hips and spine, to assist with strengthening these regions of the body in a controlled manner.
This research has shown that jumping rope is also a way to build stronger bones through impact-loading; however, I understand that jumping rope isn't everyone's preference for exercising. The Nomad playlist was also created with this in mind.
You will find plenty of Modifier exercises throughout these workouts, which alleviate the difficulty and provide you with more options if you prefer to do, say, jumping jacks instead of skipping rope (for example).
Unlike the Bare Bones and Home Gym playlists, there are no difficulties associated with each Nomad workout, so keep an eye on those modifier exercises if you want to switch things up.  
WORKING SMARTER & NOT HARDER
Gentlemen, like our outfits, we want to have options when it comes to working out. The options mentioned above may not be for you, and that's okay. Below, I have linked some additional sources of information organized by category. What is essential here is that you find a routine that works for you and is in line with your personal goals.
If you don't have clearly defined objectives in mind, you cannot adequately begin the journey to effectively obtaining a better body. Please look through my various playlists for either the Bare Bones, Home Gym, or Nomad workouts, and follow along with me to build a better and healthier version of yourself while saving money.
A critical acknowledgment that I must make to you before viewing the content within these playlists is that as you work through these routines, you'll notice that I am, perhaps, above-average at jumping rope. Believe me when I tell you that it took me a little while to become proficient when I started skipping rope a few years ago.
We all have to start somewhere, so keep this in mind and don't get discouraged or believe that you have to be able to perform any "slick" maneuvers with the jump rope. Do the best that you can and stay consistent!
---
RECOMMENDED CHANNELS & BLOGS FOR FITNESS
For Building Muscle
ATHLEAN-X (by Jeff Cavaliere)
Built With Science (by Jeremy Ethier)
For HIIT & Jumping Rope
Jump Rope Dudes (by Dan Witmer & Brandon Epstein)
Rush Athletics (by Rushie S.)
---
LEGAL DISCLAIMER: All content and information on this website, including our videos, programs, products, and/or services, are for informational and educational purposes only and do not constitute medical, psychological, or health advice of any kind, and we do not warrant that the information presented herein is free of any errors or omissions. We are not providing medical, health care, nutrition therapy, or coaching services to diagnose, treat, prevent or cure any physical ailment, mental or medical condition. A professional-client relationship with you is only formed after we have expressly entered into a written agreement with you that you have signed, including our fee structure and other terms to work with you in a specific matter.
Although we strive to provide accurate general information, the information presented here is not a substitute for any professional advice, and you should not rely solely on this information. Always consult a professional in the medical and health area for your particular needs and circumstances before making any medical or health-related decisions. For your health-related questions, please seek the advice of a licensed physician or any other qualified health care provider immediately.
As with all exercise programs, you need to use common sense when using any exercise videos on this website. To reduce and avoid injury, it is advised that you check with a medical professional before beginning any fitness program. By performing any fitness exercises, you are performing them at your own risk; we will not be responsible or liable for any injury or harm you sustain due to our fitness videos. Thanks for your understanding.