THIS ARTICLE IS NOT SPONSORED, AND THE PRODUCT BEING FEATURED WAS PURCHASED FOR FULL PRICE BY ME.
How to Style a Suede Jacket
A quality leather jacket of any kind is certainly an investment piece. Such a garment is hardly a menswear essential, but there is no denying that a leather jacket is timeless and versatile in many cases. Thus it shall pay us dividends with time.
This article aims to showcase the versatility of a suede leather jacket in a rich tobacco color. The one featured in this article is from Theory, a brand with the pedigree of producing top-notch, elevated basics that fit well. If you are someone who describes their style as classic with a modern sensibility, then I would take a look at what Theory has to offer.
Just be warned that items from this brand are typically costly. This suede jacket that I'm featuring retails for around $800, but I found it on a sale in my size for $270. Purchasing items out of season is often the best way to save money in the long run, and I took advantage of such a strategy (as should you).
OUTFIT #1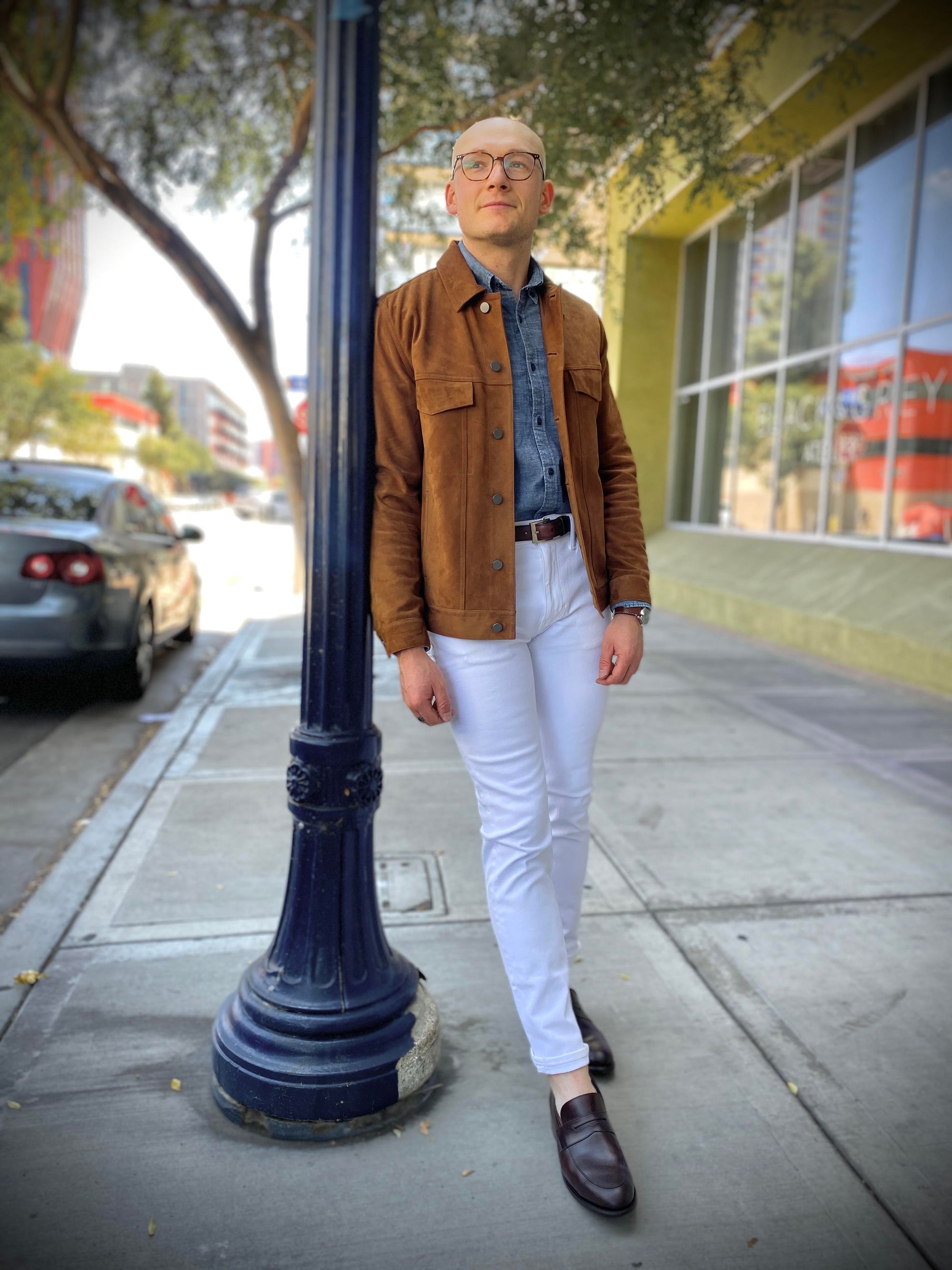 White, blue, and tan usually go great together. White jeans, in particular, go great during spring and summer. I've paired the white denim from J. Crew with a lighter wash denim button-down shirt. To top off this leisurely look, I have chosen some chocolate loafers with a matching belt.
OUTFIT #2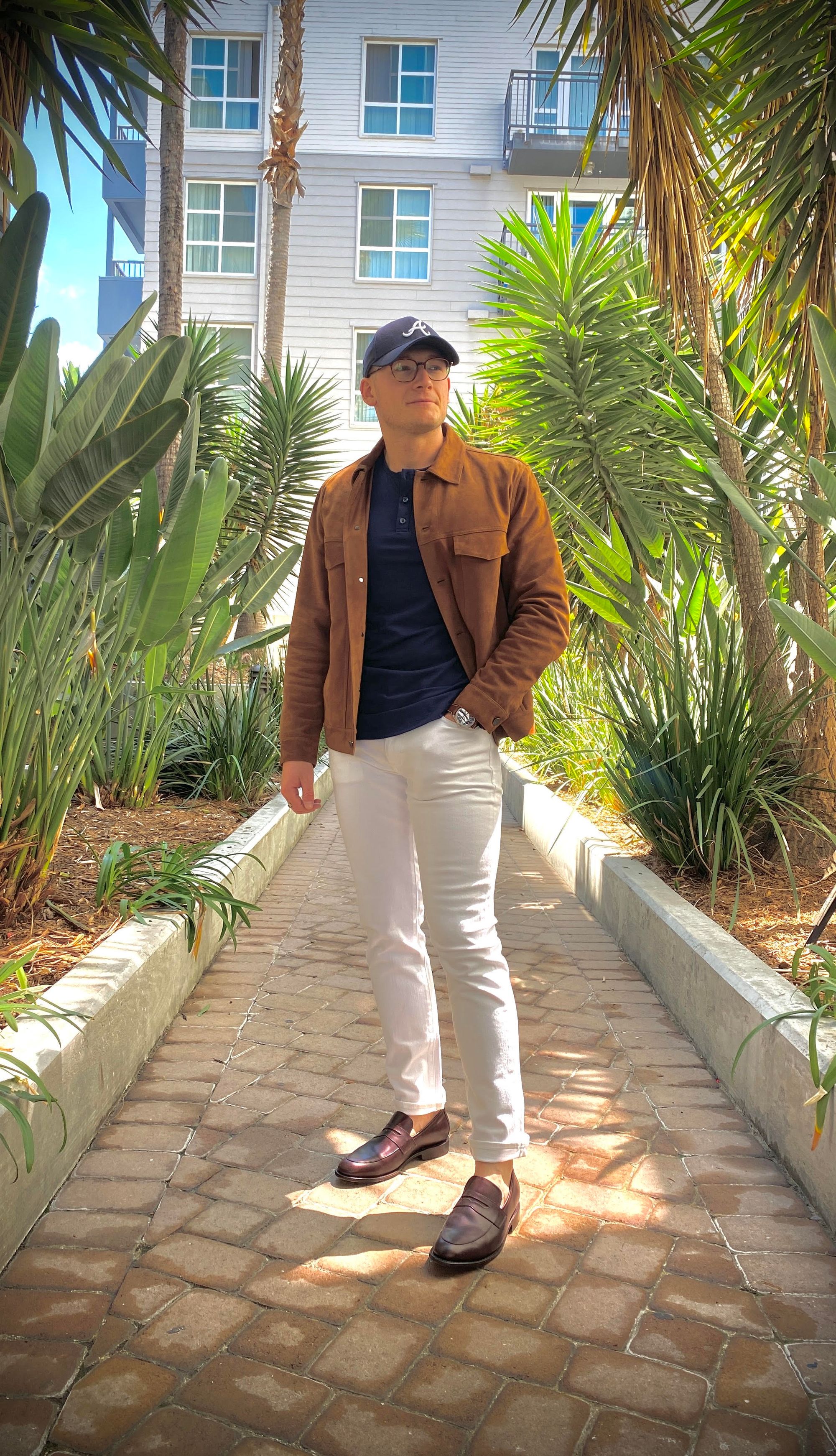 Sticking with the white jeans from J. Crew and the loafers, I have opted for a henley shirt in a much darker blue this time. This adds significant contrast but again, blue, white, and tan pair well, and the equally dark blue ballcap augments the more casual vibe I'm going for.
OUTFIT #3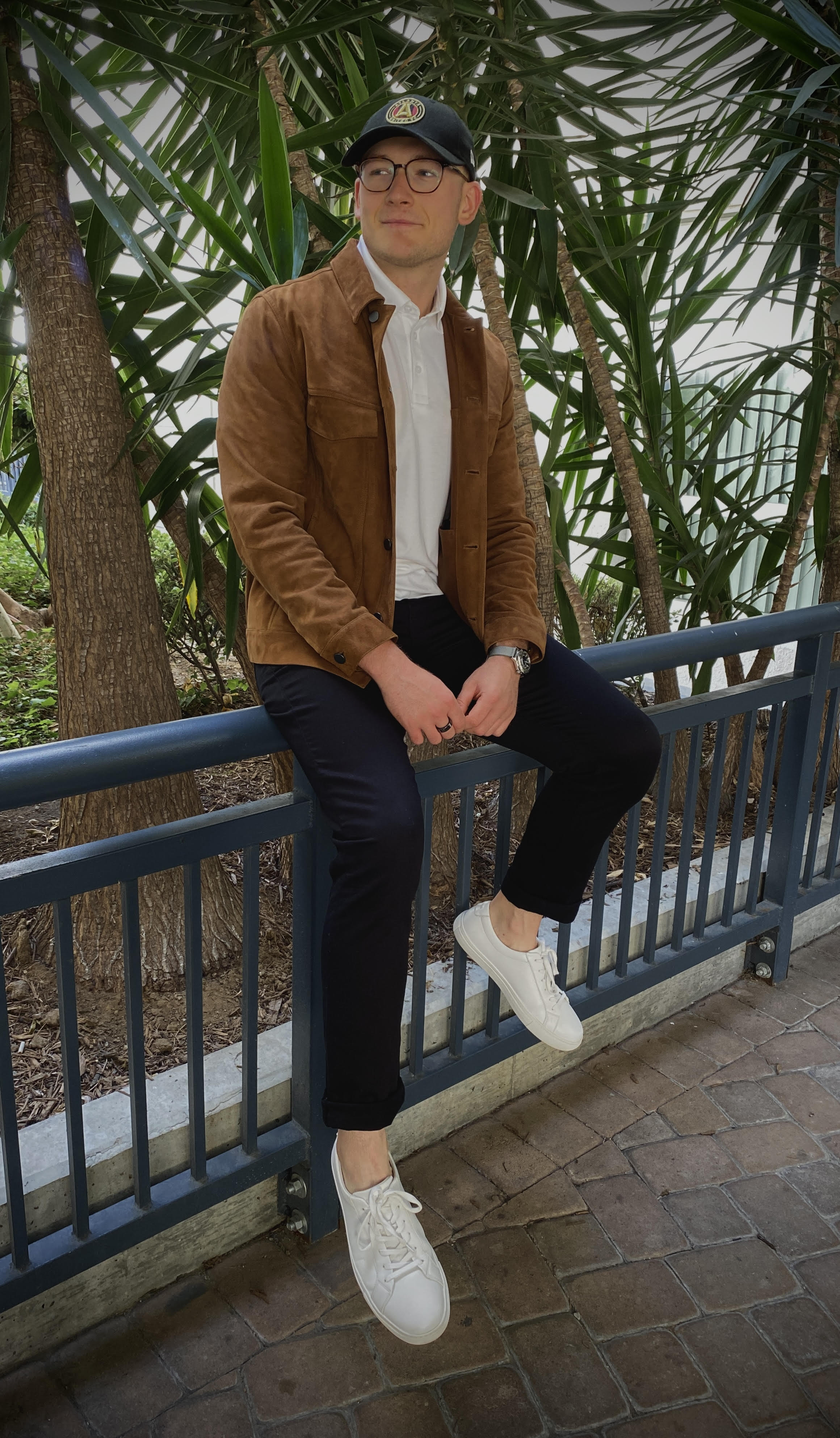 Switching up the scheme for a much harder contrast, I have a white pique polo shirt that I have chosen to untuck, paired with a ballcap, black chinos, and white sneakers. Again, the vibe is casual here, and this is a no-nonsense look that showcases how I'm not trying too hard to look like the best-dressed guy in the room. Instead, I'm letting my rich tobacco suede jacket speak for itself.
All killer, no filler.
OUTFIT #4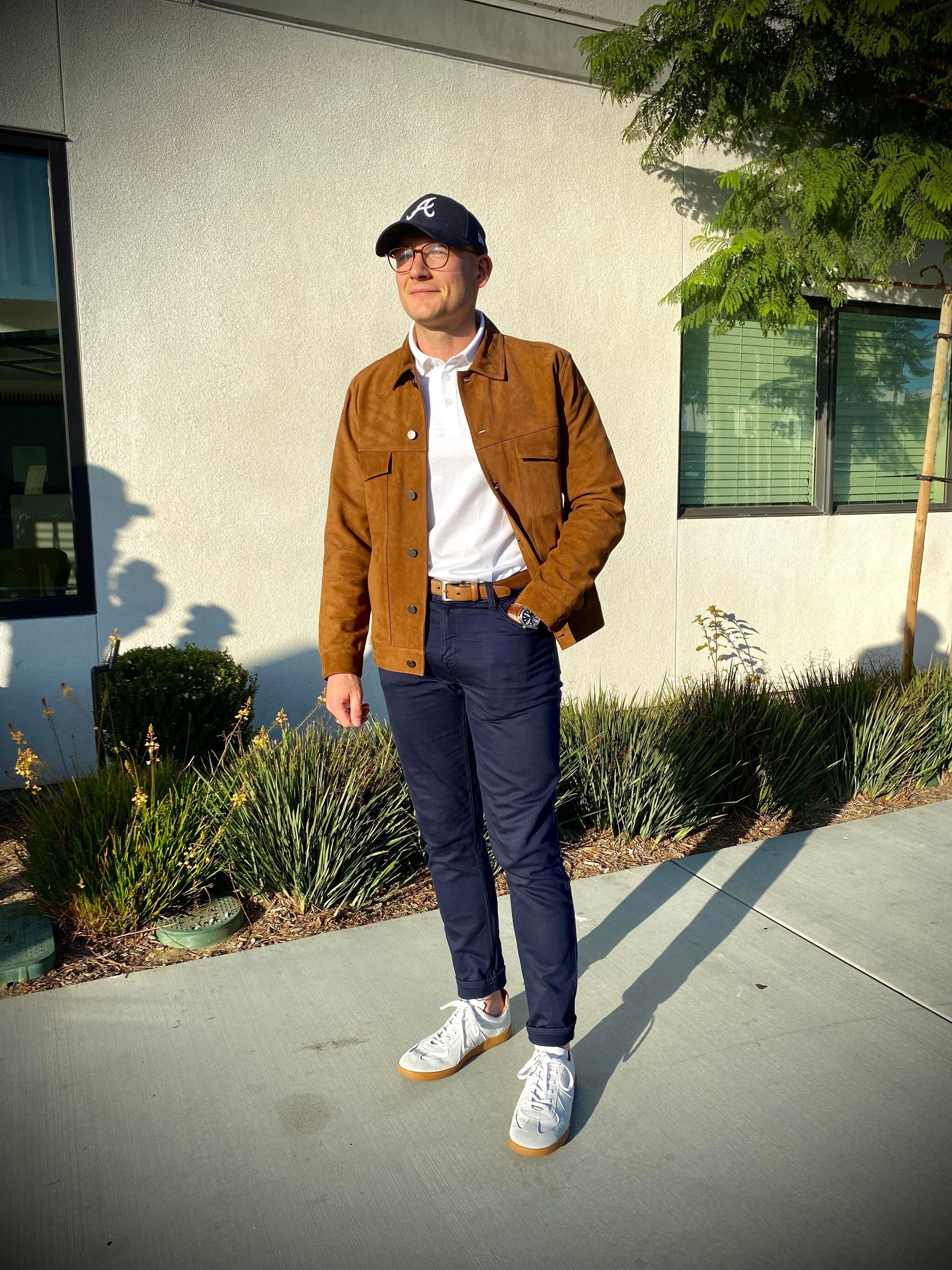 In this look, I'm at least trying to make some intentional decisions to add more flair to my ensemble. I've tucked in the same pique polo from outfit #3 and added a matching tan belt. The trainers on my feet have a gum sole resembling the suede in the jacket and the tan in the belt. This look communicates to others that I'm not trying to necessarily be the best-dressed guy in the room (even though I secretly am). Everything about this look is intentional but decidedly casual. Small touches such as the German Army Trainers (GATs) and the attention to detail regarding the color scheme elevate this look.
OUTFIT #5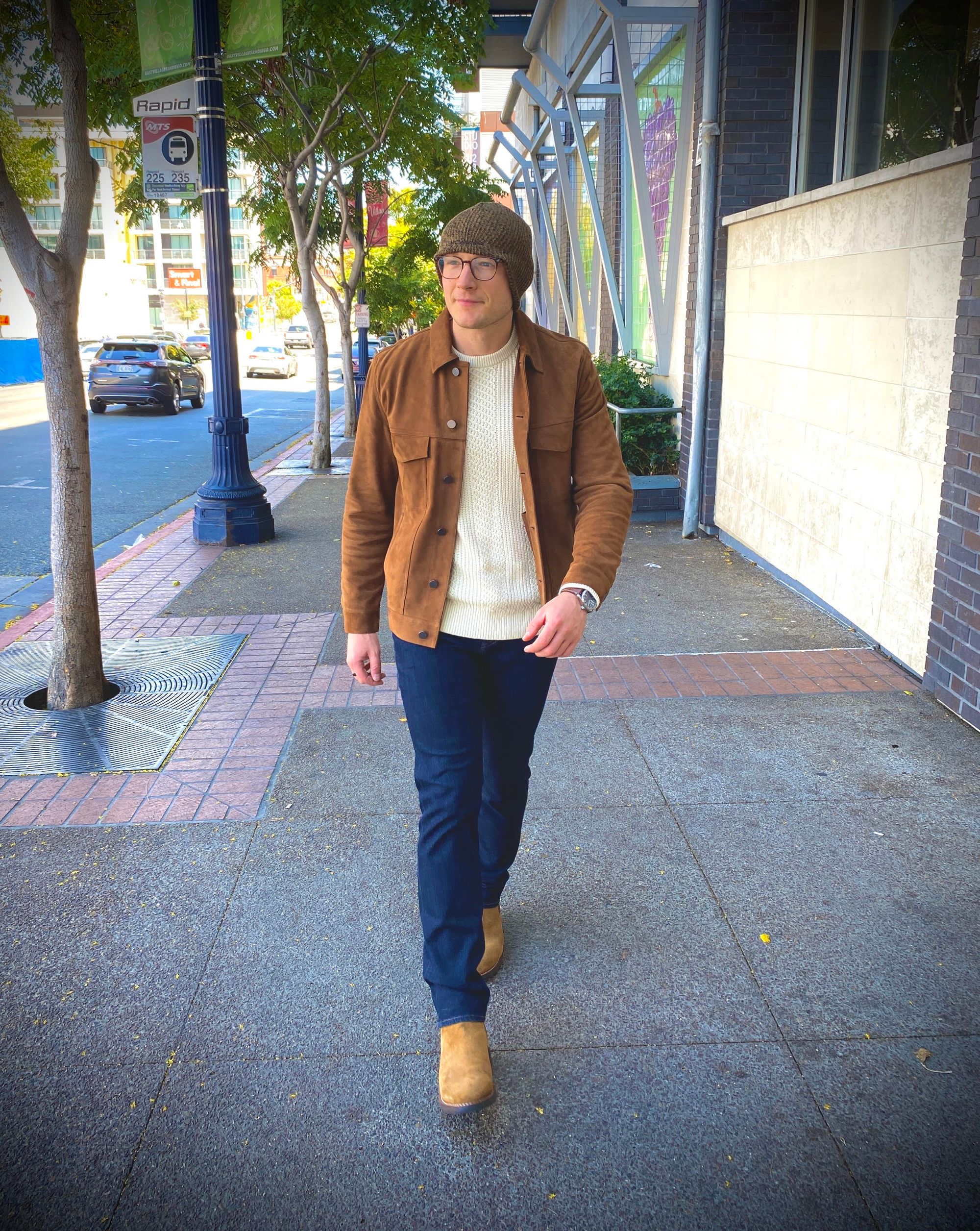 This look screams Fall. An earthy watch cap, cable knit sweater in creamy beige, dark denim jeans, and honey suede Chelsea boots. It doesn't get much better than this for the Fall. This elevated casual look will get you compliments anywhere you go. Just remember to smile when you see people because a warm and cozy look like this looks even better when you do so.