THIS ARTICLE IS NOT SPONSORED, AND THE PRODUCTS BEING FEATURED WERE PURCHASED FOR FULL PRICE BY ME.
Popularized during the 19th century, a denim trucker jacket has become a fashion staple. It is perhaps one of the most versatile outerwear pieces that any man can own, and believe me when I tell you that it can be dressed up and down in rather surprising ways.
A BRIEF HISTORY (SKIP IF YOU DON'T CARE)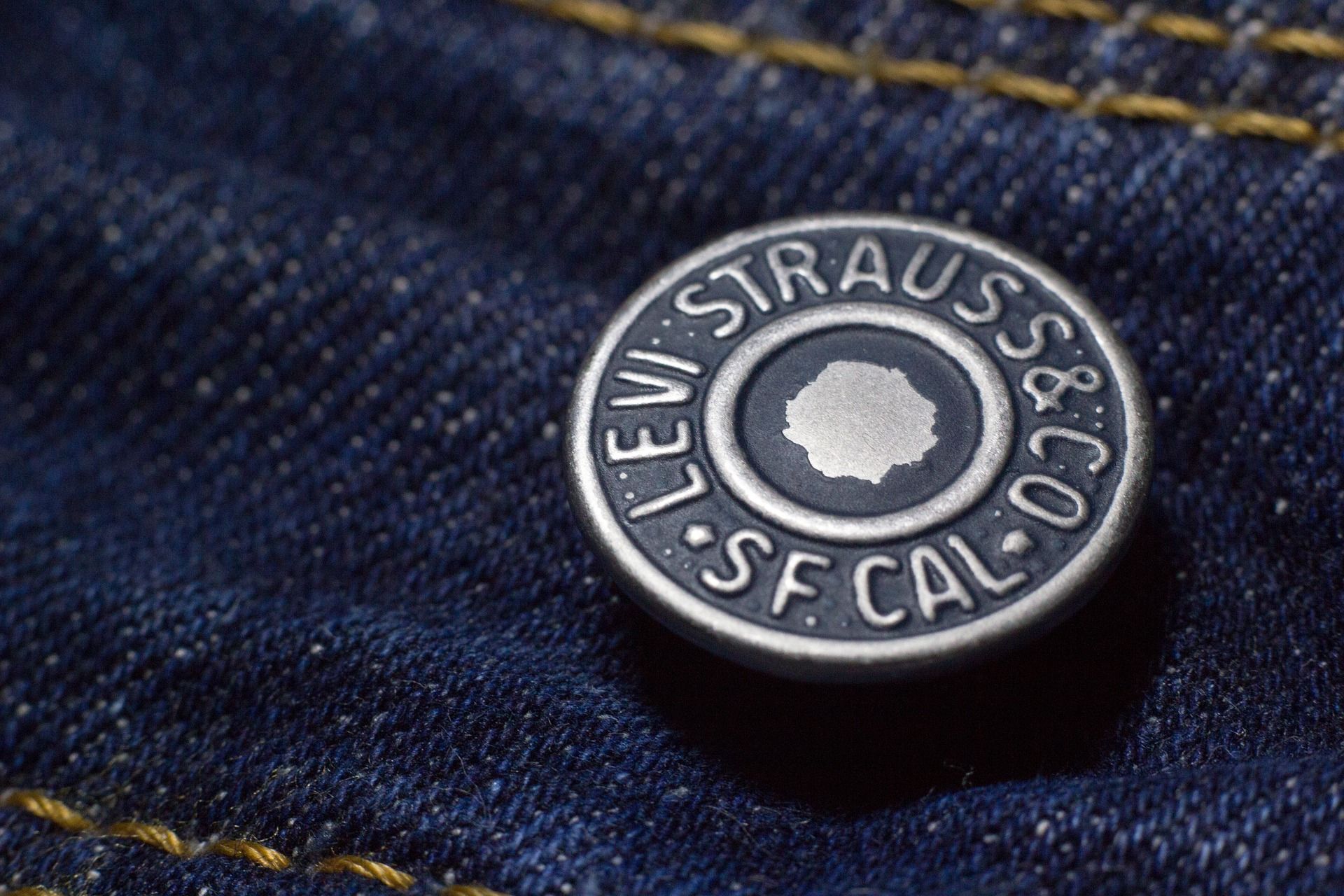 The origins of the denim jacket can be traced back to Levi Strauss in 1880, which was used as a supplemental piece to the original Levi's 501 jeans that had emerged a decade before. These garments were ideal for hard-labor jobs such as railroad workers and miners, and the denim fabrics provided excellent mobility and comfort while working.
Over the years and leading well into the 20th century, many other iterations of the denim jacket for work-wear purposes emerged from Levi's and competitors such as Lee. It wasn't until 1953 that the Type III denim jacket, also known as the denim trucker jacket, began to take off.
From this point forward, the denim jacket could be seen on the bodies of many influential people, such as Elvis Presley, Marilyn Monroe, and John Lennon. Moving through the 1980s, 1990s, and well into the 21st century, the denim jacket has remained a mainstay in both male and female wardrobes.
FIT & SILHOETTE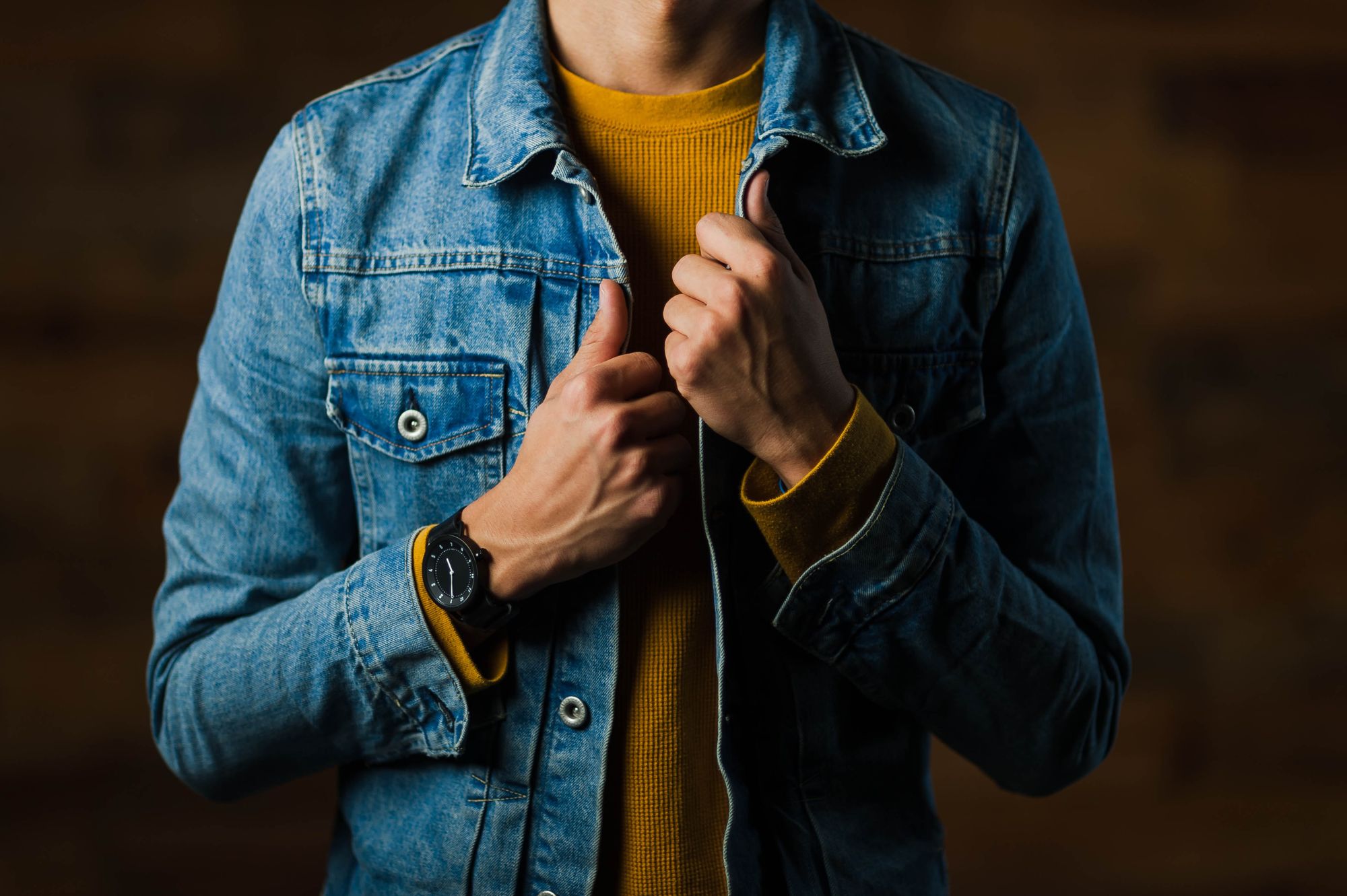 The Levi's denim trucker jacket has a fitted and tailored look. Unlike many other forms of outerwear, it isn't meant to drape past the hips, and much like a suit jacket, the sleeves should end at the wrist bone. Pay attention to the shoulders and your mobility. Wearing a denim jacket shouldn't be restrictive, and you should be able to button it up the front.
So long as the jacket fits you on the shoulders, the rest can be tailored quite easily (trust me, I've done so many times before).
OUTFIT #1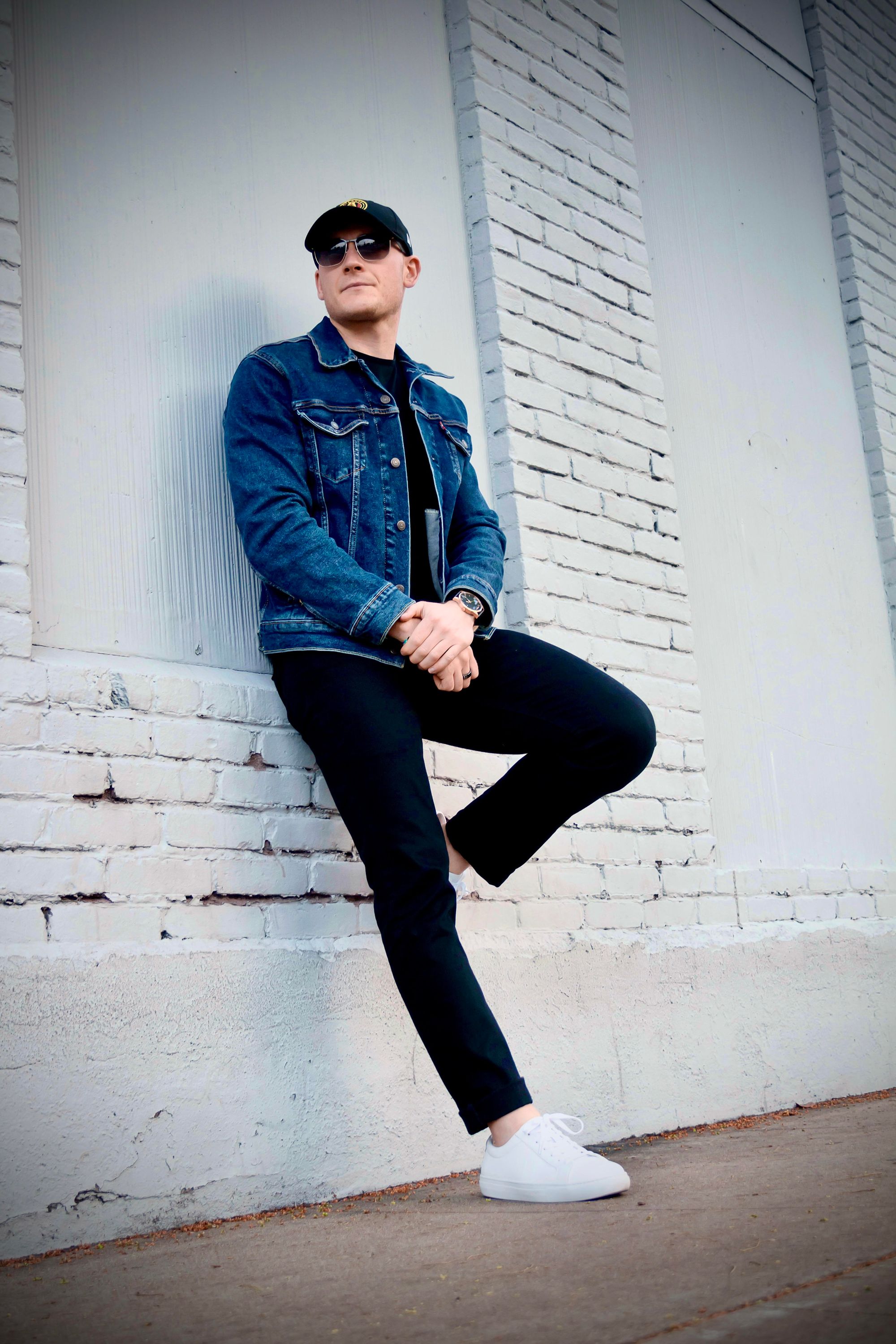 A look that you can rock during the Spring and Summer months. This is one of my go-to's when I'm looking to enjoy an evening out with friends and want to pull off a classic look with some modern flair. It's also extremely comfortable.
OUTFIT #2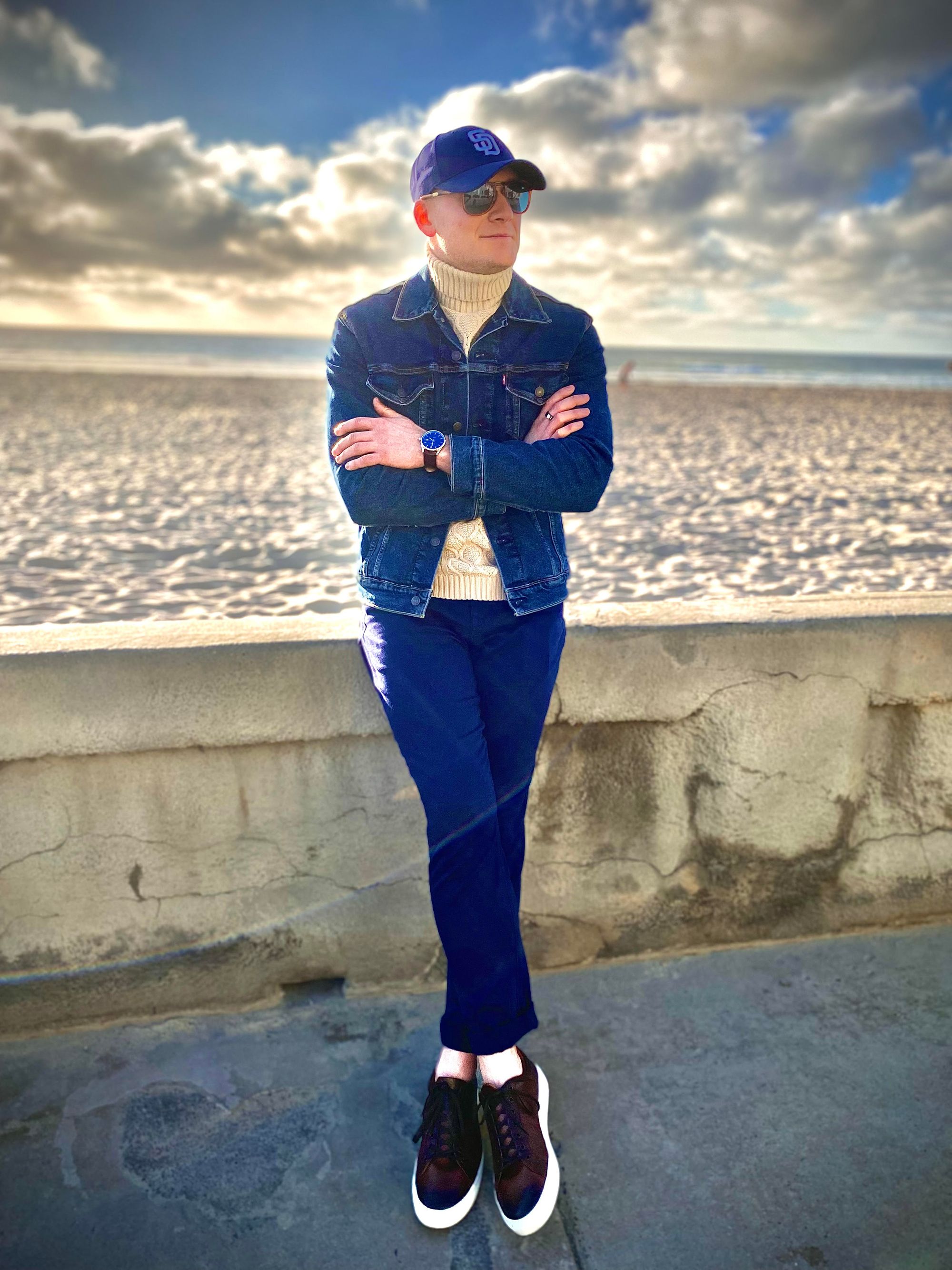 This is an ideal look for the Spring months when the breeze may still require you to layer up a bit. Brown, blue, and beige look great together, and the brown leather sneakers elevate the look. The chunky cable-knit turtleneck provides a cozy vibe that is perfect for the months following Winter.
OUTFIT #3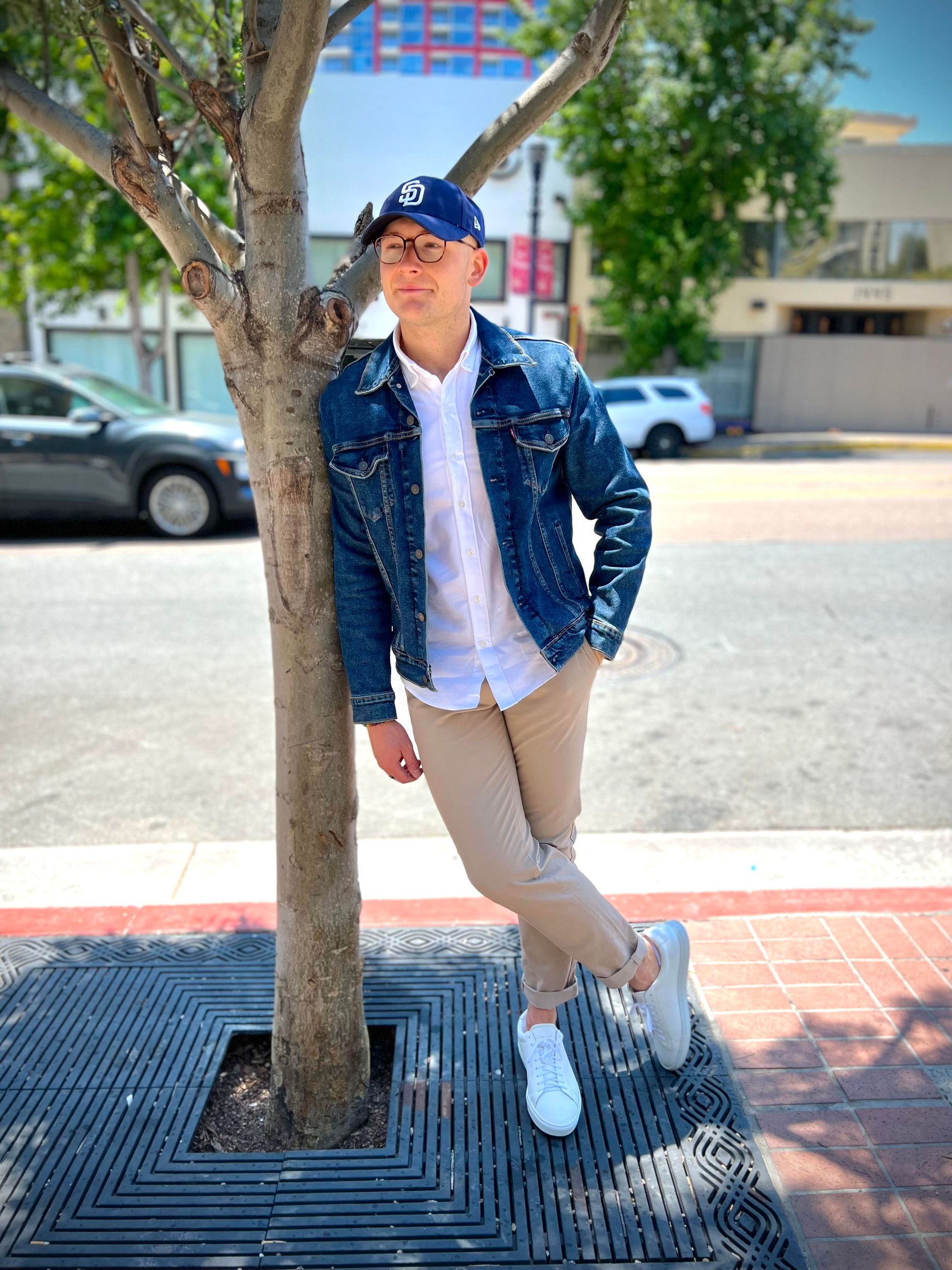 This is a classic trucker jacket look with a timeless color palette. Leisure khaki pants, a white oxford cloth button-down (OCBD) shirt with the leather white sneakers. This timeless textbook outfit should be a mainstay in every gentleman's closet. This specific fit can be put together based on the capsule wardrobe I have referenced separately here.  
OUTFIT #4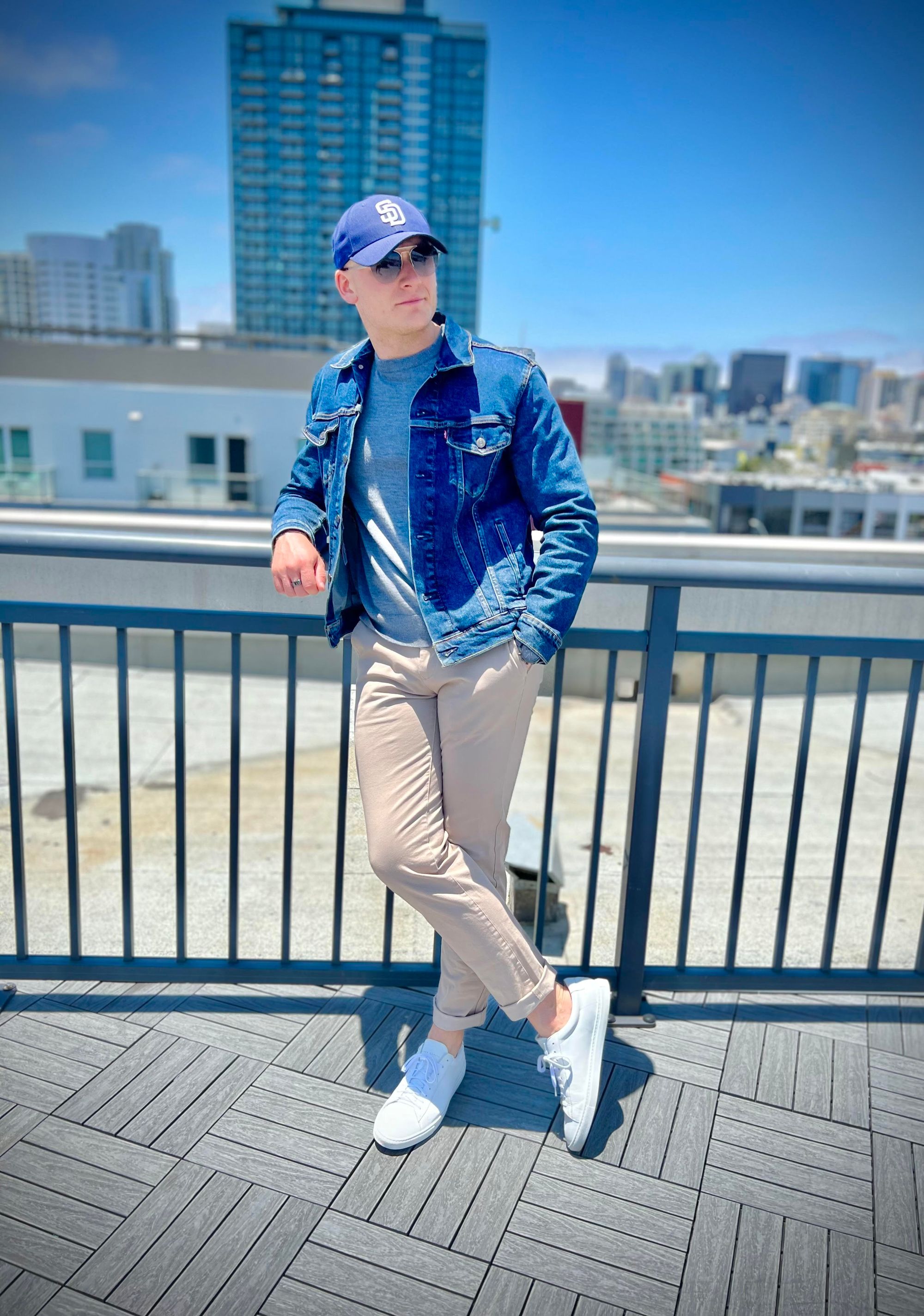 Another example of what we can do with a starter capsule wardrobe, this look is no-nonsense and can be utilized during Spring and Fall, depending on where you live. This color palette relies more on gray than white. It is equally as classic as the outfit showcased previously.
OUTFIT #5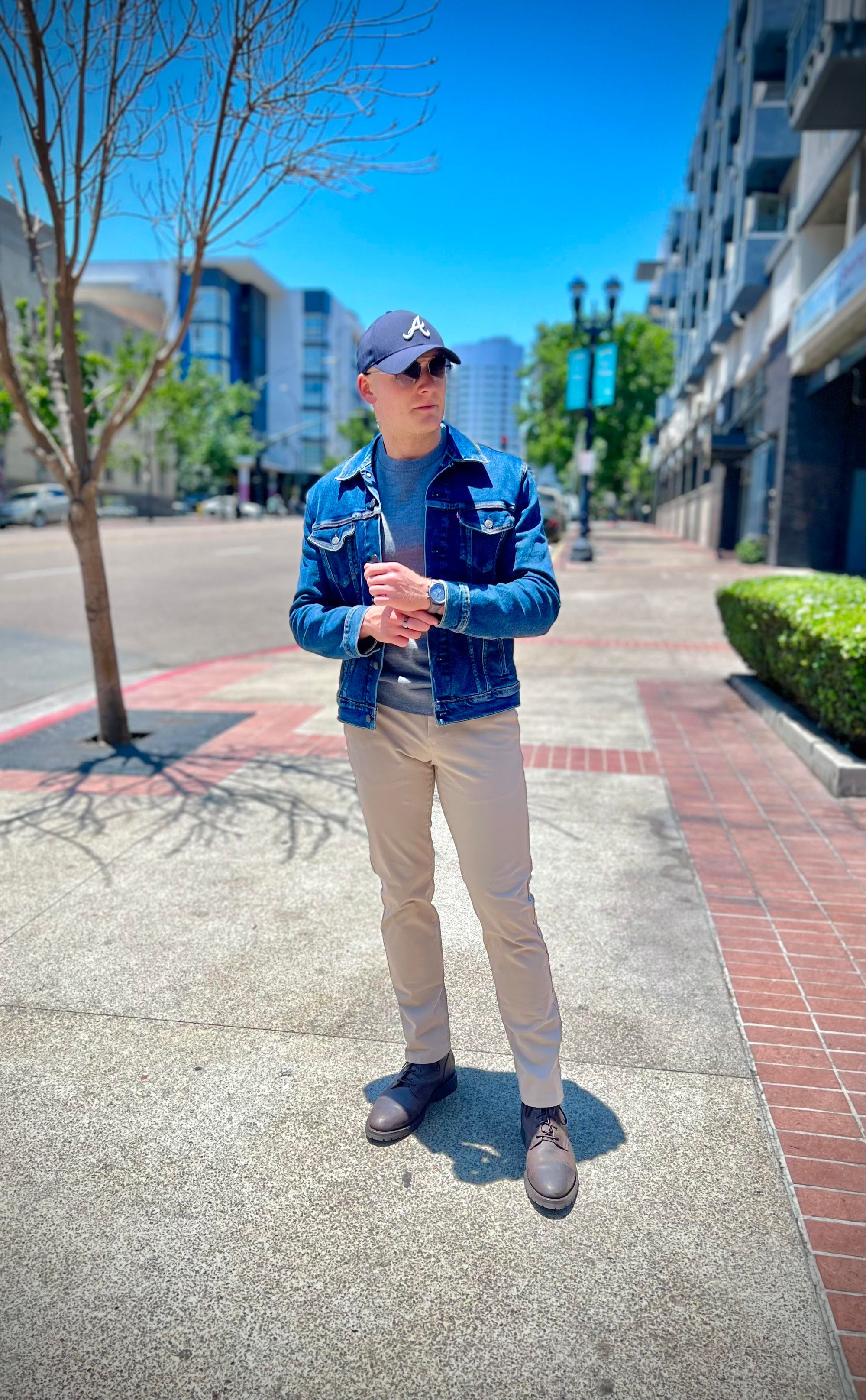 This is the same look as Outfit #4; we have swapped the sneakers for brown lace-up boots. When we stick with neutral colors, the possibilities are nearly limitless. This particular look is an excellent example of how we can change our appearance by swapping only one component of the outfit.
OUTFIT #6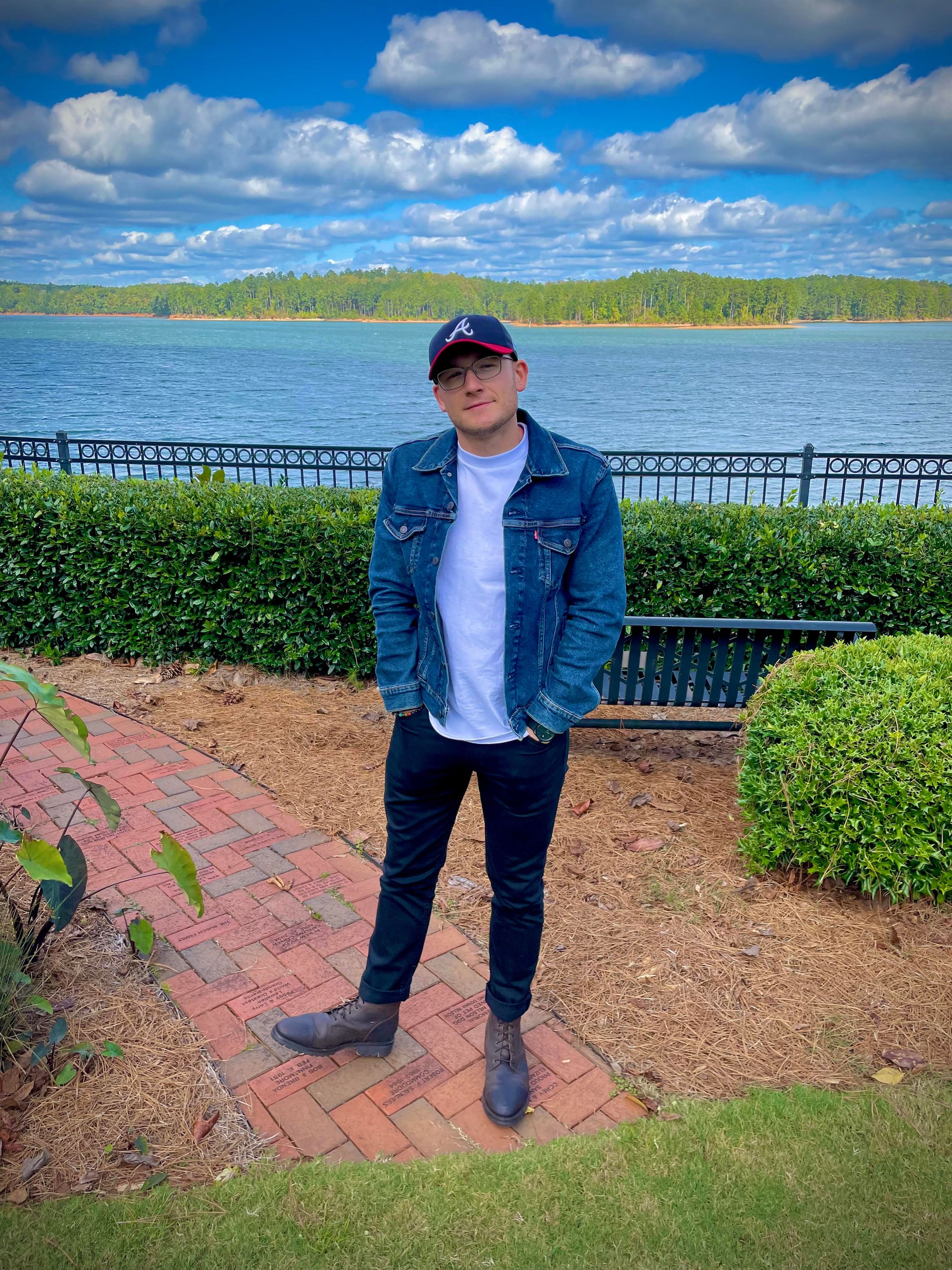 This is probably as a classic of a "trucker" look as it gets. No-frills.
OUTFIT #7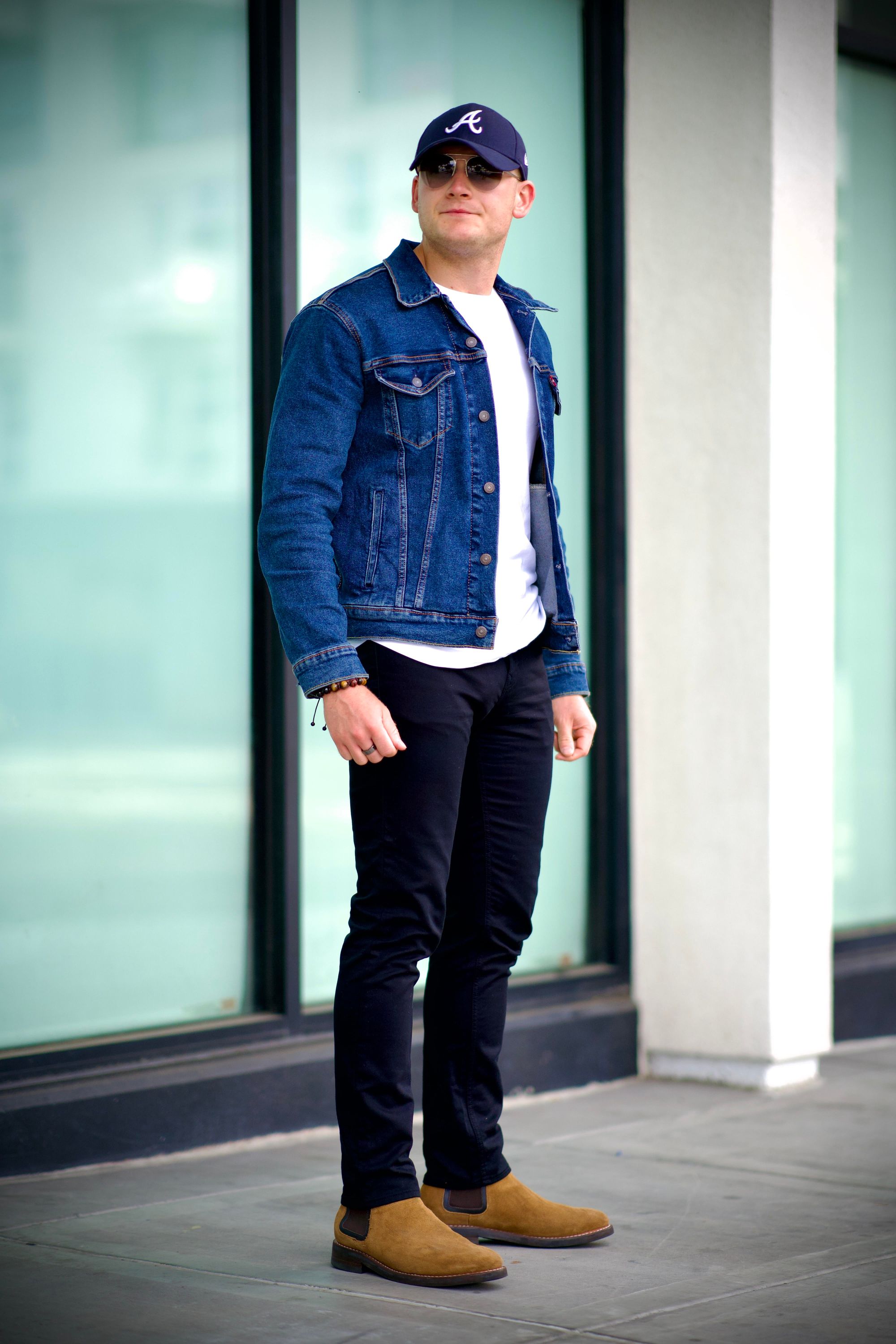 Nearly the same as our previous set, but this time we have swapped the lace-up boots in tobacco for a honeyduke suede Chelsea boot. This particular white t-shirt is also thinner and lighter, helping to give this look less of a rugged appearance and more of a contemporary look. The richness of the suede pops a bit but isn't too loud on the whole.
Suede leather is a much more casual option and pairs well with denim across the board.
OUTFIT #8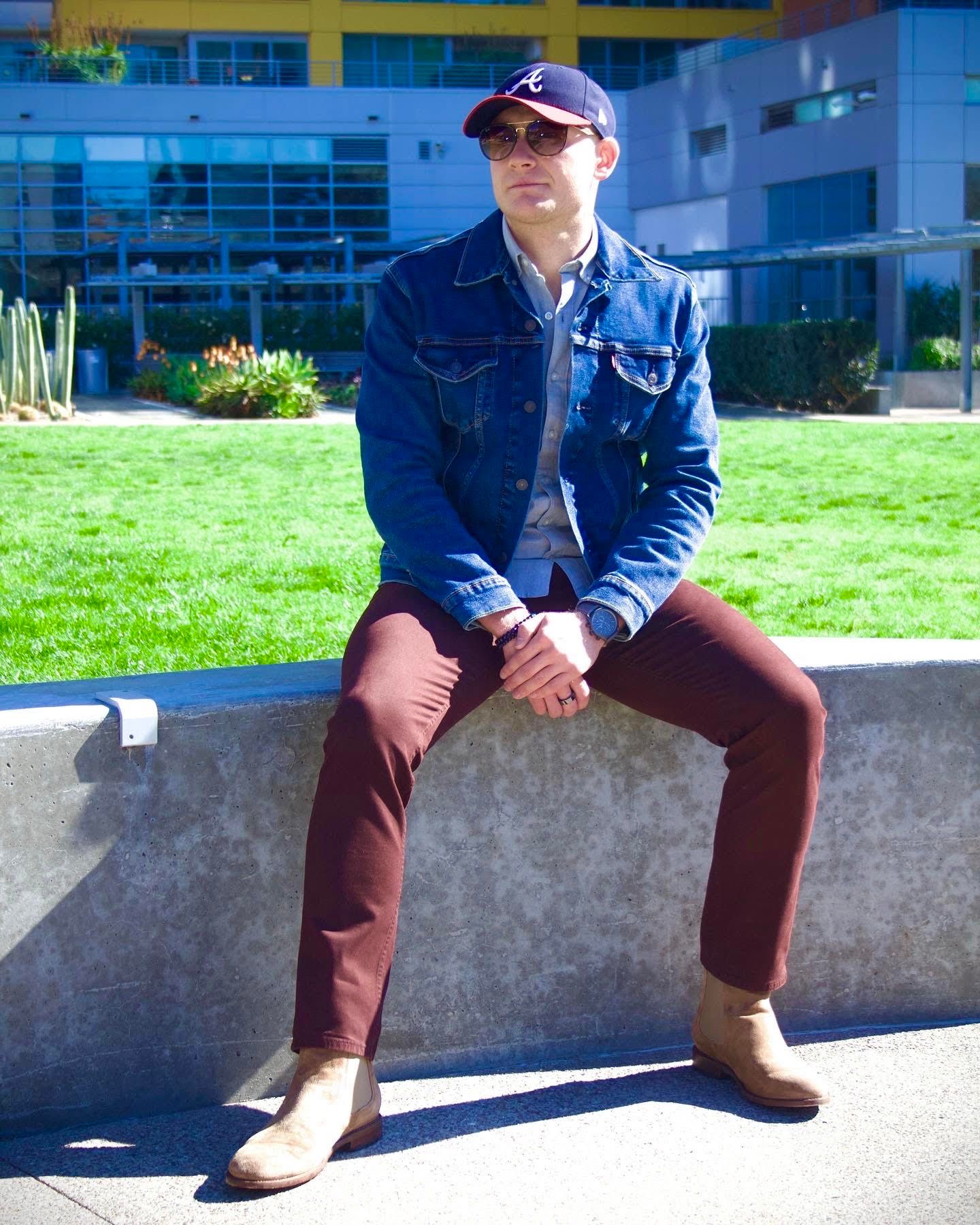 This outfit is for those who are perhaps looking to incorporate burgundy into their wardrobe specifically for the Fall season. This time we are sporting a gray OCBD shirt that doesn't contrast so heavily with the rest of the outfit.
OUTFIT #9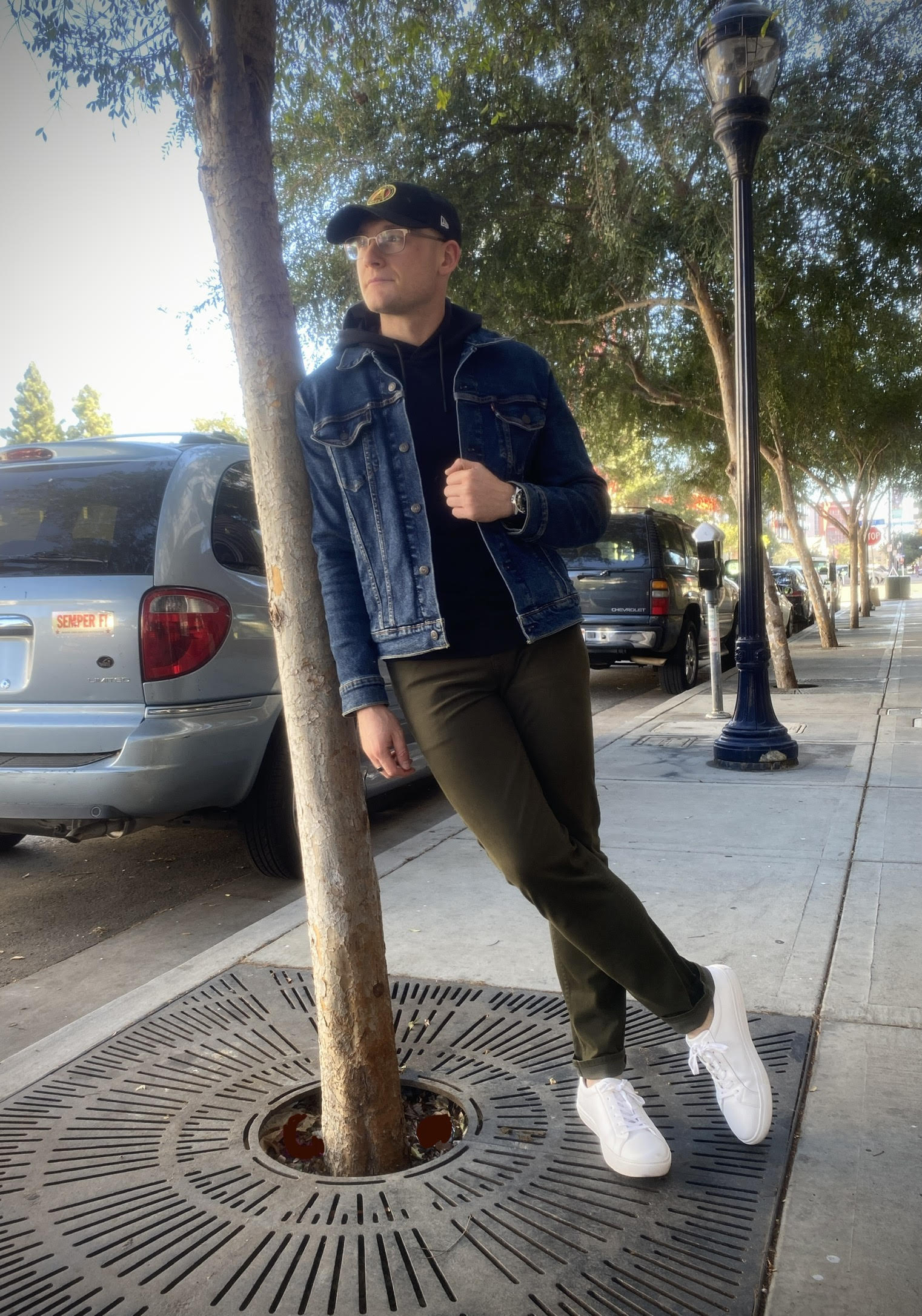 Layering a denim trucker jacket with a hoodie adds warmth and a more modern sensibility. Hoodies are paired with all kinds of outerwear nowadays, and the denim trucker jacket is perhaps one of the best companions. Regarding the color palette, darker green and blue always look great because they are analogous colors (those that sit next to each other on the color wheel).
OUTFIT #10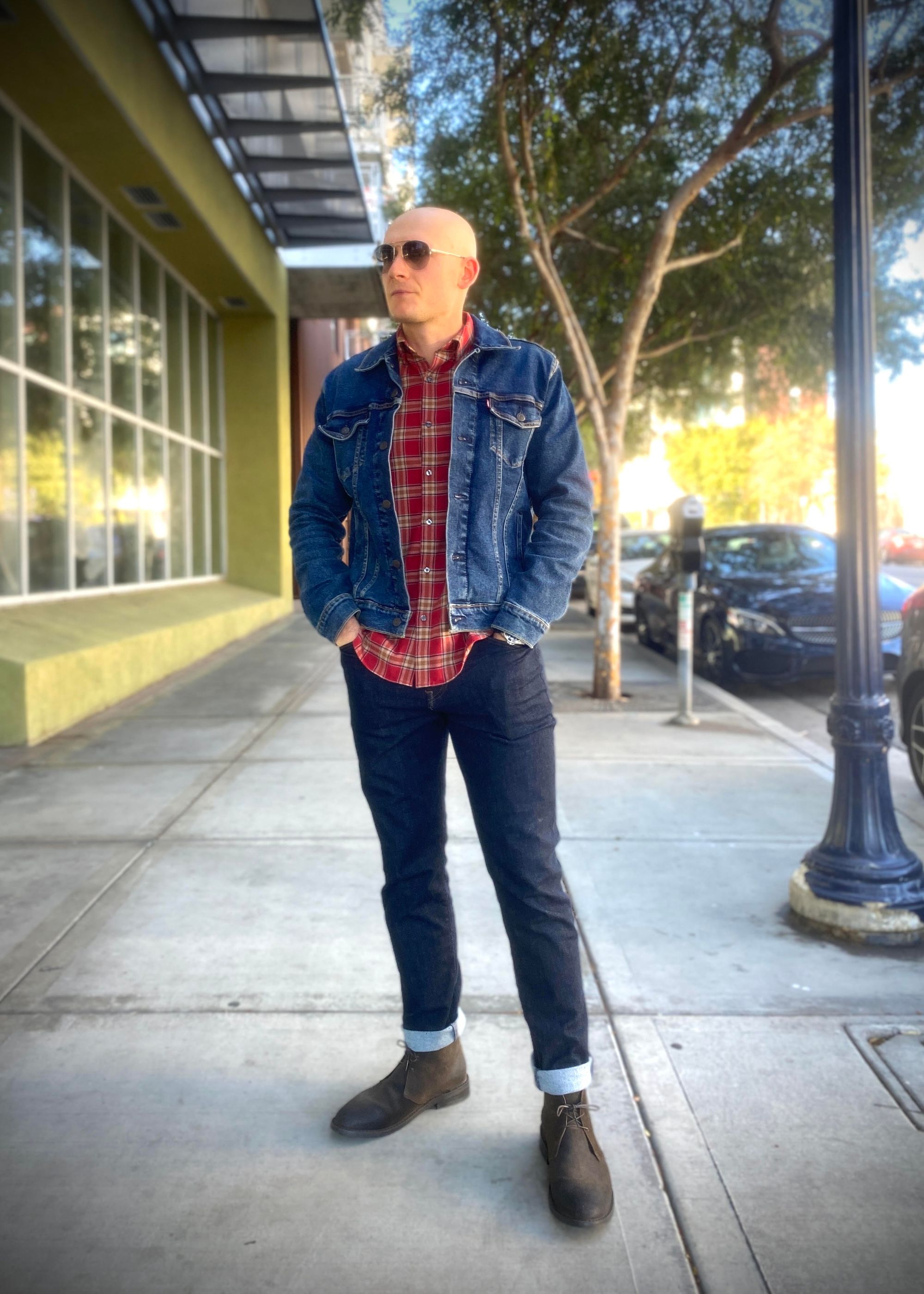 Denim on denim isn't something you should shy away from. A few of my previous looks have incorporated denim on denim with black jeans. Here, I have darker-washed jeans with a more medium-washed denim jacket. This represents the perfect level of contrast between the two. Any less contrast, and we would be venturing into the "Canadian Tuxedo" territory (which I don't recommend).
The inclusion of a flannel shirt is a classic choice for the autumn months, and the dark olive suede chukka boots tie it all together. Add a cuff on the jeans and some stylish shades, and you're ready for the Fall.
OUTFIT #11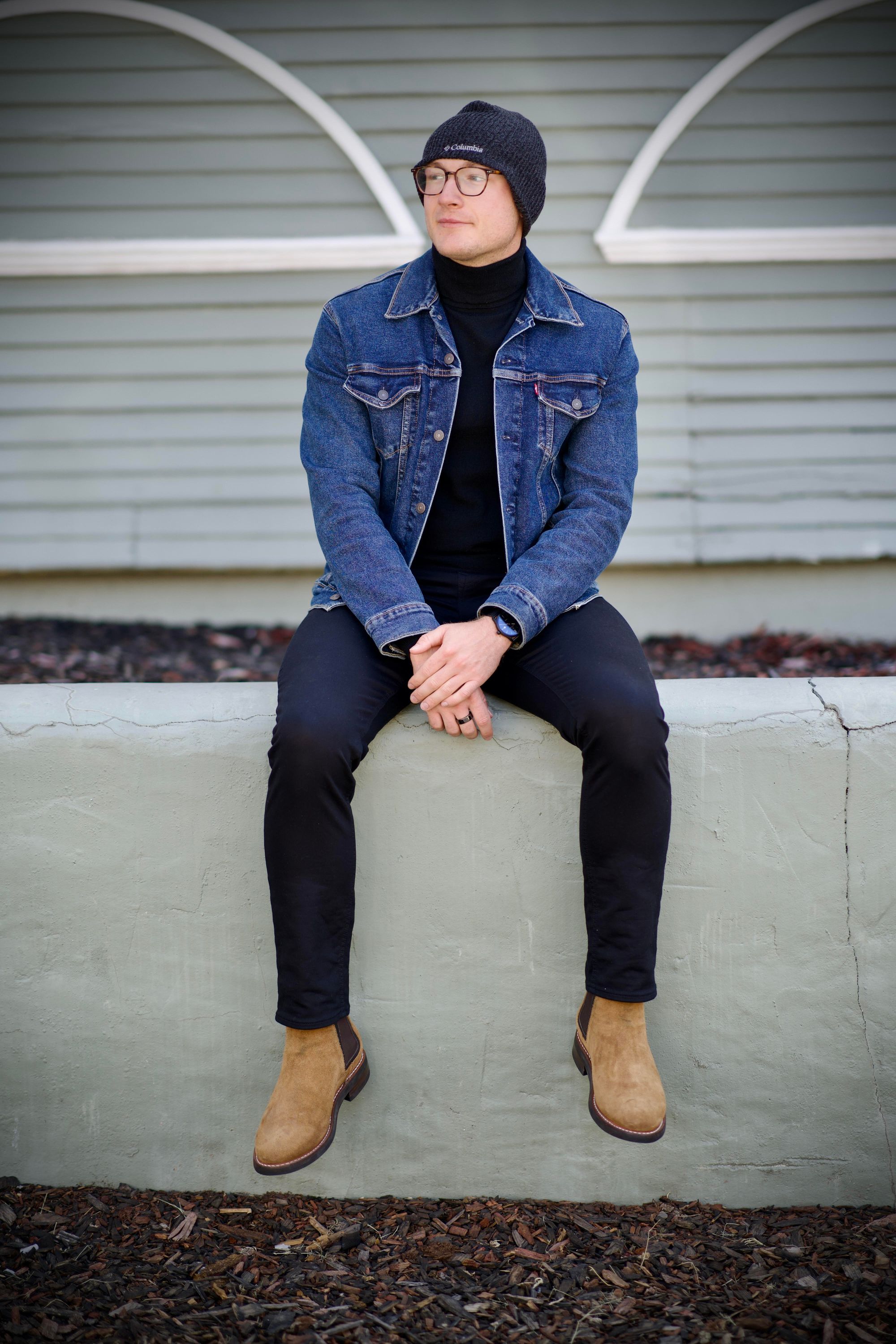 Turtlenecks look great with denim trucker jackets and allow for unique ways to branch outside the traditional looks people often take on. With this outfit, I'm keeping it relatively simple by wearing a black turtleneck with black chinos. Again, I have the rich-colored suede boots that offer something different but are still very classic and casual.
OUTFIT #12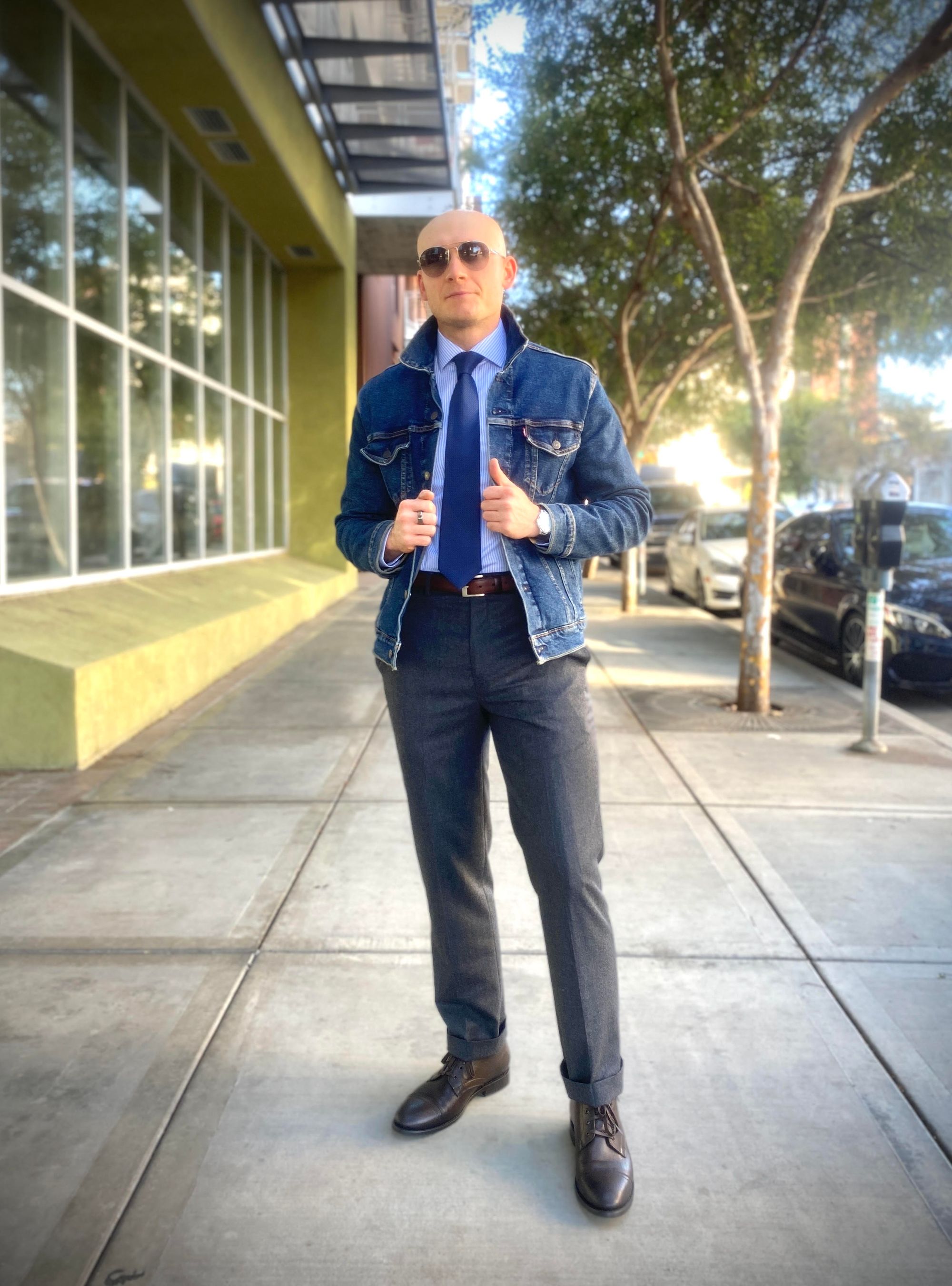 A denim jacket is a great way to give a tailored look a slight edge. Instead of having a blazer or sports jacket on, I've chosen a denim trucker jacket that serves as the clear statement piece.
It's vital to understand how to pull a look like this off, though.
The pairing of textures is essential when incorporating more dressy pieces with casual ones. For instance, these trousers are wool flannel and not worsted wool like what you would find from a formal suit. Mixing traditional suit pants (with their inherent "sheen") and denim doesn't harmonize well and just looks off.
My necktie is a navy blue grenadine tie that lacks the shininess of a pure silk or grosgrain tie and adds a bit more dimension with its rougher texture.