THIS ARTICLE IS NOT SPONSORED, AND THE PRODUCTS BEING FEATURED WERE PURCHASED FOR FULL PRICE BY ME.
Leather jackets are a timeless, classic, and the exceptionally masculine piece that will stand the test of time in any man's closet. There are many options in terms of color, materials, texture, etc. Not every leather jacket is the same, and not every kind of jacket works well with any modern gentleman. Certain styles are better suited for younger or older men, so picking something that can be worn for years and years can prove tricky.
Enter the essential brown leather jacket such as the one I am featuring in this post. It is a bomber-style variant from John Varvatos, a no-nonsense piece that looks great on your quintessential everyman, young and old.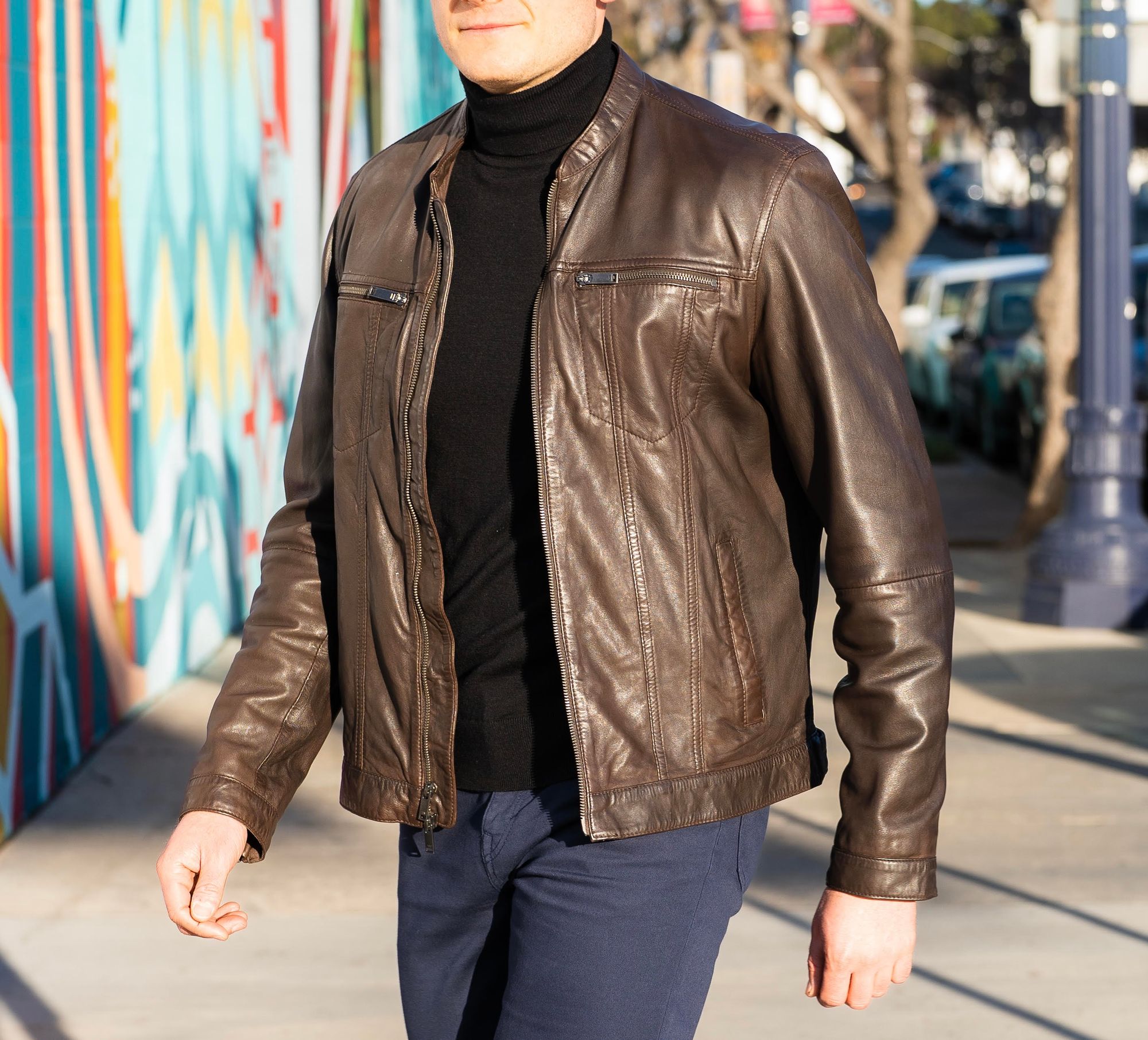 A quality leather jacket should be an investment piece that gets better with age. I know first-hand that figuring out which style you should go for when making your first purchase can be daunting. This article is meant to show you a few different outfit ideas to help you make your first leather jacket purchase and get the most from your hard-earned cash.
OUTFIT #1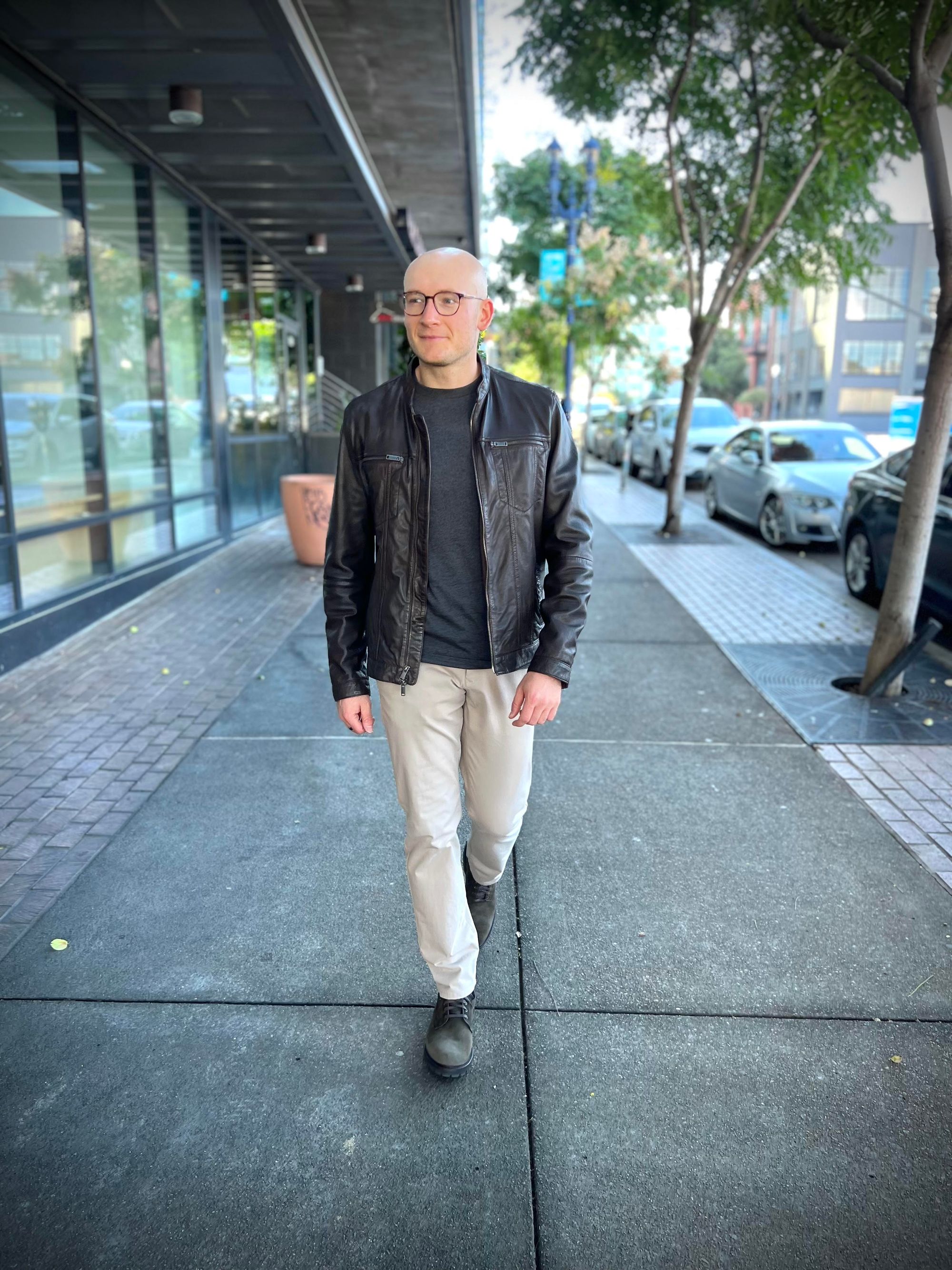 Starting with a simple look, we have a basic charcoal t-shirt, some essential khaki chinos, and a pair of earthy dark olive suede lace-up boot. Neutral colors will work best with a brown leather jacket, and as you can see, sometimes it's best to keep things simple. Trust me; this casual yet practical outfit will never go out of style.
OUTFIT #2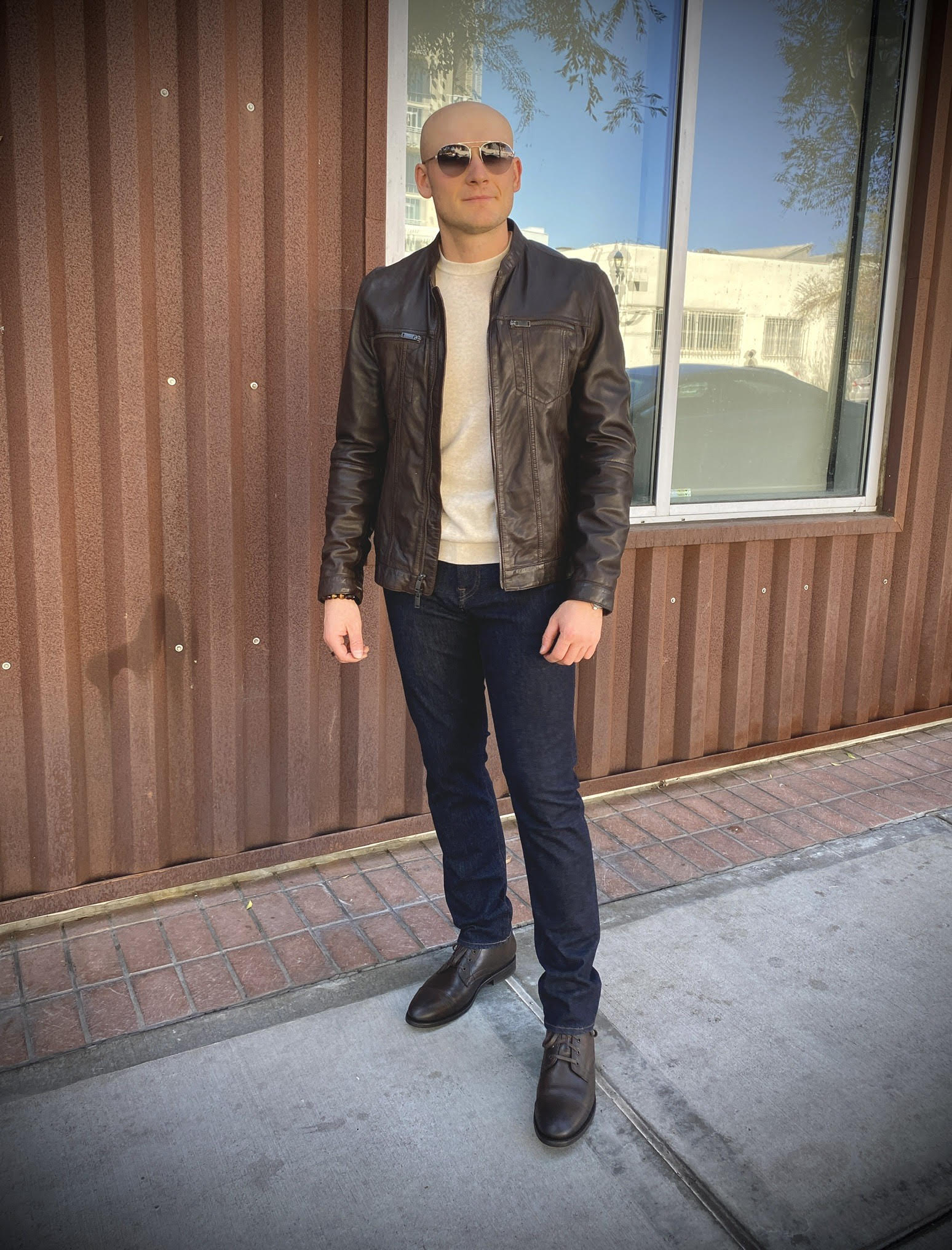 We are sticking with the same color scheme but adding more texture with the dark denim jeans and the knitted beige crewneck sweater. The mocha leather boots perfectly match the leather jacket's tone and vibe. Tastefully adding a few subtle accessories significantly elevates any look, and this instance is no exception—a classic pair of aviator sunglasses and a brown bead bracelet tie it all together.
We aren't trying to re-invent the wheel here, just polishing it off a bit.
OUTFIT #3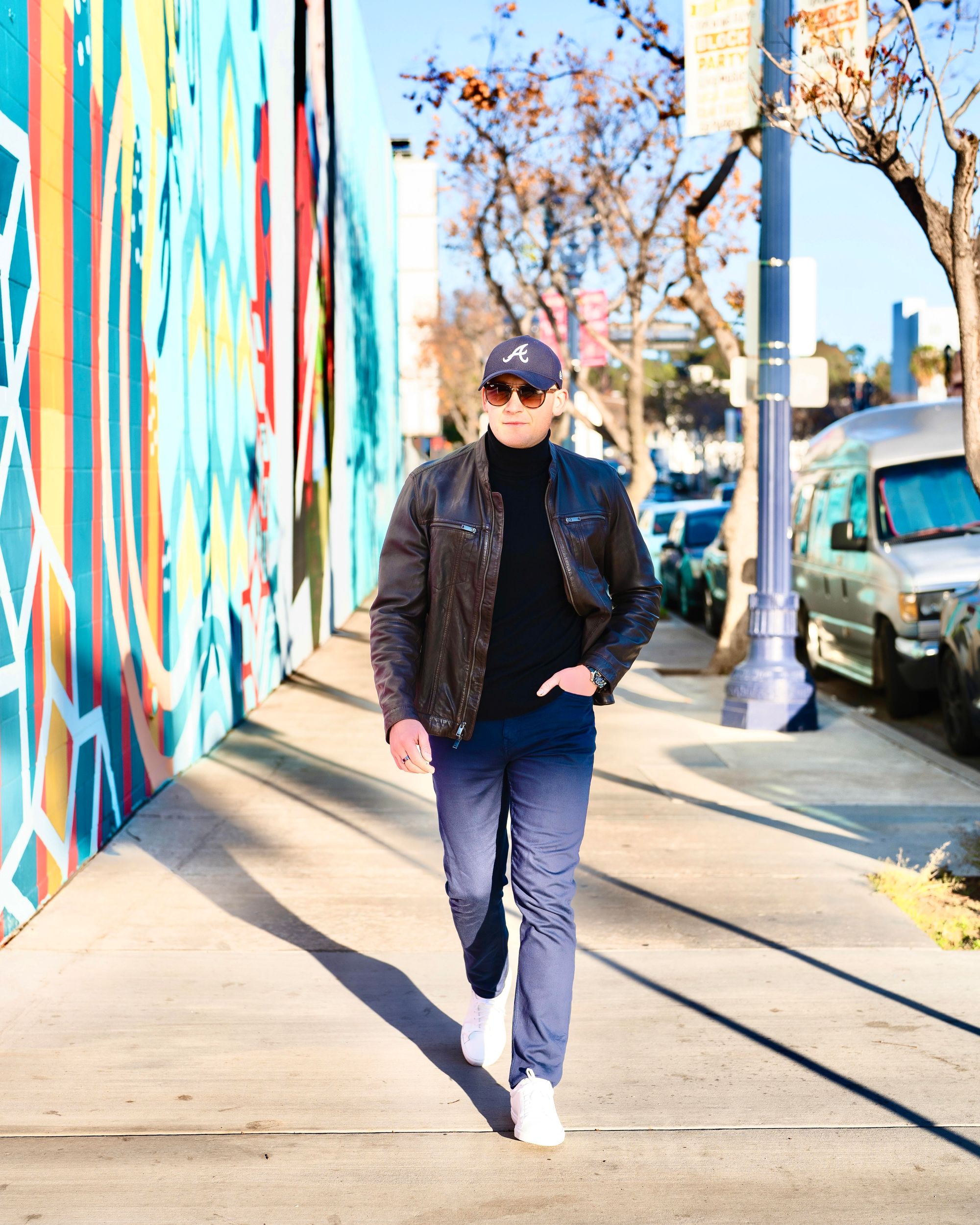 If you don't have a trusty black or charcoal turtleneck, do yourself a massive favor and get one. I think this is one of the most flattering upper body garments a trim and svelt man can wear. If you make a point to stay in shape, you owe it to yourself to invest in multiple turtlenecks for Fall, Winter, and early Spring.
The black turtleneck I have on under the brown leather jacket sings and blends well with the navy chinos. On my feet, I have an essential pair of minimalist white sneakers, also in leather. This casual, clean, and classic look will stand the test of time and is trend-proof.
OUTFIT #4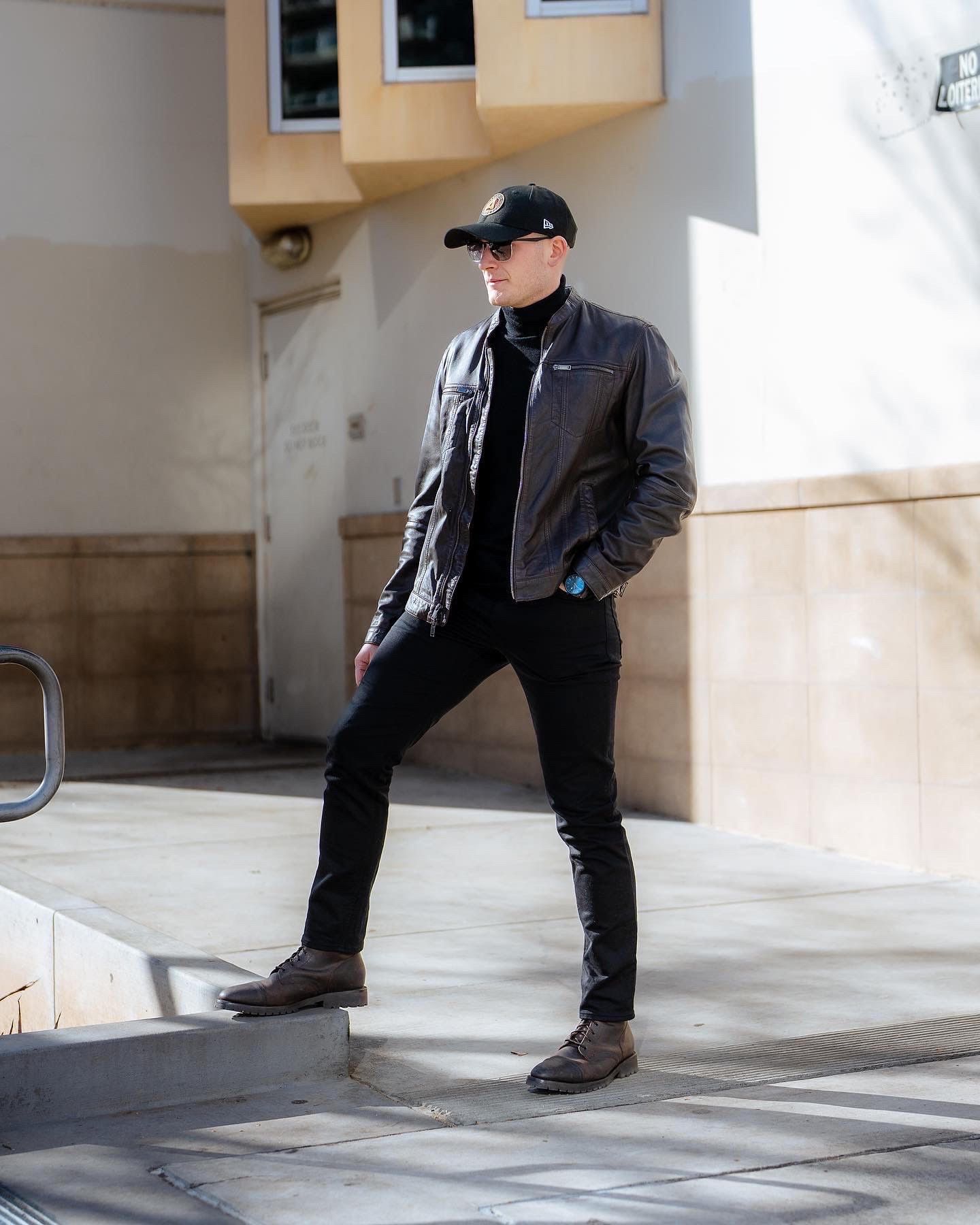 Sticking with the turtleneck, this is as masculine of a look as you can probably get with a brown leather jacket. Black and brown, that's it. Jet black denim jeans with some rugged tobacco-colored boots.
Although this isn't a monochromatic look, it presents a sleek and svelt silhouette that flatters a trim or athletic man's frame. If you're a shorter guy, this ensemble can help you look taller due to its low-contrast qualities, and with the addition of thicker-soled boots, you are taller. For something simple like this, the fit is paramount. No stacking at the ankles for the jeans, and the jacket fits perfectly on the shoulders and arms.
Make sure you have your sunglasses ready because they serve as the cherry on top of a look like this.
OUTFIT #5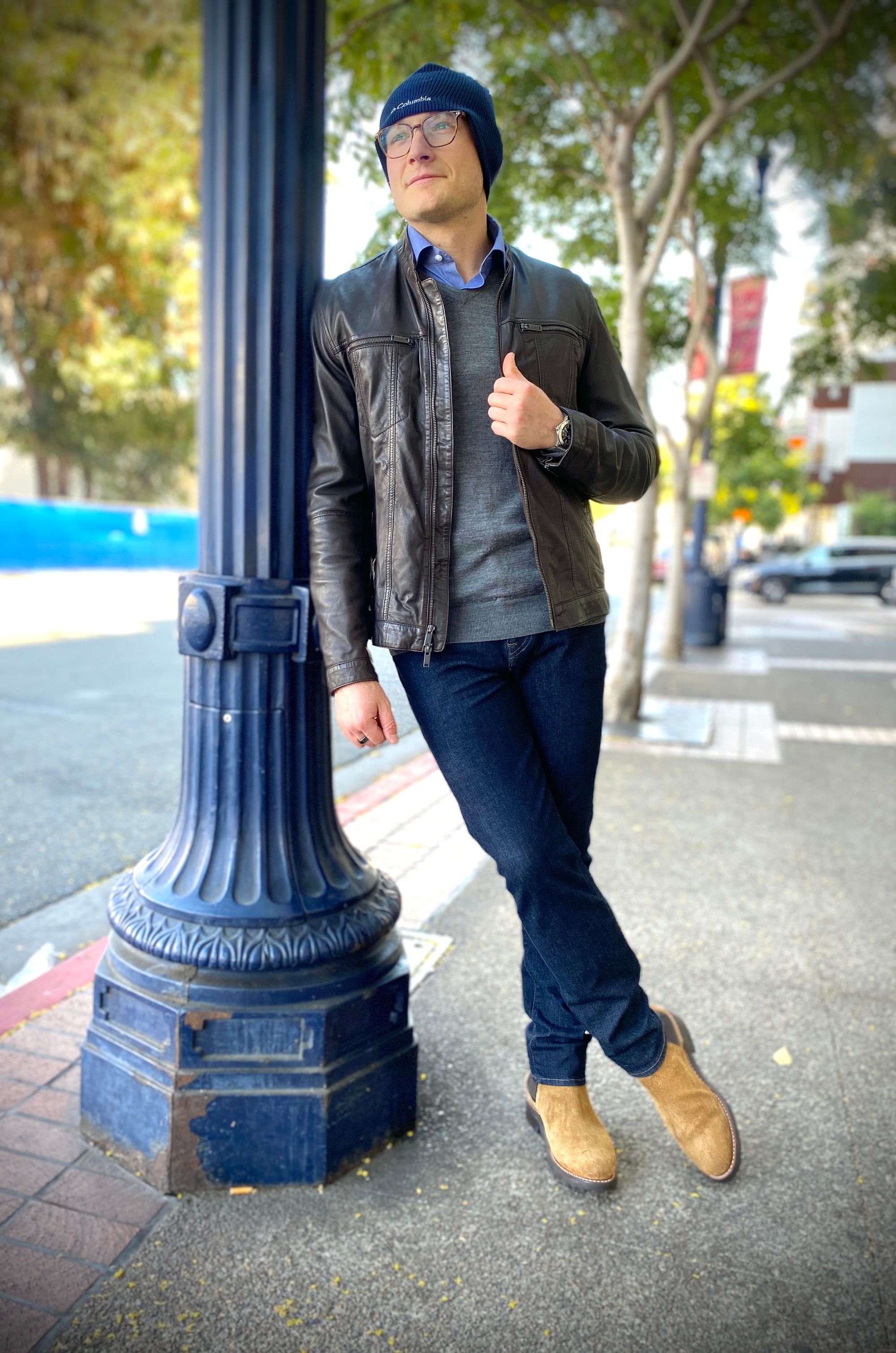 Wearing a leather jacket is an excellent opportunity to layer in various ways. When mastering the art of layering, three layers is the perfect amount. Now, the weather might not call for it, but when the opportunity arises, then rejoice in the option to add two layers underneath your leather jacket.
When layering, always remember to have thinner layers on the inside and thicker on the outside, with the base layer being the lightest. Here, I have a denim dress shirt and a v-neck wool sweater underneath my jacket; the shirt is more lightweight than the sweater. The colors are, once again, all neutral, and the suede Chelsea boots are a rich tan color.
Add some accessories like a beanie or a scarf; remember not to overdo it.
OUTFIT #6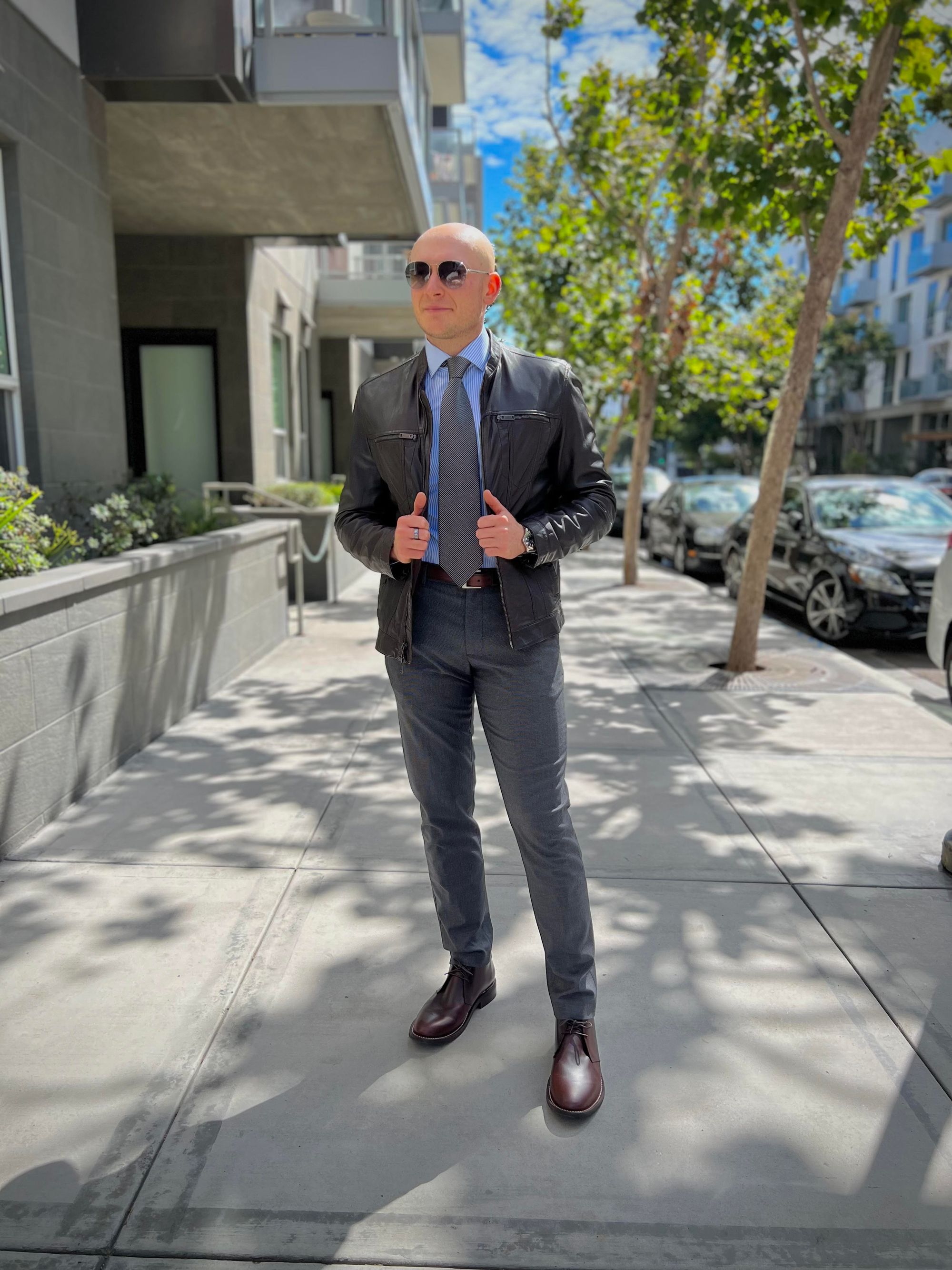 Our final look is the dressiest of all. Think of your brown leather jacket as a blazer with an edge. A denim trucker jacket also works well for this, but the leather jacket takes it to a whole new level. The dress shirt I have chosen has a thinly striped white and ice-blue pattern with a white and black silk tie, giving off a gray color when viewed from afar. The cotton trousers are the same pattern as the tie though the materials are different.
Nailing a look like this is all about keeping things relatively simple. Don't mix too many patterns with the dress shirt and tie; if you decide to do so, make sure the patterns differ in scale, as this will help you to refrain from making your outfit appear too loud. Again, neutral colors work best here, and the footwear and accessories are in good taste; nothing overly eccentric.