THIS ARTICLE IS NOT SPONSORED, AND THE PRODUCT BEING FEATURED WAS PURCHASED FOR FULL PRICE BY ME.
After building your initial wardrobe (see here for how to do that), there are some items every gentleman ought to endeavor to invest in and own that can afford him even more options. One such item is the classic navy blazer. Whether you're working somewhere requiring a dress code, looking to obtain a job that requires an interview, or even attending professional events for networking or need a solid set of options for a date, the navy blazer can afford you a multitude of options. In this post, I will show you how to style one blazer in five different ways.
BUT FIRST... WHAT IS A BLAZER?
It is important not to confuse a blazer with a sports or suit jacket. To understand the distinct differences between each of those, see my separate post here.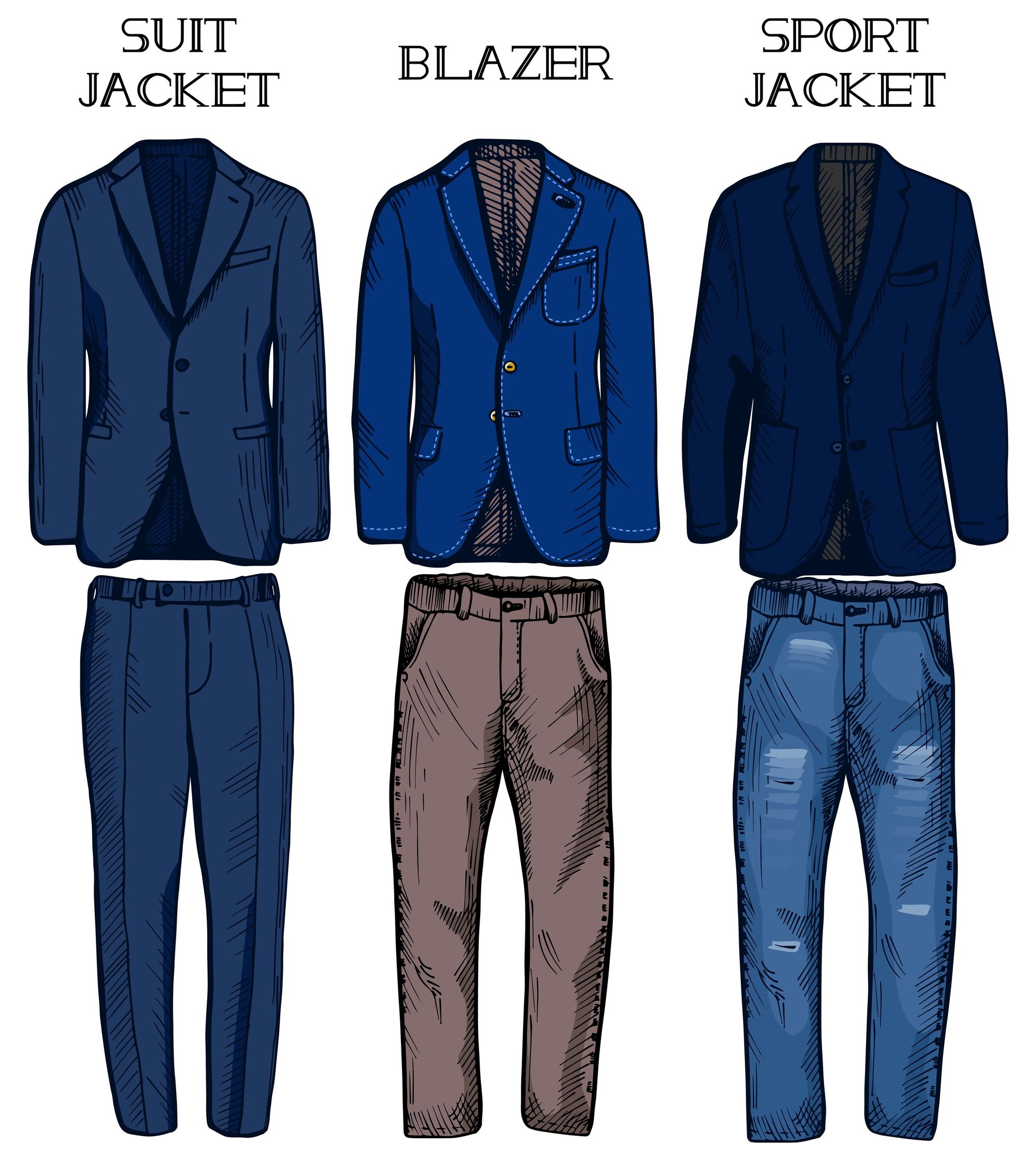 A Quick History (Skip If You Don't Care)
The blazer's precise origin has been somewhat lost to history; however, the garment can be traced back to a variety of organizations:
The boating team of St. John's College in Cambridge, England, during the 1820s.
The HMS Blazer, whose captain had his men wear navy-blue, double-breasted jackets with bright brass buttons for when Queen Victoria would visit around 1837.
Perhaps the most notable of origins for the blazer garment is that of the Lady Margaret Boat Club in Cambridge, England, which was founded in 1825 and is often charged with kickstarting the jacket's initial popularity (perhaps even before that of St. John's). Each of the club members was described to have worn bright red flannel jackets that were said to have been "blazed," thus, the rowing regatta blazers were born as well as a stylish menswear staple that was meant to stand out.
Definition
A blazer is between a suit jacket and a sports jacket. It is a standalone piece that also carries similar characteristics to typical suits, such as padded shoulders and canvas constructions. What makes a blazer fundamentally different is that it does not come with a matching set of trousers; it typically has contrasting buttons (much like the men serving aboard the HMS Blazer back in the day) and additional features which make it fundamentally more casual.
It is important to note that if a jacket that matches all of the criteria mentioned earlier also comes with matching trousers constructed of the same colors, patterns, and weave, it would (definitionally) be a suit.
Materials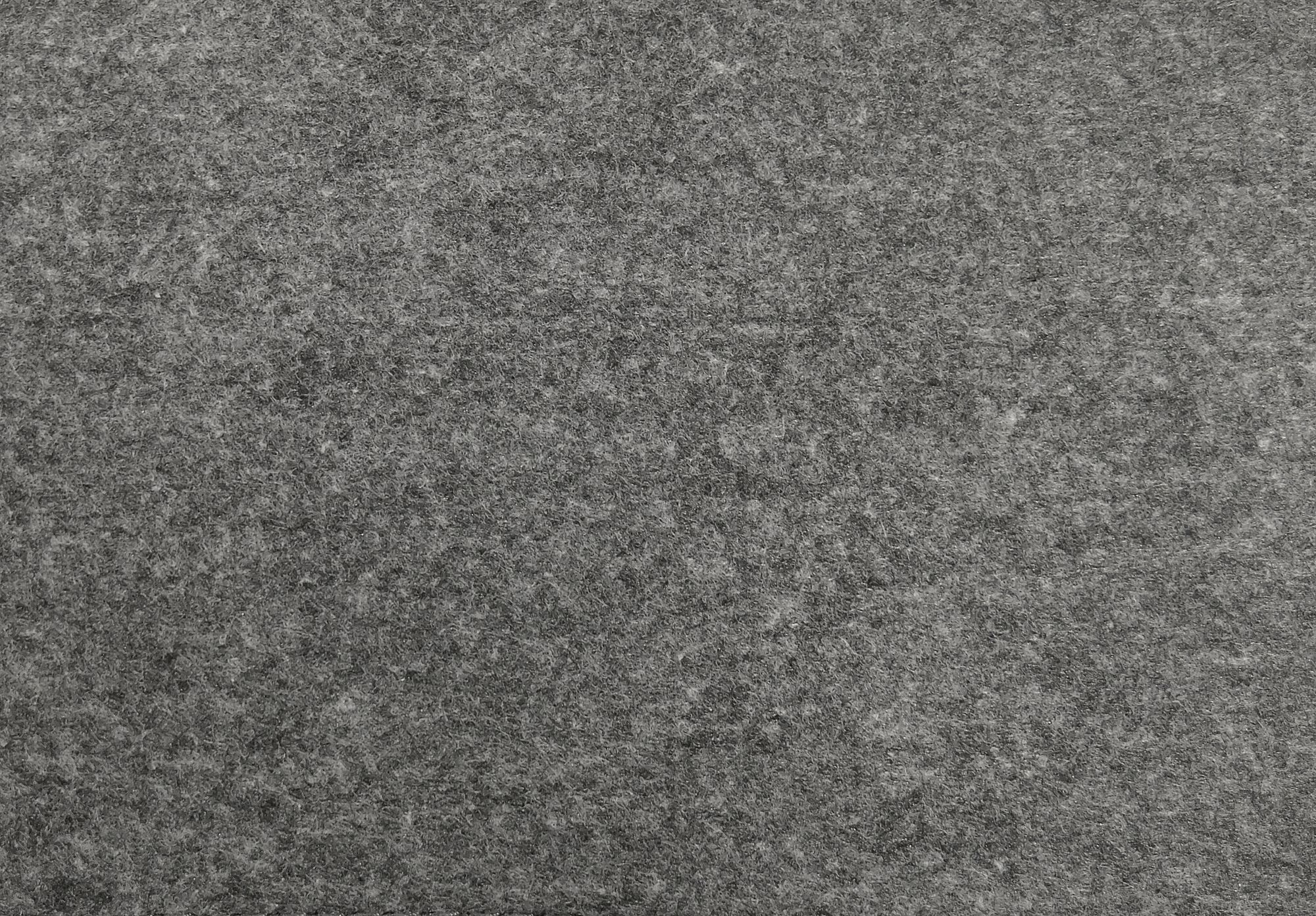 Blazers can be made of materials such as flannel, hopsack, etc. As mentioned, suits are typically made from worsted wool, which is tightly woven, smoother fabric and often reserved for more formal attire. Flannel, which comes from wool or cotton, is constructed differently and is much softer and thus more casual.
Hopsack is a type of weave for wool or wool-cotton blends that is basket-like and much more breathable. Hopsack adds a more visible texture due to its construction and is thus considered much less formal.
Patterns
Blazers can come in various patterns, but in the purest sense, there aren't as many pattern options for them as for sports jackets. Blazers can be a solid color (most notably navy blue), striped, or even a solid color with contrasting piping along the edges.
When To Wear
As you would probably imagine, blazers are less formal than suits but still formal enough to be worn to specific occasions that warrant them, such as networking events, business settings, weddings, and dates.
ONE NAVY BLAZER, FIVE DIFFERENT WAYS
This particular blazer that I will be styling is from Bonobos. This online retailer has perhaps some of the best-fitting pants that consistently impress. Over time, they have graduated to other garments such as jackets, shirts, suits, and of course, this Italian wool reconstructed blazer.
This particular piece is in a hopsack fabric and features patch pockets.  
OUTFIT #1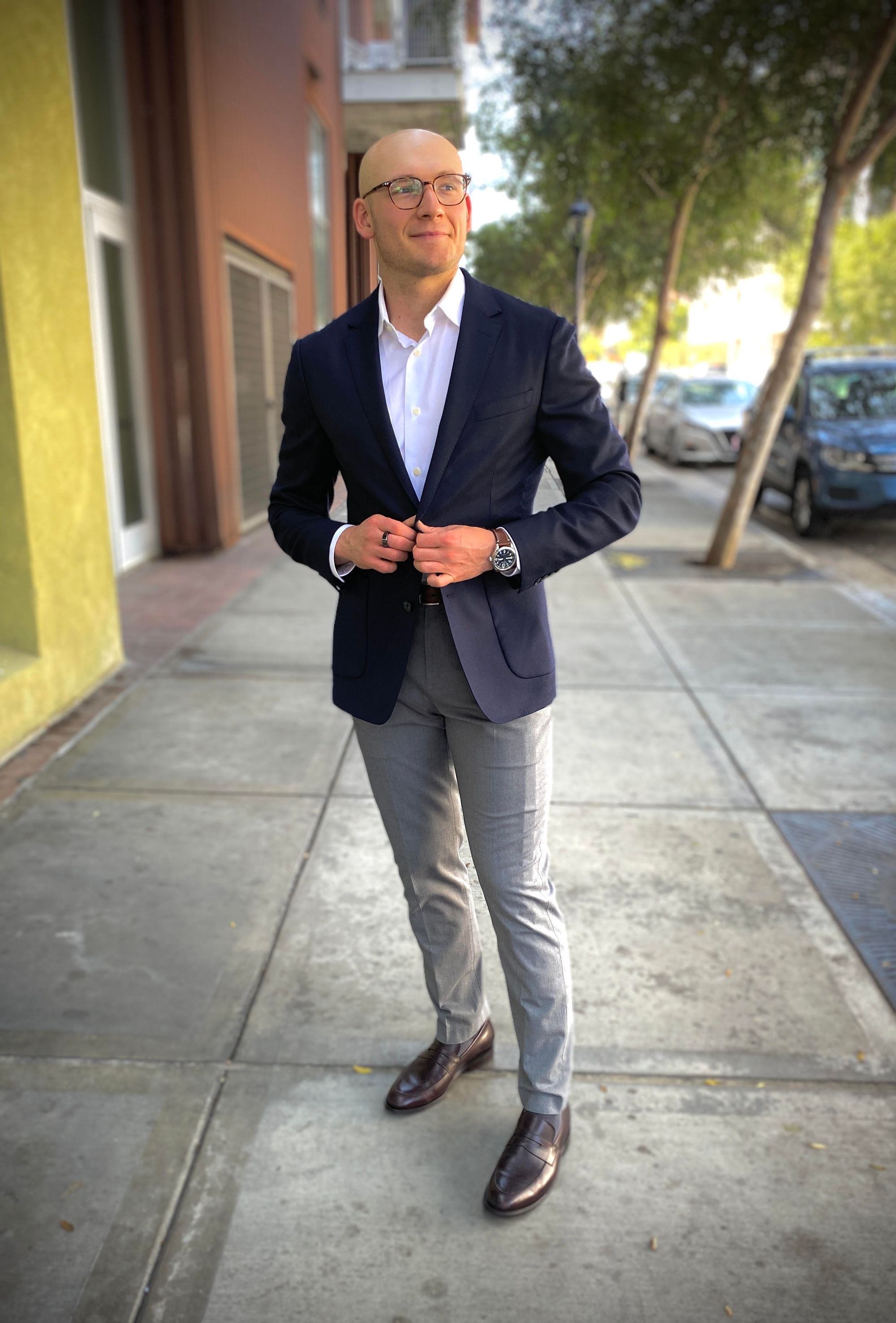 Navy and gray go great together. This is a classic business casual ensemble from top to bottom. A white poplin dress shirt with no tie, gray dress pants, and chocolate penny loafers. Simple, stylish, timeless, and elegant. Wear this to work in the office or to an interview to land the job you want.
OUTFIT #2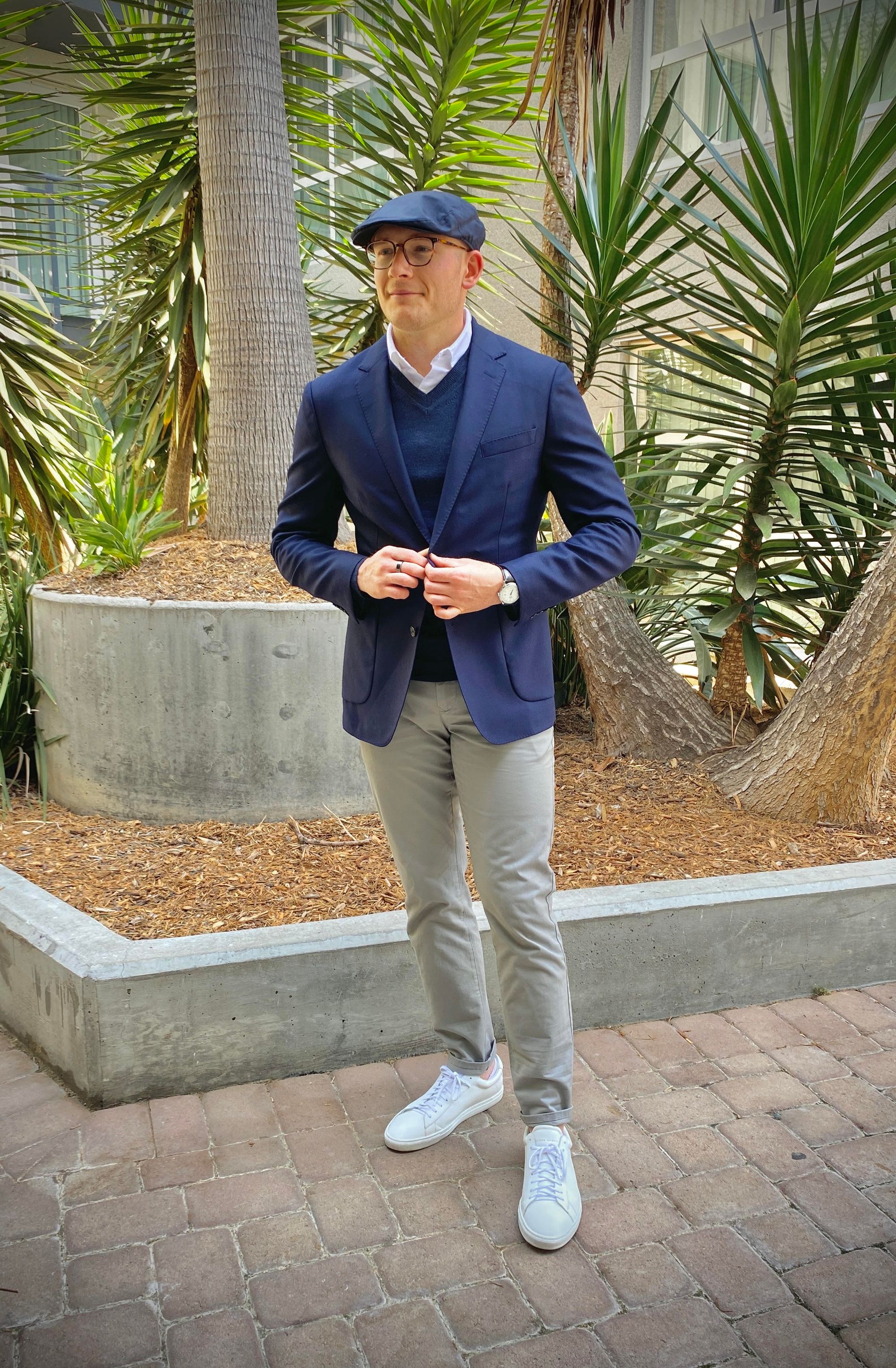 Stepping away from business casual, here we focus more on layering. I have a white oxford cloth button-down (OCBD) which is more informal than a dress shirt, layered with a navy blue v-neck sweater. The gray dress pants have been swapped for stone chinos, and the penny loafers are exchanged for white leather sneakers.
This is a perfect outfit for a date or setting where you want to look dapper without looking "extra."
OUTFIT #3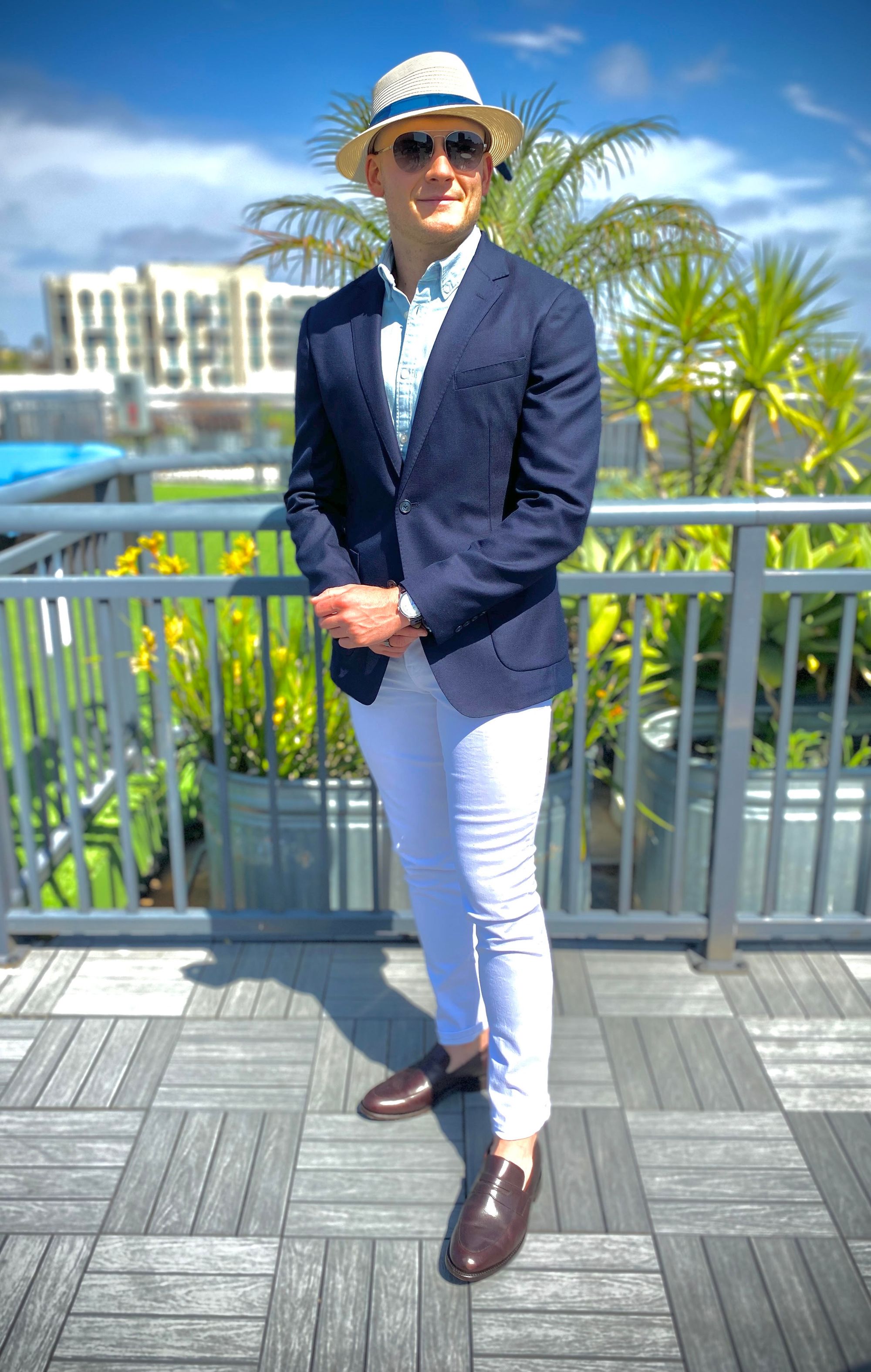 This classic Spring and Summer look shows how great blue and white can go together. Admittedly, this is a much more fashion-forward ensemble, one of many examples of pairing denim jeans with a navy blazer. The hopsack fabric works well with the denim, and the navy blue pairs equally well with the white. Aside from materials, the colors are solid, which is essential in assisting with the overall harmony of the outfit.
The button-down ice blue shirt is tinted blue and, by nature, also helps bridge the gap in the color scheme. This look is great for social events under the sun, and the unconstructed blazer (devoid of canvassing or lining) will help to keep you cool and comfortable if it's hot out.
OUTFIT #4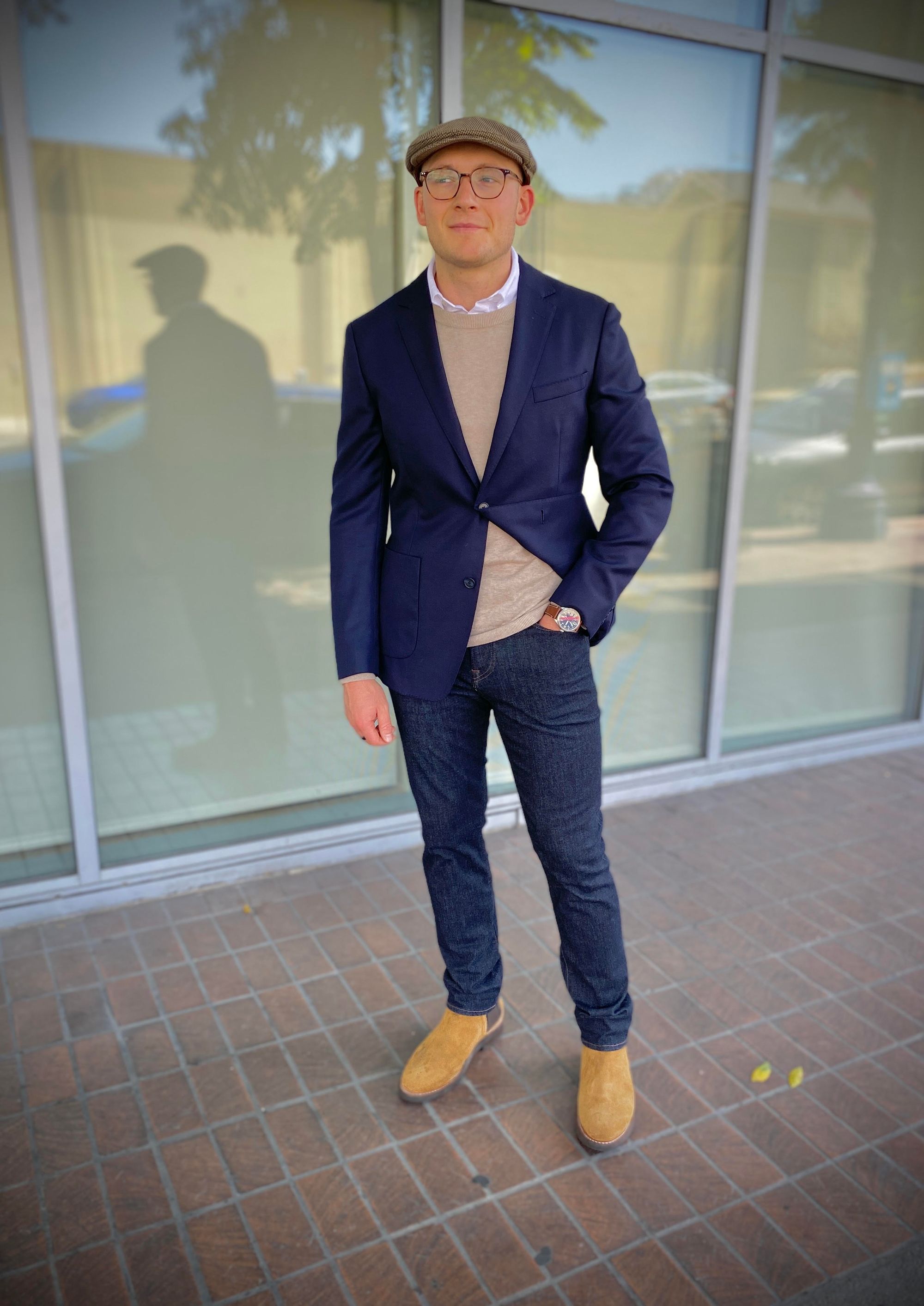 Here is another example of how to pair a blazer and denim jeans handsomely. Typically, you would want to avoid pairing blue trousers such as navy chinos with a blazer like this because it would look like you were trying to make a suit (in other words, it just looks "off").
In this case, however, we can get away with this look because the texture of the denim and its dark-wash color pair well with the basket-weave of the hopsack in the navy blazer. To not go too blue, we have some contrast with a beige crewneck sweater layered with a white OCBD. To top it all off, I have a pair of Chelsea boots in a honeyduke suede from Thursday Boot Co.  
This is great for all the same events as OUTFIT #2, except perhaps more so in the Fall months than the Spring.
OUTFIT #5
At first glance, this outfit looks a lot like OUTFIT #1. But when viewed side by side, you'll quickly see the differences.
This look is almost as classic as it gets. A knit blue OCBD with a lovely bit of texture pairs well with the hopsack of the blazer, some classic khaki chinos, and a pair of cap-toe boots in a walnut color. This is a more "casual" business casual ensemble that is as stylish now as it was decades ago (and will be decades later). Simple, handsome, and timeless.