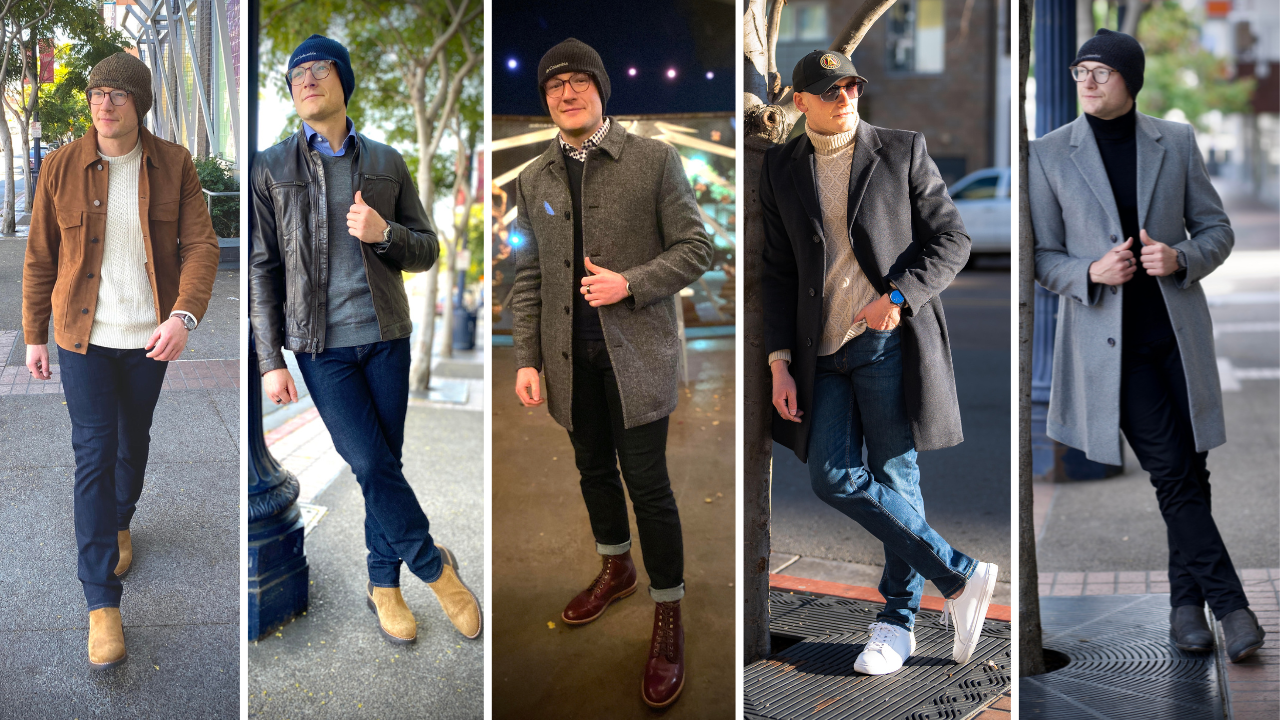 If you're unsure what to wear for your big date and need to account for the crisp and colder weather often synonymous with the fall and winter seasons, you've come to the right place!
I think that fall and winter provide the best opportunities for men to showcase a tremendous amount of variety concerning personal style because these ensembles bring texture, darker hues, and tones, as well as opportunities to layer certain pieces in various ways.
Remember, what we wear isn't everything; it won't matter how good you look if you're not endeavoring to be as high-value of a man as possible; however, what we wear says something about who we are and can help us to appear put-together as well as self-respecting. After all, healthy people attract other healthy people, and looking like we are men who show up for ourselves by dressing well is something any high-caliber woman will notice and appreciate.
It's also important to note that if a woman takes time out of her schedule to spend with you, it is simply becoming of any gentleman to put in the effort to dress presentably for her.
With all that said, here are 17 outfit ideas that any man can pull off for the autumn and winter months.
FALL OUTFITS
LOOK #1: Denim Jacket & Burgundy Chinos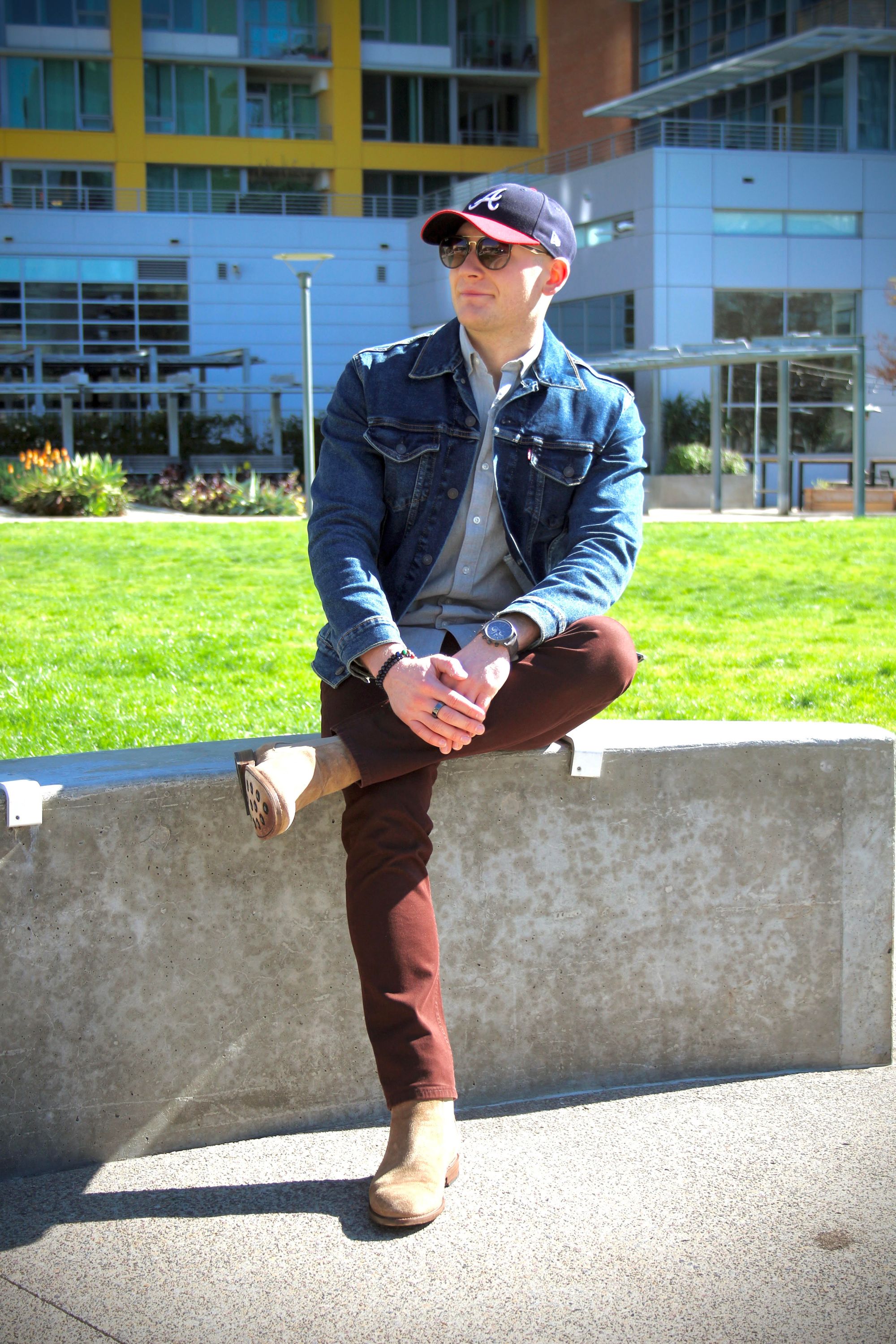 I'm a sucker for a classic denim trucker jacket, and I believe every man should own at least one. It's a timeless and exceedingly versatile piece that can serve as an exceptional alternative to a leather jacket due to its affordability. Here, I have paired a denim jacket with some burgundy chinos and a gray oxford-cloth button-down (OCBD) shirt.
A more classic ensemble would include khaki chinos and a white OCBD, but given the nature of the fall months, opting for darker hues can be a great way to elevate any look, so long as it's done tastefully. To complete this fit, I have added a ballcap to help lean into its more casual nature and some suede Chelsea boots in a light sand color.
Simple yet decidedly elevated. This look is for the more laid-back dates where you'd want to look put-together without being too dressy (i.e., casual dinner or coffee dates).
LOOK #2: Denim Jacket & Turtleneck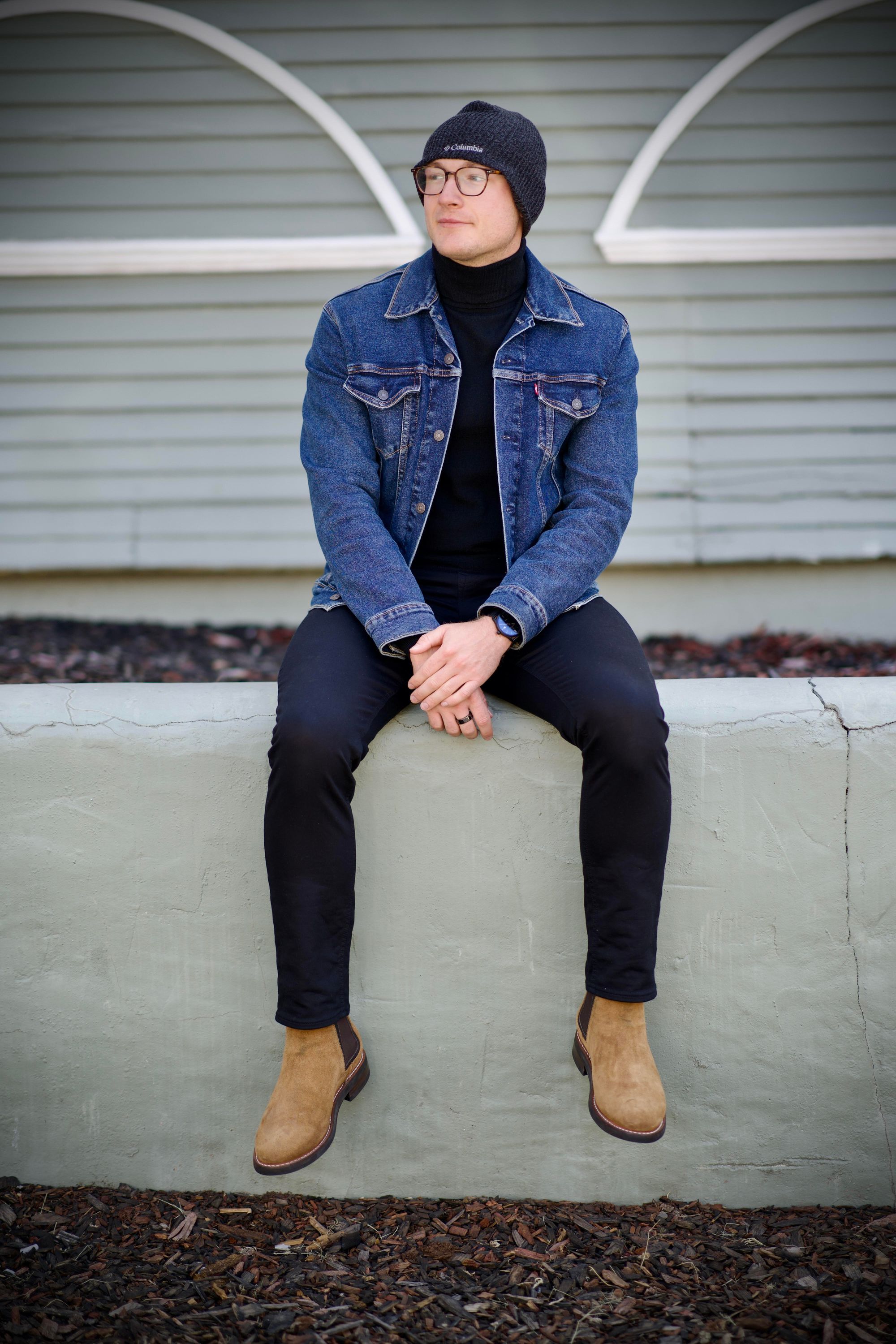 Sticking with the same denim jacket as the first look, I have added a simple black turtleneck and some matching black chinos. Turtlenecks are flattering to men with slender or athletic frames and serve as a subtle way to tastefully elevate the look of a casual and often rugged denim jacket.
This is perfect for the latter autumn months when the temperature has the potential to drop considerably. Adding a scarf to this look wouldn't be a bad idea if warranted, and adding the beanie helps provide additional warmth.
To top it all off, I have incorporated some contrasting honeyduke suede Chelsea boots in a rich brown that stands out just enough without being too loud. You'll see these exact boots in later outfits on this list.
LOOK #3: Heather Quilted Bomber & Black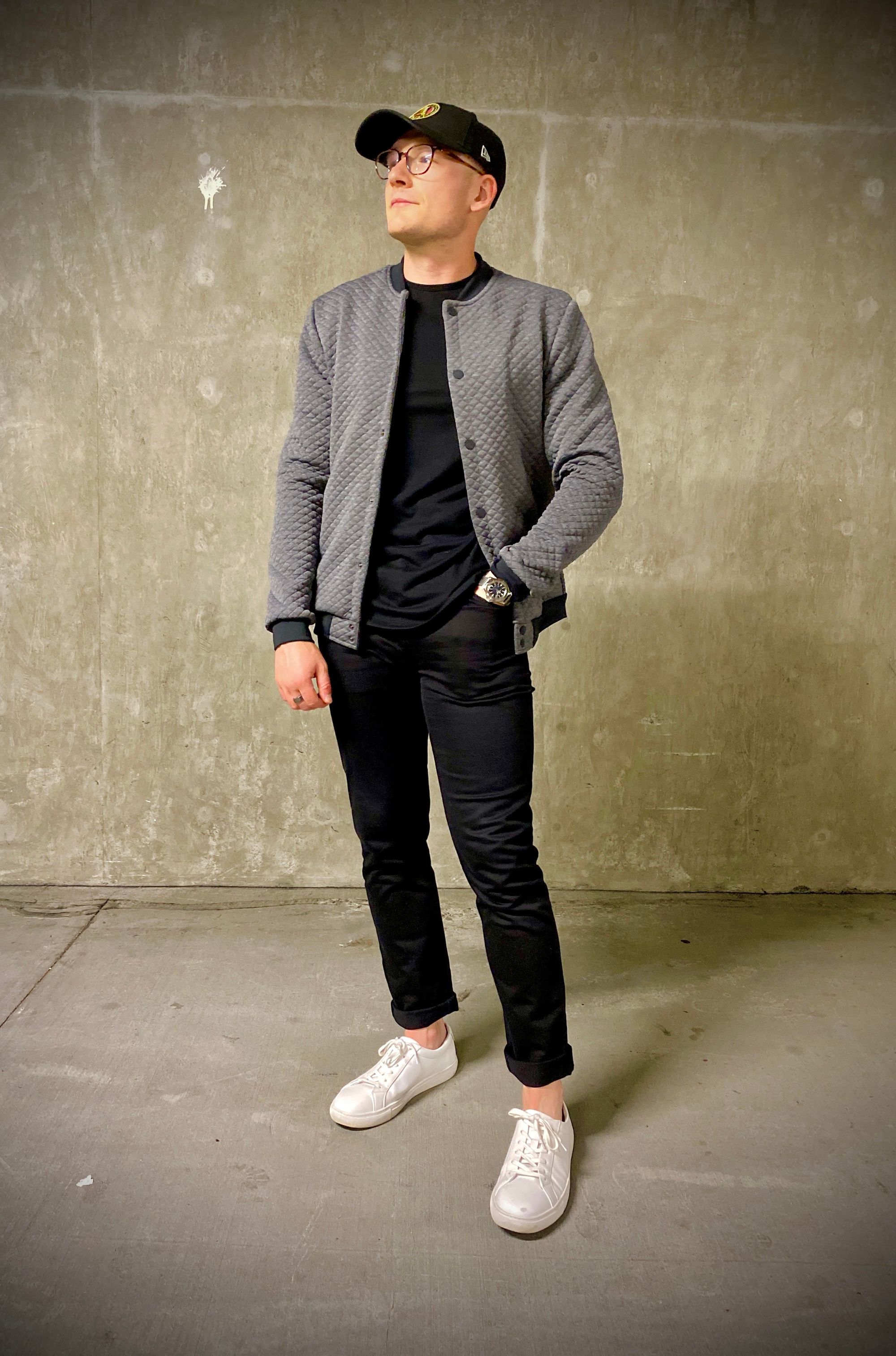 This next look is simple, but the details matter. Once again, I'm showcasing a ballcap to highlight the casual nature of this fit, and I have opted for a lightweight bomber jacket as the form of outerwear with a simple black crewneck t-shirt and chinos to match.
I'm utilizing all-black with a lighter shade of heather gray for the jacket. For footwear, I have opted for a clean pair of white sneakers. I firmly believe that white sneakers are some of the most versatile types of footwear any modern gentleman can own, regardless of the season and depending upon where you live (see my separate article for examples of how to style here).
The stark contrast between the sneakers and the rest of the outfit isn't overdone, exemplifying the power of owning such an interchangeable pair of shoes. The details are what add depth to this outfit, though. The quilted pattern in the knitted fabric of the bomber jacket provides some visual intrigue, and the cuffs at the edge of the trousers (which are already to the correct length, to begin with) add some subtle flair to the silhouette as a whole.
Sure, adding the cuffs is a bit of a style affectation, but considering that most women notice this type of thing, you can rest easy knowing that it's a detail that your date will most likely pick up on (and appreciate).
LOOK #4: Brick Bomber & Black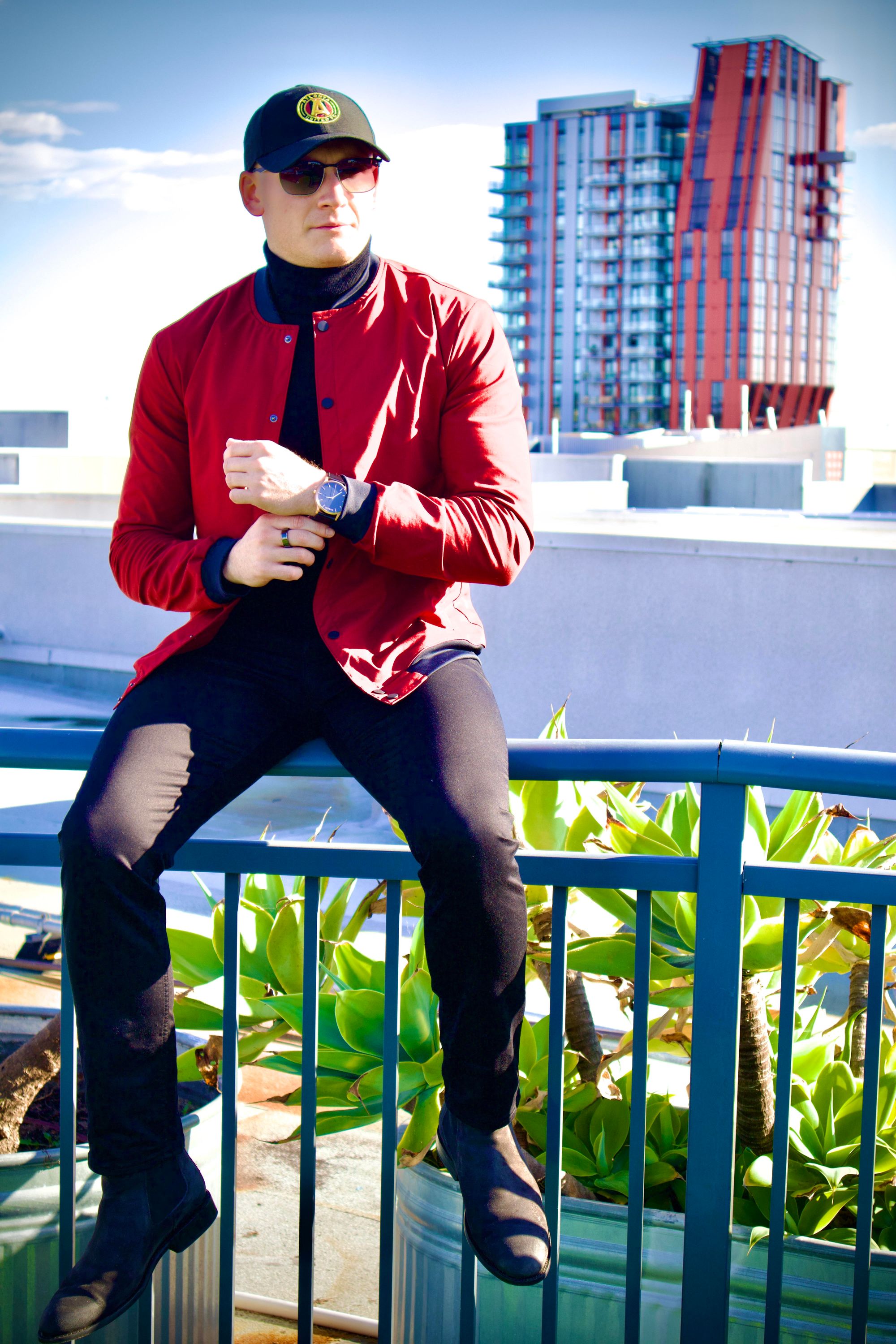 Sticking with bombers for a bit, here is a brick red bomber jacket paired with a black turtleneck sweater, the same black trousers as before, and a pair of suede Chelsea boots in ash. Again, this is a casual look that's slightly elevated due to the inclusion of the turtleneck and suede Chelsea's. Every man ought to own at least one turtleneck sweater in either black, gray, or navy blue.
For trimmer and fitter gents, this is an exceedingly flattering piece with which you can do much. The inclusion of the suede Chelsea's (like the first outfit) enhances the look and gives a slight edge while maintaining an air of sophistication. The brick bomber is an excellent statement piece but isn't distracting.
LOOK #5: Classic Cardigan & Chukkas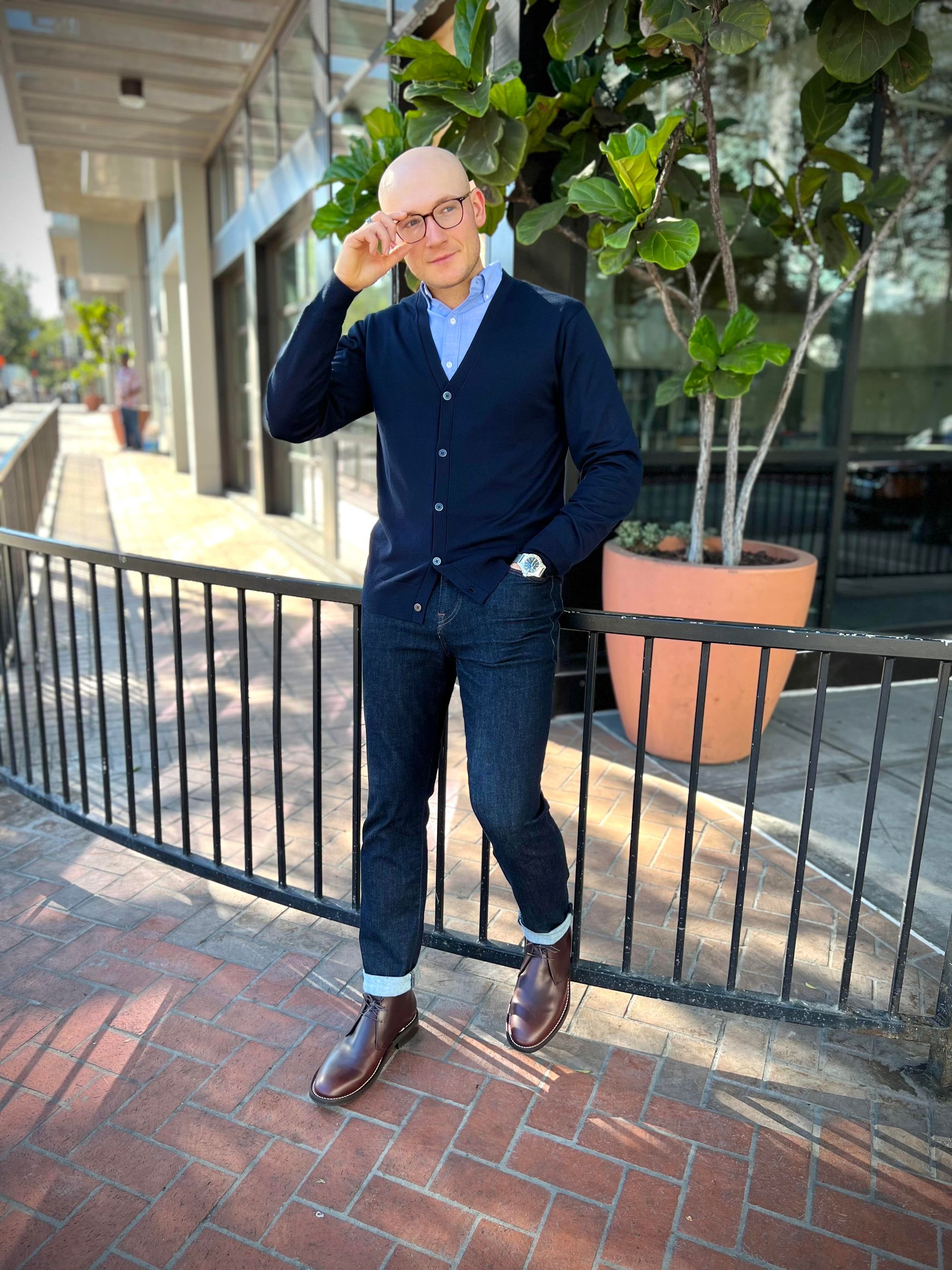 What can I say? Men shouldn't pass up a timeless navy or charcoal cardigan sweater. Admittedly, this particular look is quite dapper and smart (not so much formal), but no one will argue that you don't look like the most intelligent guy in the room (even if you're not).
Regarding cardigans, it's best to stick with the basics such as charcoal, navy, camel/tan, etc.; if you're like me, navy blue works with various styles and can be mixed and matched effortlessly with multiple washes of denim jeans or chinos.
With this specific look, I have completed it by opting for a classic and clean pair of brown chukka boots. This fit is excellent for a slightly more formal date where the necessity to dress more intelligently is present.
LOOK #6: Cozy Shacket & Chukkas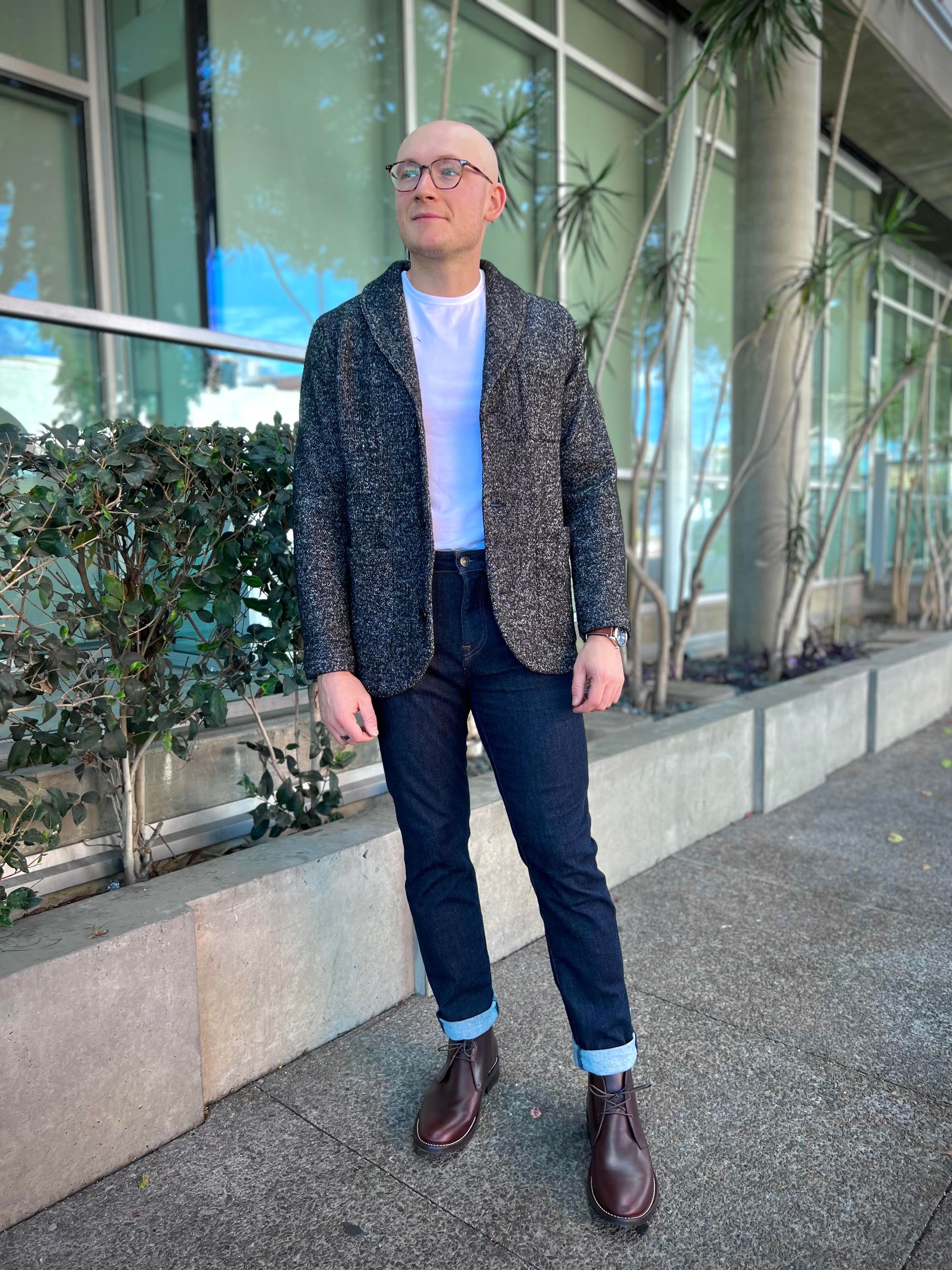 A cross between a shirt and a jacket, the "shacket," is a great way to stand out from the rest of the male crowd. In this particular case, this knit shacket has an intriguing texture that pairs well with darker denim. The hints of white thread within it are subtle enough to enable a white crewneck t-shirt underneath, avoiding abrupt contrast. The bottom half of this look is identical to the previous outfit, but the tone is less intelligent and instead cozier. Perfect for coffee and/or brunch dates.
LOOK #7: Suede Trucker & Cable-knit Sweater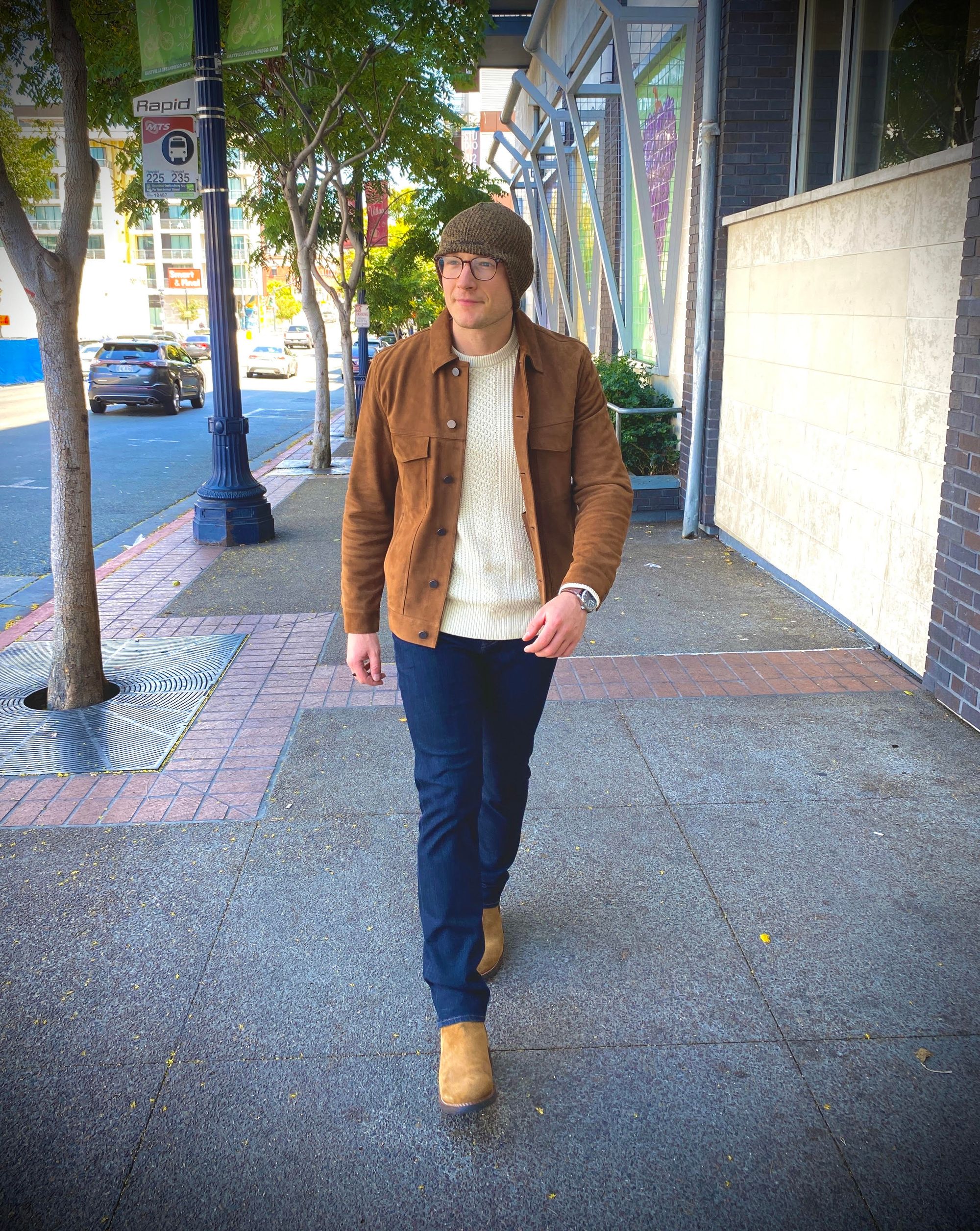 One of my all-time favorite types of looks and one that I lean on heavily. A quality suede leather jacket in rich tobacco such as this is a standout piece that all men could benefit greatly from wearing. Adding a cable-knit sweater in a creamy beige is something most women will love. Nothing personifies "cozy elegance" quite like a chunky cable-knit sweater, and pairing these two pieces with a timeless pair of dark wash denim and matching brown suede boots is simply textbook.
LOOK #8: Suede Trucker, Chinos, & Sneakers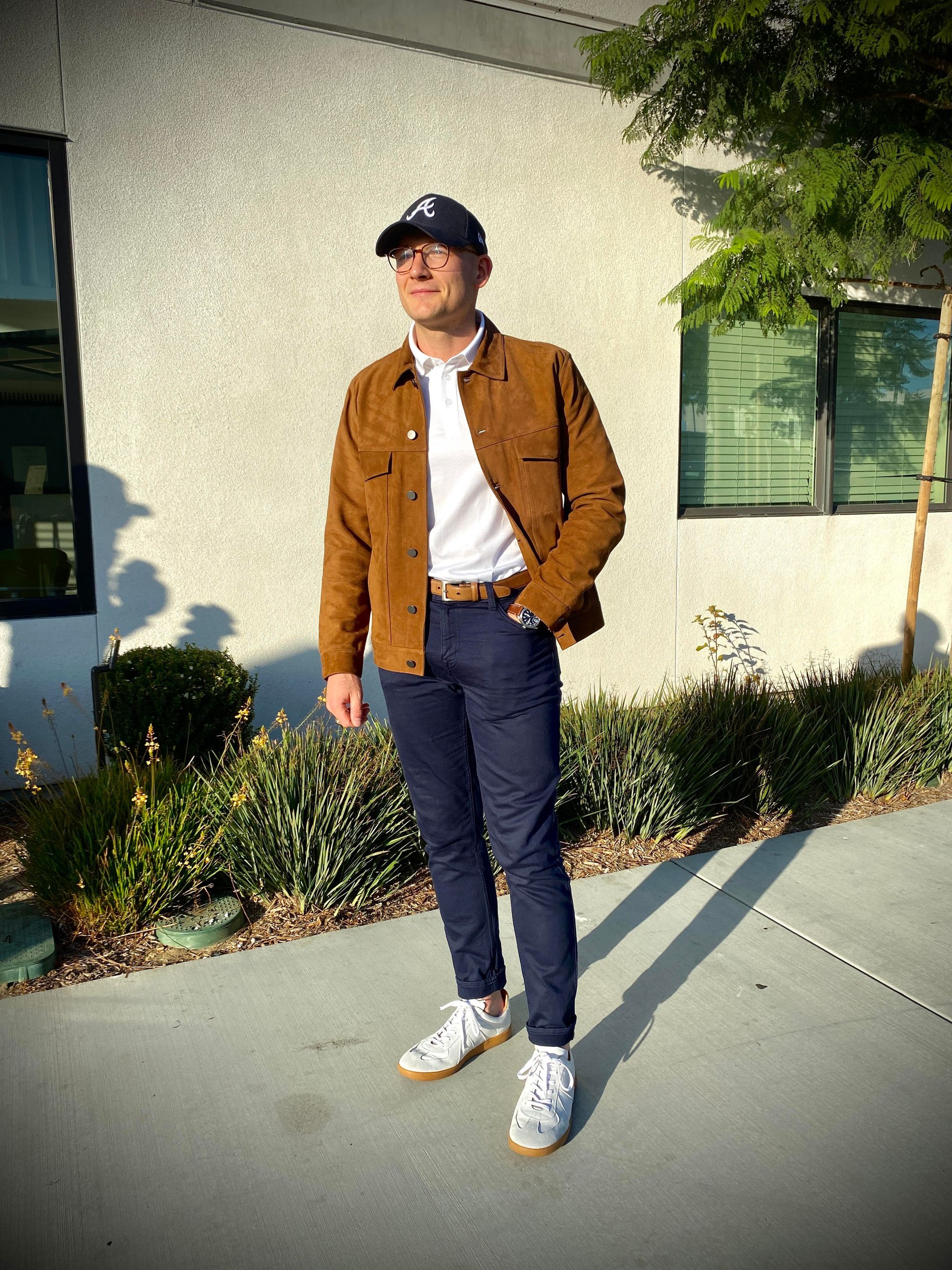 Okay, so you want to rock that suede jacket but lean more into the casual direction; perhaps where you live isn't so chilly during the autumn months. A look like this is excellent for those milder fall periods. I want to highlight the importance of coordinating colors. For more information about colors, read my separate article here.
Quick Lesson On Colors (Skip If You Don't Care)
Women often notice the details regarding how men dress, namely, the shoes we wear and the colors we use. At a glance, this look is simple enough but let's break down how I'm using color as a powerful tool to help create consistency and harmony in a simple but effective ensemble.
The clear star is the suede trucker in a rich tobacco color. I matched the jacket's color with my belt and opted for German Army Trainers (GATs) with a classic gum sole. A pair of white minimalist leather sneakers would have been fine, but the gum sole corresponding to the jacket and belt creates this excellent consistency in the overall look.
Texture and material also matter, especially in person. The jacket itself is suede, and the sneakers have gray suede paneling. This is not as apparent in the photo but rest assured, women often pick up on this subtlety (especially regarding footwear), and I recommend taking note.
The white pique polo is in a knitted cotton fabric and pairs well with both the color and texture of the GAT sneakers. Additionally, the pop of white in the ballcap is subtle and jives well with the rest of the fit (go Braves). The chinos are navy blue, just like the rest of the ballcap. The suede jacket has tones of orange in it, and for those unaware, orange and blue are complementary colors, which means they sit opposite of one another on the color wheel.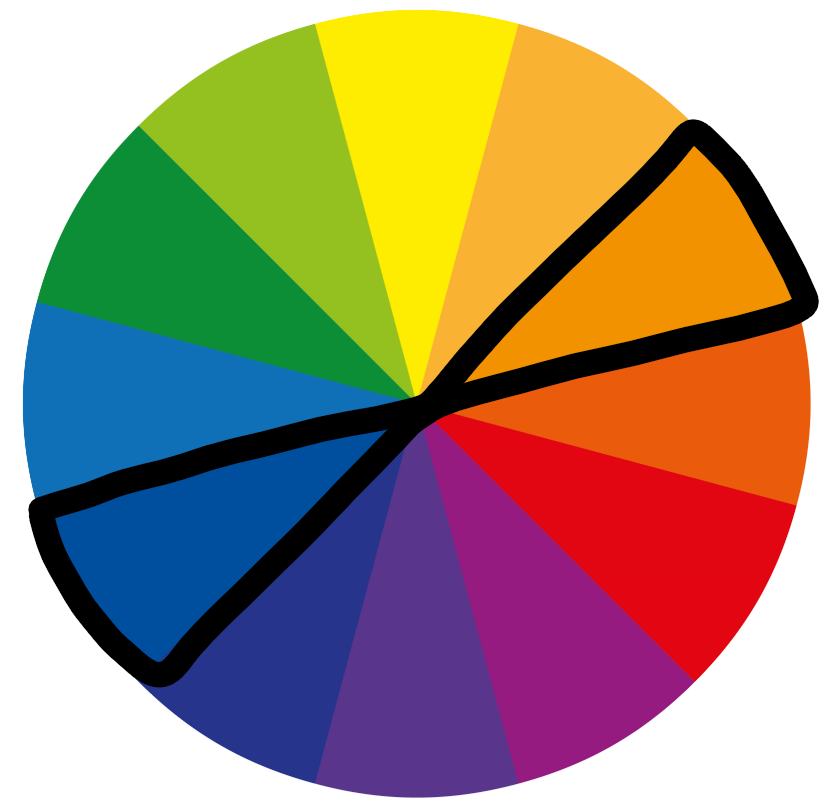 To complete this look, I have added a timepiece with a brown leather strap and a navy blue dial with white accented markers. Cuff the trousers and keep the ballcap if you want to stay more casual; either way, you're ready to offer a subtle flex.
LOOK #9: Leather Layered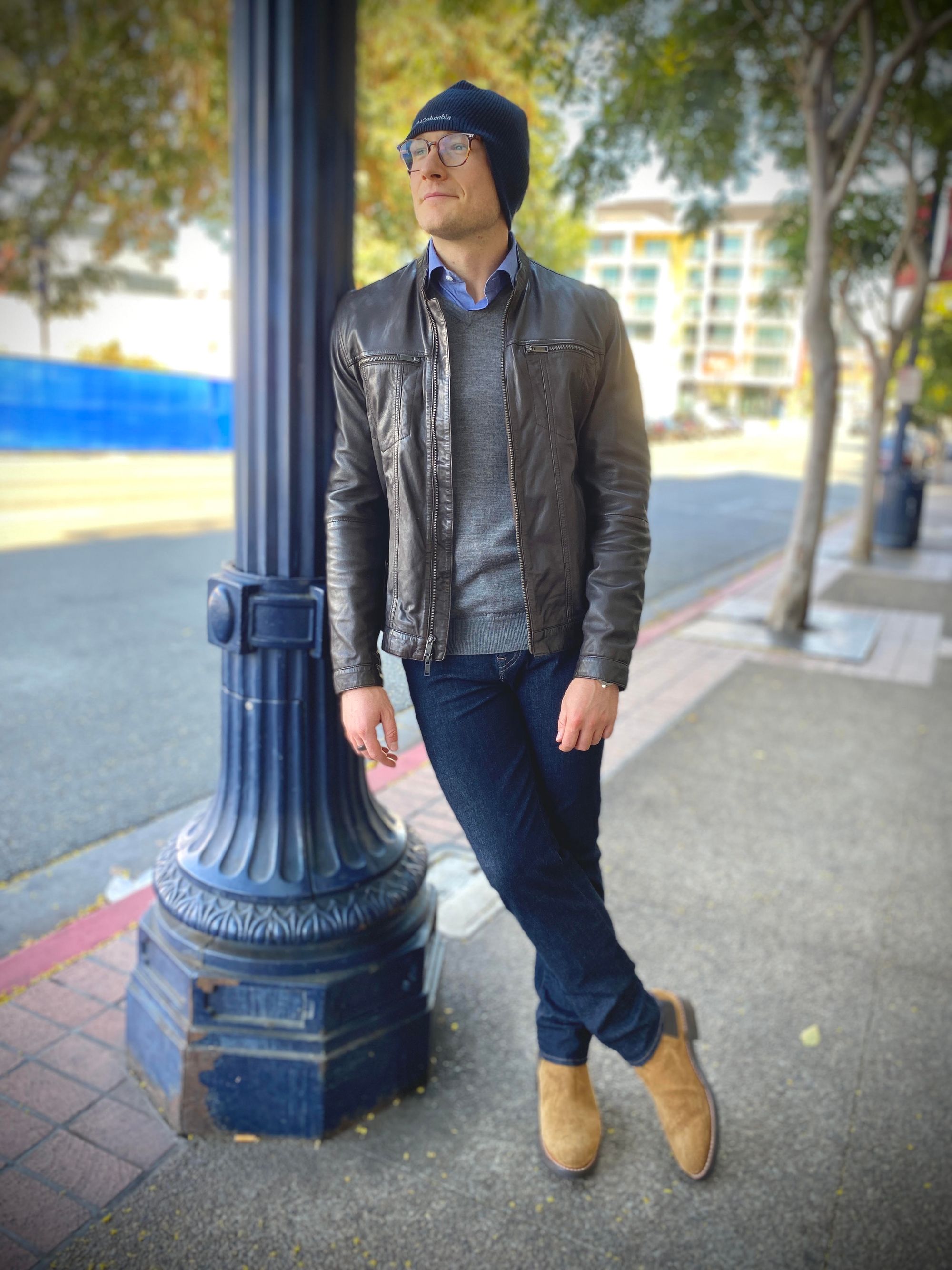 I recognize that quality leather jackets of any kind are investment pieces. But if you had to invest in one, a classic brown leather jacket like this one will do you wonders, trust me. This look is simple enough: a chocolate leather jacket, a gray v-neck sweater, and a denim (chambray) button-up shirt.
On the bottom half, I've got the same pair of dark-wash denim and brown suede Chelsea boots that you've seen in some of the previous looks. Wearing a different type of brown boot would do just fine, but I wanted to highlight the versatility of these particular honeyduke suede Chelsea's from Thursday Boot Co. because they're often my go-to's (as you can see).
Quick Lesson On Layering (Skip If You Don't Care)
When it comes to layering, I believe there are some fundamental rules all men should follow to nail their looks every time.
2 layers are often acceptable but sometimes not enough, 4 layers are often too much, but 3 layers are perfect.
The outermost layers ought to be thicker materials than the inner layers.
If you need to remove the outer layers for any reason, the inner layers should work well on their own.
Stick to these rules, and you'll nail the art of layering every time.
LOOK #10: Business Casual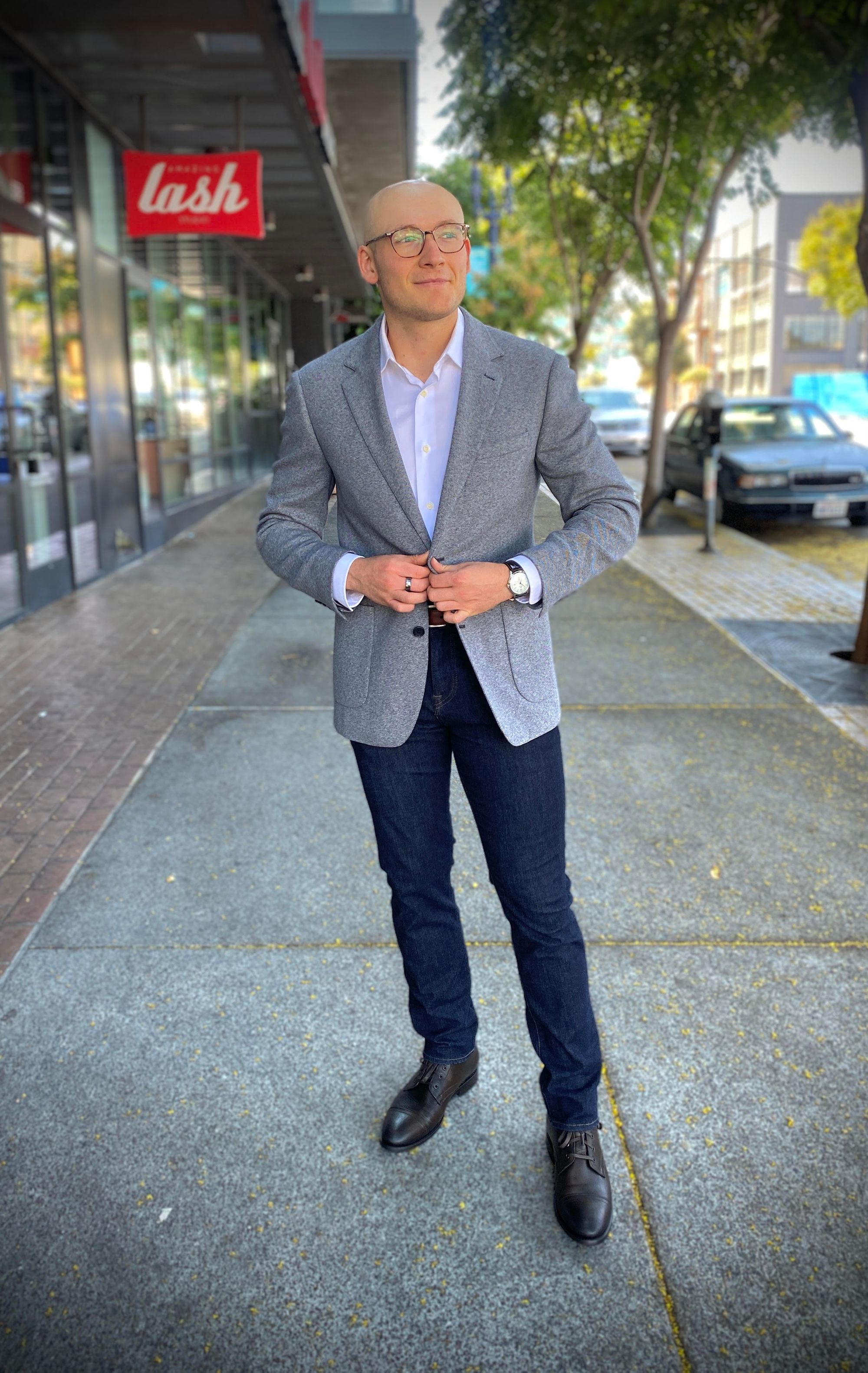 Every man should own at least one versatile sport coat (not to be confused with a blazer). Not every date calls for casual looks. If an evening dinner at a more formal establishment is in store for you and your date, be sure to take this seriously because most women certainly do!
A sport coat in a casual, knitted fabric like the one I am showcasing above will work well with a typical dress shirt or even crewneck t-shirts (if that is more your style and an appropriate option for the occasion). Dark denim is a more casual fabric that blends well with this type of jacket, and the mocha cap-toe boots are an ideal autumn option. This look is as stylish and put-together in 2022 as it will be decades from now.
WINTER OUTFITS
LOOK #1: Casual, Cozy, & Cool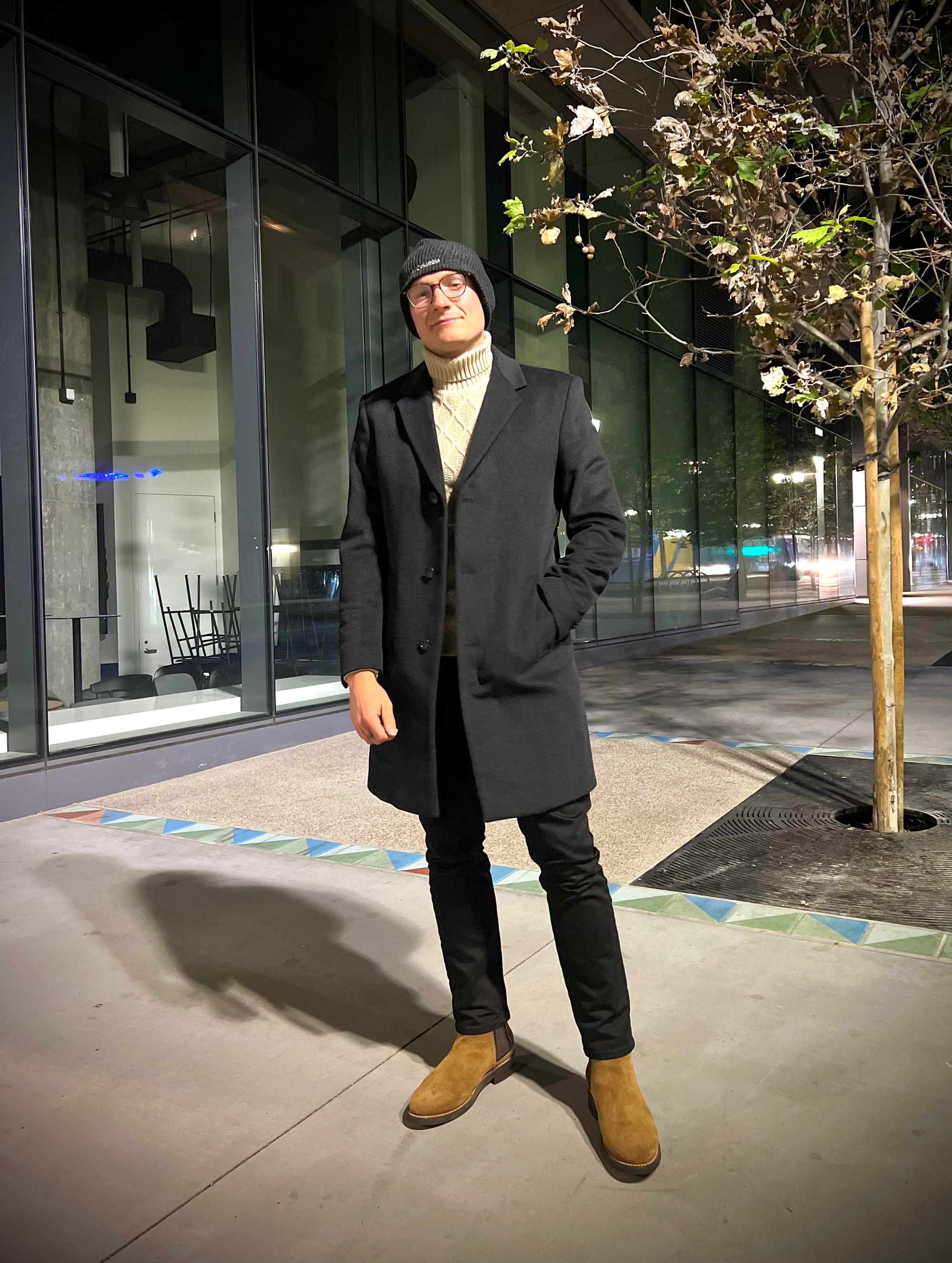 To kick things off with our first winter outfit, we have a chunky cable-knit turtleneck which, much like the reasons I gave earlier in this post, is an elegant and cozy option that most women will love to see you in. The charcoal topcoat I have opted for is a bit more fitted than a typical overcoat, providing a more tailored look. The black chinos compliment the coat well, and you might notice these honeyduke suede Chelsea's from Thursday. Again, a versatile option that can be mixed and matched in various ways.
LOOK #2: Camel Coat & Scarf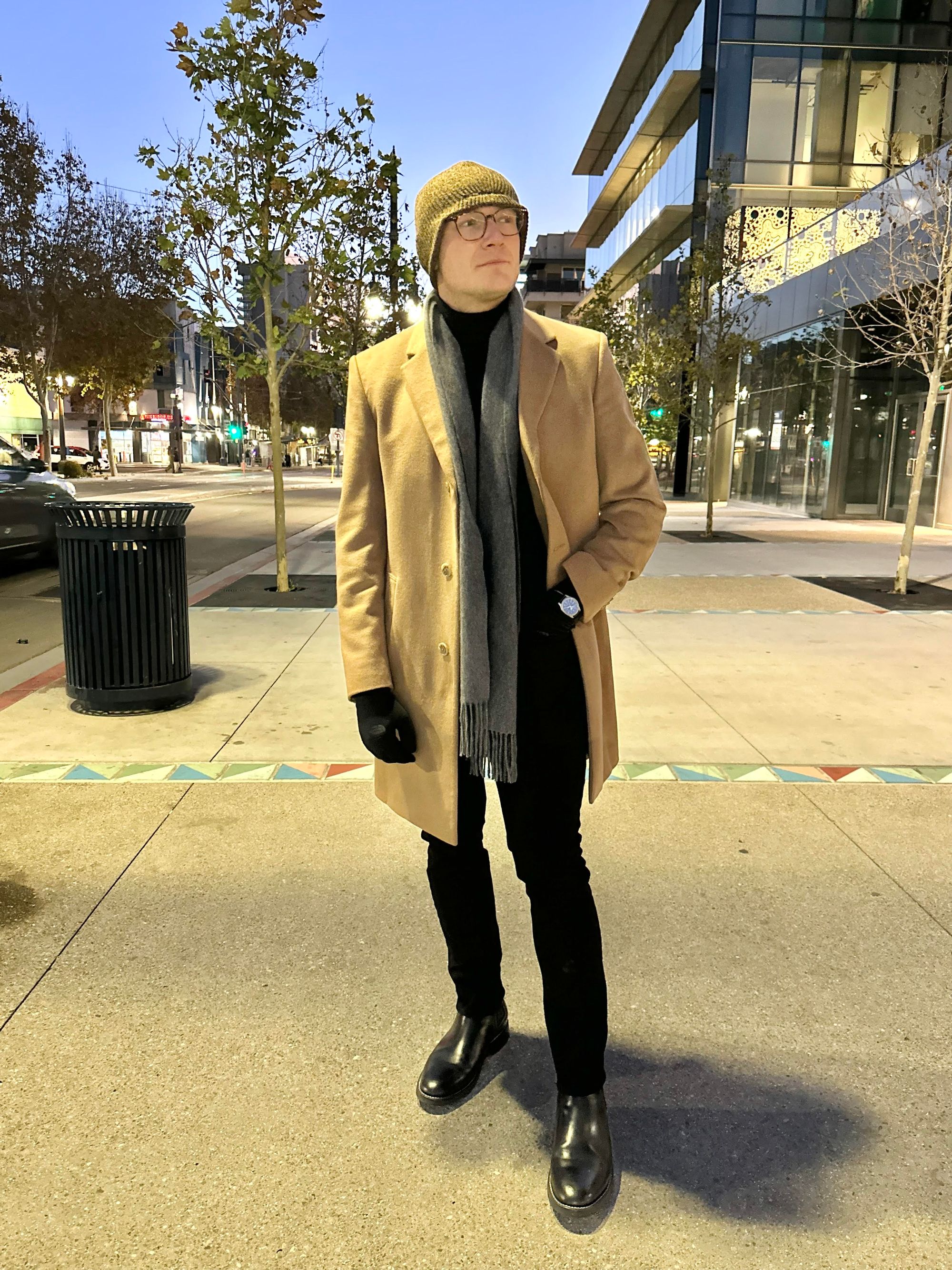 If you had to own one topcoat, you can't go wrong with charcoal. However, if you want to stay classic but be a little less generic, then a camel coat is, in my opinion, the way to go. Not much else to say here. This classic ensemble will never go out of style for winter: a camel topcoat, a black or gray turtleneck, and black chinos or jeans. Add black or camel boots or stick with white sneakers; as you can see, it looks dapper regardless of your preference.
If you're not sure that you can pull off a scarf, stop doubting. I don't care what anyone says. Wear it if the scarf helps keep you warm! It's both elegant and stylish, trust me.
LOOK #3: Classic Monochrome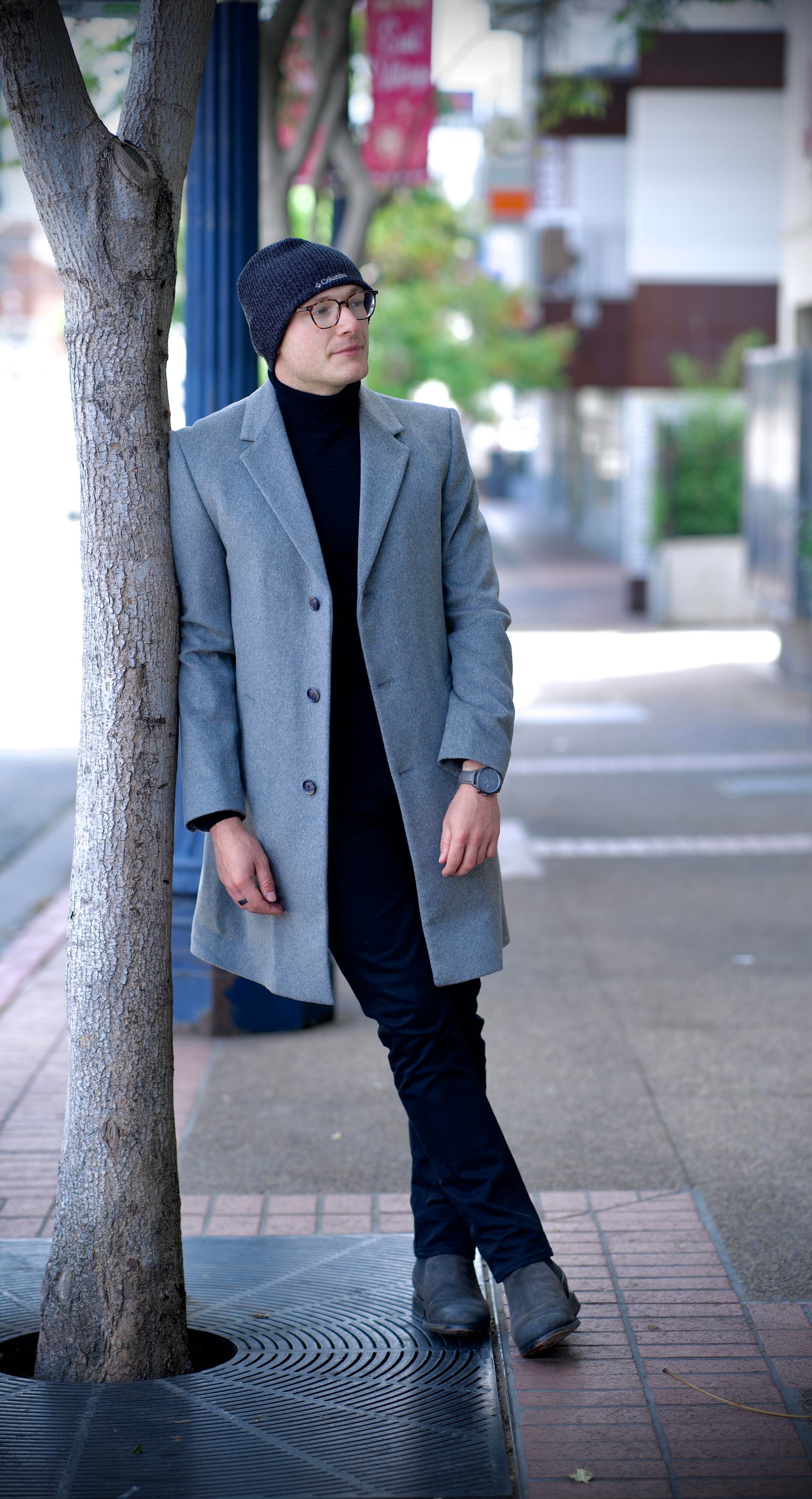 Purely monochromatic outfits are considered safe for most men. Just observe most male celebrities, and you'll quickly see that many of them stick to this palette (and for good reason). Sometimes the best approach is the simplest one, and while I would encourage all men to at least be well-versed in their colors enough to shake things up now and again, in the winter months, a look like this can be a success for date nights.
What matters more are the specific choices of garments. Here I have a gray topcoat, black turtleneck, black trousers, and ash suede Chelsea boots. I have even opted for a gray timepiece and charcoal beanie. These pieces combine well to form a sophisticated, masculine, and comfortable look.
But Is This Really Monochromatic? (Skip If You Don't Care)
For those who aren't sure that this look qualifies as monochromatic, it is necessary to recall that black and white are not a part of the 12-color wheel, and this is because the two are not technically colors. Instead, they exist on a different scale called the grayscale because many shades and tints can be created by mixing various quantities of black and white.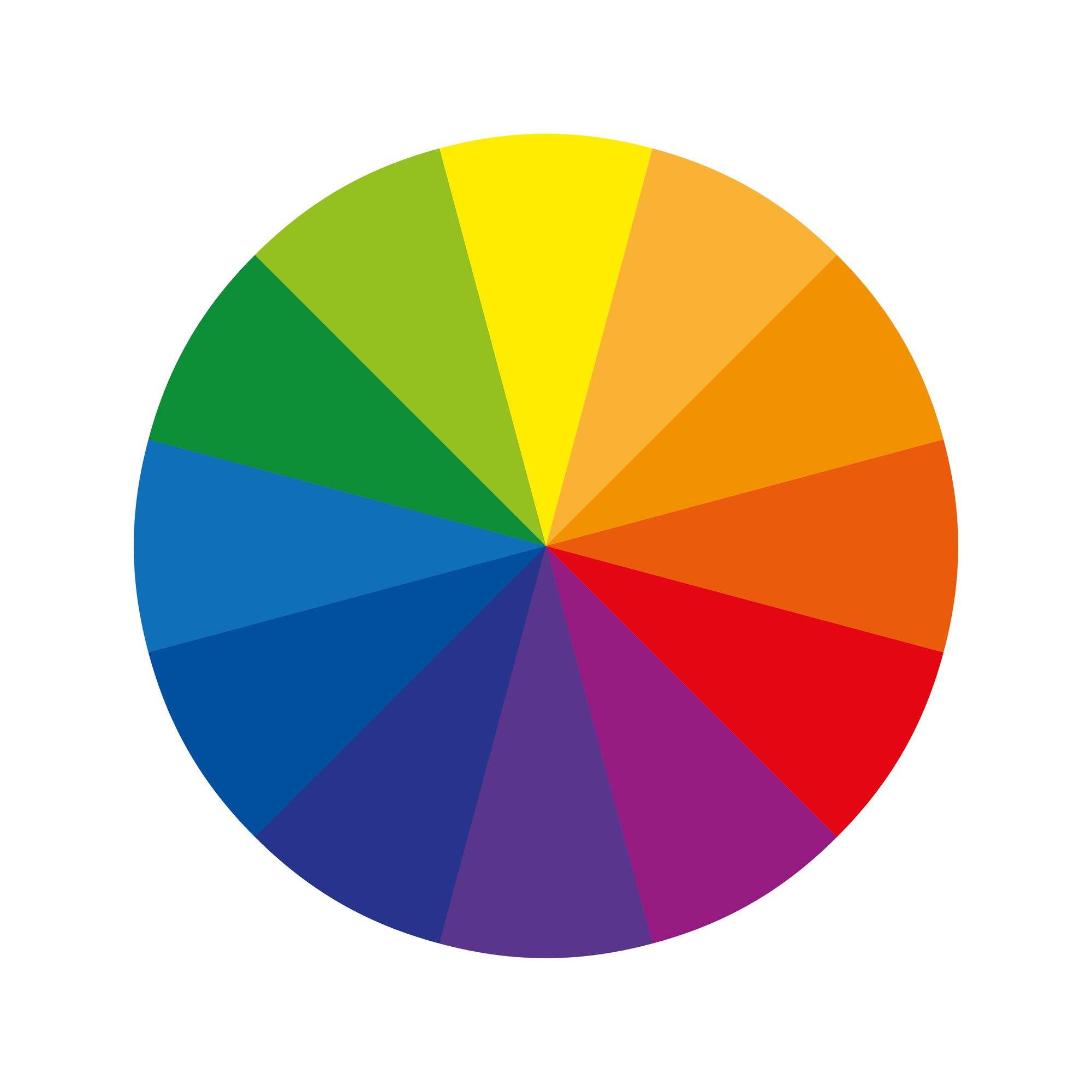 Again when white is added to any color, it becomes a tint of that color, resulting in a less intense and lighter hue (i.,e. the gray topcoat featured above).
By the same token, if we add black to any color, we produce a shade of that color, resulting in a darker and less intense hue.
This relative lightness and darkness are referred to as a color's value, and it would be referred to as a tone if we were to add a mixture of gray to any color on a standard color wheel.

LOOK #4: Street Rebel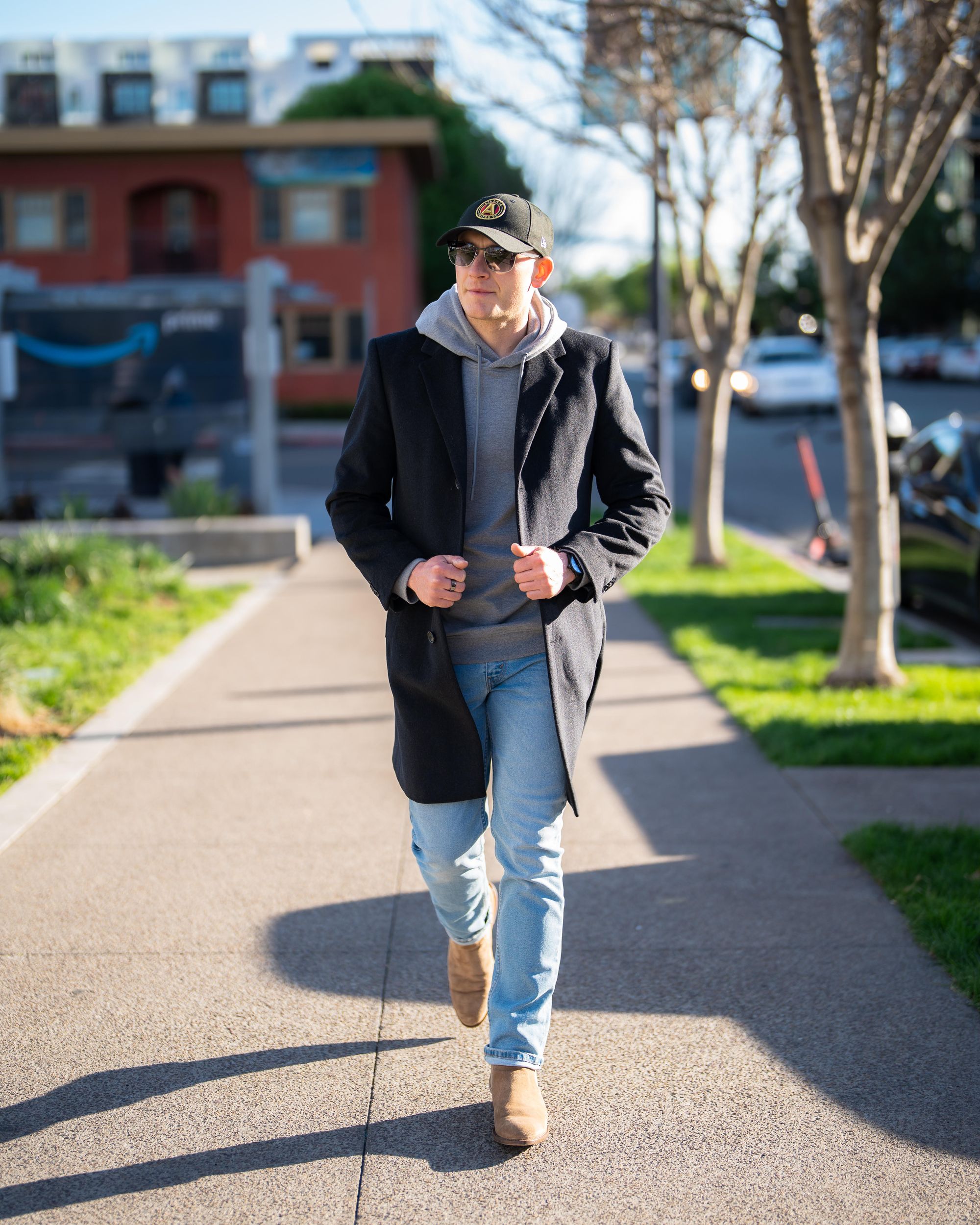 I'm not usually one for street style, but being stationed in Southern California has taught me to adapt and appreciate this more modern taste in fashion.
This look is for those LA folks who love to play around with classic menswear pieces in bold and unique ways.
I do draw the line when it comes to baggy fits, as I'm still not a fan (despite that being on trend at the moment). This particular look is excellent for ultra-casual dates with women who prefer a more edgy or eccentric style.
Perhaps that special lady in your life is from a place like Los Angeles and chooses to dress like the "cool art teacher." A look like this (depending on what she's wearing) might be a great way to compliment her style.
The point is, always try to compliment your date in terms of personal style. Perhaps your tastes differ, but we're looking to be high-value men, and high-value men aren't looking to date for the hell of it; they're looking to cultivate meaningful relationships that will stand the test of time. Being a team player is commensurate with that effort. So be observant of her tastes because you can be sure she is carefully observing yours.
LOOK #5: Topcoat & Sneakers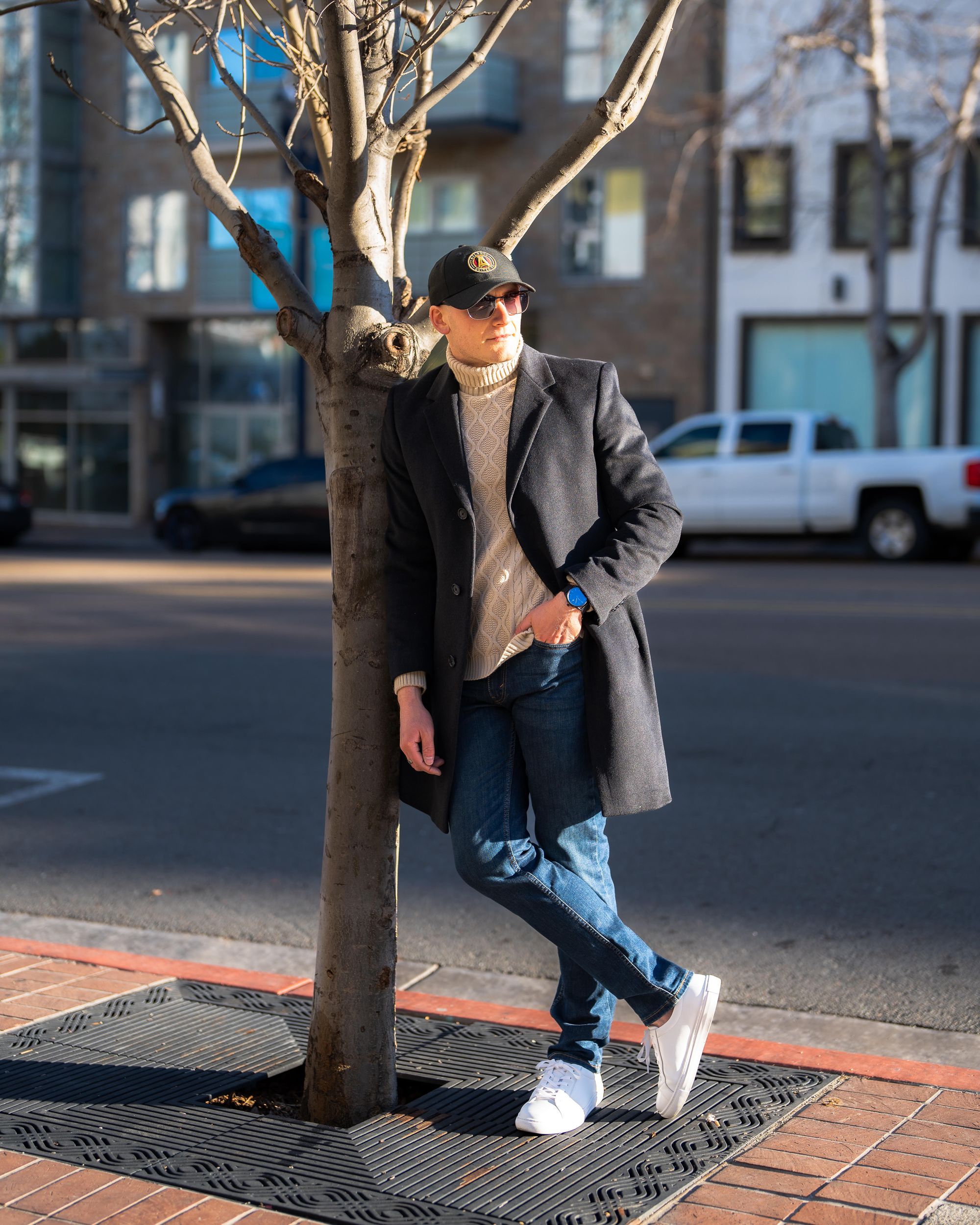 Sneakers in the winter? Yes, you can! Look, no one is saying you MUST wear boots in the winter, always and forever. As much as I love boots, being stationed in sunny San Diego has taught me that not every December day is a boot day. Don't overthink it; make tasteful decisions!
Here, I'm utilizing that chunky cable-knit turtleneck that we have seen before, a charcoal topcoat, classic blue jeans, sneakers, and a ball cap. Throw on some shades if needed, and roll in peace! This is a great way to leverage those foundational pieces that every man ought to own when constructing his initial wardrobe.
LOOK #6: Puffer Jacket & Boots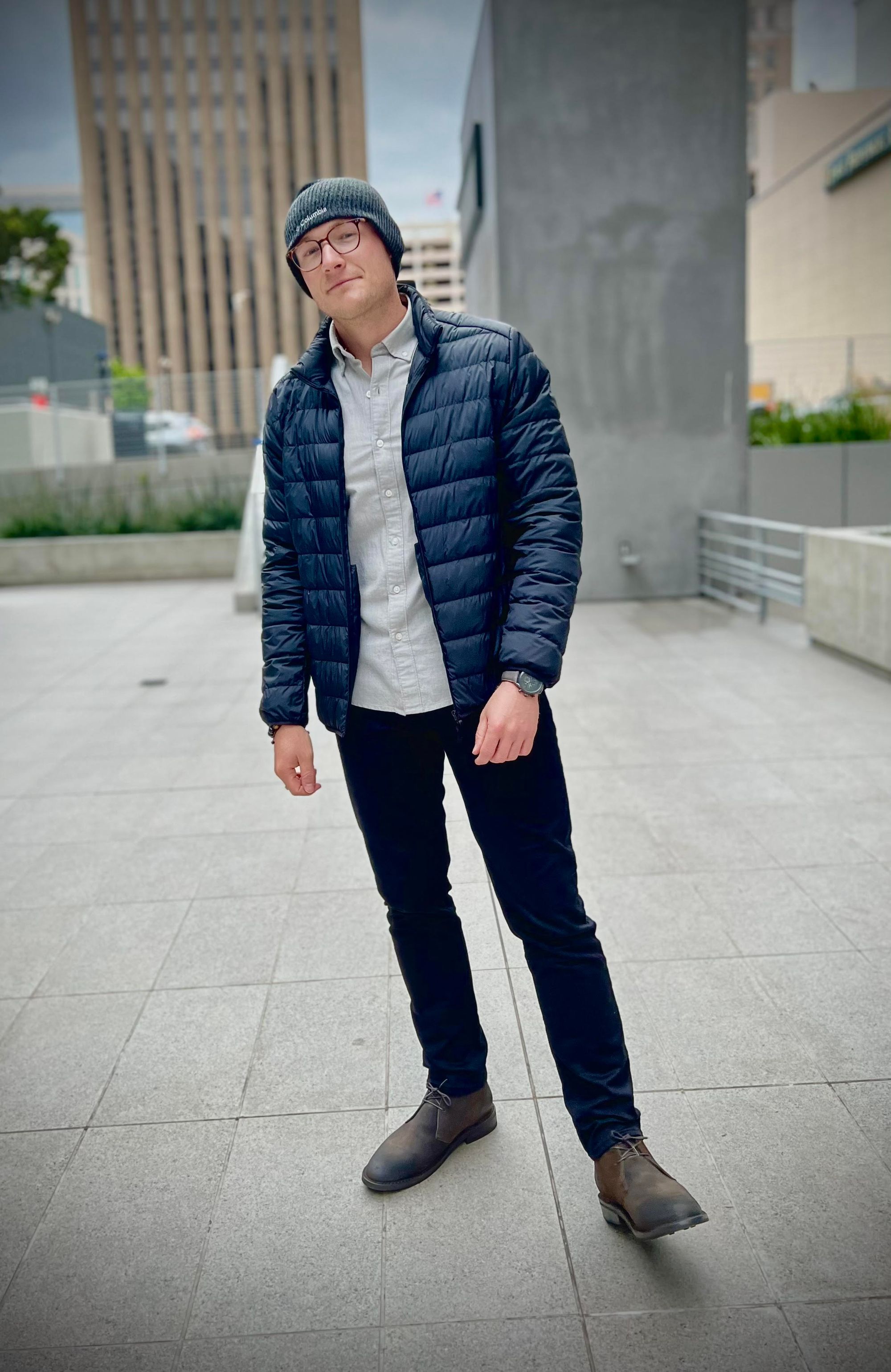 Puffer jackets (a.k.a. "down" jackets) are simple and effective ways to stay warm without stacking too many layers on top of each other. They're also super lightweight and just comfortable in general. This ensemble is also primarily monochromatic, except for the dark olive suede chukkas on my feet.
Now, black boots or even white sneakers would work well for a look like this, but here is my shameless plug for the power of dark olive suede as a boot color for men; I think it is the single most versatile color for men's boots. For more info about that, read my separate post with examples of outfits that feature dark olive suede boots (such as this one).
LOOK #7: Car Coat & Oxblood Boots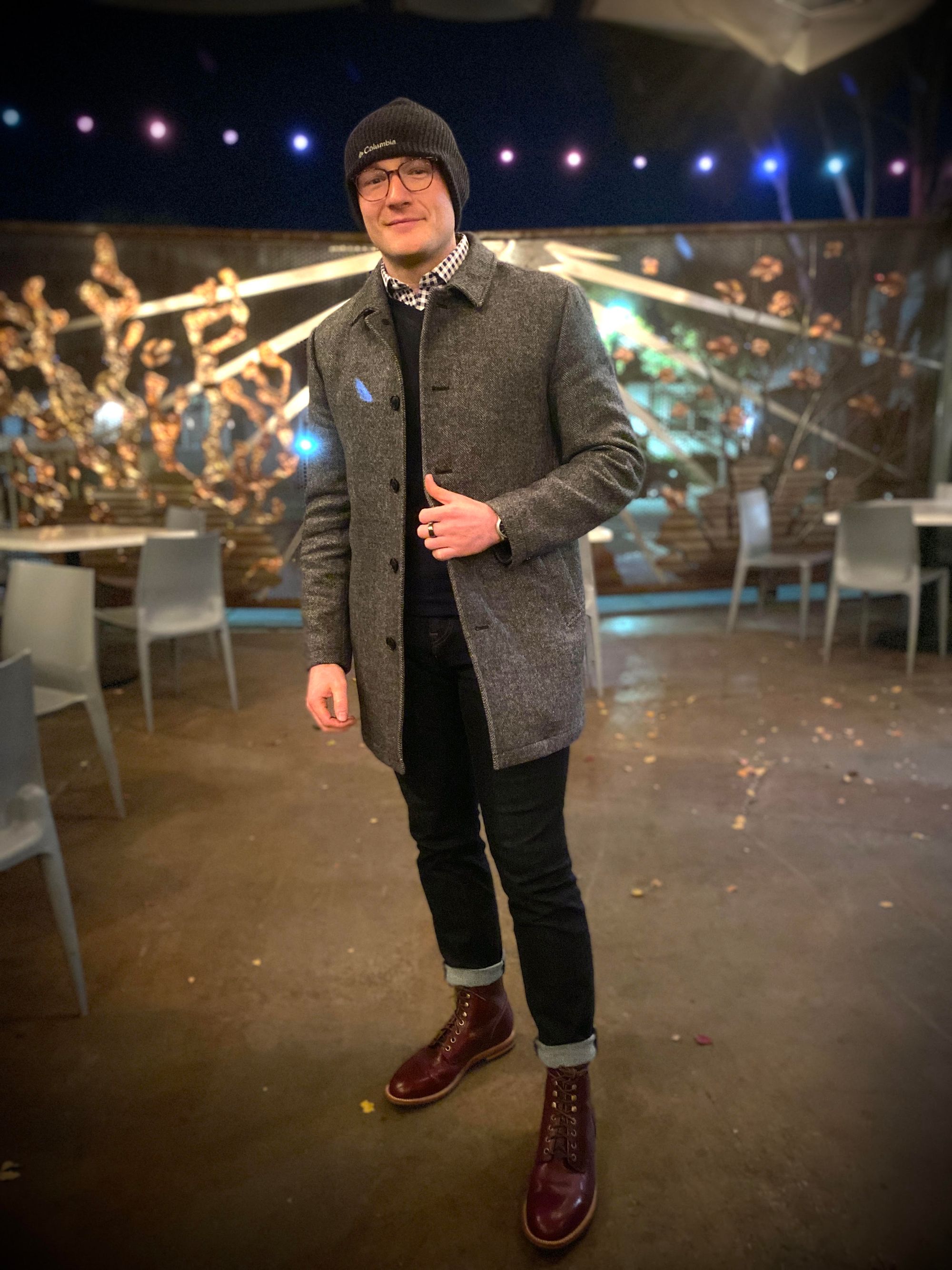 Here is another textbook example of layering for outfits. Again, thicker layers on the outside and thinner layers are being utilized as we work our way in. The outermost piece is a car coat in a brilliant heather gray with a subtle herringbone pattern, providing some visual intrigue; the middle layer is a navy v-neck sweater, and the inner-most layer is a blue gingham dress collar polo. Gray and blue are excellent together, but the real star, in my opinion, is the oxblood pair of boots.
Oxblood (a.k.a. Color #8) is an exceptionally versatile color that instantly enhances just about any outfit that incorporates darker hues and tones. Make no mistake, brown or even black boots would do just fine here (especially dark olive suede) but don't pass up oxblood because you think it belongs in your grandfather's closet. This is a timeless footwear color that will gain you compliments from others and, more importantly, from your lovely date.