I believe that one of the first items every man should own as a part of his wardrobe is a pair of minimalist white sneakers. If you haven't read my article detailing how to build a wardrobe from scratch, then do so after wrapping up this one (you can find it here).
White sneakers provide such robust versatility; it's ridiculous. Whether it's streetwear or a more preppy/business casual look, a pair of white sneakers is a men's wardrobe staple.
But when attempting to dive into the world of white sneaker brands, it can become apparent very quickly that there is a multitude of options that are available from brands you may not have even heard of. So how do you go about choosing?
Well, I have you covered in this article. There are brands of white sneakers that cost as much as $500, and to the average guy (like you and me) that kind of cash for one wardrobe item isn't always an option.
This article aims to show and describe my recommendations for white sneaker options based on price, personal style preferences, and construction. And at the end, I will include some white sneaker outfits from my style archive, which will further showcase the interchangeability of this wardrobe piece, as well as conclude with my pick and why I recommend it. So let's get into it (in no particular order).
1. ADIDAS STAN SMITHS ($95)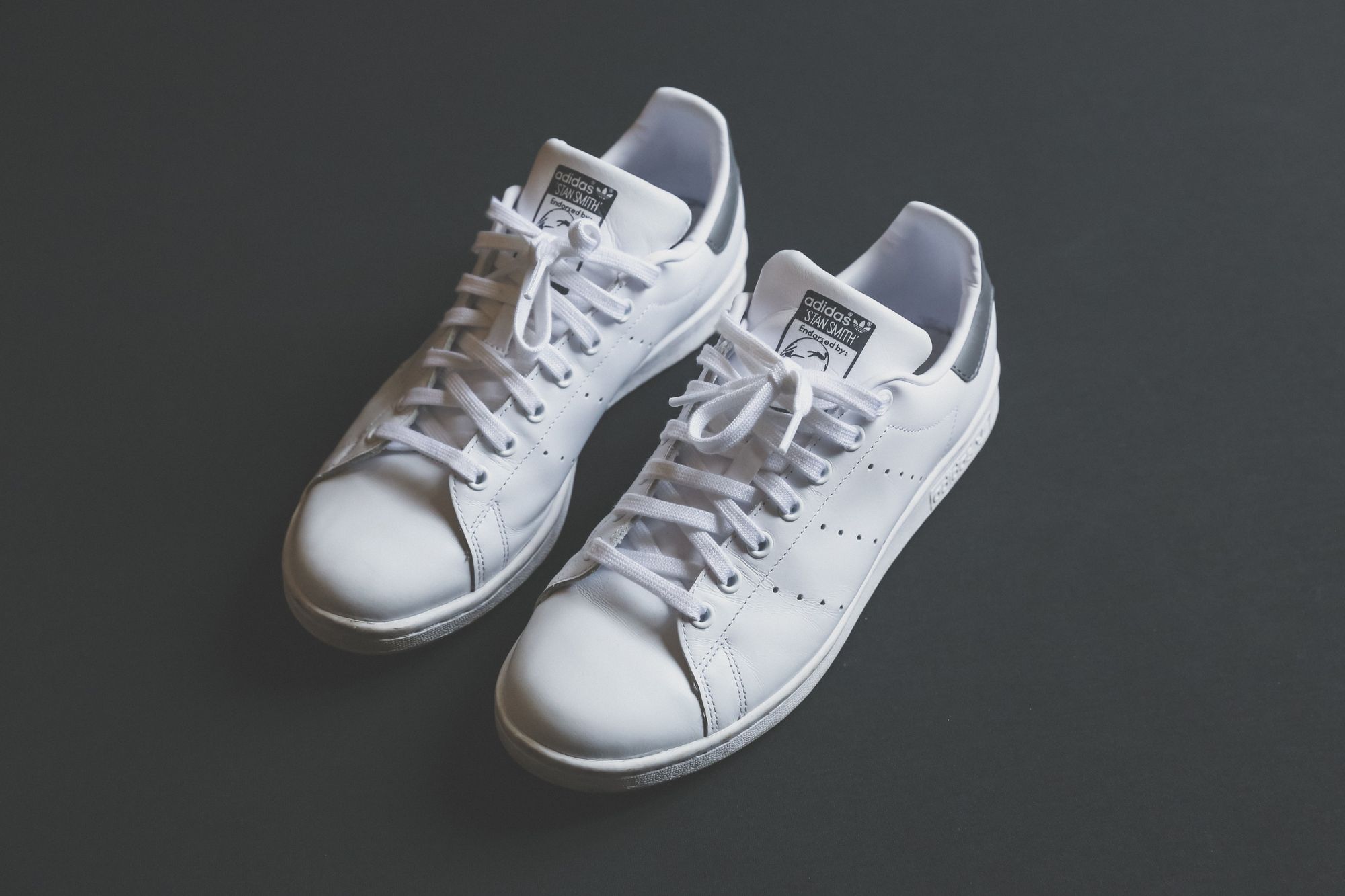 The Stan Smiths have remained iconic for decades. Currently retailing at $95 (before taxes), these shoes are timeless. If history is something that you care about, then you can take comfort in knowing that these shoes have been stylish since 1965, and they aren't going out of style anytime soon.
As far as materials are concerned, you get what you pay for here. No genuine leather or margom sole. If you are the environmentally-friendly sort, or perhaps vegan, these shoes might appeal to you as they are made with primegreen, a series of high-performance recycled materials, including a vegan upper and an outsole made from rubber waste and no virgin polyester.
As far as personal styles are concerned, the Stan Smiths come in many color combinations (well over 30). Remember that the more white or off-white you opt for, the more versatile the sneakers will be; however, depending on your particular style preferences, a little bit of color won't do much to diminish the options you can enjoy with these shoes. So know that these are an excellent pick, and you can often find them on sale for as low as $80.  
2. VANS OLD SKOOL ($65 & $75)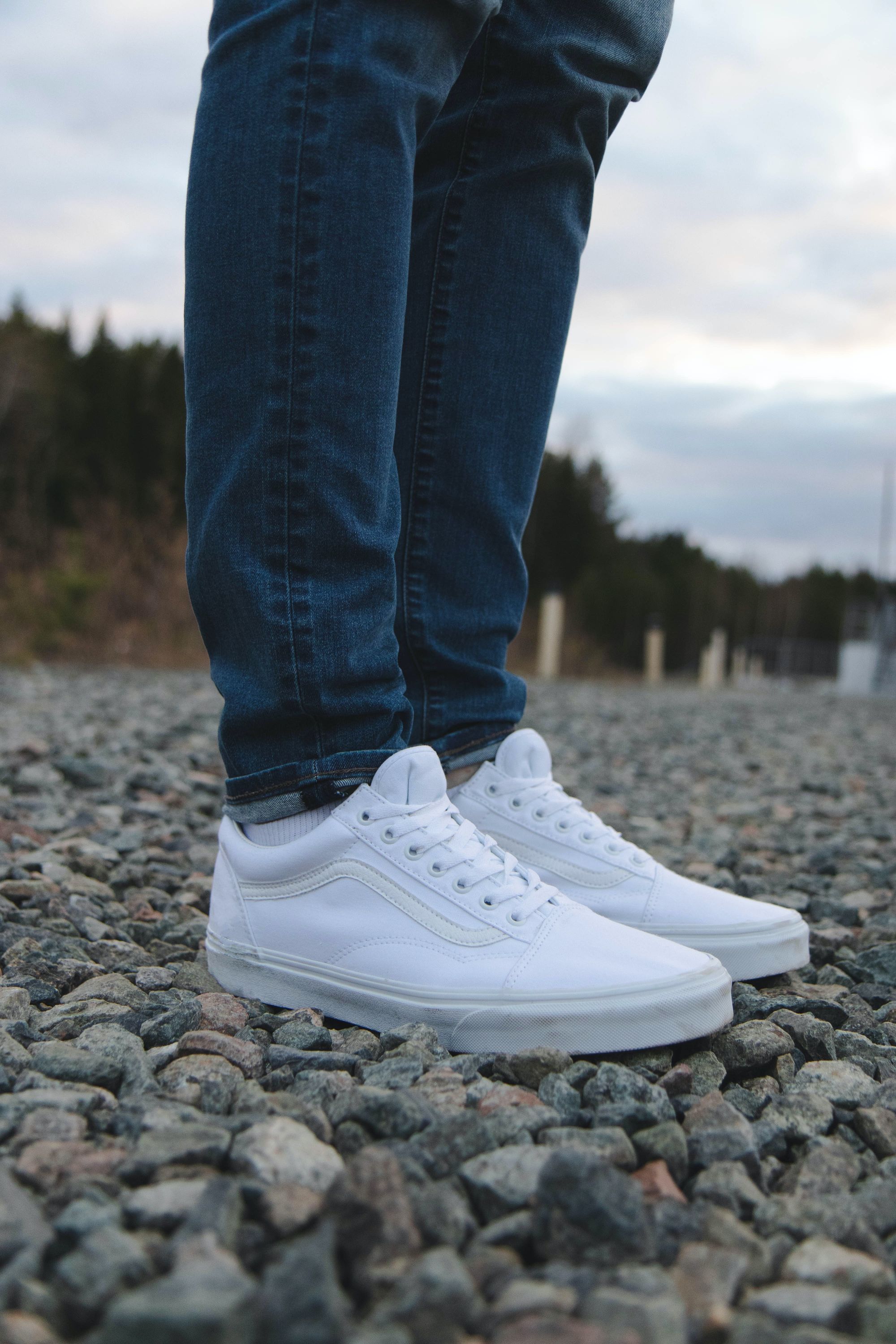 Vans are also quite iconic, and these canvas low-top sneakers were first made famous in 1977 by founder Paul Van Doren. Originally released as the Vans #36, these sneakers also come in a wide variety of colorways and offer a clean-looking silhouette. However, much like the Stan Smiths and at an even lower price point, you get what you pay for with a canvas material for the upper and a standard rubber sole.
There is a variant of this sneaker that costs $10 more than the canvas Old Skools; the Classic Tumble sneakers are made of synthetic leather upper and give a slightly cleaner look. An added benefit of this material change is that it makes the task of cleaning the sneakers much easier for the owner.
These will work just fine for those of you on a strict budget, whether out of necessity or simply due to preference. Like Stan Smiths, I recommend the cleanest and whitest look possible. No highlighting the flagship jazz stripe doodle, which is commensurate with the Vans brand (unless you really want to).
It's not that you should try to hide the fact that you're rocking a pair of Vans; we just want to maximize the interchangeability of this piece by sticking to a low profile and clean look.  
3. CONVERSE ALL-STAR CHUCK TAYLORS ($60)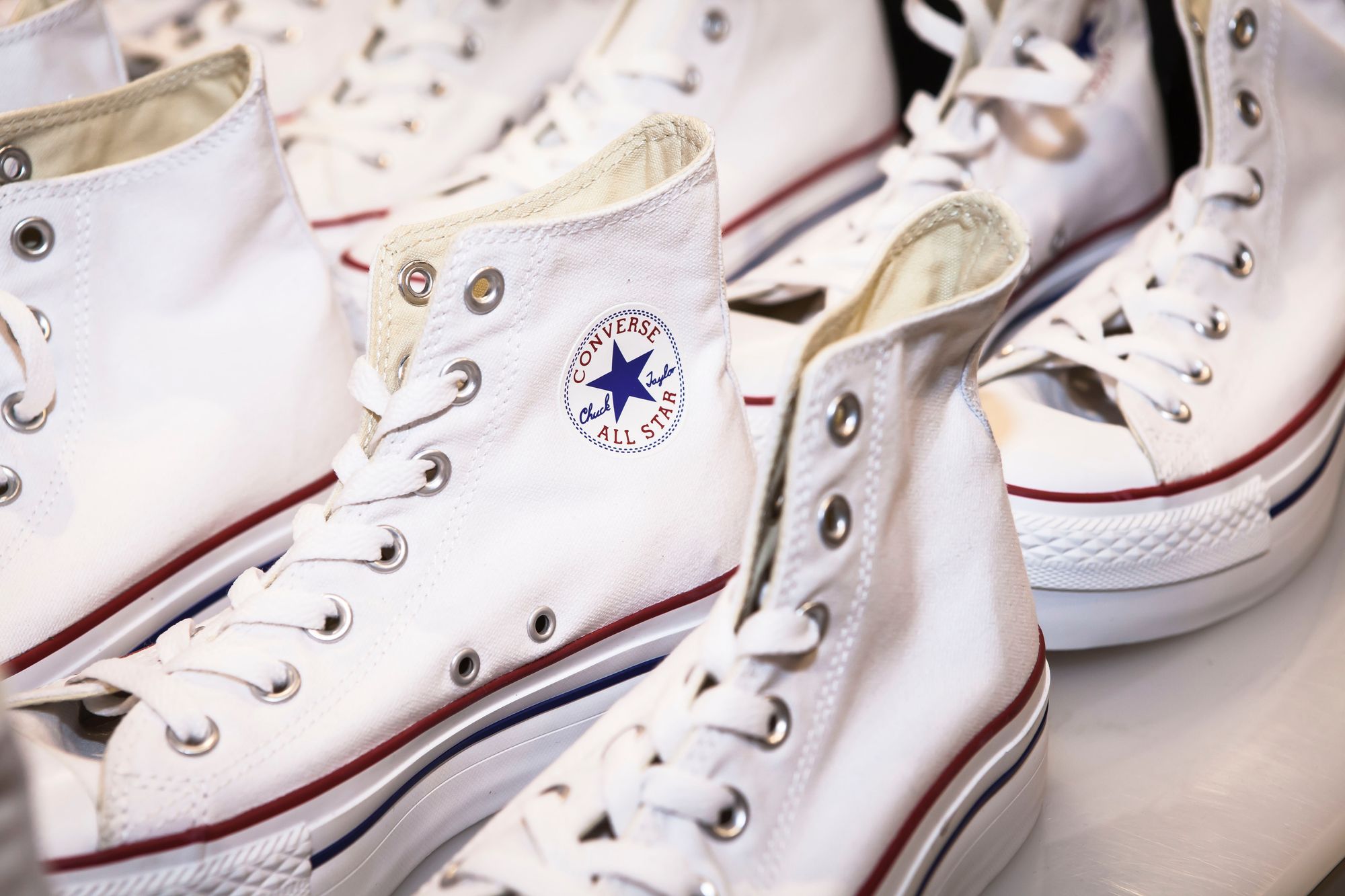 The Converse All-Star Chuck Taylor's are perhaps the most recognizable of all the sneaker brands on this list. I'll admit that these are not my first choice for a variety of reasons; however, that doesn't change the fact that these are some of the best-selling shoes every year, and they're just reliable and timeless.
A stylish shoe since 1917, the Chuck Taylor's are often referred to as THE original basketball shoe and can be used for various activities, even weight-lifting, as it usually is. Much like the Vans Old Skool's, you're getting a canvas upper and a vulcanized rubber sole, but for the most classic-looking silhouette, the high-top is, in my opinion, the best way to go if you're set on a pair of Converse All-Stars. There is just so much history over the past 100 years with this shoe, and it has been popularized by so many athletes and artists alike since its inception that its influence cannot be denied.
While it is certainly not my first (even second or third choice), I cannot help but recommend it, especially at the relatively modest price point of around $60.
4. NEW REPUBLIC KURT ($98)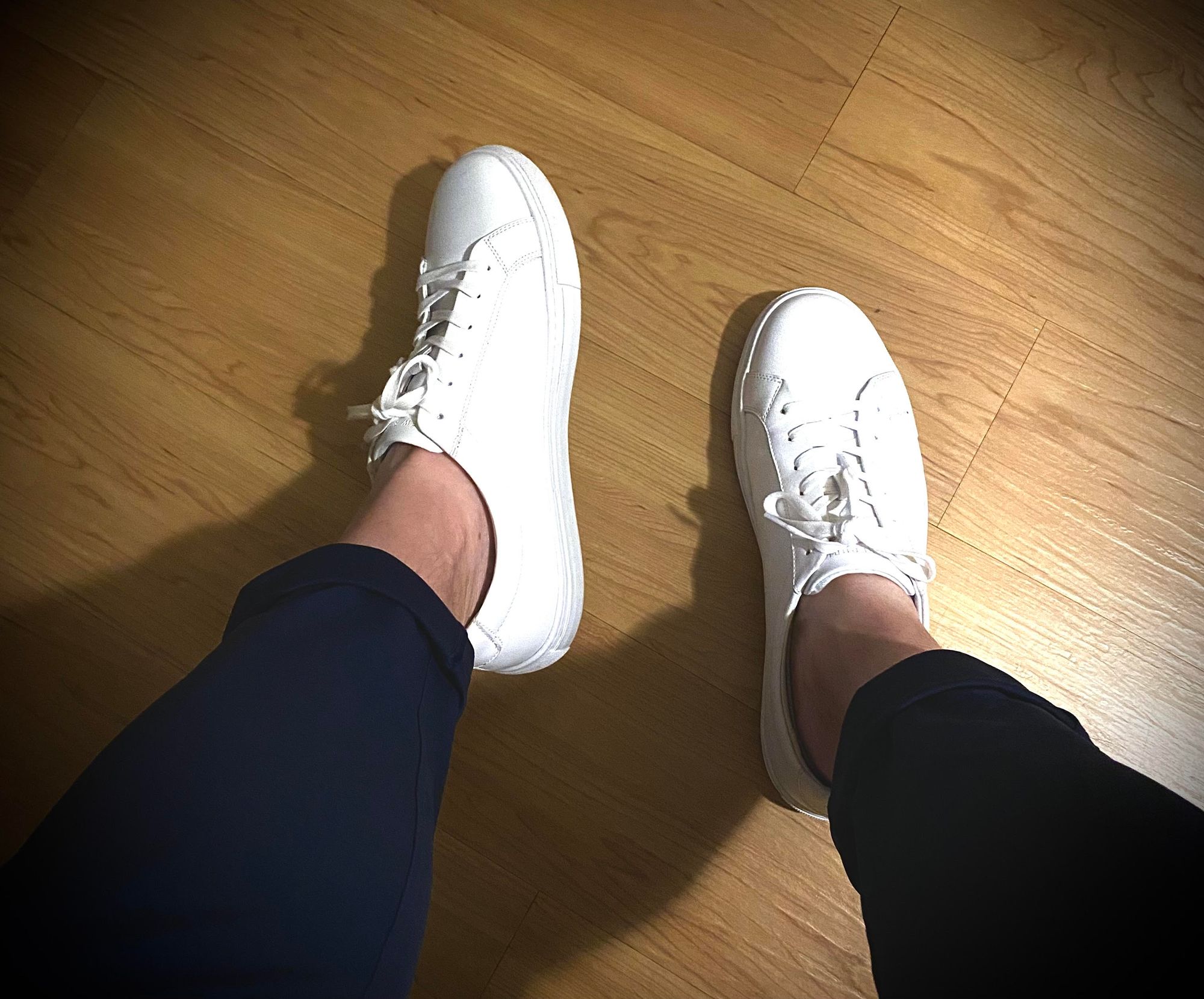 A relatively new addition to the minimalist sneaker brand, these are, in my opinion, one of the best deals around. While the Kurt sneakers from the New Republic traditionally retail at shy of $100, you can often find them on a sale for as little as $60! This is important because, from afar, there is little that separates this sneaker from a pair of $450 Common Projects Achilles Low.
As you can probably guess, the primary difference between this lower-tier sneaker option from the New Republic and the Common Projects luxury-tier sneakers is in the materials. The Kurt sneakers are not hand-made in Italy from calfskin leather and don't have a margom outsole. Instead, you're getting a fairly low-quality (albeit genuine) leather with a rubber outsole.  
However, I believe the silhouette and lower profile of the Kurt sneakers are undeniably elegant, and therefore the versatility they provide for the price is excellent. Aside from physically touching or closely inspecting the shoes themselves, to the untrained eye, you wouldn't be able to tell the difference between these and the luxury-tier alternatives. And the fact that you can catch these sneakers on a sale so often is just the icing on the cake.
You can read my full product review for the New Republic Kurt sneaker, here.  
5. THURSDAY PREMIER LOW TOP ($129)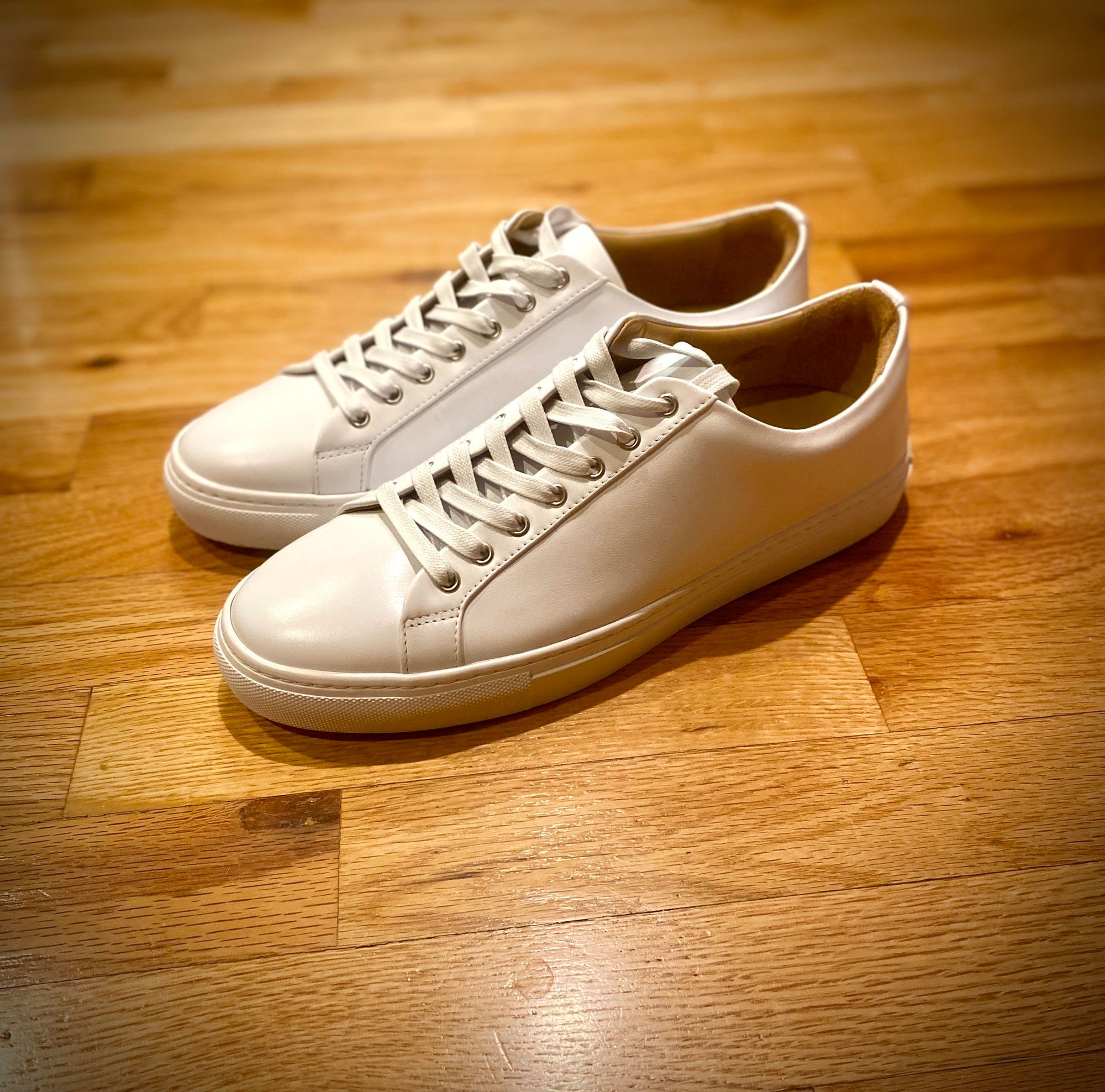 I know what some of you are probably thinking... "Why list a sneaker option priced over $100 when all of the others were below that asking price?" For those of you who are unaware, Thursday is traditionally a boot company that has managed to branch out into the sneaker market.
I will be the very first to admit that I am a megafan of Thursday Boot Company, but this is only because they have, without a doubt, the very best quality boots for the most honest prices that you can find. I am continuously impressed by the quality of craftsmanship that this brand offers compared to competitors of other boot brands, priced double, sometimes triple.
If you require a clinical assessment for your convincing, see these links to two YouTube channels that I recommend for analyzing boots, shoes, and sneakers (Rose Anvil & Trenton & Heath); the latter has no relation to me. I trust the objectivity of these professionals, and I believe that you will as well.
For Thursday's sneakers, the quality most definitely holds up. Yes, these are the most expensive options on this list; however, not by much, and the divide in overall quality is, in my own opinion, night and day.
Priced at $129, you are getting a nappa leather upper that is quite soft and supple and a natural vachetta leather insole that is very comfortable right out of the box. Additionally, these sneakers also sport a rubber outsole; what's pretty neat is that it is not like those of any of the sneakers mentioned above. With Thursday's offering, you're getting a mix of natural virgin rubber and recycled rubber.
Additionally, there was some involvement from Vibram. This company is well known for its reliable and pliable soles for footwear and had a hand in constructing Thursday's cupped rubber sole for this low-top sneaker.
If you would like a more in-depth review of this sneaker, as a lot is going on with the construction and overall quality, here is a very in-depth and trustworthy YouTube channel named Stridewise, which provides more details on this particular low-top sneaker variant.    
MY RECOMMENDATION
As much as I just talked up the Thursday sneakers, you may be surprised that I recommend the New Republic Kurt sneakers out of all of these options. Why? In short, it is because of the price-point, and with frequent sales for as low as $60, it makes my recommendation all the easier to make.
In truth, a part of this decision to recommend the Kurt stems from my belief that you don't need to invest in quality to dress well necessarily. Do I believe that better-quality wardrobe pieces are worth it? Undoubtedly! But this is a blog for the "average guy," and average dudes like you and me need to do more with less (in this case, less cost).
---
WHITE SNEAKER OUTFIT IDEAS